Neurons are an essential part of our nervous system. They send and receive all of the important signals. Whether it is hunger, pain, or a myriad of other signals when those electrical synapses start to fire, our brain tells the body it needs something. Teaching the anatomy of neurons can be tricky, as it includes a lot of big words like "dendritic tree," or "axon terminal". However, with the help of our interesting activities and creative techniques to help kids remember, teaching about neuron anatomy has never been easier!
1. Anatomy of a Neuron Digital Lesson
Mr. Khan has created an entire digital lesson including quizzes and videos that describe not only the parts of individual neurons like the cell body but also explain the functional activity of the nerve cells in ways students understand.
Learn More: Khan Academy
2. Neuron Anatomy and Physiology Interactive Notebook
This resource is a printable and visual tool for students to learn about individual neurons and the cell body. This low-prep activity provides an opportunity for students to color and labels things on neural cells like the axon terminal, nodes of Ranvier, and more.
Learn More: Teachers Pay Teachers
3. 2-Minute Neuroscience
Included in this effective video is a drawing of what a majority of neurons look like. It explains the basic anatomy and a plain and student-friendly explanation of the parts of individual neurons as well as synaptic clusters (or buttons). This would be a great introduction to teaching about the different types of neurons and their makeup.
Learn More: Neuroscientifically Challenged
4. Neuron Diagram, Structure, and Function Digital Lesson
Learn about the different sensory neurons and their anatomy, how electrical synapses work, and more. The included quiz helps students learn about this part of the nervous system. This video is part of a whole series that starts with the functional activity of the nervous system.
Learn More: Study.com
5. Flocabulary
Teach students using rhythm and rhyme with this video that explains the neural activity and anatomy of the human brain. Students will enjoy wiggling to the beat as they learn about sensory neurons and build background knowledge.
Learn More: Flocabulary
6. Study Tools
On this website, students can learn the makeup of the nervous system including the spinal cord and human brain and then focus on the neurons through short educational videos and quizzes to reinforce learning. The detailed diagram includes images of multipolar neurons, bipolar neurons, the synaptic cleft, and more.
Learn More: Ken Hub
7. Google Slides
This interactive slide allows students to drag and drop labels as well as definitions for the neuron and its parts! From the cell body to the axon, students will know their neurons after using this tool to learn and study.
Learn More: Teachers Pay Teachers
8. What is a Neuron Video
Through this engaging video, kids can learn what a neuron is, about the body's nervous system, and the function of this important cell within the nervous system.
Learn More: David Herbst
9. Neuron and Action Potentials
This is a visually appealing and interesting video from Pearson! Help kids understand this interesting topic using this animated video that explains all the details about our amazing nerve system and the neurons that run it.
Learn More: Pearson +
10. Design a Neuron Science Project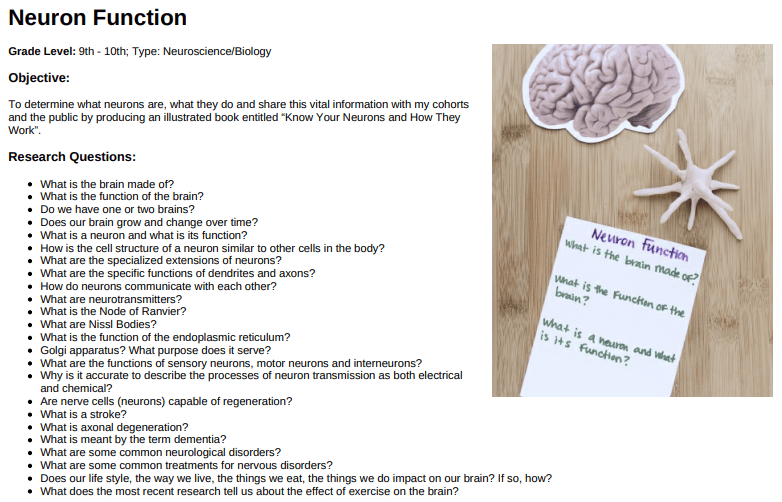 This extensive science project has kids creating a book using research about neuron anatomy and a model of a neuron in action. Students will enjoy this interactive and interesting project surrounding neurons.
Learn More: Education.com