Elementary students will enjoy reflecting on the previous year and planning for the new year. Goal setting for academic goals and fun activities for reflection is ideal for the new year! These 20 exciting New Year's activities are great for students in grades K-5. These fun ideas for lesson plans, engaging activities, and activities students will love are easy to implement.
1. Hopes and Wishes Jar
This simple and fun idea is a great way to get students thinking about their hopes and wishes for the coming year. They can decorate them to reflect their personalities, but this would be great on a school bulletin board.
Learn more: Teach Starter
2. New Year Pizza
This is a fun cooking activity for New Years. Students can make this snack in small groups or this would be a fun family tradition to do on New Year's Day each year. It would be memorable to take a family photo each year as well.
Learn more: Activity Hero
3. Fireworks in a Jar
New Year's often mean fireworks to celebrate. This is a safe craft that will allow students to make their own fireworks in a jar. Creating colorful fireworks is a fun way to include science within the classroom as well.
Learn more: I Can Teach My Child
4. Lunar New Year Drum
Teaching students about how other countries celebrate holidays is important for helping students learn about other cultures. Chinese New Year is a major event and one that students will enjoy learning more about. This craft is a great supplement to this.
Learn more: Kids Activities
5. New Years Countdown Bags
This is great for home or school. Family party ideas, like these countdown bags are great for presenting kids with new ideas, activities or gifts as they countdown to the new year.
Learn more: Happy Home Fairy
6. Fun Photo Booth
Pictures are worth a thousand words. This cute photo booth can create a fun story of this holiday celebration with your family or students! You could even print photos and use them to form a writing prompt to use for goal setting or growth mindset writing.
Learn more: Press Print Party
7. Paper Plate Clock Craft
Classroom activities like this one are fun and creative! Students can decorate and design the theme of this cute, little countdown clock. This craft idea is easy to do and doesn't require many supplies. Students will need a paper plate and strips of paper.
Learn more: The Pinterested Parent
8. New Years Party Masks
Get everyone ready for the big countdown with this cute craft idea! Students can create their own New Year's Eve party mask. Let them decorate and add sequins, sparkles, and even feathers. This is an ideal craft for all elementary grades or to be used at home.
Learn more: Green Owl Art
9. Dot Painting New Year Craft
A cute little art project, this year's dot art picture is great for little hands who need more practice with fine motor skills. Let students choose their colors and use daubers to fill in the dots on the year. These make for a cute bulletin board.
Learn more: The Resourceful Mama
10. New Years Flipbook
Creating a flipbook for New Year's is a great way to build a book that can be organized into one place. This is a great way to reflect and chart your top ten moments, write about your wishes for the future, and create a positive growth mindset mantra.
Learn more: Teach Starter
11. New Years Sensory Bin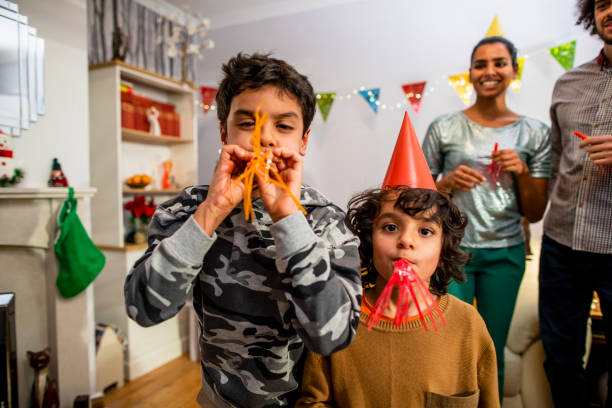 Sensory bins are fun for all grade levels, but especially younger ones. Create a New Year-themed sensory bin with noisemakers, celebration party supplies, and lots of sparkles! This will keep kids busy and they will enjoy exploring the sensory bin and all you include inside it.
Learn more: JDaniel4's Mom
12. Cut and Paste Sentences
This is an activity students will enjoy but also get in some writing practice. This sentence-building activity is good for practicing sight words and sentence formation. This printable activity sheet is one that is very easy for teachers to prepare as well.
Learn more: The Kindergarten Connection
13. Family or Class Time Capsule
Work with your class to create a time capsule for the current year. You can do this activity with your family as well. Let each person choose something special to include in the time capsule and ask them to explain to the group why they chose it. You could even print blank templates and have them include a writing sample to look back on later.
Learn more: Kids Activities Blog
14. Fireworks Ring
This easy fireworks ring is a lovely visual representation that only needs one item to create. Choose a sparkly pipe cleaner to use to form the fireworks ring for students to wear and feel extra glamorous on this fun holiday.
Learn more: Fantastic Fun and Learning
15. Glasses Craft and Writing Activity
A fun craftivity, this glasses, and writing task will tie curriculum with crafting. Students can create cute New Year-themed glasses and add some writing to accompany this project. They can write about what they will do on the holiday or even about the coming year.
Learn more: A Dab of Glue Will Do
16. New Years' Eve Ball Craft
Another activity students will love, is this kid's craft is so fun! They can use a foam ball and shiny sequins to create some snazzy decor within your house or classroom. This will be the perfect addition to your New Year's celebration.
Learn more: Hallmark Channel
17. New Years Slime
Kids love slime! This New Year's themed slime is a great way to encourage sensory exploration and allow students to create their own slime, using this recipe. The more sparkles, the better!
Learn more: Little Bins for Little Hands
18. Do It Yourself Confetti Poppers
Confetti poppers will be the star of the show at your New Year's Eve celebration! Students can make these and choose the decorative confetti that can go inside. They will enjoy popping these guys and making a fun and sparkly mess!
Learn more: Happiness is Homemade
19. New Years BINGO
Print out these cute, little BINGO game cards for your students. Whether at home or at school and in the classroom, you could enjoy a fun game of BINGO with a New Year's theme.
Learn more: Happiness is Homemade
20. Decorate Your Own New Years Hat
These adorable and printable New Year's hats are ideal for letting students' creativity shine through. Simply print and let students color and decorate. They are easy to put together and can be worn as a fun addition to your New Year's holiday celebration.
Learn more: Happiness is Homemade