It's that time of the year again! As the new year approaches, it's time for reflections, resolutions, and fresh beginnings. To kickstart your year with positivity, we've curated a collection of new year quotes that capture the spirit of hope, growth, and new opportunities. A reminder to set goals, overcome challenges, and appreciate the beauty of the journey ahead, these inspiring words will encourage you and your students to make the most of the coming year.
1. "The new year stands before us, like a chapter in a book, waiting to be written." – Melody Beattie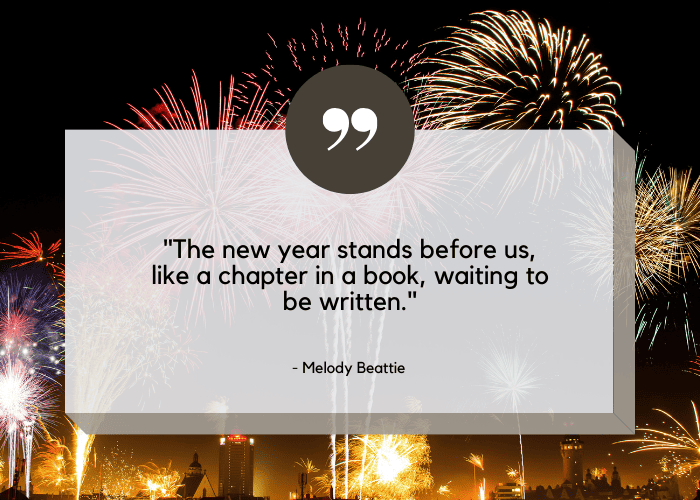 2. "Tomorrow is the first blank page of a 365-page book. Write a good one." – Brad Paisley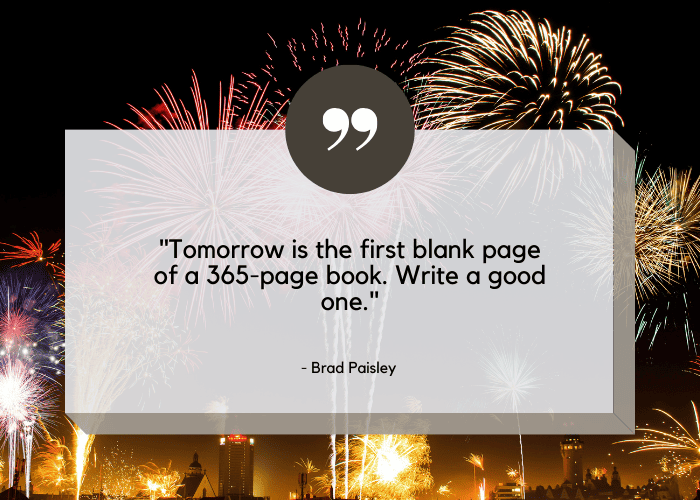 3. "Cheers to a new year and another chance for us to get it right." – Oprah Winfrey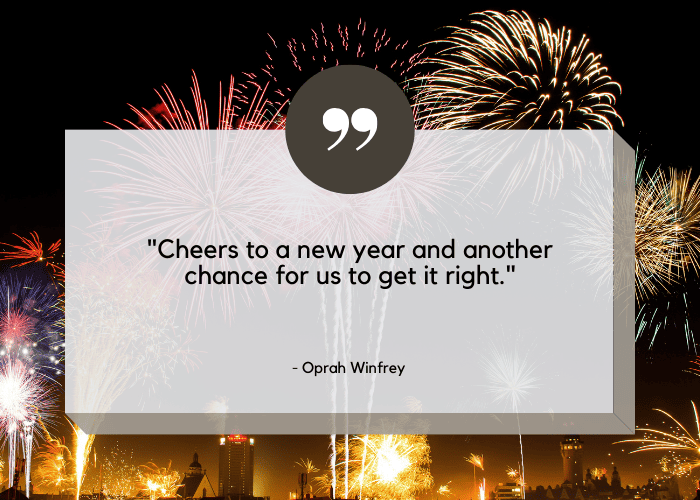 4. "Celebrate endings—for they precede new beginnings." – Jonathan Lockwood Huie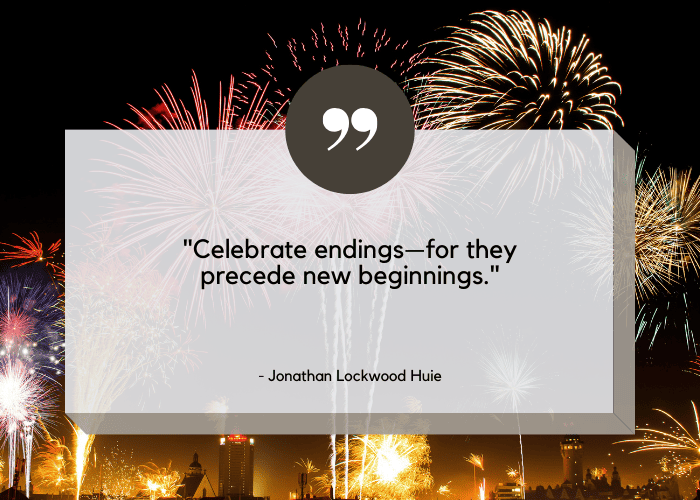 5. "The magic in new beginnings is truly the most powerful of them all." – Josiyah Martin
6. "Every moment is a fresh beginning." – T.S. Eliot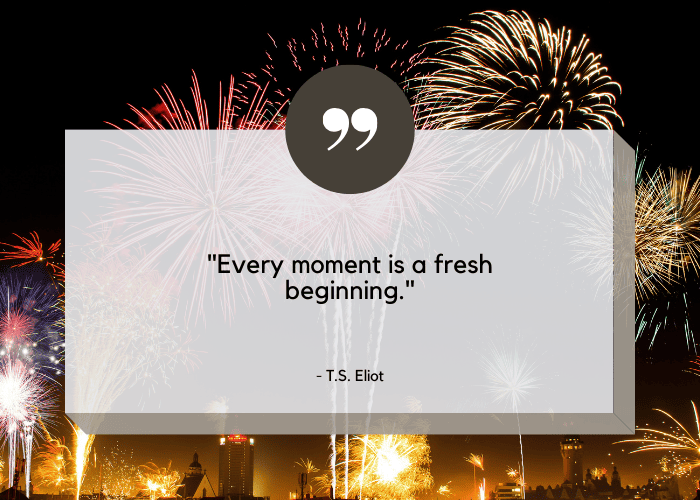 7. "For last year's words belong to last year's language. And next year's words await another voice." – T.S. Eliot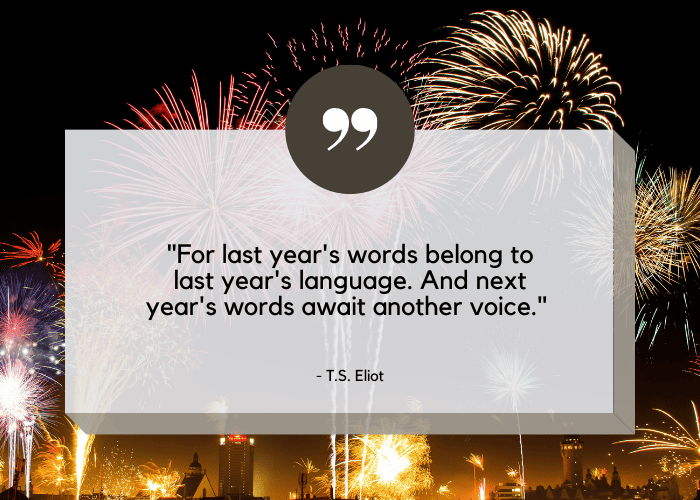 8. "Take a leap of faith and begin this wondrous new year by believing." – Sarah Ban Breathnach
9. "Your present circumstances don't determine where you can go; they merely determine where you start." – Nido Qubein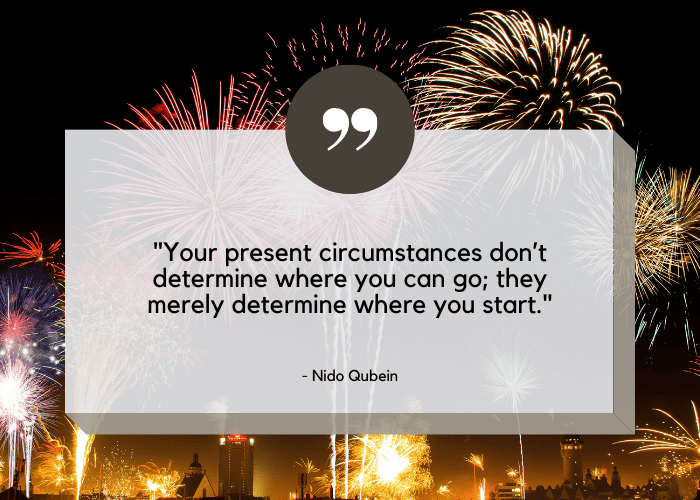 10. "The secret of change is to focus all of your energy, not on fighting the old, but on building the new." – Socrates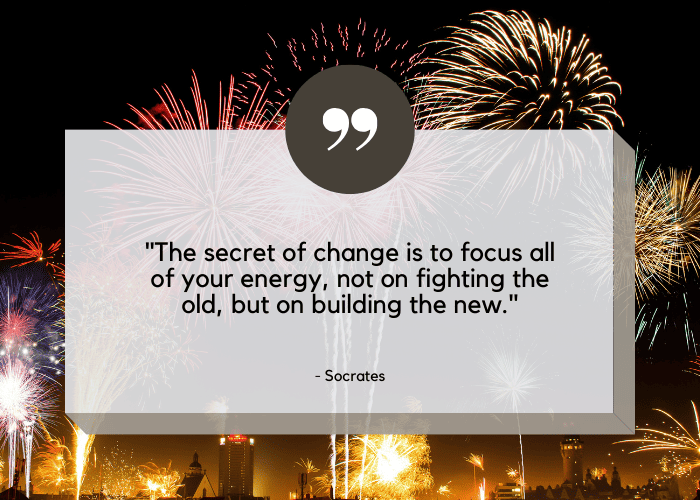 11. "The beginning is the most important part of the work." – Plato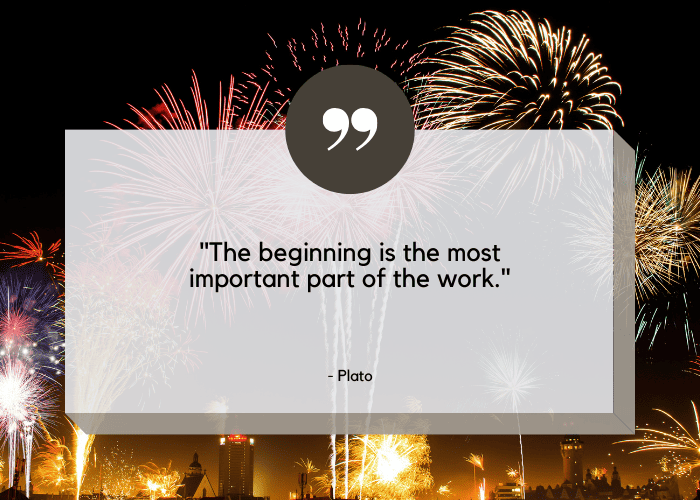 12. "Be at war with your vices, at peace with your neighbors, and let every new year find you a better man." – Benjamin Franklin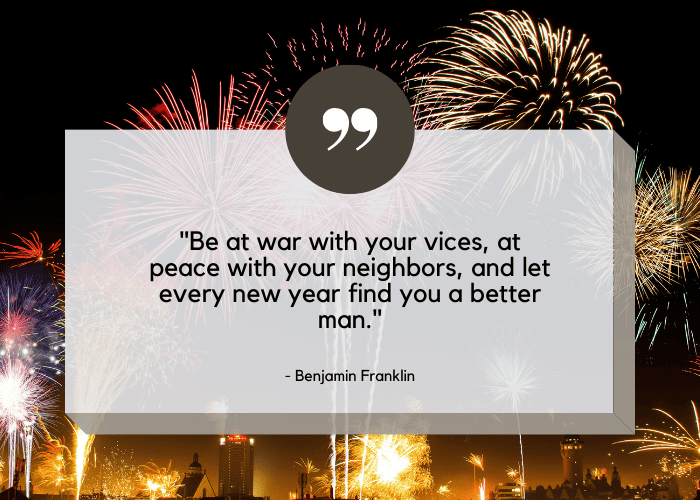 13. "And suddenly you know: It's time to start something new and trust the magic of beginnings." – Meister Eckhart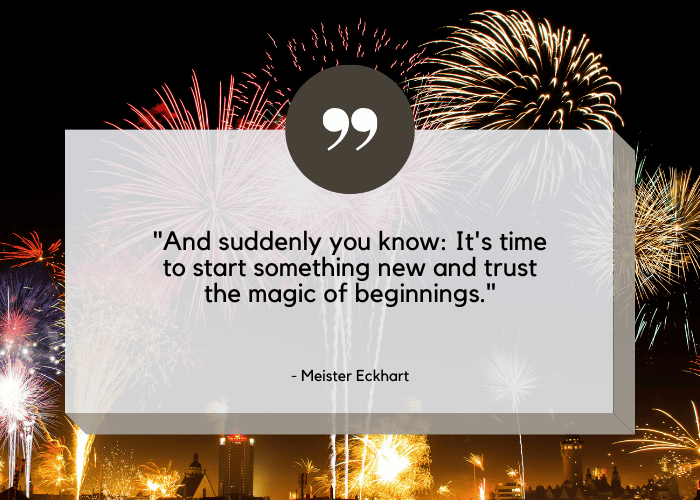 14. "You are never too old to reinvent yourself." – Steve Harvey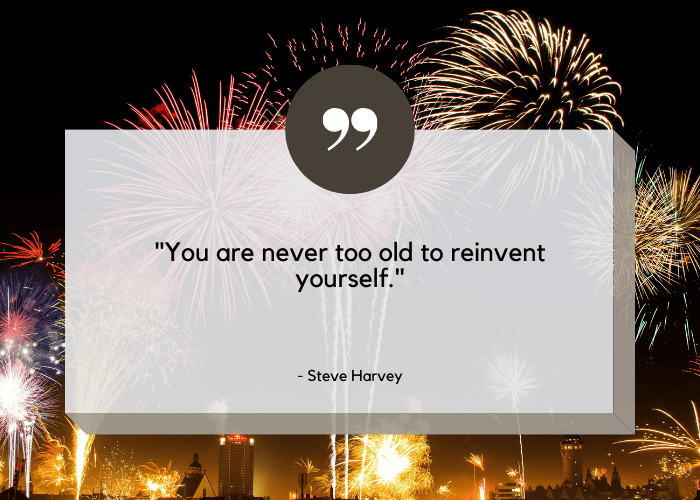 15. "New Year's Day is every man's birthday." – Charles Lamb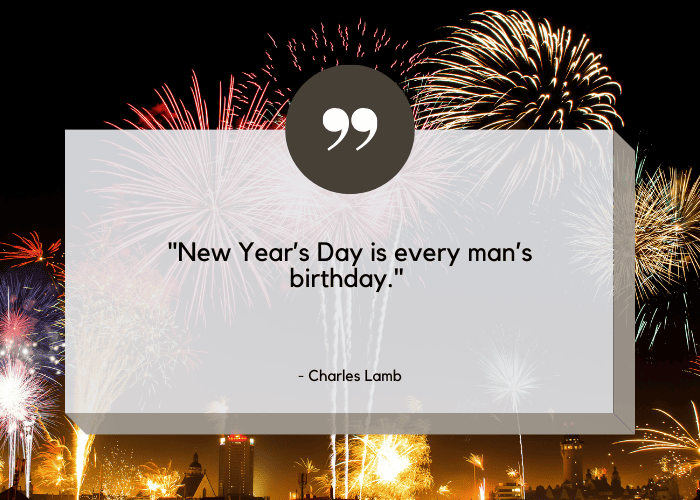 16. "The future belongs to those who believe in the beauty of their dreams." – Eleanor Roosevelt
17. "The old year has gone. Let the dead past bury its own dead. The new year has taken possession of the clock of time. All hail the duties and possibilities of the coming twelve months!" – Edward Payson Powell
18. "May all your troubles last as long as your New Year's resolutions." – Joey Adams
19. "A year from now, you're gonna weigh more or less than what you do right now." – Phil McGraw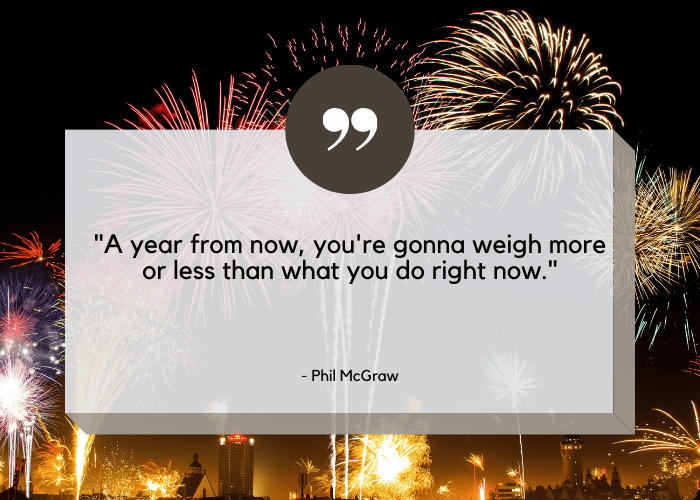 20. "The new year begins in a snow-storm of white vows." – George William Curtis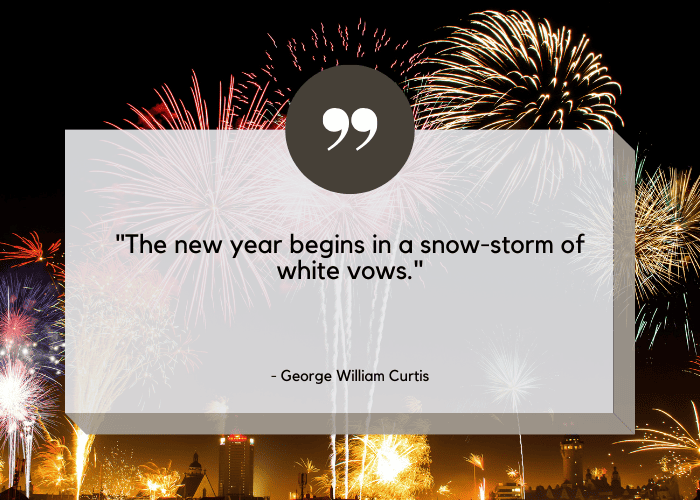 21. "New Year's most glorious light is sweet hope." – Mehmet Murat ildan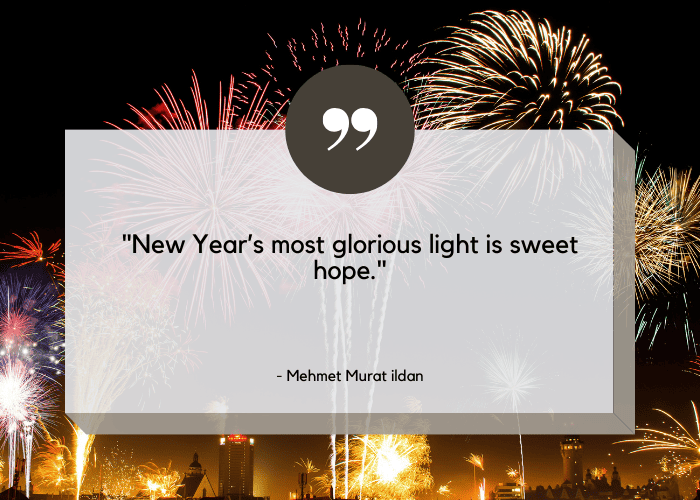 22. "Each year's regrets are envelopes in which messages of hope are found for the new year." – John R. Dallas Jr.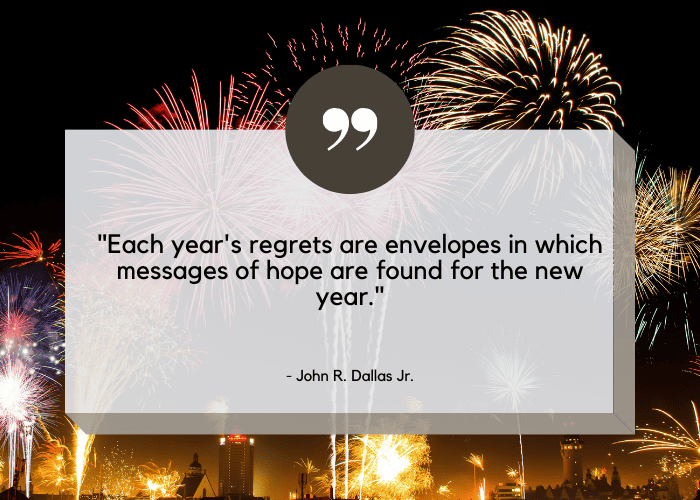 23. "And now we welcome the new year. Full of things that have never been." – Rainer Maria Rilke
24. "This is the new year the new you. You can pass through another year, coasting on cruise control. Or you can step out of your comfort zone, trying things you have never done before, & make 20.. the year that you elevate from where you are & soar high. Make it happen!" – Pablo
25. "The first step towards getting somewhere is to decide you're not going to stay where you are." – J.P. Morgan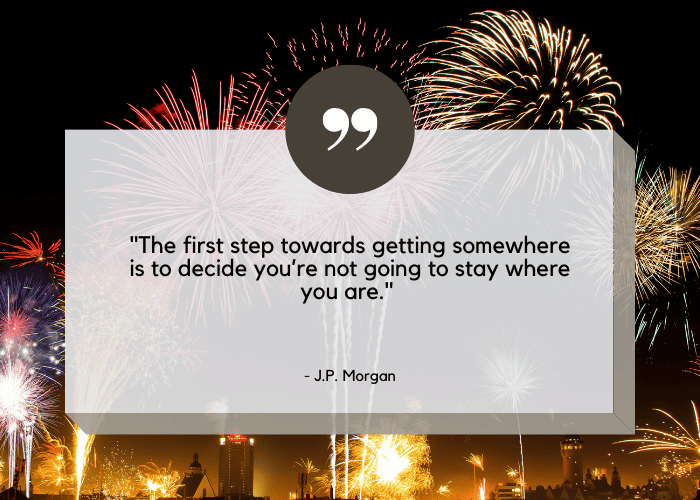 26. "It's not the years in your life that count. It's the life in your years." – Abraham Lincoln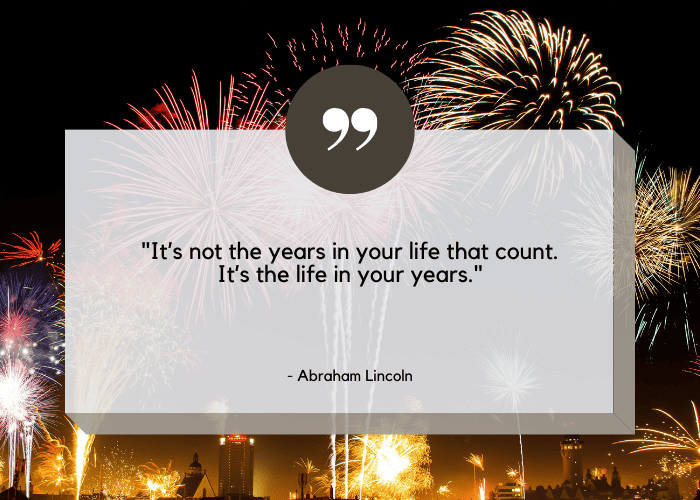 27. "This is a new year. A new beginning. And things will change." – Taylor Swift
28. "A journey of a thousand miles begins with a single step." – Lao Tzu
29. "The bad news is time flies. The good news is you're the pilot." – Michael Altshuler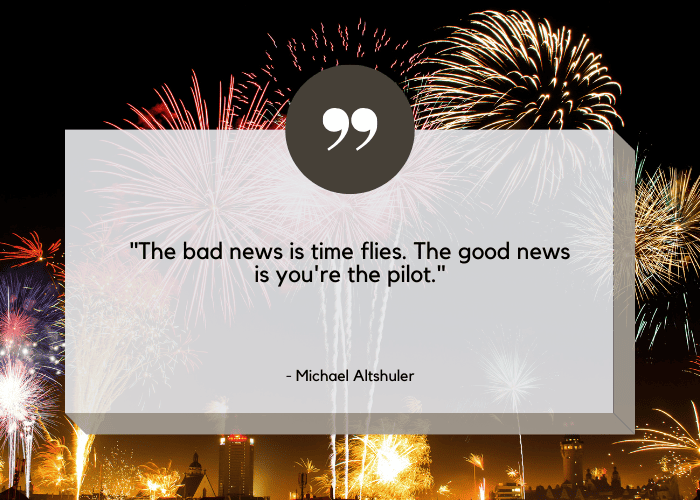 30. "The only time you should ever look back, is to see how far you've come." – Unknown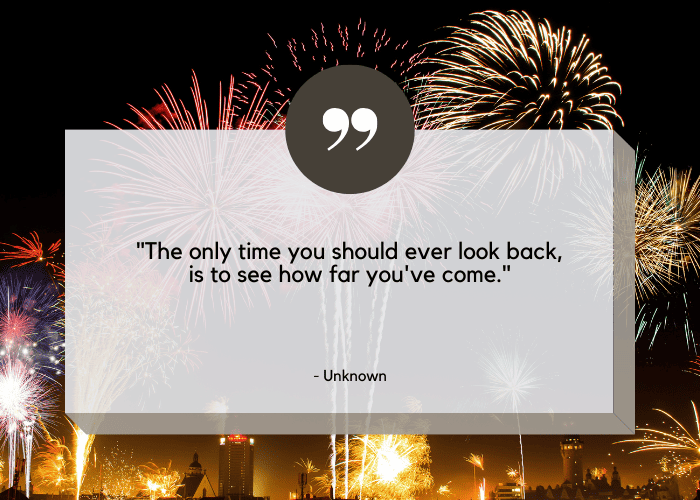 31. "We will open the book. Its pages are blank. We are going to put words on them ourselves. The book is called Opportunity and its first chapter is New Year's Day." – Edith Lovejoy Pierce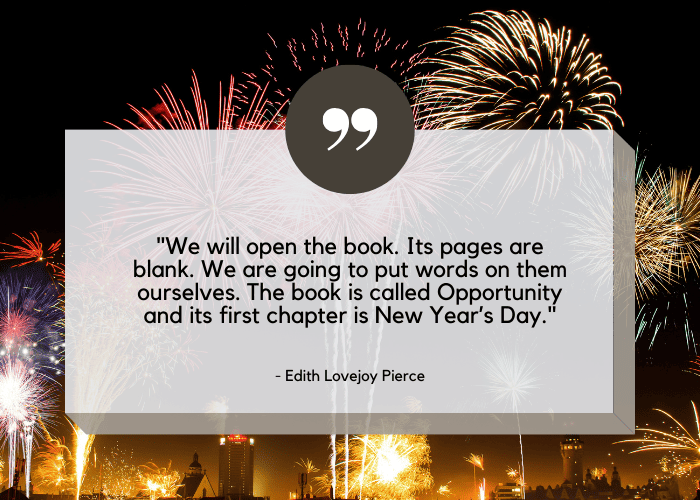 32. "I hope that in this year to come, you make mistakes. Because if you are making mistakes, then you are making new things, trying new things, learning, living, pushing yourself, changing yourself, changing your world. You're doing things you've never done before, and more importantly, you're doing something." – Neil Gaiman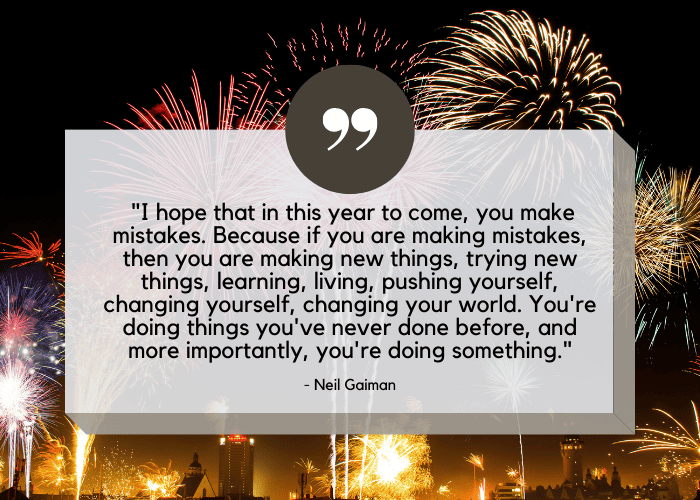 33. "There are far, far better things ahead than any we leave behind." – C.S. Lewis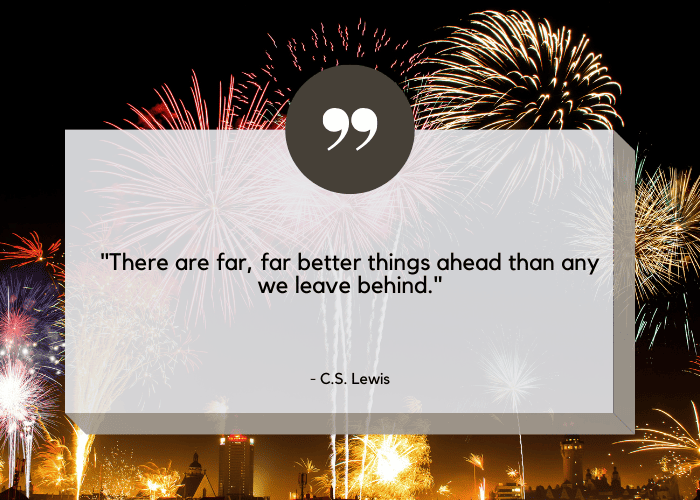 34. "An optimist stays up until midnight to see the new year in. A pessimist stays up to make sure the old year leaves." – William E. Vaughan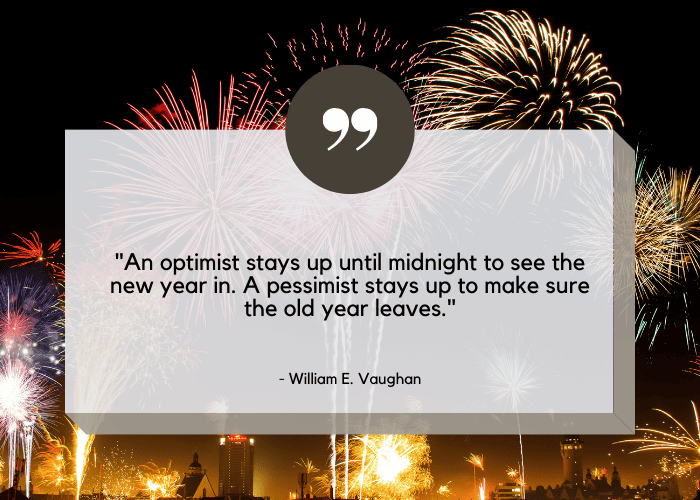 35. "Write it on your heart that every day is the best day in the year." – Ralph Waldo Emerson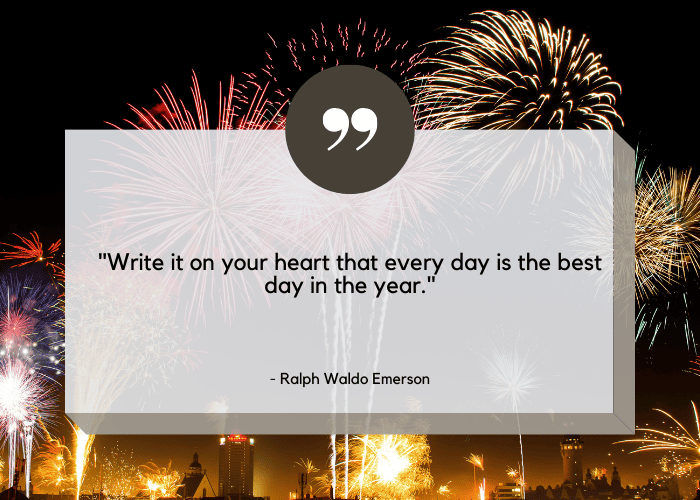 36. "New beginnings are in order, and you are bound to feel some level of excitement as new chances come your way." – Auliq Ice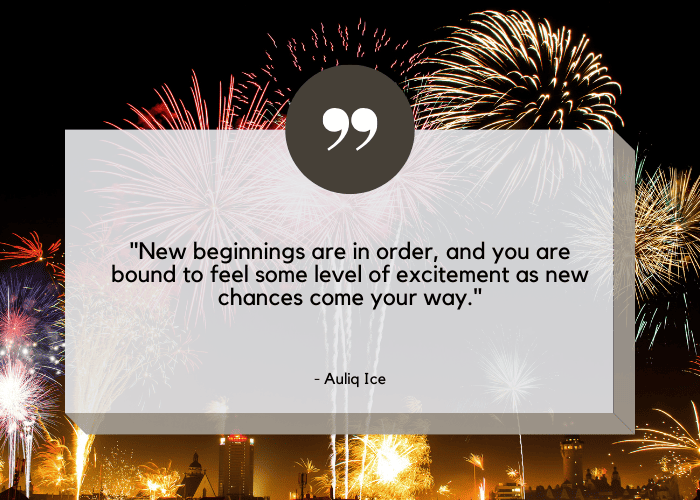 37. "Cheers to a gracious New Year. May we uphold the fullness of God's grace, goodness and goodwill." – Lailah Gifty Akita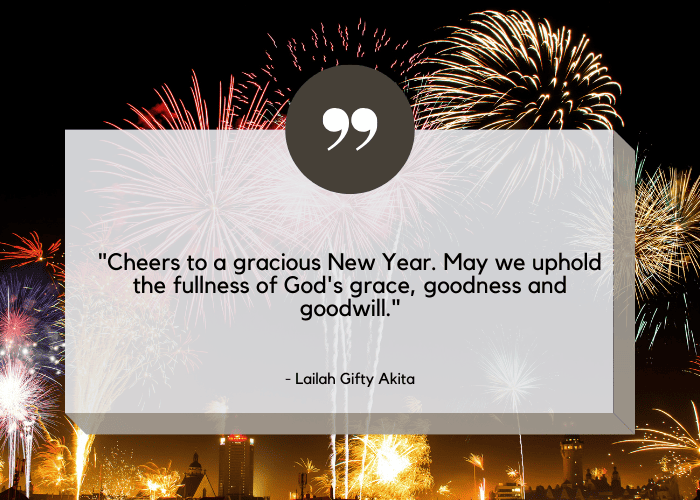 38. "The new year is like a blank book, the pen is in your hands, it is your chance to write a beautiful story for yourself." – Unknown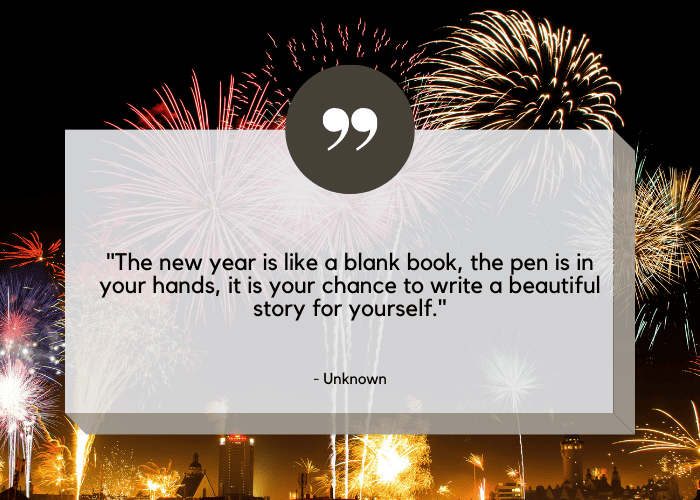 39. "It's time to unfold new pages and start a new chapter in your life because it's New Year." – Unknown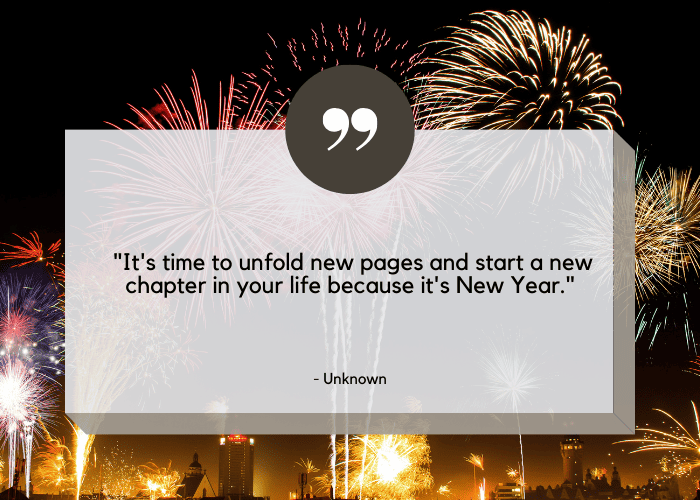 40. "Do not wait until the conditions are perfect to begin. Beginning makes the conditions perfect." – Alan Cohen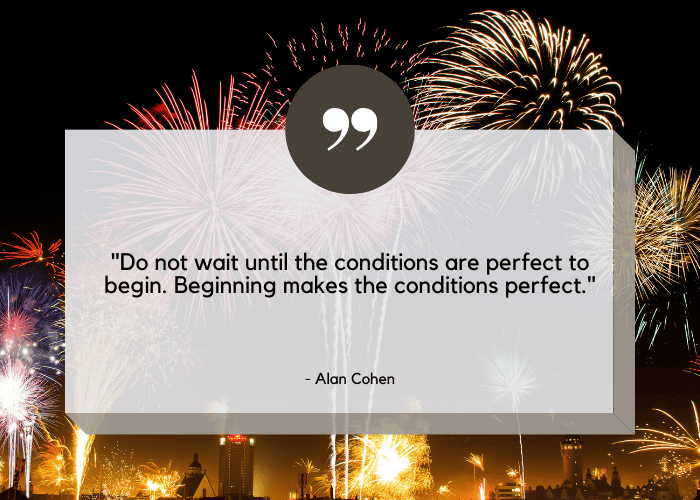 41. "It's not about perfect. It's about effort." – Jillian Michaels
42. "Every accomplishment starts with the decision to try." – John F. Kennedy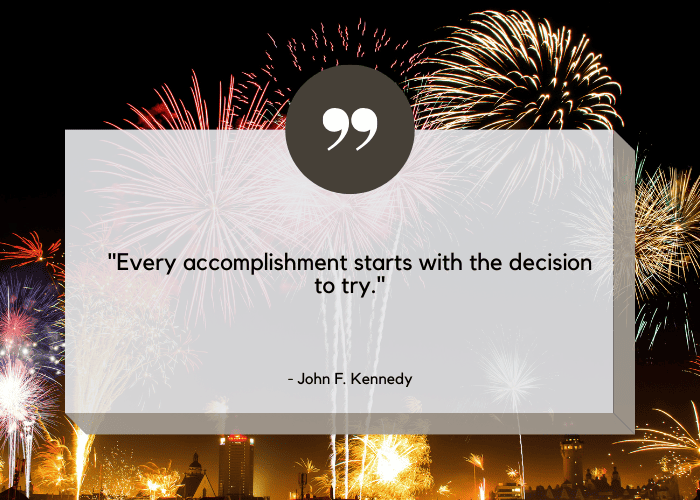 43. "The past cannot be changed. The future is yet in your power." – Unknown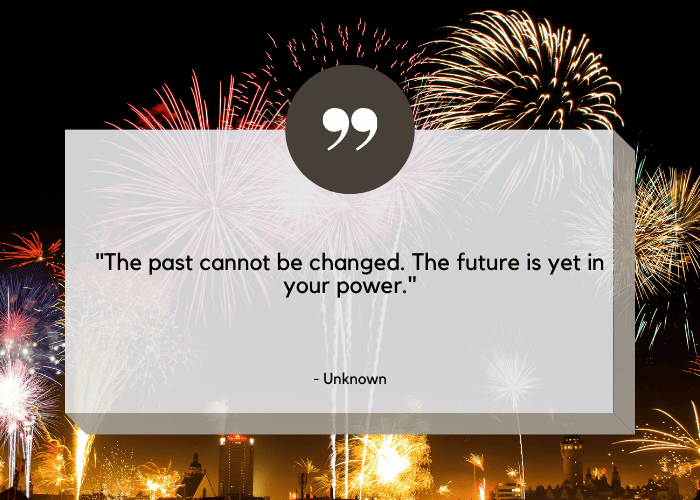 44. "With the new day comes new strength and new thoughts." – Eleanor Roosevelt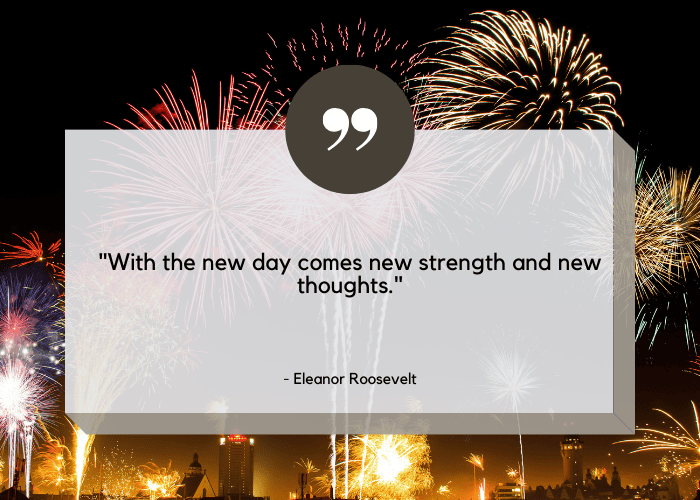 45. "It does not matter how slowly you go as long as you do not stop." – Confucius
46. "The object of a new year is not that we should have a new year. It is that we should have a new soul." – G.K. Chesterton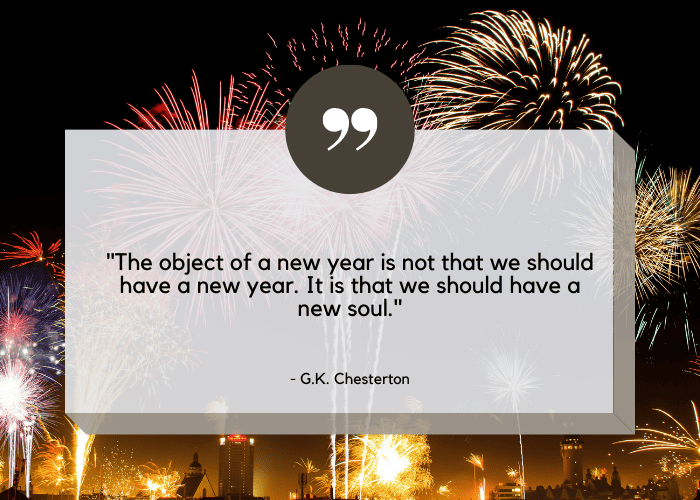 47. "The only limit to our realization of tomorrow will be our doubts of today." – Franklin D. Roosevelt
48. "New year—a new chapter, new verse, or just the same old story? Ultimately we write it. The choice is ours." – Alex Morritt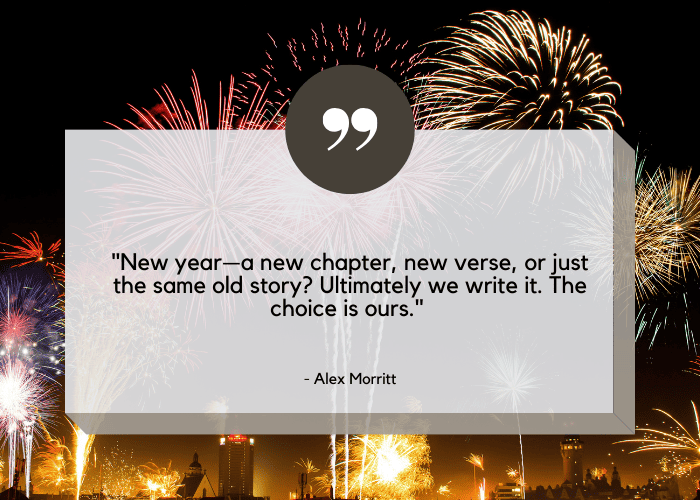 49. "You do not find the happy life. You make it." – Camilla Eyring Kimball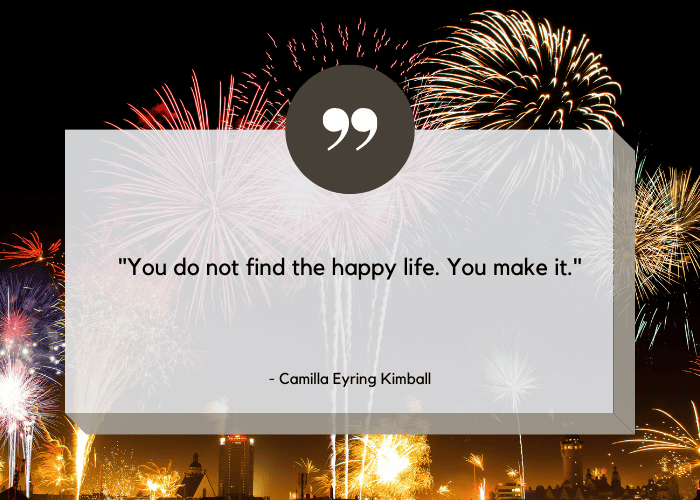 50. "You will never win if you never begin." – Helen Rowland
51. "The New Year has brought another chance for us to set things right and to open up a new chapter in our lives." – Unknown
52. "Don't be afraid to give up the good to go for the great." – John D. Rockefeller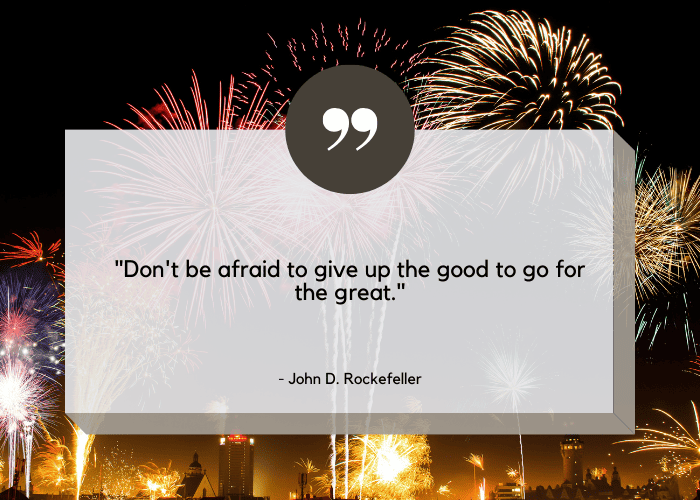 53. "Every new beginning comes from some other beginning's end." – Seneca
54. "As long as I am breathing, in my eyes, I am just beginning." – Criss Jami
55. "Every time you tear a leaf off a calendar, you present a new place for new ideas." – Charles Kettering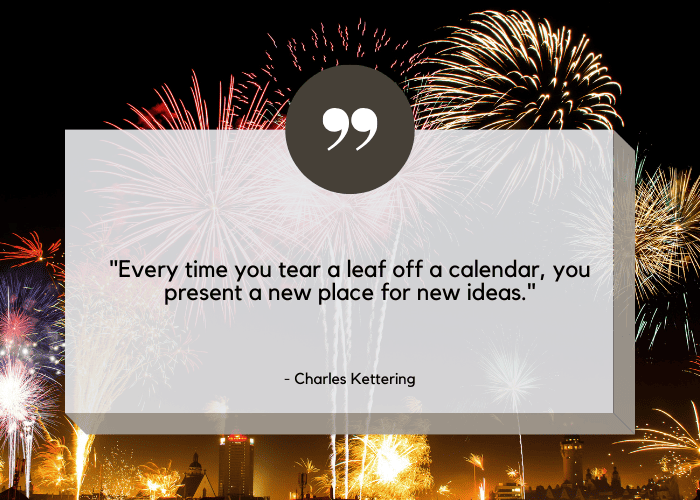 56. "The new year is a time to boldly take the first steps toward your best future." – Oprah Winfrey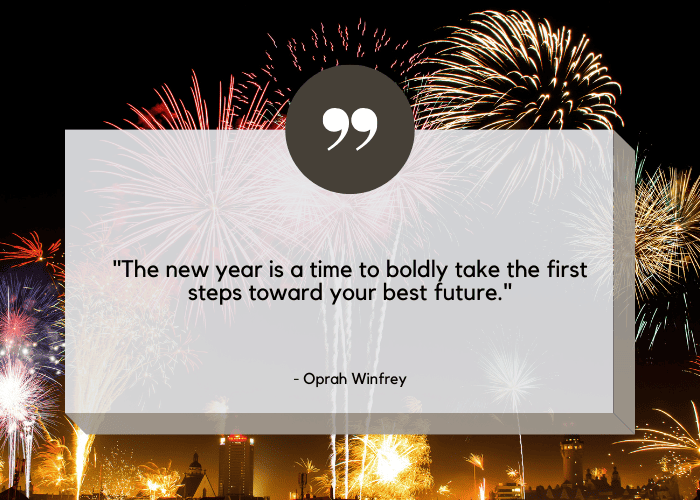 57. "Character is the ability to carry out a good resolution long after the excitement of the moment has passed." – Cavett Robert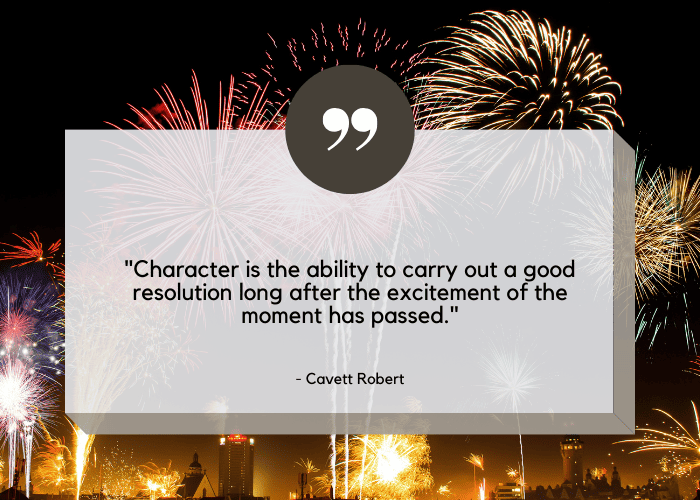 58. "Don't live the same year 75 times and call it a life." – Robin Sharma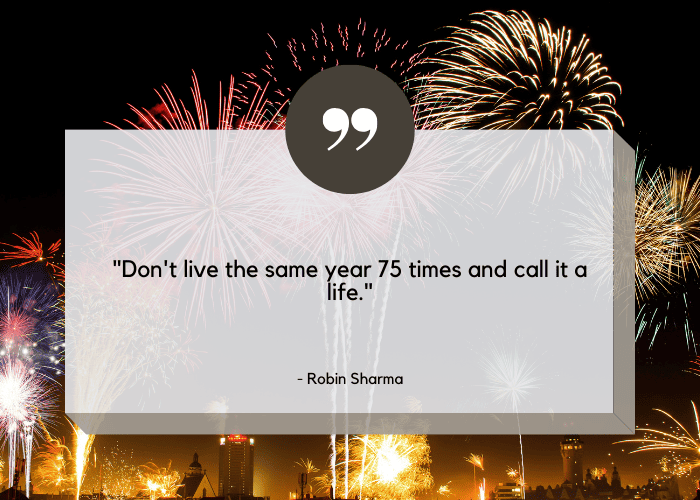 59. "Your success and happiness lie in you." – Helen Keller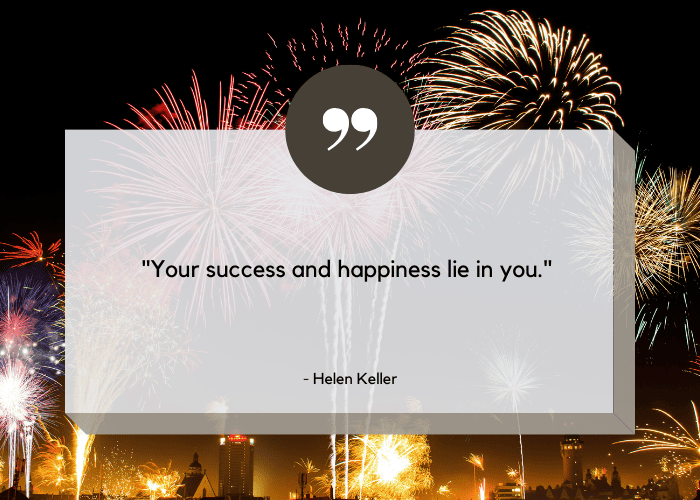 60. "Approach the New Year with resolve to find the opportunities hidden in each new day." – Michael Josephson
61. "May the New Year bring you courage to break your resolutions early. My own plan is to swear off every kind of virtue, so that I triumph even when I fall." – Aleister Crowley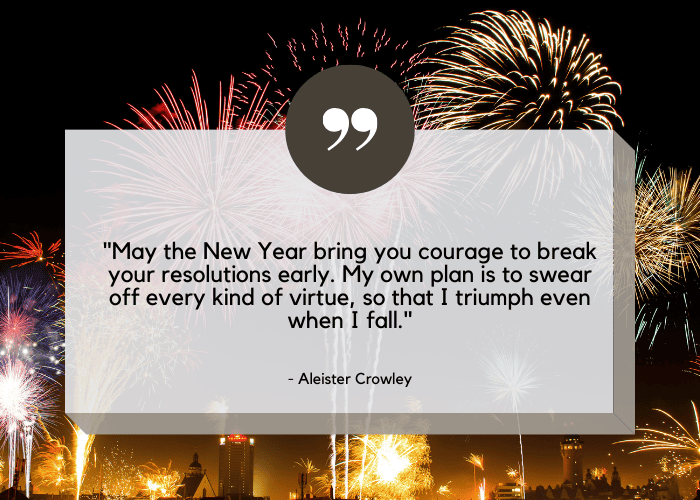 62. "One resolution I have made, and try always to keep is this – To rise above the little things." – John Burroughs
63. "Youth is when you're allowed to stay up late on New Year's Eve. Middle age is when you're forced to." – Bill Vaughan
64. "Whatever it is you're scared of doing, do it. Make your mistakes next year and forever." – Neil Gaiman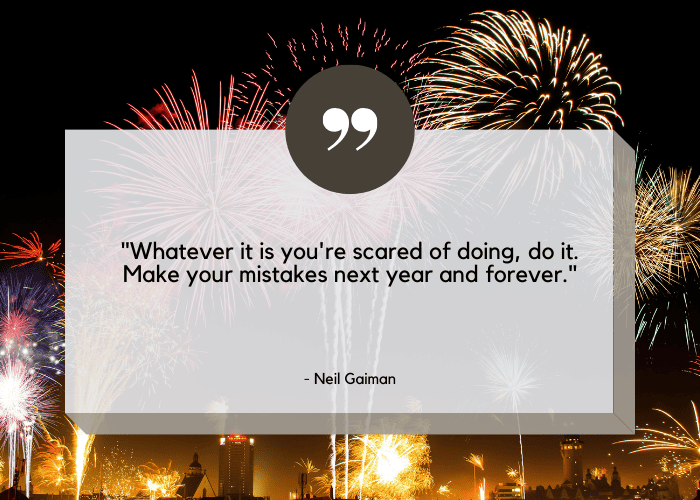 65. "The year-end brings no greater pleasure than the opportunity to express to you season's greetings and good wishes. May your holidays and New Year be filled with joy." – Charles Dickens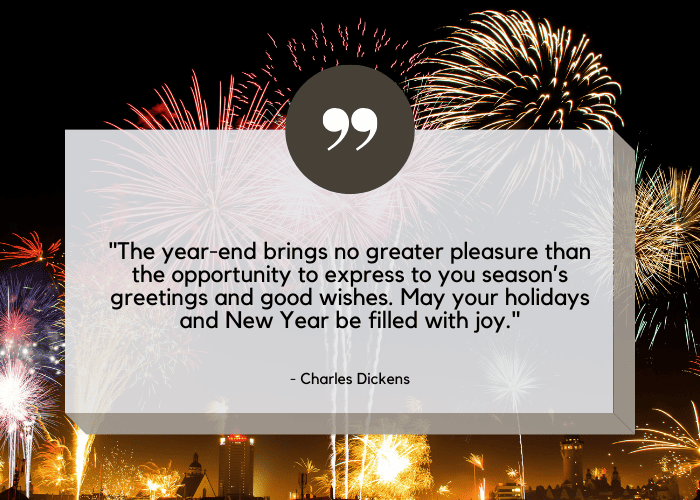 66. "I would say happy New Year, but it's not happy; it's exactly the same as last year except colder." – Robert Clark
67. "May the New Year bring you gifts of love, peace, and happiness." – Unknown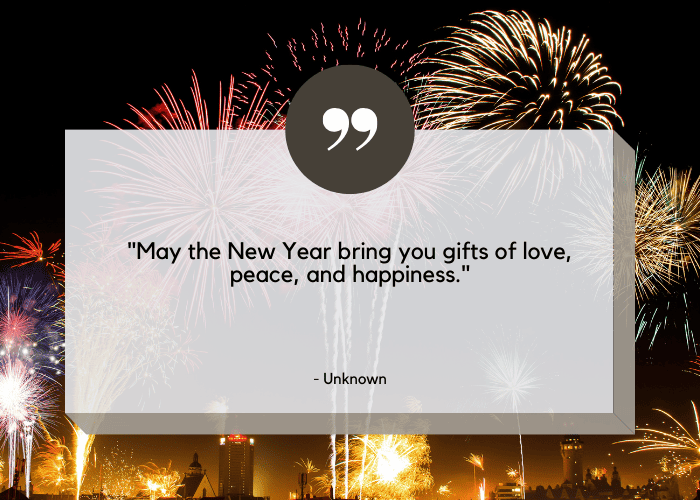 68. "Year's end is neither an end nor a beginning but a going on, with all the wisdom that experience can instill in us." – Hal Borland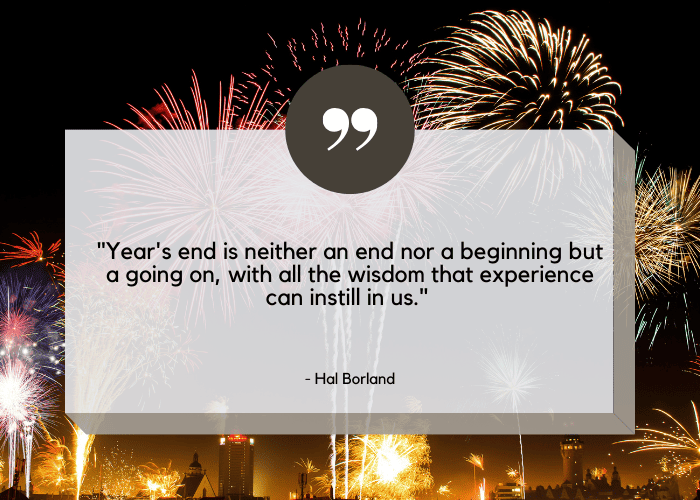 69. "All of us every single year, we're a different person. I don't think we're the same person all our lives." – Steven Spielberg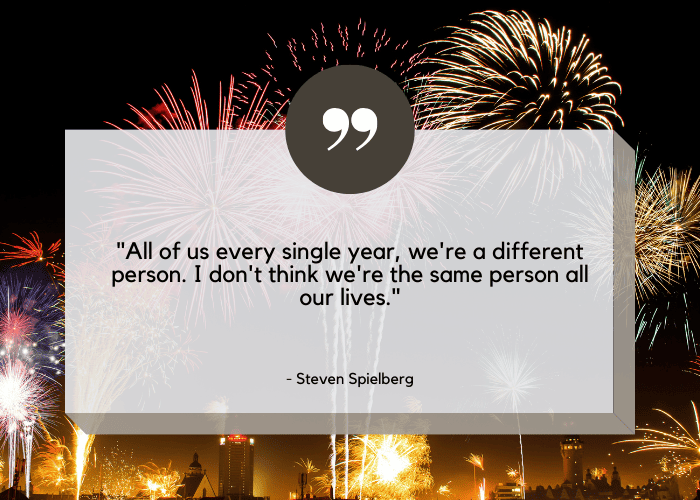 70. "And now let us welcome the New Year, full of things that never were." – Rainer Maria Rilke
71. "You can get excited about the future. The past won't mind." – Hillary DePiano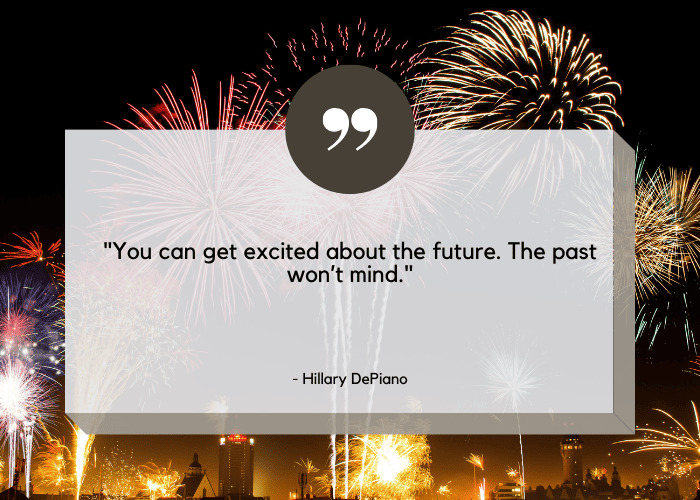 72. "Hope smiles from the threshold of the year to come, whispering, 'It will be happier.'" – Alfred Lord Tennyson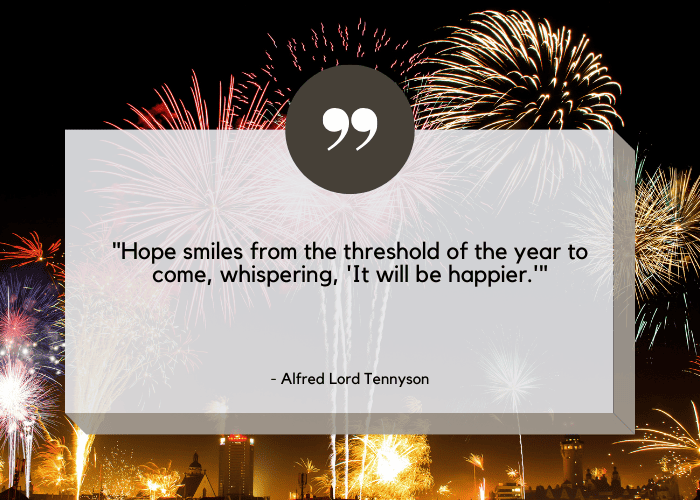 73. "Take a method and try it. If it fails, admit it frankly, and try another. But by all means, try something." – Franklin D. Roosevelt
74. "The best way to predict the future is to create it." – Peter Drucker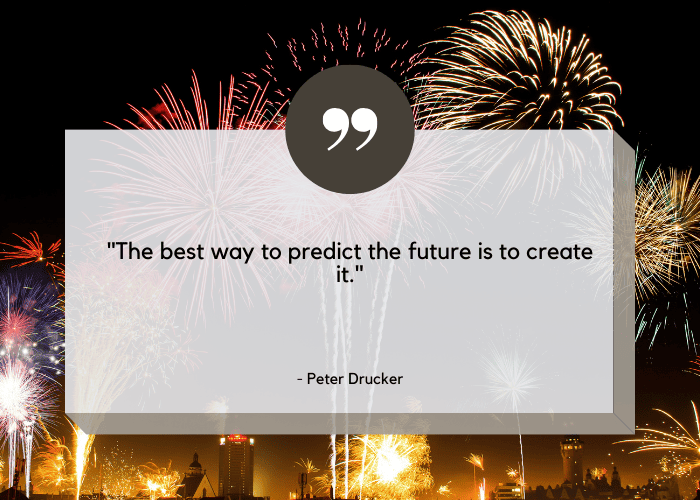 75. "Hope is the thing with feathers that perches in the soul – and sings the tunes without the words – and never stops at all." – Emily Dickinson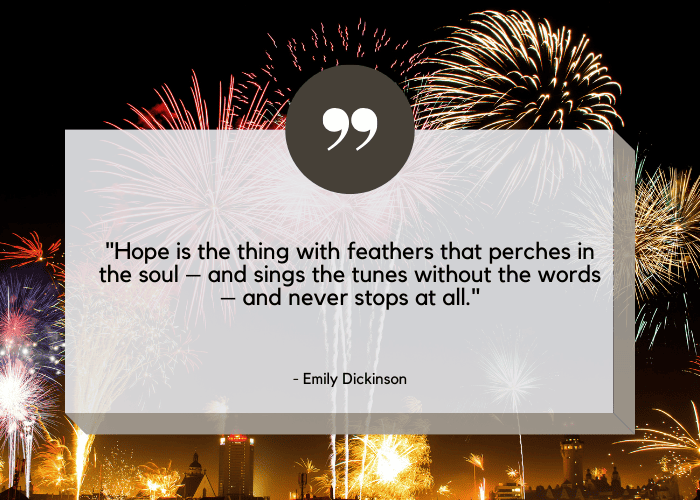 76. "We spend January 1 walking through our lives, room by room, drawing up a list of work to be done, cracks to be patched. Maybe this year, to balance the list, we ought to walk through the rooms of our lives… not looking for flaws, but for potential." – Ellen Goodman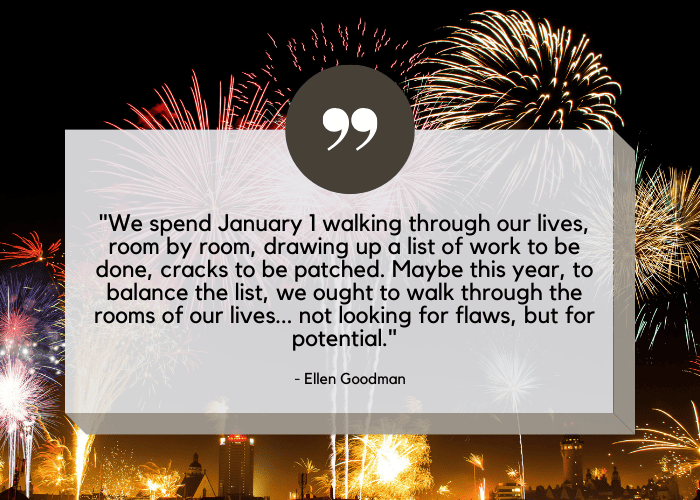 77. "Celebrate what you want to see more of." – Tom Peters
78. "We all get the exact same 365 days. The only difference is what we do with them." – Hillary DePiano
79. "You are never too old to set another goal or to dream a new dream." – C.S. Lewis
80. "A dream written down with a date becomes a goal. A goal broken down into steps becomes a plan. A plan backed by action makes your dreams come true." – Greg S. Reid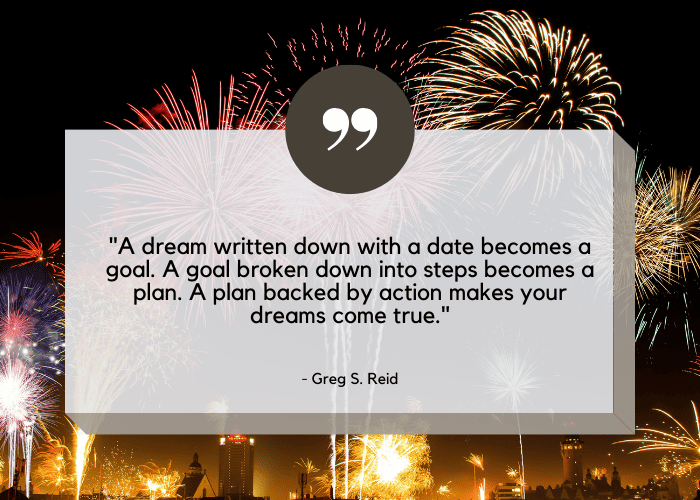 81. "Let our New Year's resolution be this: we will be there for one another as fellow members of humanity, in the finest sense of the word." – Goran Persson
82. "You can't go back and change the beginning, but you can start where you are and change the ending." – C.S. Lewis
83. "I like the dreams of the future better than the history of the past." – Thomas Jefferson
84. "It's not about perfect. It's about effort. And when you bring that effort every single day, that's where transformation happens. That's how change occurs." – Jillian Michaels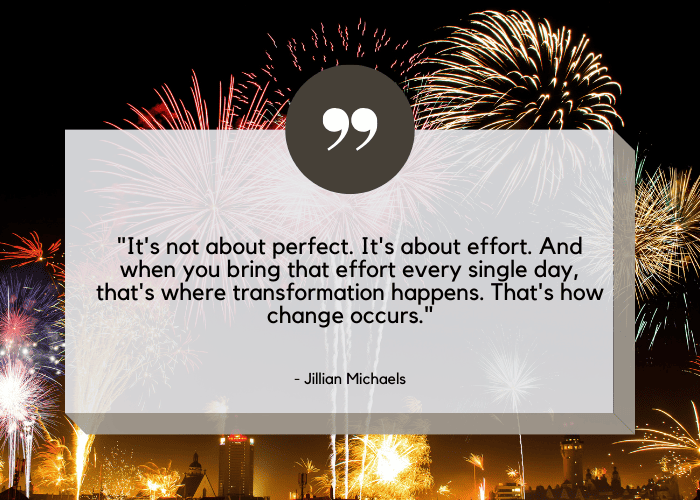 85. "There is no failure except in no longer trying." – Elbert Hubbard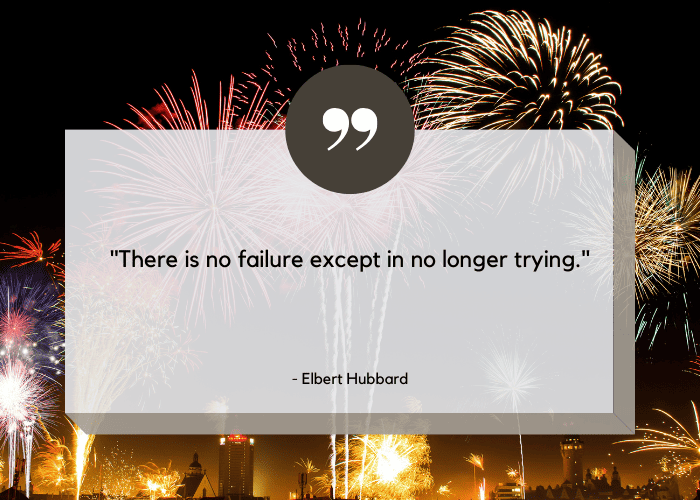 86. "Every day is a new beginning. Treat it that way. Stay away from what might have been, and look at what can be." – Marsha Petrie Sue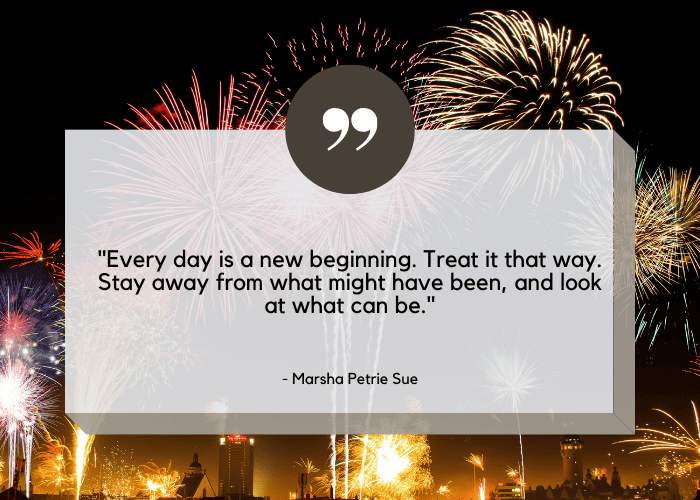 87. "A new year brings not only happiness, it makes us happy with a hope to fulfill our dreams or a new beginning of our life." – Santonu Kumar Dhar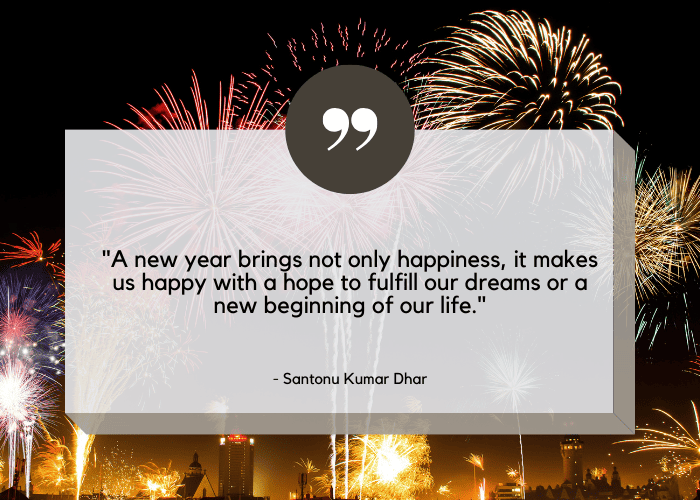 88. "The best is yet to come." – Frank Sinatra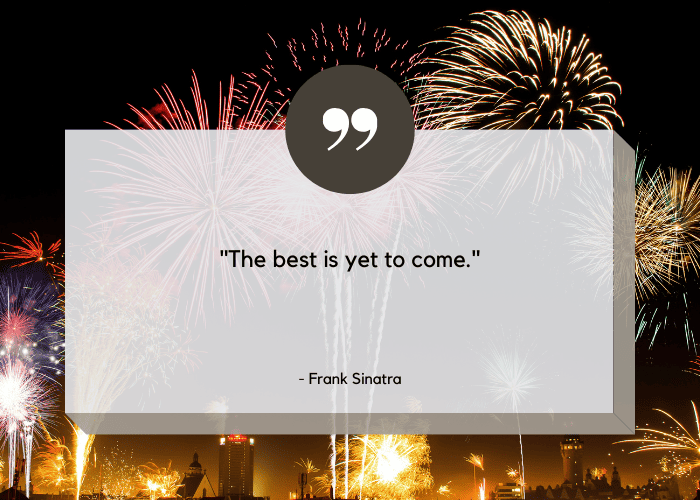 89. "Success is not the key to happiness. Happiness is the key to success. If you love what you are doing, you will be successful." – Albert Schweitzer
90. "A year of ending and beginning, a year of loss and finding…and all of you were with me through the storm. I drink your health, your wealth, your fortune for long years to come, and I hope for many more days in which we can gather like this." – C.J. Cherryh
91. "Make New Year's goals. Dig within, and discover what you would like to have happen in your life this year. This helps you do your part. It is an affirmation that you're interested in fully living life in the year to come." – Melody Beattie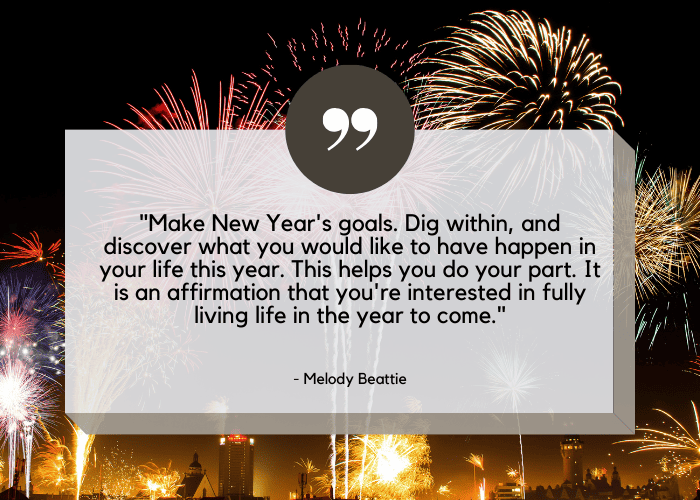 92. "In the New Year, may your right hand always be stretched out in friendship, never in want." – Irish Toast
93. "Take the first step in faith. You don't have to see the whole staircase, just take the first step." – Martin Luther King Jr.
94. "Although no one can go back and make a brand new start, anyone can start from now and make a brand new ending." – Carl Bard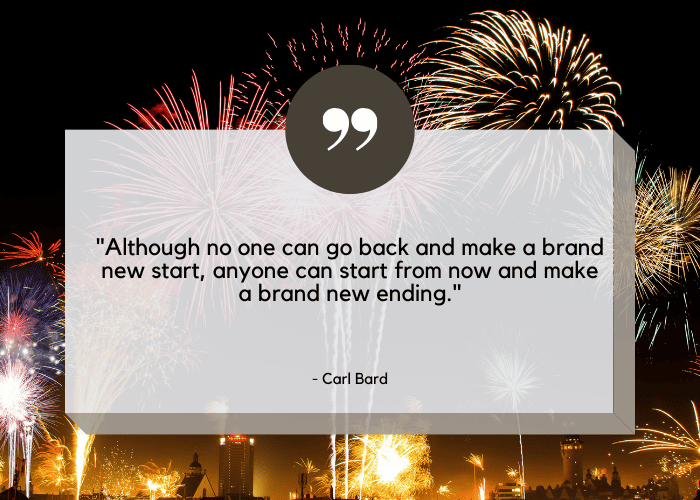 95. "You will face many defeats in life, but never let yourself be defeated." – Maya Angelou
96. "We must be willing to get rid of the life we've planned, so as to have the life that is waiting for us." – Joseph Campbell
97. "A New Year has tiptoed in. Let's go forward to meet it." – Anusha Atukorala
98. "No matter how hard the past, you can always begin again." – Buddha
99. "It always seems impossible until it's done." – Nelson Mandela
100. "Do not follow where the path may lead. Go instead where there is no path and leave a trail." – Ralph Waldo Emerson
101. "It is not in the stars to hold our destiny but in ourselves." – William Shakespeare
102. "Never underestimate the power you have to take your life in a new direction." – Germany Kent
103. "What the New Year brings to you will depend a great deal on what you bring to the New Year." – Vern McLellan
104. "One day you will wake up and there won't be any more time to do the things you've always wanted. Do it now." – Paulo Coelho
105. "Life isn't about finding yourself. Life is about creating yourself." – George Bernard Shaw
106. "The same mind with same old ideas enters the new year and the new year is just a new number!" – Mehmet Murat ildan
107. "We are the authors of our destinies. No one can see the vision any clearer, believe in and work any harder to make it a reality more than the visionary." – Nike Campbell-Fatoki
108. "Your time is limited, so don't waste it living someone else's life." – Steve Jobs
109. "This is the year I will be stronger, braver, kinder, and unstoppable. This year I will be fierce." – Unknown
110. "Let the old year end and the New Year begin with the warmest of aspirations." – Unknown
111. "We are shaped and fashioned by what we love." – Johann Wolfgang von Goethe
112. "We grow neither better nor worse as we get old, but more like ourselves." – May Lamberton Becker
113. "Life is short. Focus on what really matters most; you should change your priorities over time." – Roy T. Bennett
114. "This bright new year is given me to live each day with zest, to daily grow and try to be my highest and my best." – William Arthur Ward
115. "The year is new, each day is new, may they be all filled with all that you are working towards." – Kate Summers
116. "Let go of what was and embrace what to be." – Lailah Gifty Akita
117. "In the New Year, never forget to thank your past years because they enabled you to reach today! Without the stairs of the past, you cannot arrive at the future!" – Mehmet Murat Ildan
118. "As the year comes to an end, don't look back on yesterday's disappointments. Look ahead to God's promises yet to unfold." – Buky Ojelabi
119. "The priceless lesson in the New Year is that endings birth beginnings and beginnings birth endings. And in this elegantly choreographed dance of life, neither ever find an end in the other." – Craig D. Lounsbrough