It is so important to incorporate a functional and aesthetically pleasing outdoor play space for your young children. The benefits outdoor play areas have for your children are a positive impact on physical health, mental health, sensory and imaginative play, and much more. Through hands-on sensory play, children will develop their gross motor and fine motor skills. It doesn't hurt to also create an outdoor quiet space for parents too! Let's explore 22 ideas for outdoor nursery play spaces.
1. Sensory Walking Station
Your little ones will love having a sensory walking station in their outdoor space. All you need is a plastic tub and items to fill the tub with such as water beads, sand, or shaving cream. You can change out the sensory items as needed so this activity never gets boring!
Learn more: Teaching Mama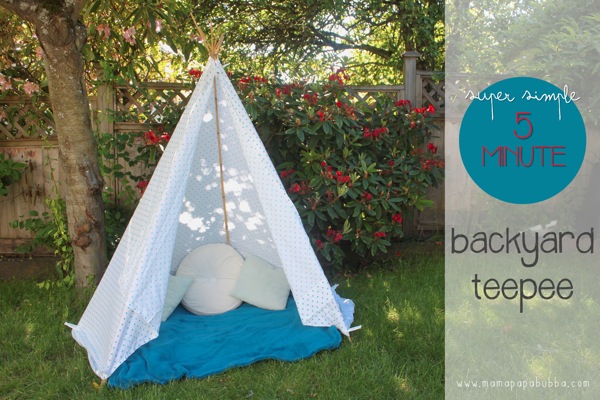 You don't have to spend a lot of money to create a beautiful teepee for your children. Explore these simple steps to put together your own teepee for your child to have their own secret space. You will need a king-size sheet, bamboo stakes, clothespins, and jute.
Learn more: Mama, Papa, Bubba
Children of all ages will love to see how water flows through various-sized containers and funnels with their own creative water wall space. They will explore cause and effect by pouring the water in and observing where it goes throughout the water wall.
Learn more: Happy Hooligans
Building a sunflower house is an excellent way to teach your children about gardening, the life cycle of a plant, measuring growth, and more. It's so fun to see the sunflowers grow even taller than the kids! The sunflower garden will also make a great space for photo opportunities.
Learn more: Lasso the Moon
This Sky Nook has many benefits for children. It can be used as a cozy space to rest, read, or just swing in the breeze. It calms down energy and promotes a comfortable and relaxing environment. It is also made child safe with a special reinforced stitching design.
Learn more: Fat Brain Toys
Did you know that you don't have to purchase an expensive playhouse to reap the benefits? Learn how to build a playhouse with wooden pallets. Having an outdoor playhouse will enhance your outdoor environment for children. What an awesome way to upgrade your backyard play space!
Learn more: Home Stratosphere
7. Build a Play Set with Slide