These twenty colorful activities range from ocean salt painting and blow painting with straws to creating sea creatures out of chalk pastels and tissue paper. Kids are sure to love letting their imaginations run wild while also gaining a deeper appreciation for the beauty and diversity of life under the sea. These projects can also be a fun and educational way to learn about marine biology and the importance of preserving our oceans for future generations.
1. Ocean Painting Process Art
This fun and creative activity involve using a mixture of salt, watercolor paints, and paper to create a unique ocean-themed artwork. The salt is sprinkled on the wet paint to create a textured effect as it dries.
Learn More: The Keeper of the Memories
2. Ocean Craft
For this hands-on art project, children will use straws to blow vibrant, water-based paint onto paper, creating unique and colorful coral reef designs. This activity encourages imaginative play and develops fine motor skills and is an enjoyable way for kids to express themselves through art.
Learn More: Woo Jr.
3. Cute Ocean Craft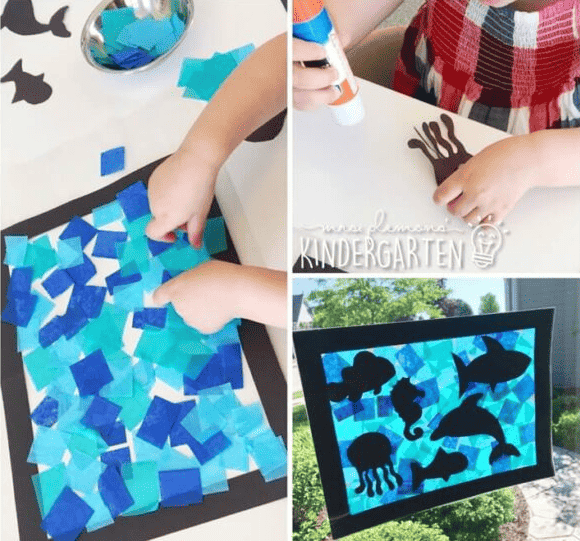 Students will cut and layer different shades of blue tissue paper before gluing them onto a black paper background to create a striking stained glass effect.
Learn More: Mrs. Plemon's Kindergarten
4. Ocean Animal Art
Kids can learn all about blending colors and textures as they create the wavy tentacles and vibrant body of a jellyfish using chalk pastels. This project promotes creativity, hand-eye coordination, and fine motor skills.
Learn More: Projects With Kids
5. Shark Silhouettes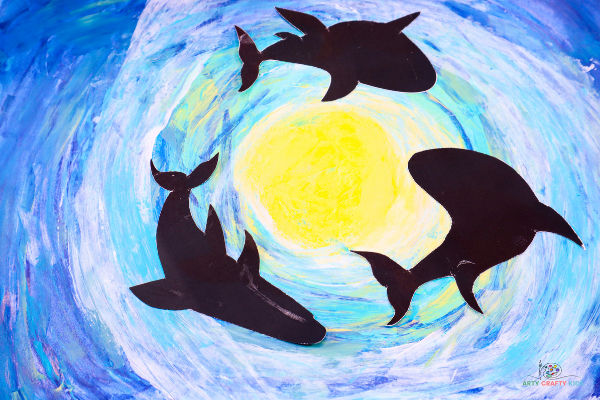 This fun and creative activity involve using printable shark silhouettes and a scrape painting technique to create a unique and colorful ocean scene. This activity is perfect for kids of all ages and helps develop their artistic skills and imagination.
Learn More: Arty Crafty Kids
6. Starfish Craft
This textured art project involves using a black resist medium to block out the starfish design on a white piece of paper. Children can then color in the background with watercolors, giving the starfish a pop of color against the white background. This creates a unique and eye-catching contrast effect that is sure to impress!
Learn More: Rhythms Of Play
7. Coffee Filter Suncatchers
Who thought watercolor and coffee filters could create such stunning suncatchers? This simple but striking craft is a wonderful way to explore ocean creatures and also makes a beautiful decoration for the classroom.
Learn More: A Little Pinch of Perfect
8. Tropical Reef Craft
This illuminated DIY coral reef made from tissue paper and an egg carton base is a fun and colorful activity. The addition of color-changing LED tea lights turns the reef into a mesmerizing nightlight. If LED lights are not available, colored tissue paper can still be used to create a visually appealing reef craft.
Learn More: The Craft Train
9. Shark-Themed Art Lesson with Light Colors
Have kids cut out and trace around the printable shark template before letting them add different shades of blue paint. Before the paint dries, remove the template and add glitter if desired. This striking painting helps develop fine motor skills and celebrates Shark Week in a fun and creative way
Learn More: Crafting A Fun Life
10. Shell Painting
Painting sea shells is a wonderful way for children to explore texture, color combinations, and color theory. This mess-free activity also helps develop fine motor skills, and hand-eye coordination while allowing kids to express themselves freely.
Learn More: Fun A Day
11. Marbled Fish
This marbled fish activity invites kids to swirl and mix different colors of paint to create unique and one-of-a-kind aquatic designs. It's the perfect way to let their imaginations run wild and build their appreciation for ocean life.
Learn More: Fantastic Fun and Learning
12. Construction Paper Artwork
Kids are sure to love tearing up colored paper to create textured sand, ocean, and sky for a beautiful beach scene. Why not add some seashells or a golden sunset to enhance the unique landscape?
Learn More: Woo Jr.
13. Shimmery Seashells
Have kids arrange seashell cutouts before adding paint with bubble wrap to create a textured effect and topping off with glitter for a shimmering touch! The finished product can be arranged on a canvas to create a beautiful beach-inspired scene.
Learn More: Fantastic Fun and Learning
14. Cool Ocean Art Project With Liquid Watercolor Paint
Students can create these beautiful ocean-inspired waves by layering brush strokes and adding white paint with their fingers or a brush to create wave foam. The final step is to splatter watered-down white paint to create splashes of water and mist.
Learn More: Art Teacher in LA
15. Marine Lesson Mixed-media Painting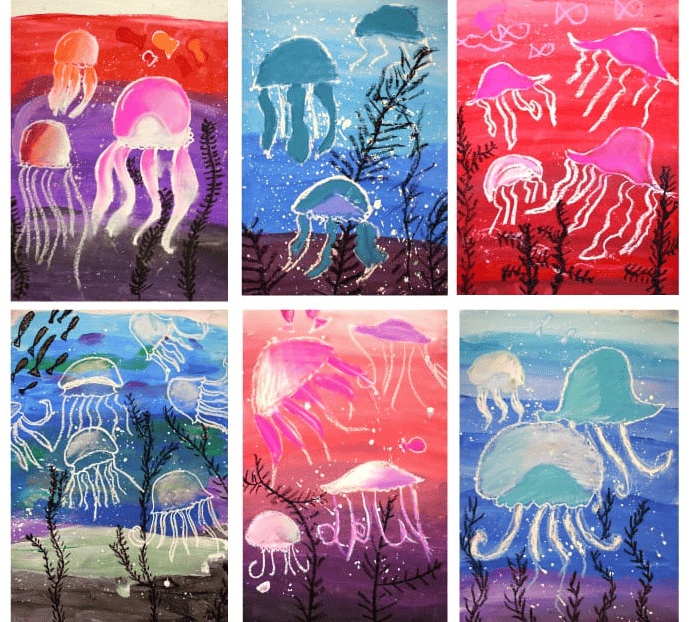 After painting a piece of white paper with either a gradient of blue or red paint, kids add white paint for bubbles before drawing jellyfish using soft chalk pastel. They are sure to love displaying their colorful, translucent jellyfish for all to admire!
Learn More: Deep Space Sparkle
16. Blue Whale Creature Craft
This detailed project combines different art techniques, such as observational drawing, illustration, and watercolor. Students are taught to start with light colors and gradually go darker, using the wet-on-wet technique.
Learn More: Art Room Britt Blogspot
17. Cupcake Liner Seahorse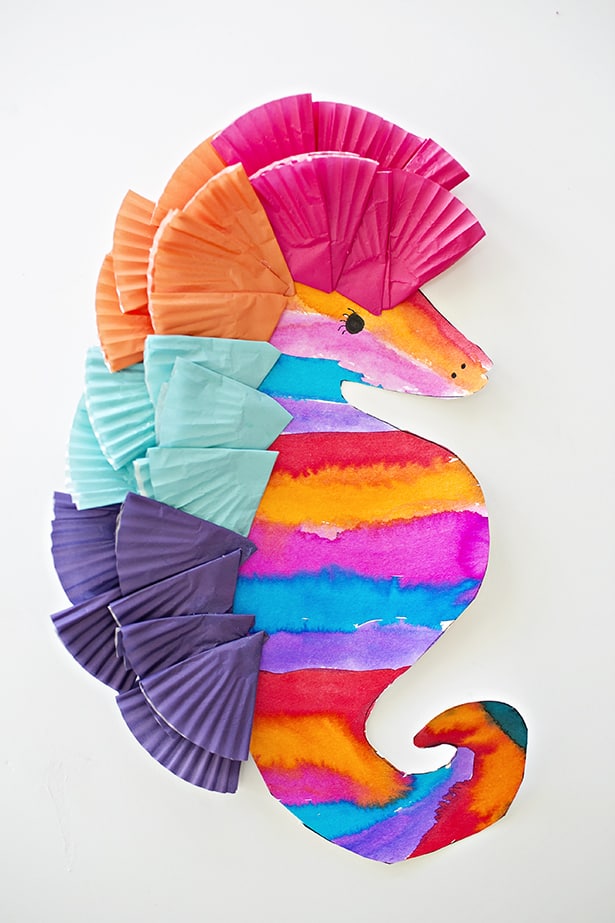 After painting the free printable seahorse template with liquid watercolors, students add fins made of cupcake liners by flattening and gluing them together. The end result is a beautiful, vibrant, and fun art piece!
Learn More: Hello Wonderful
18. Fantastic Beach Side Theme
Using vibrant colors and playful paintbrush strokes, kids will be able to bring their sea turtle vision to life on paper. This lesson is perfect for kids who love ocean creatures and art!
Learn More: Easy Peasy Art School
19. Aquatic Ocean Art Project
Using acrylic paint as a base and white chalk pencil for the finishing touches, kids will create a stunning underwater scene with playful fish, crabs, and starfish. Get your paintbrushes ready and dive into the world of ocean art!
Learn More: Step-by-Step Painting
20. Crab Handprints
This adorable craft transforms painted handprints into a colorful and adorable crab that will be a cherished keepsake for years to come. Add some googly eyes, clouds, and sand for a perfect ocean-themed scene!
Learn More: She Knows