With their unique physical feature and outstanding intelligence, these fascinating creatures have long captured the imaginations of children and adults. From literacy and numeracy-based lessons to inventive arts and crafts, these activities are designed to educate and entertain while promoting creativity, problem-solving skills, and knowledge about the ocean and its inhabitants. So, get ready to dive into the world of these amazing creatures!
1. Watch a Video About the Brain Activity of These Amazing Creatures
This informative video explores the complexity and intelligence of the octopus brain, highlighting its ability to problem-solve and learn through observation. Through stunning visualizations and scientific research, it gives kids a glimpse into the fascinating world of these intelligent creatures and their outstanding cognitive abilities.
Learn More: TED-Ed
2. Cut and Paste Activity for Preschoolers
Have kids cut out the four different sections and paste them in the correct order to create a complete and vibrant octopus image. This puzzle can be a great way to teach them about the different body parts of these remarkable creatures while enhancing their fine motor skills and hand-eye coordination.
Learn More: Nurtured Neurons
3. Watch a Slideshow Presentation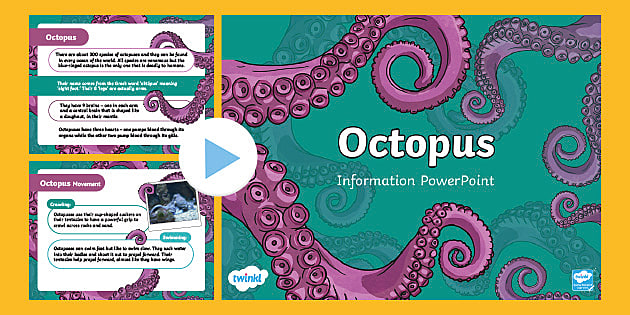 This colorful and animated PowerPoint features striking images and interesting facts that are sure to capture students' attention and help them retain all their new learning.
Learn More: Twinkl
4. Practice Reading Skills With Activity Sheets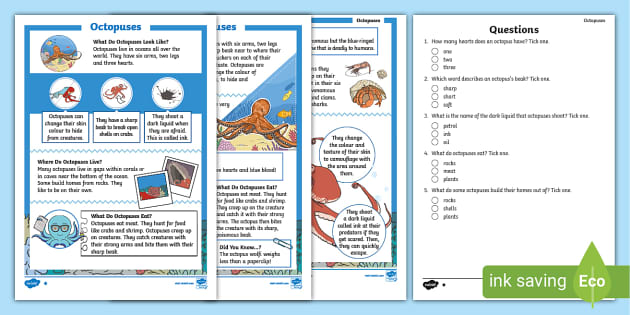 This comprehensive resource features eye-catching illustrations as well as a series of short passages about octopuses. Students are challenged to answer the corresponding comprehension questions, separated into three different levels of difficulty, making it a great learning assessment option.
Learn More: Twinkl
5. Drawing Activity Idea
Apart from enhancing artistic skills and hand-eye coordination, this fun and engaging directed drawing video is a fantastic way to boost creativity as kids explore their own unique artistic style.
Learn More: Art for Kids Hub
6. Camouflage Activity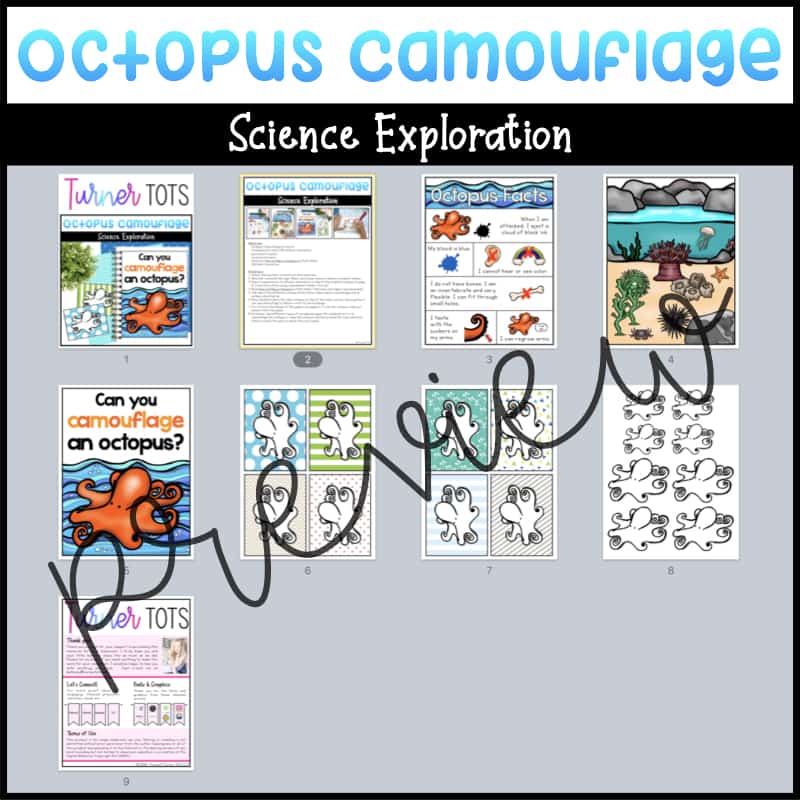 This activity features a blank octopus that children are challenged to color to blend in with the background pattern. It's a fun, hands-on way to experiment with different colors and patterns while learning about camouflage and animal adaptations.
Learn More: Teachers Pay Teachers
7. Make A 3D Octopus Model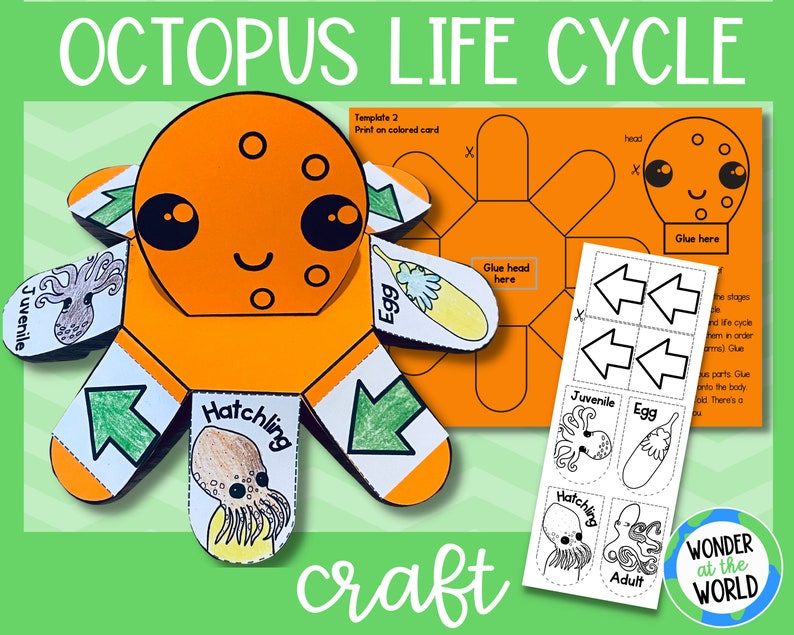 This adorable craft involves cutting out different parts of the octopus life cycle, such as the eggs, hatchling, juvenile, and adult octopus, and gluing them onto the foldable template in the correct order. It's an exciting way to review the different stages and the changes that occur as an octopus grows and develops.
Learn More: Etsy
8. Octopus in the Ocean Craft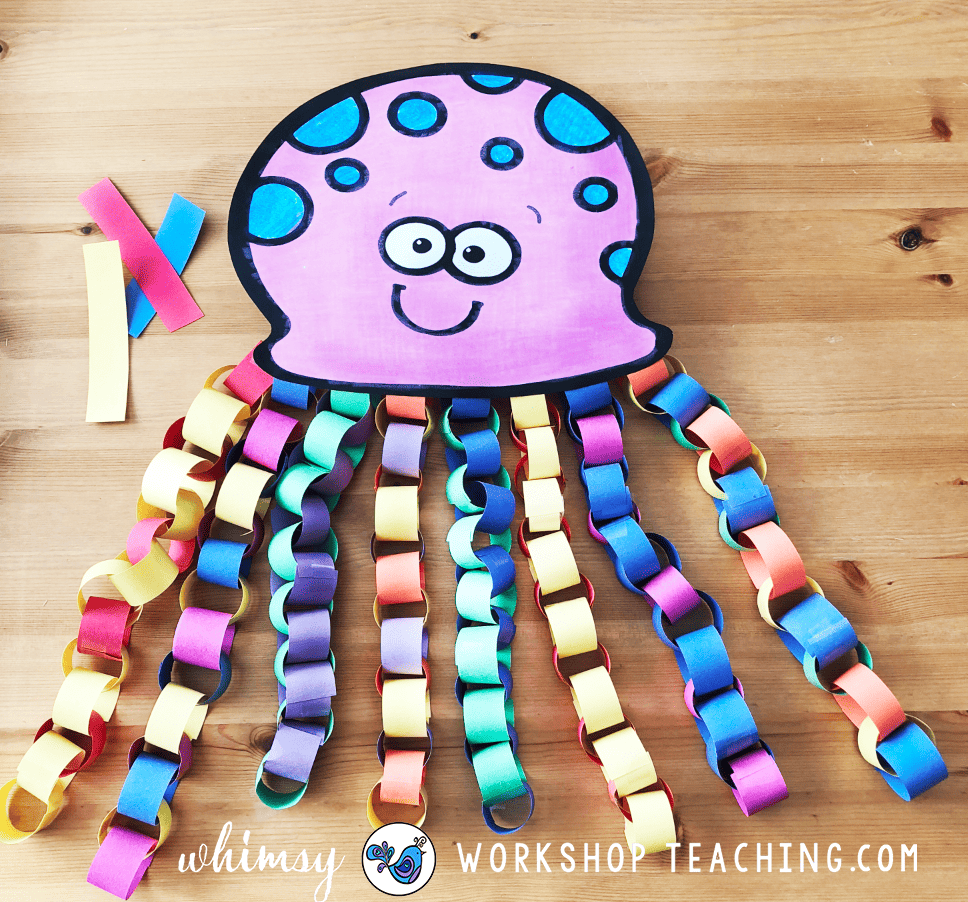 This colorful craft combines math and art in a fun way! Students can link paper chains to create octopus arms in various mathematical patterns such as ABA, ABB, ABC, etc.
Learn More: Teachers Pay Teachers
9. Read a Memorable Book
This captivating book tells the true story of an octopus named Inky who made a brave escape from his aquarium tank. The story follows Inky's journey as he slips through a small gap in his tank and makes his way to the ocean, using his natural instincts and camouflage abilities to avoid detection. Along the way, readers learn about the fascinating world of octopuses and their unique characteristics.
Learn More: Amazon
10. Play a Game
Have students pull a magnetic letter from a bag and place them on the corresponding letter on the octopus image. This hands-on activity supports learners in improving their letter recognition while strengthing their problem-solving skills
Learn More: Fun Learning For Kids
11. Octopus Craft
After drawing an octopus face on a paper plate, kids can develop fine motor and counting skills by punching eight holes along the bottom of the plate. Next, have them add a twisted pipe cleaner to each hole before guiding them to string the dry pasta pieces to create a colorful and textured sea creature they can show off with pride!
Learn More: Buggy and Buddy
12. Exciting Activity
Using the free template provided, have kids cut out the octopus's body and arms before inviting them to decorate the arms with colored dots and glue them onto the body. To complete the look, have them draw a happy face before curling each arm strip with a pencil to create the wavy tentacles.
Learn More: Tea Time Monkeys
13. Practice Differentiating Between Fact and Fiction
Distinguishing between fact and opinion is an important critical reading skill that will serve students well throughout their schooling. Apart from expanding their biological knowledge, this fact sheet can ignite their curiosity and encourage them to ask more questions about the world around them.
Learn More: Education.com
14. Try a Letter Maze
Kids will be excited to help their tentacled friend find its way to the treasure, marked with an X, by following all the letter O's in this hands-on letter maze. Not only will they practice recognizing and naming capital and lowercase letters, but also develop their thinking and fine motor skills as they navigate through all the fun twists and turns.
Learn More: Education.com
15. Paint a Rainbow Octopus
After mixing their favorite rainbow colors, kids can paint the body and tentacles of the octopus before adding details such as eyes and suckers to the tentacles. By focusing more on the artistic process instead of precise technique, this art lesson encourages creative self-expression and plenty of color exploration.
Learn More: Jenny Knappen Berger
16. Letter O Craft
After cutting out the tentacles, eyes, and body, students can use glue to assemble them into an adorable O-shaped octopus. Apart from developing fine motor skills and letter recognition, this simple craft provides an opportunity to review the alphabet and can be expanded to generate other O animal words such as orca and owl.
Learn More: Simple Mom Project
17. Cupcake Liner Octopus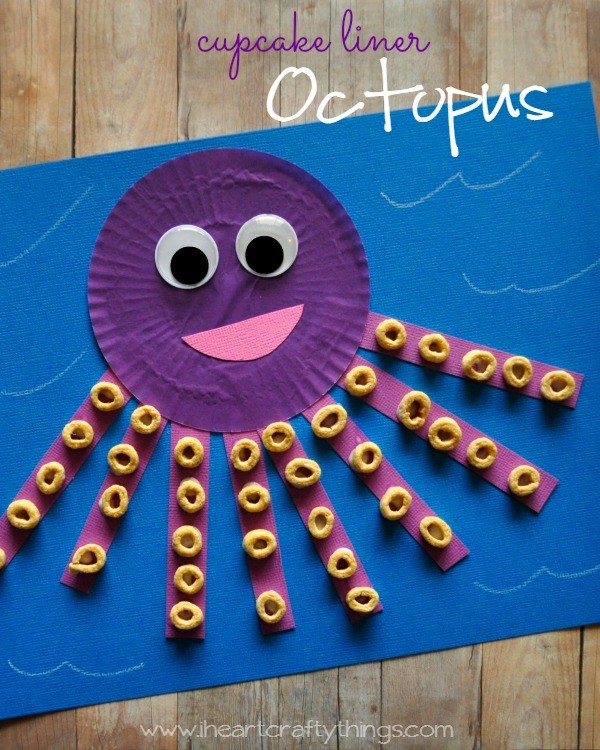 Have kids glue a cupcake liner to blue cardstock paper, before adding construction paper tentacles and finishing off their creation with Cheerio suctions, googly eyes, and a cute pink mouth! Kids can customize further by adding ocean details such as waves or other sea creatures.
Learn More: I Heart Crafty Things
18. Bake Easy Octopus Cupcakes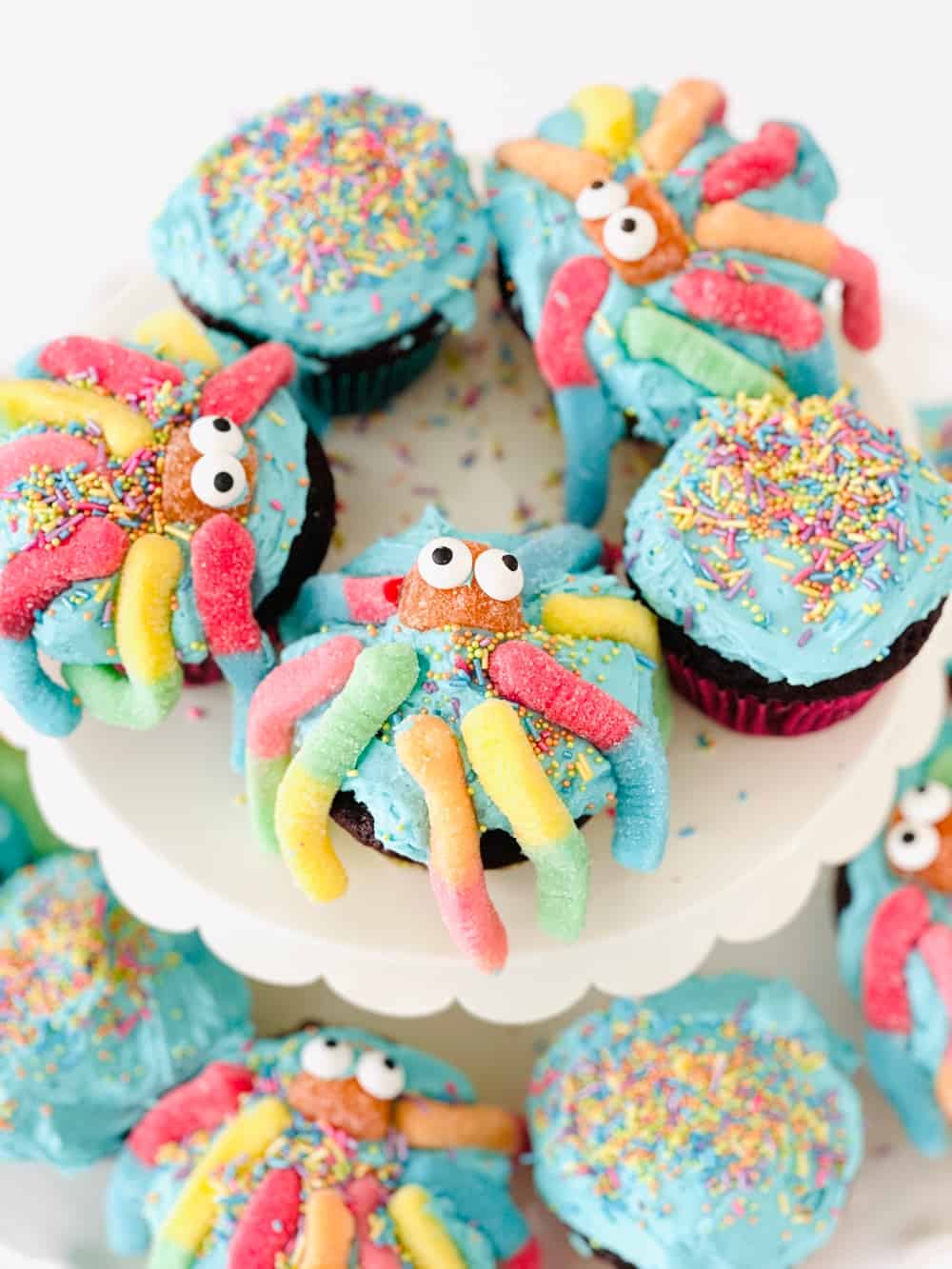 Once your cupcakes are baked, whip up some yummy buttercream frosting mixed with blue food coloring. Let kids decorate with colorful sprinklers, candy eyeballs, and a nose before completing the look with eight gummy worm tentacles. Bon appetit!
Learn More: Hello Yummy
19. Try Coloring
Apart from improving hand-eye coordination and dexterity, coloring helps generate a calm classroom environment while encouraging focus, patience, and mindful attention to detail.
Learn More: Super Coloring
20. Watch Footage of an Octopus
Encourage students' curiosity by watching these captivating creatures in their natural habitat. It's a wonderful way to encourage empathetic appreciation while discussing the importance of marine conservation. As an extension activity, why not have them list their scientific observations and discuss their learning?
Learn More: Monterey Bay Aquarium
21. Make an Origami Octopus
After folding their colorful origami paper following this simple video tutorial, students can use a marker to add an eye and nose, and other creative features of their choice! Apart from building patience and persistence, paper folding is a great way to develop visual-spatial awareness.
Learn More: Origami – Craft TV