There is something extra special about crafting things with your own hands. Homemade ornaments can be used to add some holiday décor to your house or they can be gifted to a loved one. Below are 22 homemade ornament arts and crafts activities that are kid-friendly and can be enjoyed by the whole family.
1. Clever Snowman Ornament
Memories of building snowmen can be so lovely to reflect on. However, you don't always need to be outside to build them. Using your morning coffee lid, buttons, felt, and glue, you can make these snowmen ornaments at your own kitchen table!
Learn More: Kids Craft Room
2. Rudolph Ornament
Rudolph is a favorite holiday character! Here's a DIY wooden reindeer ornament you could try. After painting Rudolph's face on a wooden disc, you can add some glitter paint to clothespins to make sparkly antlers. String a piece of yarn through the top and you'll have a special decoration to add to the tree.
Learn More: A More Crafty Life
3. Icicle Ornament
This is an easy craft for younger kids to make. Your kids can practice their fine motor skills as they thread the colorful beads onto the pipe cleaners. They can wrap the pipe cleaners around pencils to create a curling shape.
Learn More: Happy Hooligans
4. Toilet Paper Roll Icicle Ornament
This icicle requires even fewer craft supplies than the last! It's made of toilet paper rolls, paint, and thread. After your kids paint the rolls, they can cut along the seam to create the spiral shape. If they can't handle scissors yet, you can cut!
Learn More: Happy Hooligans
5. Ribbon Spiral Ornament
Here's a simple ribbon ornament. Dipping ribbon into a mixture of glue and water will help the curled shape hold after you wrap it around a pencil. You can add some string and extra decoration to complete this craft.
Learn More: Teach Me Mommy
6. Pom Poms & Pine Cones Ornament
I love these colorful DIY ornaments. You can collect pine cones at the local park and find these mini pom poms at the dollar store or Amazon. Hot glue them together and add some string for a beautiful homemade ornament.
Learn More: One Little Project
7. Christmas Tree Salt Dough Ornament
There are many ornament ideas that use salt dough (ingredients – salt, water, & flour). You can use a cookie cutter to make a tree shape and press into the dough to make the ornament shapes. After baking they will be ready to paint!
Learn More: Mommy's Bundle
8. Sea Glass Ornaments
If you live near beaches, you could try making this fun ornament! These beautiful crystal ornaments are made of sea glass and salt dough. You can go looking for sea glass with your kids and then mix them into your salt dough recipe.
Learn More: Red Ted Art
9. Picasso-Inspired Ornament
Making these Picasso-inspired faces can be a great art activity. Your kids can use clay to mold the faces and add creative details. You can poke a hole in the face to thread a string to hang on your tree.
Learn More: Kids Activities
10. Pasta Christmas Ornaments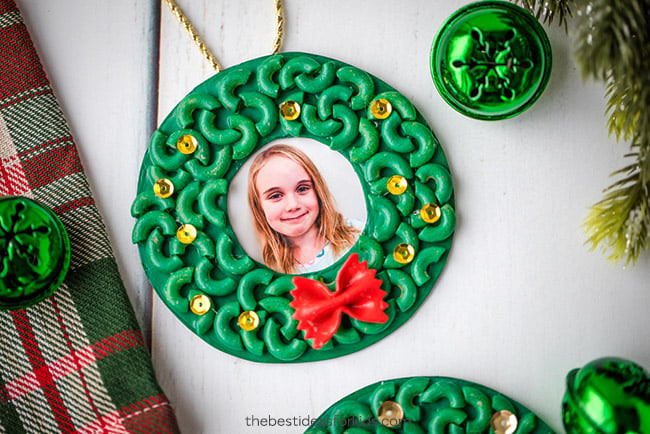 Pasta is great for your tummy and makes a great crafts material too! You can make these wreath ornaments using cardboard, pasta, craft paint, sequins, twine, and a photo of your kid for the centerpiece.
Learn More: The Best Ideas For Kids
11. Reindeer Bottle Cap Ornament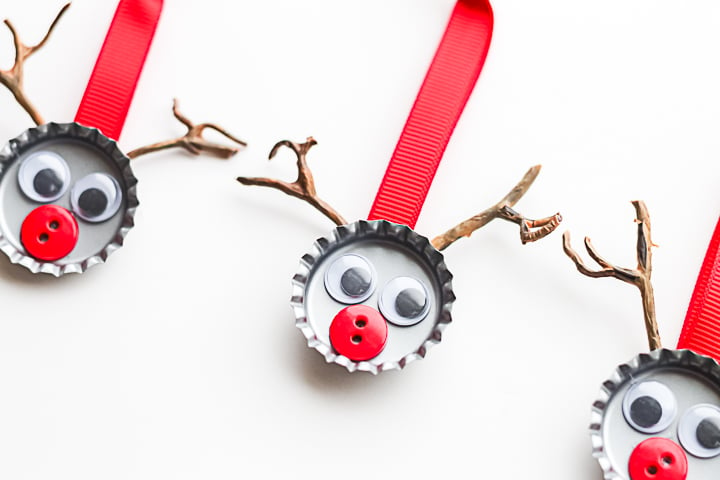 Here's another adorable ornament you can make with your kids. You can put together a bottle cap head, googly eyes, a red button nose, twig antlers, and a ribbon to make this reindeer ornament.
Learn More: The Country Chic Cottage
12. Minion Ornament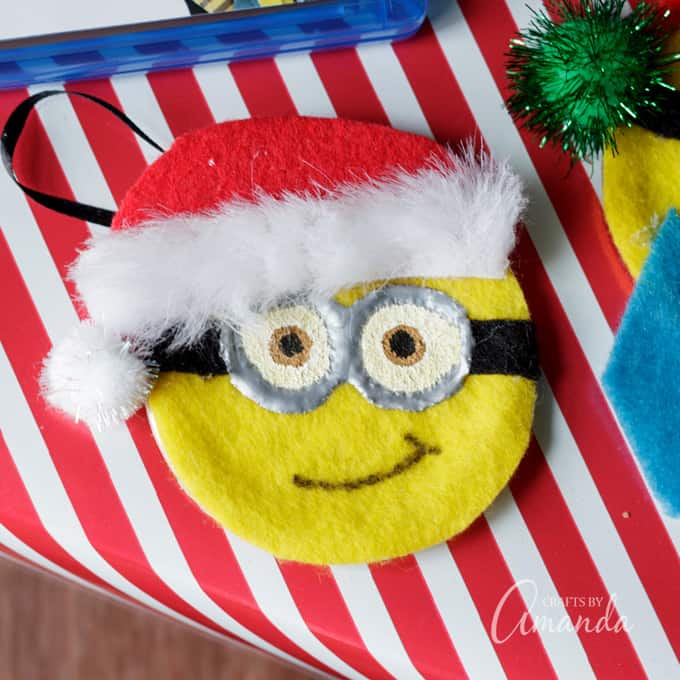 I'm not shy of using activities that involve the minions in my articles! This minions ornament takes a combination of canning lids, felt, paint, and some other materials to make. Definitely one of my favorites!
Learn More: Crafts By Amanda
13. Egg Carton Bell Decoration
This homemade bell craft can be an awesome and jingly addition to your tree. You can cut out the bell shape from an egg carton, paint it, and attach some tinsel stems and ribbons to complete this craft. Don't forget to add the bells!
Learn More: Fantastic Fun And Learning
14. Yarn Christmas Tree
Lots of different crafts you can make with yarn! You can cut out a triangle of cardboard and wrap green yarn around it to make this cute Christmas tree. Add some pom poms, a gold star, and a clothespin trunk to complete.
Learn More: The Best Ideas For Kids
15. Mini Yarn Hat Ornament
Okay, these mini hats are adorable! I wish real, full-sized yarn hats were as easy to make as these ornaments. You can cut a thin ring of toilet paper roll and repeatedly loop threads of yarn around it to create this hat shape.
Learn More: Easy Peasy And Fun
16. Peppermint Candy Ornaments
The best part about making candy decorations might be getting to eat them afterward. And these peppermint candy ornaments are surprisingly easy to make! Pop some peppermint candies in a cookie cutter and bake. They will melt and fill in shape.
Learn More: I Heart Arts n Crafts
17. Gumball Machine Ornaments
These mini gumball machines make me nostalgic. You can put together a clear ornament bulb, pom poms, a small clay pot, paint, and some hot glue to make it. Your kids can help fill the bulb with the "gumballs" and hot glue the pot for the base.
Learn More: Kate Decorates
18. Tin Foil Ornaments
Painting on tin foil makes for an interesting sensory experience because of the slippery texture. You can turn this experience into a holiday-themed ornament by wrapping foil around cardboard cutouts. Your kids can add some bright colors and sequins for decoration.
Learn More: Kids Activities
19. Candy Cane Ornament
Some might say candy cane ornaments are essential to add to your tree. How about these cute beaded ones? Threading beads onto these pipe cleaners can also be a good opportunity for your kids to practice color sorting and pattern-making.
Learn More: Playdough To Plato
20. Craft Stick Snowflake Ornament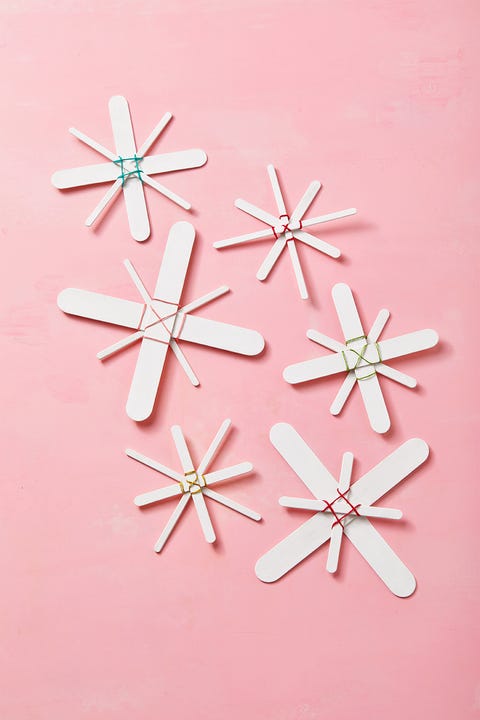 Craft sticks can be arranged in these geometric patterns to create these fun snowflake ornaments. These ones are painted white with some embroidery thread tied around the center. Your kids can have some color if they want to spice it up even more!
Learn More: Good Housekeeping
21. Printable Christmas Ornament
These ornaments require a printer, tape, glue, and some coloring materials. You can print ornament templates and let your kids add some color. If you fold these and glue a second piece at the designated spots, it will create a fun 3D shape!
Learn More: Easy Peasy And Fun
22. Paint Chip Christmas Tree Craft
These Christmas tree crafts can make a great addition to your fireplace mantle. You can pick up free paint cards, cut them into triangles, and have your kids decorate them with buttons. Then, you can cut grooves into wine corks to use as tree trunks.
Learn More: The Simple Parent