Use these fun and creative owl activities to teach kids about owls in an exciting and hands-on way. The activities listed below range from owl crafts and edible snacks to activities that focus on gross motor skills, and more. Students will love learning more about owl anatomy, owl habitats, and everything in between with these activities that are a real hoot!
1. Owl Babies Activities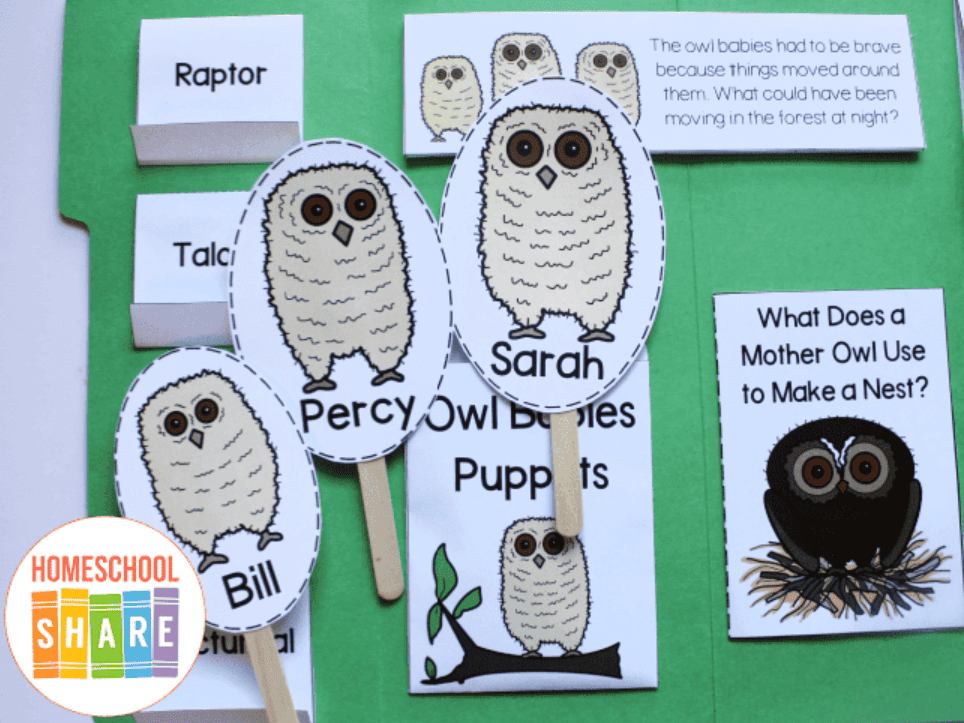 Discuss owl habitats, diets, and more with this resource that's perfect for preschool or kindergarten. Simply prepare the printable handouts and have scissors on hand. Have children cut out the information and paste them onto a piece of chart paper.
Learn More: Homeschool Share
2. Colorful Shape Owl Craft for Kids
Grab some household items and brown paper bags for this fun and creative owl craft. Use a paper bag for the body of the owl and anything of your choosing to craft the rest. This craft is great when paired with a discussion on shapes or the anatomy of an owl.
Learn More: Toddler Approved
3. Owl Eyesight – STEM Exploration Project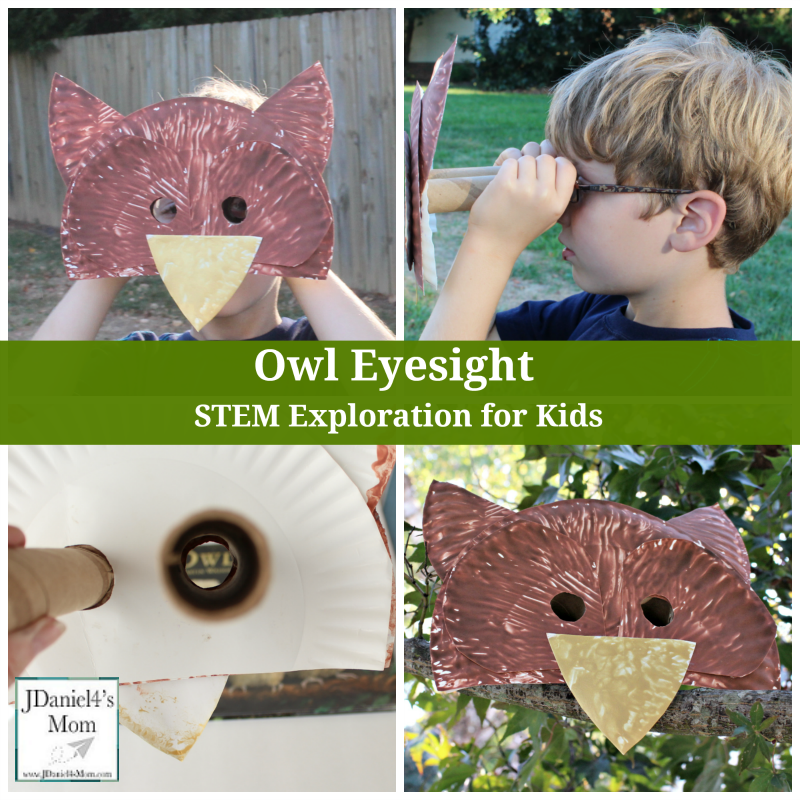 Teach about the unique eyesight of owls with this activity. You will need paper plates, glue, and cardboard tubes to create this owl eyesight viewer. Discuss the binocular vision that owls have and have fun turning your head like an owl does in order to see!
Learn More: JDaniel4's Mom
4. Toilet Paper Roll Owls
Use those old toilet paper rolls to create adorable owl crafts. School-age children will love the creative process in these owls. Add fabric, googly eyes, and buttons to have children explore different textures with this sensory task.
Learn More: Happy Hooligans
5. Stuff the Owl Counting Activity
Make math fun with this nocturnal math activity. Grab some pompoms, counting cards, a cup, and the printout and your prep are finished. Students will flip a counting card to see how many pompoms they must stuff into the owl. You can differentiate with different pompom colors or higher numbers.
Learn More: Turner Tots
6. Foam Cup Snowy Owl Craft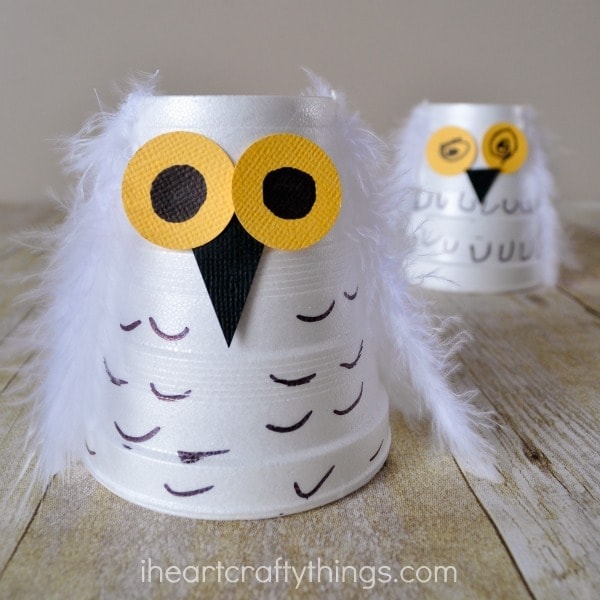 Get some foam cups, paper, and white feathers to create this fluffy creature. Children will love creating these snowy owls while learning about the differences between normal owls and their snowy counterparts.
Learn More: I Heart Crafty Things
7. Owl Alphabet Matching Activity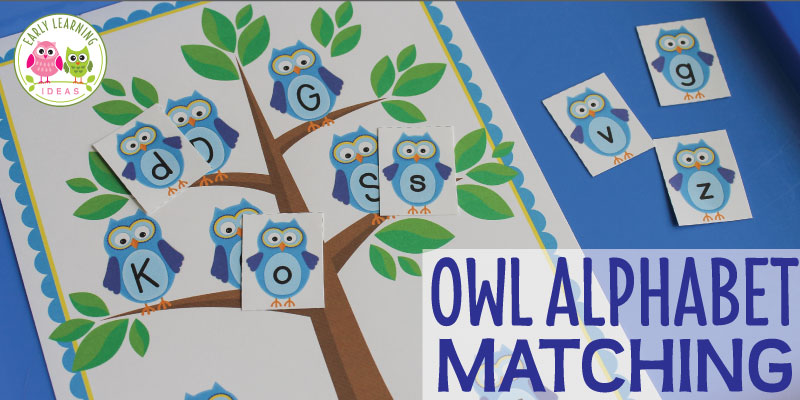 Use this owl letter activity to help kids start to recognize the unique shape of each letter of the alphabet. Simply print the game boards and letter cards and have children match the letters to their capitals or practice vocalizing the sounds as they play.
Learn More: Early Learning Ideas
8. Paper Mosaic Owl Craft
Use construction paper, glue, and googly eyes to create this beautiful owl paper mosaic. Perfect for owl activity centers or for a fun afternoon project, this craft will have children learn about the anatomy of an owl while practicing gross motor skills.
Learn More: The Pinterested Parent
9. Cute Owl Headband Craft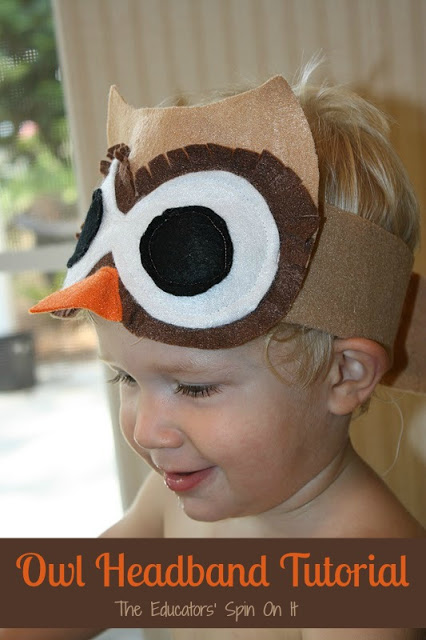 Create this cute owl headband for children to wear while they read an owl-themed story or work through an owl unit. Either with fabric or paper, cut out the necessary shapes and stitch or glue the pieces on to create your headband.
Learn More: The Educators' Spin on it
10. Owl Rice Krispie Treats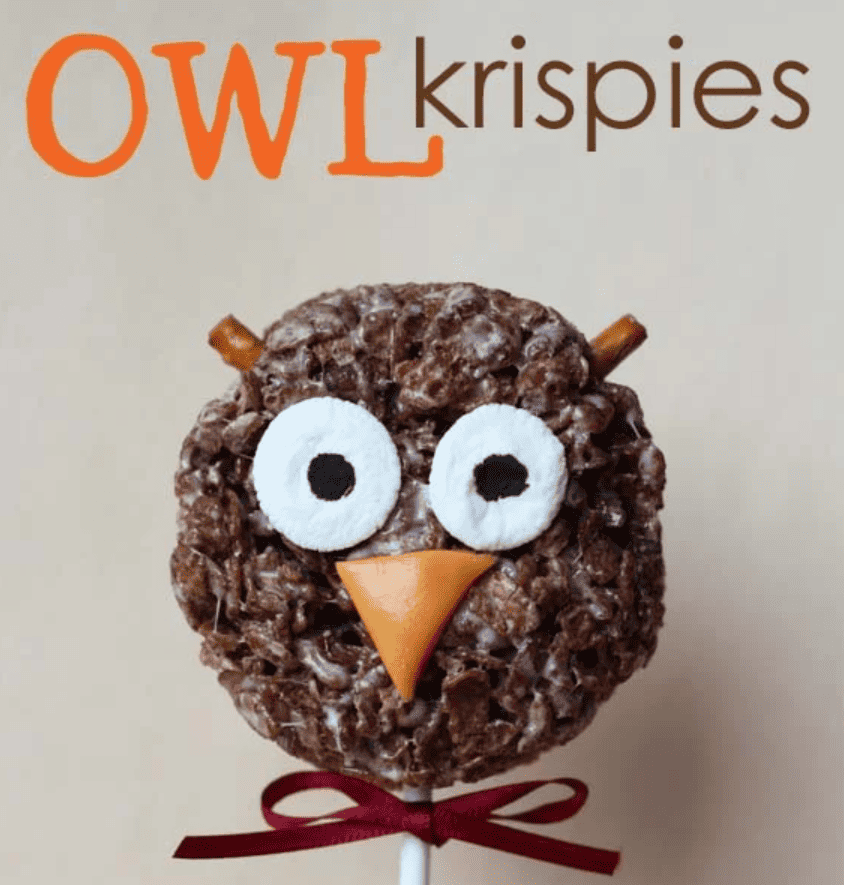 Use cocoa pebbles, mini marshmallows, tootsie rolls, and pretzels to create these cute and delicious owl treats. Simply made, these treats can be great for a reward after a difficult reading on owls!
Learn More: Cookies and Cups
11. Owl Anchor Charts for Paired Texts
Display this owl anchor chart to remind students of what owls eat and how they look. Great when paired with other owl activities, this chart can also be used interactively by having students place post-its on it to label owl parts.
Learn More: Mrs. Wills Kindergarten
12. Label the Owl Snack and Activity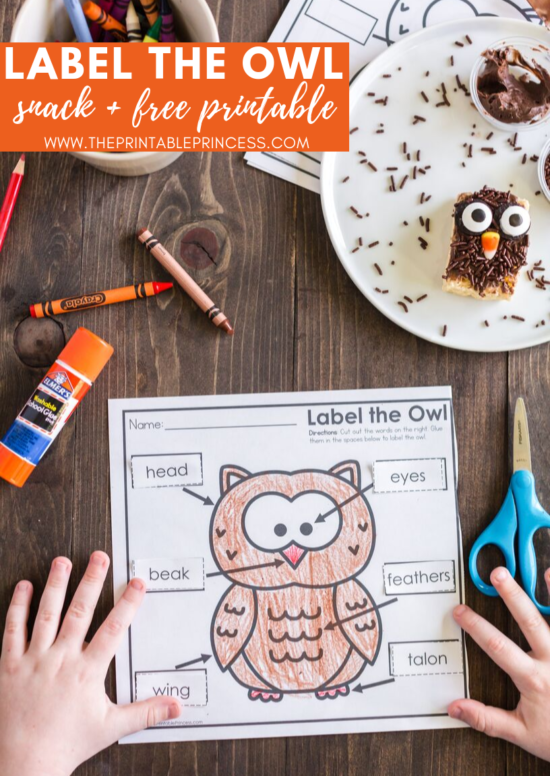 Use this fun extension task to have students label the parts of an owl with the owl handout either in an activity center or as a whole class. They can be rewarded with a tasty rice Krispie owl snack afterward!
Learn More: The Printable Princess
13. Little Night Owl Poem Activity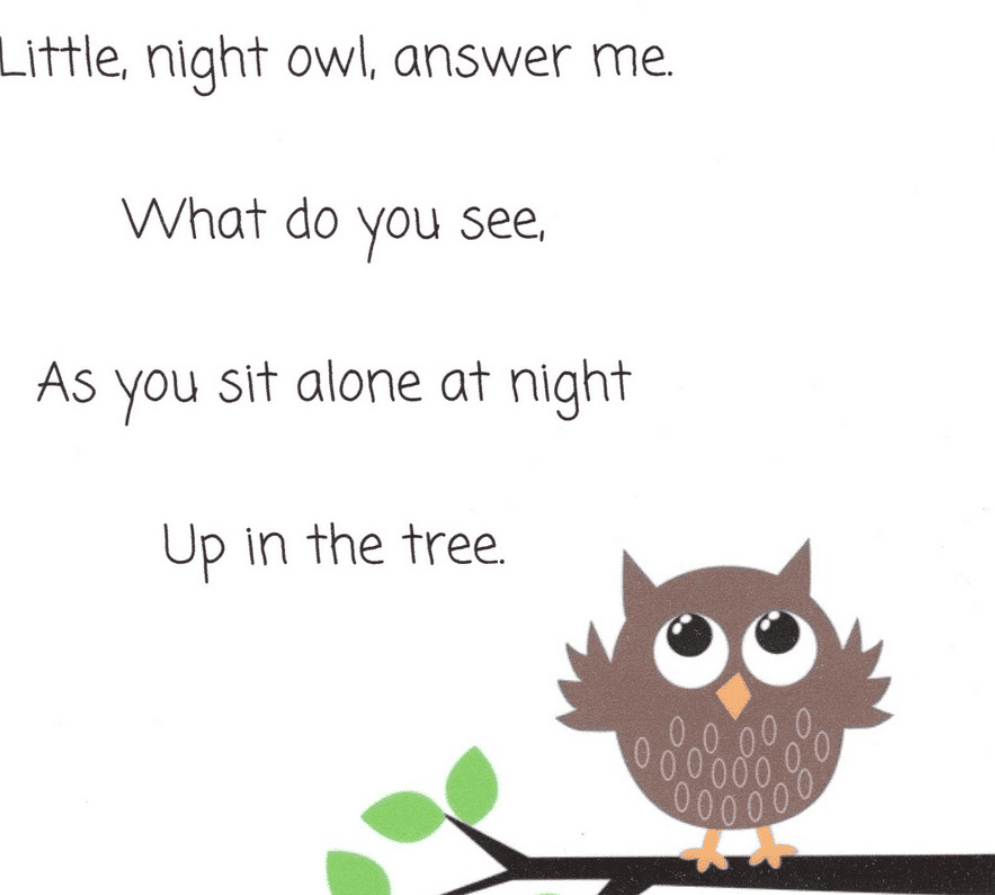 Use this quiet time activity to read "Little Night Owl" to students before naptime. This poem can also be used to teach and go over rhyme with younger children. Early elementary students can practice writing their own poems thereafter as well!
Learn More: Pinterest
14. Torn Paper Owl
You only need paper and glue for this fun torn paper owl project. Simply have learners tear paper into small pieces to create the body of an owl. Children can also get practice cutting out the eyes, legs, and beaks!
Learn More: Young School Art
15. Owl Babies Craft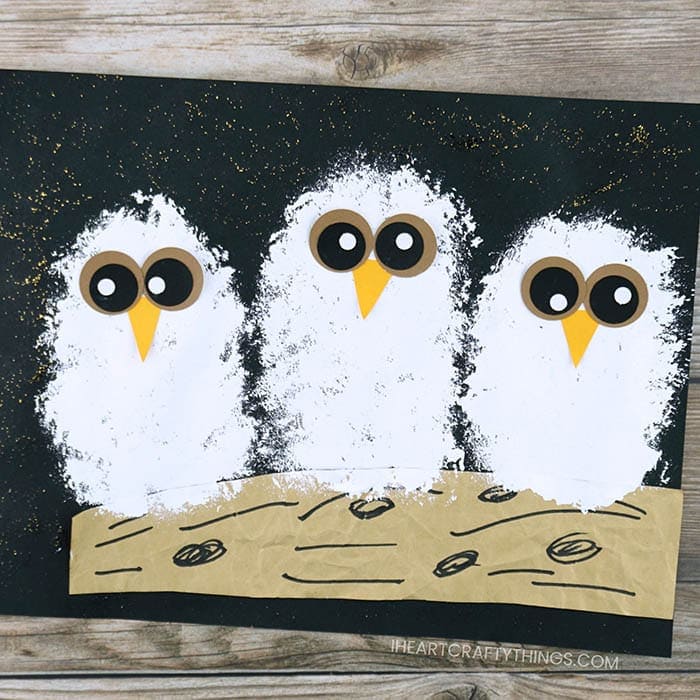 Use paper, white acrylic paint, and cotton balls to create this adorable owl painting activity with your little ones. Simply put paint on a cotton ball and dab away to create these cuties!
Learn More: I Heart Crafty Things
16. Owl Count and Dot Activity
Learners will roll a die and then use dot stickers to count how many there are per side. This is a great resource for early learners!
Learn More: Fluffy Tots
17. Owl Information Worksheets
Use this printable activity to help students learn more about interesting owl facts. This great resource can be used as a station activity, and the worksheets include information on many different areas of owls.
Learn More: Homemade Heather
18. Owl Rice Cake Snacks
Take a break from learning by using rice cakes, apples, bananas, blueberries, cantaloupe, and Cheerios to create this cute treat which is perfect for picky eaters.
Learn More: A Few Shortcuts
19. Paper Bag Owls
Make this personalized owl craft using paper bags and paper and have your students write facts about themselves on the front. This is perfect for a getting-to-know-you activity using owl hand puppets or for posting on a bulletin board!
Learn More: Buggy and Buddy
20. Owl Matching Game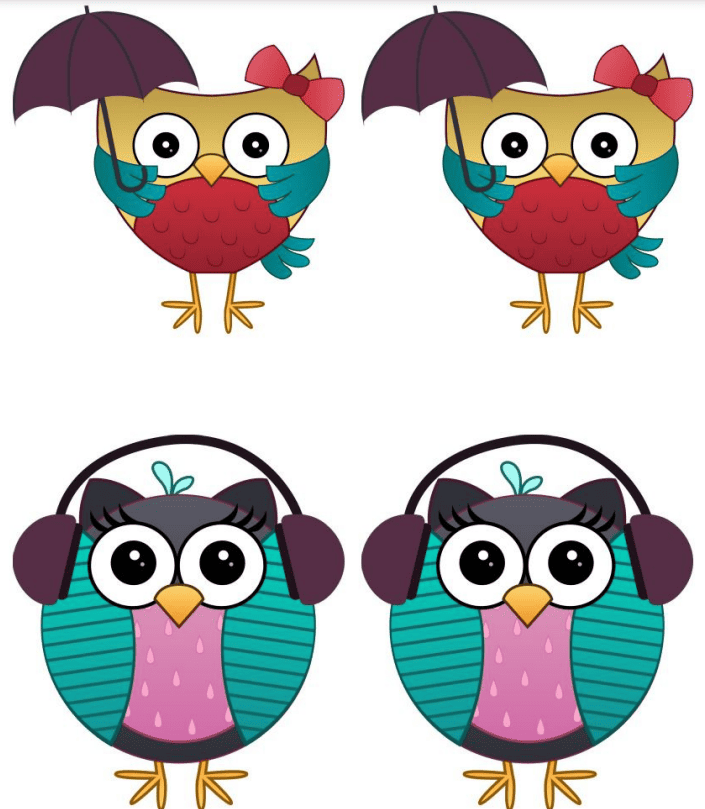 Print this owl matching game to have students practice observational techniques. Children will have to match the cut-out owls with their matching counterparts while practicing differentiating objects.
Learn More: Life is Sweeter by Design