These furry, black and white bears hold a special place in many people's hearts. From their importance in Asian cultures to movies, bamboo munching tendencies, and cute sneezes; panda bears are a beloved part of our world. There are many creative and engaging ways to incorporate these iconic animals into your lesson plans which is why we've sourced 21 fun craft ideas, group exercises, animal books, and panda-themed activities for you to try out in your classroom!
1. Mini Interactive Panda Habitat
Immerse your students in the world of the panda bear. Share information about the landscape, weather, source of food, predators, and any other fun facts that your kids might find interesting! You can build your play box using mini panda bear toys, fake/real grass, and rocks.
Learn More: The Imagination Tree
2. Fork-Painted Panda
Creativity can be expressed through a variety of methods and tools. For this animal picture, your kids will use forks dipped in white paint to create a fury panda face. You can choose to cut out black circles from construction paper for the ears and eyes or ask your students to paint those features with a paintbrush.
Learn More: Crafty Morning
3. Panda Bear Origami
Want to spend some time improving your student's motor skills and concentration? Origami is an amazing activity to include, using black and white paper. Follow each step of folding to create these adorable panda bear buddies.
Learn More: Câu Đố Vui
4. Books All About Pandas!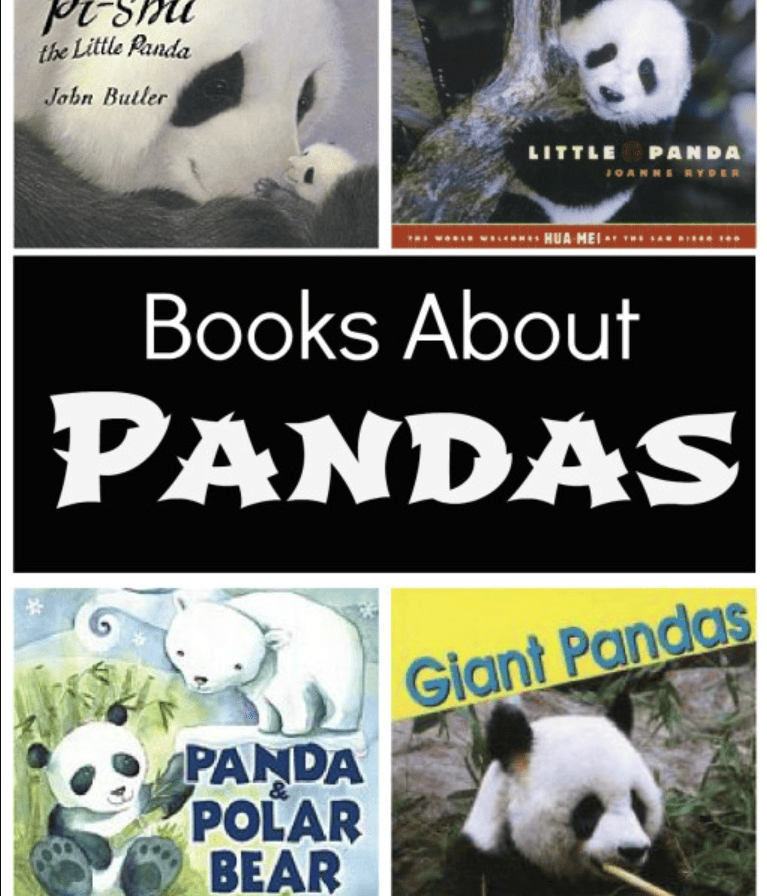 A resource you can always use when teaching books! There is a wide variety of fact and flap books for every age learner. From explaining what they eat and where they live, to their patterns of activity, favorite food, and comparisons to various other bears such as black bears and brown bears. Read as a class or in student pairs and discuss.
Learn More: Fantastic Fun and Learning
5. Movie and Panda Facts Analysis
For all the Kung Fu Panda fans out there that fell in love with silly, chubby high-kicking Po, this panda activity is perfect! Watch one of the movies as a class and pass out these worksheets that check to see what facts you can learn about pandas from a fictional movie.
Learn More: Simply Kinder
6. Panda Playdough Playtime!
Let's get hands-on and sensory with this interactive craft station using DIY play dough, buttons, pom poms, cookie cutters, and bamboo leaves. This panda-themed activity also incorporates a flap book That's Not My Panda to read and discuss while making and creating with the play dough.
Learn More: Life Over C's
7. Practical Panda Math Problems Powerpoint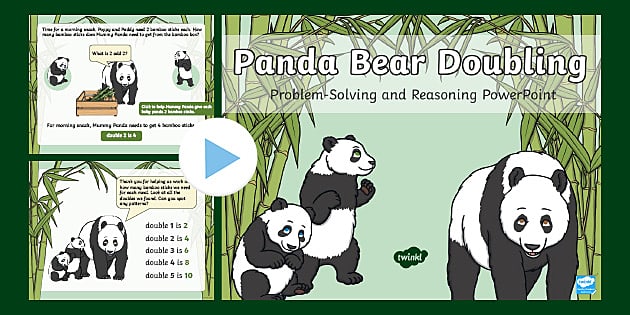 This scenario-based online learning experience uses a panda's favorite food (bamboo), and a mother's quest to feed her animal babies, to work on doubling concepts in math. You can include this PowerPoint in your next math lesson and also go over movement patterns and adult female behaviors.
Learn More: Twinkl
8. Panda Painted Rocks
Time for fresh air and nature while you and your students find round rocks to paint and create these adorable baby pandas and adult pandas from stacking rocks! Make sure you have an example for them to reference when searching for their materials, and provide black, white, and pink paint.
Learn More: My Kids Time
9. DIY Baby Panda Book Marks
Promoting reading is always a good idea in the classroom! Get your kids excited to start their next book by helping them fold and piece together these super cute panda bears. Each corner bookmark can be used on individual student books and the setup and activity time is quick and easy.
Learn More: Easy DIY Corner Bookmarks
10. Panda Bears Life Cycle Packet
Here is another panda-themed activity that shows the life cycle of panda bears. From newborn animal babies to adults, the process explains what type of food they eat at each stage, their movement patterns, and their habitat.
Learn More: Simple Living Creative Learning
11. Panda Facts and Games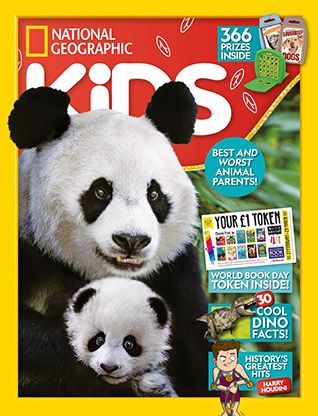 National Geographic's website and their kid's book series have so much wonderful and interesting information about these sweet animal babies. From the type of food, they eat to daily movement distance, animal activity patterns, and areas where to find the panda bear native. Use these resources for a pop quiz or review!
Learn More: National Geographic Kids
12. Habitat Facts and Video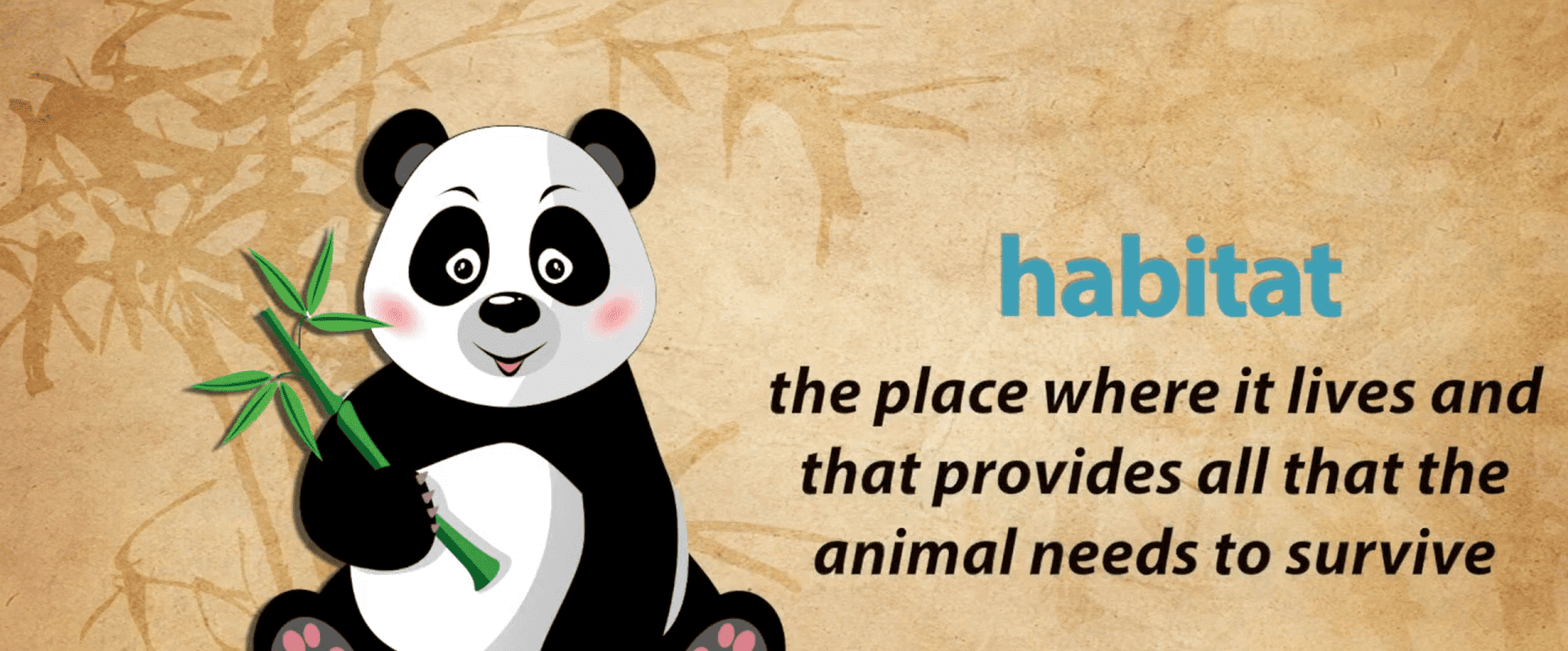 Here is a short video you can use as an introduction to China and the areas these baby and female pandas are born and thrive. Partner this video with a vocabulary lesson including words like habitat, bamboo, instincts, China, and more!
Learn More: Study.com
13. Popsicle Stick Pandas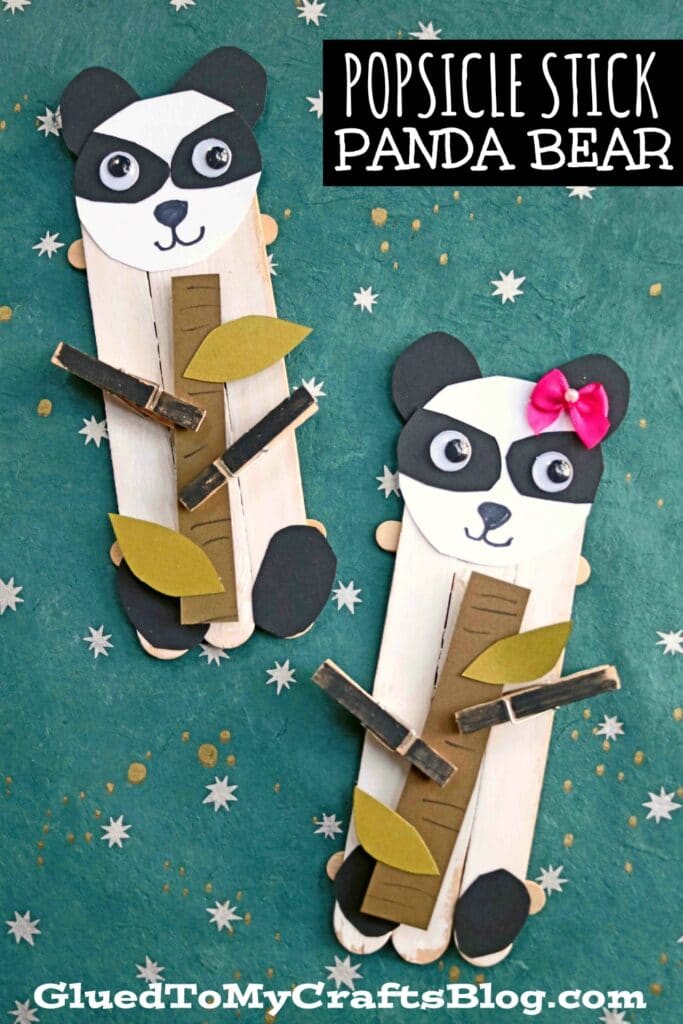 Here is a fun craft idea to inspire a love for these giant pandas in your students. You'll need to prepare some craft supplies such as large and small popsicle sticks as well as black craft foam and card stock paper. Grab your scissors, glue guns, and googly eyes, and get assembling!
Learn More: Glued to my Crafts
14. DIY Paper Plate Panda Masks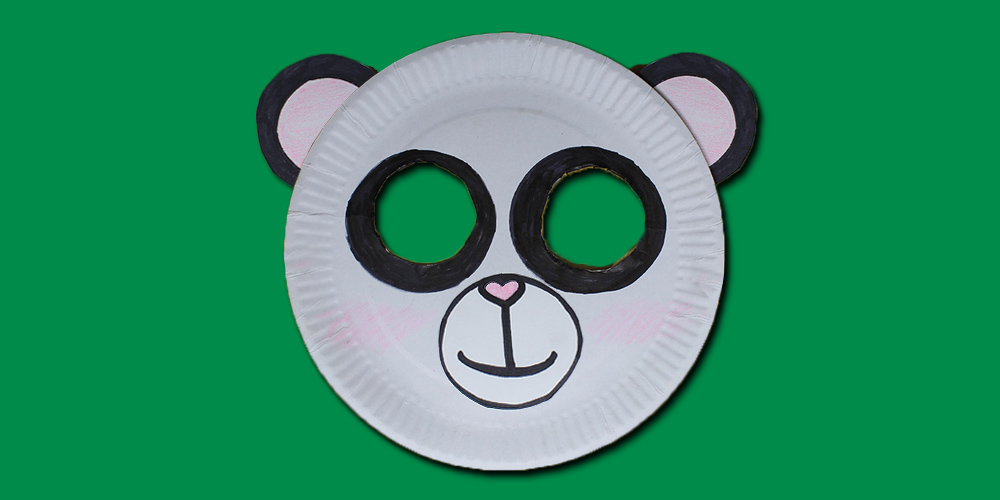 Time to turn your little learners into the animals they are studying! Masks are such an engaging and fun craft idea that teaches not only in the DIY process but in the games you can play once they are completed. Start with paper plates, markers, and scissors, and work through each step as a class.
Learn More: DIY-Magazine
15. Connect the Dots Panda Version
Are you looking to incorporate some counting practice into your unit on giant pandas? This printable worksheet is an easy and fun way to monitor student skills, check for understanding, and use visual cues and coloring to emphasize basic math concepts.
Learn More: Pinterest
16. Panda Bear Hop Scotch
An active giant panda activity to get your students in the animal mindset! Hopscotch is a classic movement game that can incorporate learning goals in various ways. This game doesn't necessarily mimic the bear's patterns of activity, but it will help your students see what it's like to walk on four legs.
Learn More: Pinterest
17. Paw Print Tracing
An activity that focuses on pandas' movements and detection in the wild. While your school may not be in China, there may be other bear types such as black bears and brown bears in your area. Help your students learn how to track animals by observing and tracing their paw prints. You can use orange or black craft foam for the paw cutouts.
Learn More: Knowledge Matters
18. Panda Word Search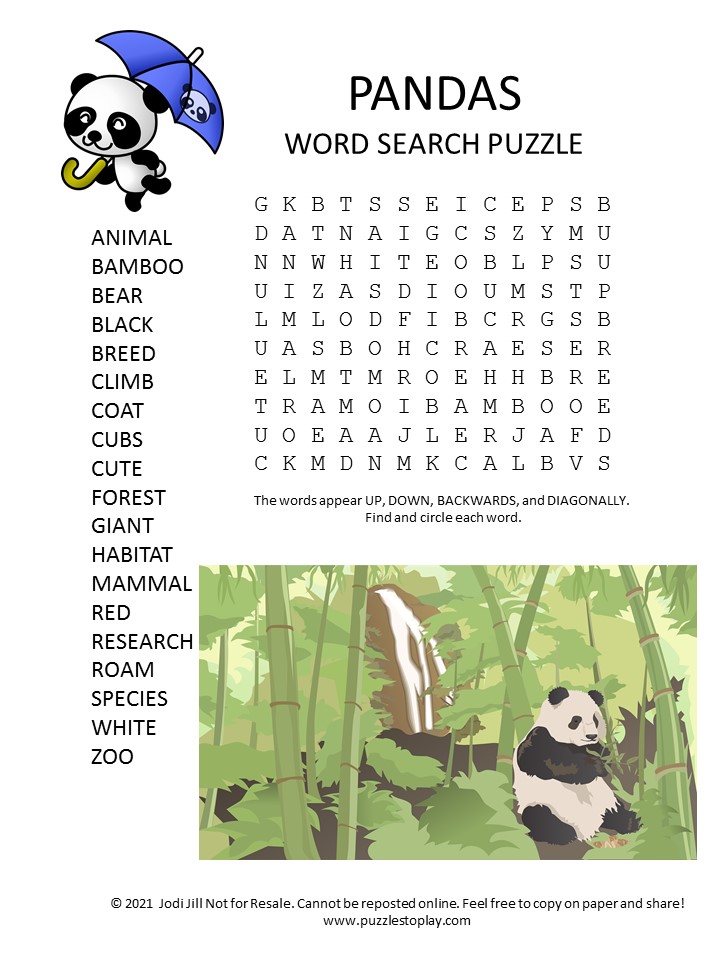 Check out this word search activity that covers vocabulary specific to giant pandas! You can use this as a template for which words to cover in your lesson plans or just pick the ones that work with your other activities.
Learn More: Puzzles to Print
19. DIY Bear Paw Stamps
With some sponges and pieces of cardboard, you and your class can make your very own bear paw stamps! Help your students trace and cut the pads and digits for the paws and glue them onto the cardboard for a foot-stamping good time.
Learn More: Nature Net
20. Panda Bear Sensory Bin
Sensory play is such a great activity for preschoolers and young learners to get involved and interact with any subject. This sensory bin is full of rice, beans, toys, and mini panda bears to engage with. You can include bamboo and other props in your bin as well!
Learn More: Things to Share and Remember
21. Surprise Ball Panda Craft
Planning a little class party, or just want to get your students excited about panda bears? These craft bombs have a secret inside, candy! To make them, fill plastic eggs with small candies and wrap them in tissue paper. Then tape and decorate with pipe cleaners, black craft foam, and glitter or beads for the eyes.
Learn More: Lovebugs & Postcards