You are given a paper bag and some craft supplies and are challenged to create a lesson using only these materials. Lucky for you, paper bags are a great resource and are incredibly versatile; making them perfect for any classroom activity! From puppets to masks and constructing houses and backpacks, the options for a fun art activity are endless! Keep reading to discover 40 special paper bag activities to enjoy with students of all ages.
1. Paper Bag Crowns
From a plain paper bag to a royal king or queen's crown! Have your students create a crown with basic craft materials and a paper bag! This craft is an excellent supplement to any fairy tale class.
Learn More: Art Bar Blog
2. Paper Bag Piñata
Do you have something to celebrate or are you learning about Mexican culture? Have your students create a piñata from a paper bag! Students can fill it with candy and then whack it open!
Learn More: Momtastic
3. Leaf Lanterns
Looking for a fun Fall craft? Create leaf lanterns with paper bags! Cut out the paper bag and cut a hole into which a leaf can fit. Then, roll it into a cylinder, add your leaf and light, and you have a beautiful autumn-themed lantern.
Learn More: Crafty Corner
4. Paper Bag Book
Make a DIY paper bag book by stacking 3 paper lunch bags and folding them in half. Punch holes and bind with ribbon. The paper bag "pages" form pockets to stash notes and trinkets. Decorate the book as desired.
Learn More: Kitchen Table Classroom
5. Kites
Paper bag kites are fun and easy to make. Kids will love making and decorating their kites, and then flying them outside on a windy day. Paper bag kites are also a creative and inexpensive craft project that anyone can do.
Learn More: Kinder Art
6. Paper Bag Puppets
Paper bag puppets are an inexpensive way to keep your children busy for hours! You can create animals or characters and use your hand to make them move! Put your creativity and imagination to the test and see what puppets you can create.
Learn More: DLTK Kids
7. Football
This paper football activity is a fun hands-on project that encourages creativity and STEM learning. Students will learn about shapes, geometry, and air pressure while making their football. This is a fun and educational activity for students.
Learn More: All For The Boys
8. Playhouse
Making a paper bag playhouse develops kids' creativity, imagination, and fine motor skills. It teaches learners to follow instructions and provides hours of play. Using materials found at home, children can create an inexpensive playhouse!
Learn More: Kitchen Table Classroom
9. Paper Bag Tree
Brown paper bags are such a versatile supply that is perfect for Fall! If you are looking for a quick and easy craft, make a tree! All you need are a few simple supplies, and colored paper to make your very own 3D paper bag tree!
Learn More: Teach Junkie
10. Scarecrows
This scarecrow craft is great for kids because it's simple and customizable to make; resulting in a fun puppet fit for the Fall season. The craft is rewarding and the perfect imaginative play activity.
Learn More: Simple Everyday Mom
11. Paper Bag Satchels
Looking for a useful craft? Create this satchel! This fun, engaging activity uses minimal materials and can be completed by children of all ages as they practice their fine motor skills. The best part is, it can be used to carry trinkets or mail once complete!
Learn More: Pinterest
12. Fish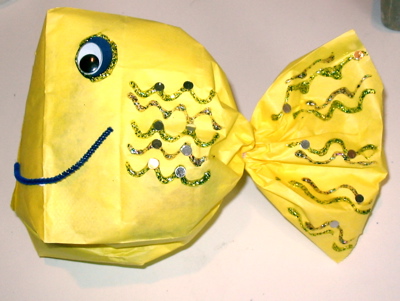 To make a paper bag fish, use a paper lunch sack and materials like glue, pipe cleaners, and decorations. This simple project uses materials you probably already have and is great for kids.
Learn More: Family Fun Crafts
13. Fireplace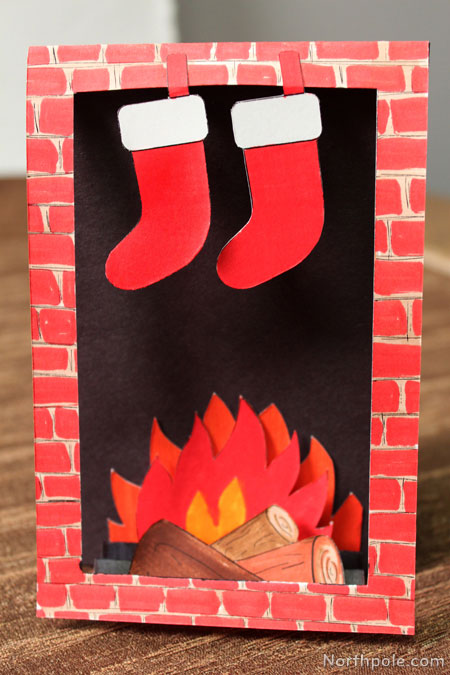 Let your students' creativity burn bright with this fun craft! They will transform paper bags into cozy fireplaces and fill them with treats. They can decorate the bags with colorful flames and fill them with marshmallows, cocoa, or popcorn gifts for friends and family.
Learn More: Crafts By Amanda
14. Stuffed Apples
This fall activity results in a fun craft and tasty treat. Sew paper pumpkin and apple shapes, fill them with cinnamon sugar popcorn and tie off the top. These homemade gifts or treats are perfect for family activities, parties, or gifts. Kids will love making the treats and enjoying them too!
Learn More: Imperial Sugar
15. Bird's Nest
This craft is a fun way for kids to welcome Spring! They will dip shredded paper bags into glue and water to create bird's nest shapes. Though messy, this craft encourages creativity and nature exploration. Kids will love making a nest for their Springtime birds!
Learn More: Alpha Mom
16. Paper Bag Flowers
Easy paper bag flowers are a colorful, kid-friendly DIY craft. Make adorable blooms with brown paper lunch bags, scissors, tape, and string. Follow a simple tutorial for a variety of sizes. These inexpensive paper flowers are sure to brighten up your home and make lovely gifts.
Learn More: Sheri Silver
17. Brown Bag STEM Challenge
Discover 10 quick & cool STEM projects using common household items! These STEM projects include roller coasters, paper helicopters, lunar landers & more. They're the perfect challenge for students looking to add some more skilled crafts to their learning.
Learn More: Starfish Education
18. Scarecrow Hat
Making a paper bag scarecrow hat is a fun, inexpensive craft activity. It is a great way to dress kids up for Halloween or use it as an extension activity if you are reading Huckleberry Finn or similar books.
Learn More: About a Mom
19. Feel and Guess
The awesome activity involves guessing what objects are inside a bag; a fun and creative game for children. It encourages them to use their sense of touch and guesswork instead of sight to identify objects.
Learn More: Deceptively Educational
20. Paper Bag Construction
Paper bag construction is an excellent craft for kids that like dramatic play! Turn a brown paper lunch bag into adorable paper shops and houses. This easy-to-make project is an excellent choice to create something useful and beautiful.
Learn More: LocalTV3
21. Paper Bag Backpack
This fun craft is perfect for kids and toddlers and encourages creativity and imaginative play! It's a simple and creative activity that merely requires paper lunch bags and colored paper. Kids will love playing 'school' with their very own paper backpacks and supplies!
Learn More: Craft Gossip
22. All About Me
This exciting activity encourages self-reflection and storytelling through a fun share-and-tell experience! Participants fill bags with 3-5 items that tell a story about themselves to share with others. This activity promotes collaboration and helps participants creatively learn about each other.
Learn More: Fluid Project Wiki
23. Warm and Fuzzy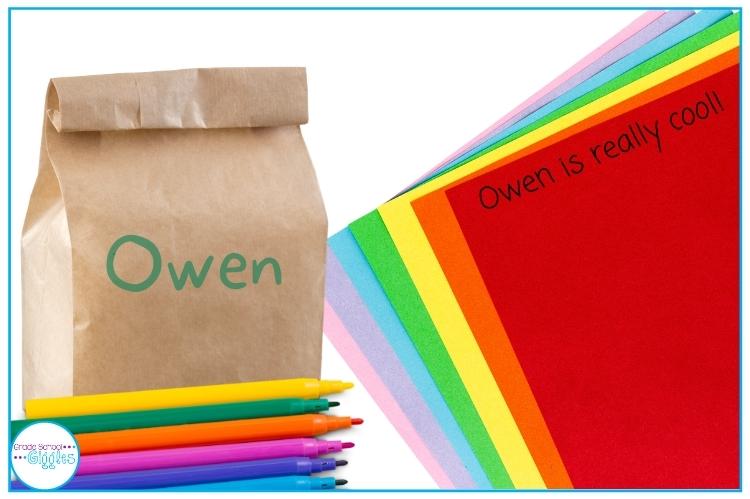 The warm and fuzzy bags activity is a wonderful way to foster gratitude and positivity during a multi-day retreat! Participants write appreciation statements for one another on notes and put them in personalized bags. It allows the learners to express gratitude, feel valued, and take home a special memento.
Learn More: Social Justice Toolbox
24. Haircuts
Haircuts are the perfect activity for preschoolers to practice cutting and develop their fine motor skills. All you need is a paper bag, scissors, and coloring utensils and you can give your paper bag a unique haircut!
Learn More: Pinterest
25. Paper Bag Stories
This fun activity helps children develop imagination and narrative skills. They make up stories based on pictures or comic strips they pick from paper bags. As they get better at storytelling, they can combine their stories into one fascinating tale.
Learn More: Gryphon House
26. Glowing Paper Bags
The paper bag luminaries activity is a fun, inexpensive craft that involves decorating paper bags creatively and lighting them up with tea lights to create a charming glow. Kids will love drawing shapes and cutting them out of paper bags to then use to create a warm welcome for guests.
Learn More: Welcome To Nana's
27. Paper Stars
Paper bag stars are an excellent craft idea for older children. They will create 3D paper shapes with a plain lunch bag. This activity requires precise folding so it is perfect for teaching students to pay attention to detail while practicing fine motor skills.
Learn More: Craft & Art School
28. Popcorn Boxes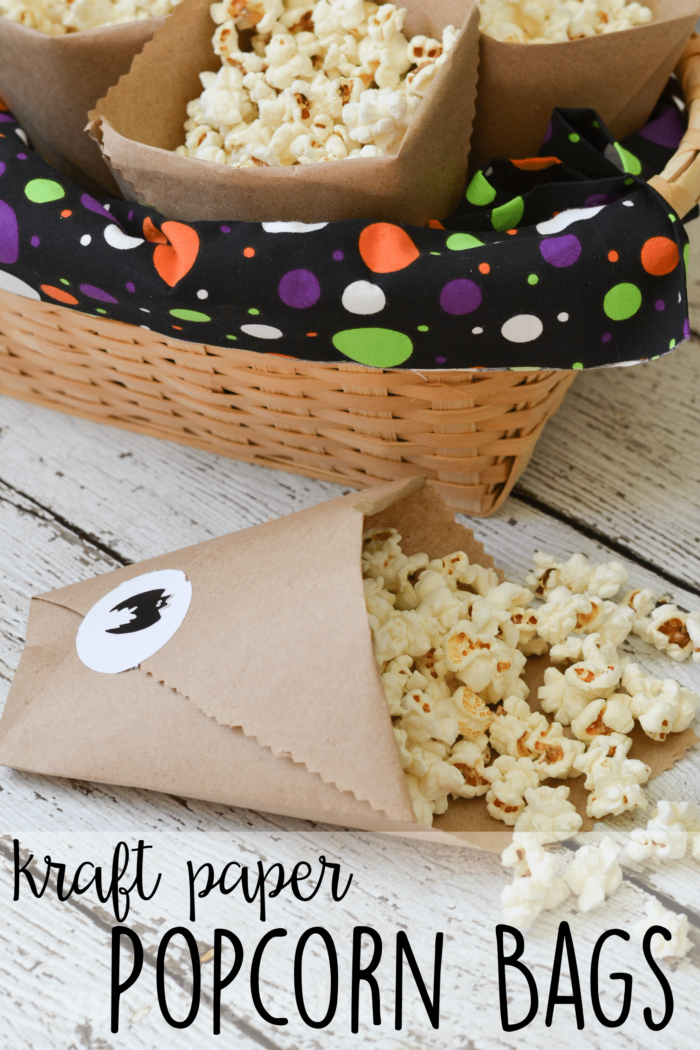 Popcorn bags from craft paper is a fun and creative activity for Halloween parties! The bags are quick and easy to assemble by folding the paper and adding adorable Halloween stickers.
Learn More: Typically Simple
29. The Bag Game
The bag game is a fun and hilarious family activity that provides lots of laughs and entertainment. Players of all ages stand on one foot and take turns retrieving a paper bag using only their mouth; leading to funny techniques and maneuvers as they try to grab the bag without falling.
Learn More: The Chaos and The Clutter
30. Paper Bag Dramatics
This fun activity helps develop problem-solving and teamwork skills. Arrange groups of students and give each group a bag containing a few random objects. The groups must then collaboratively create a skit using the objects.
Learn More: Elementary Matters
31. Stuffed Witch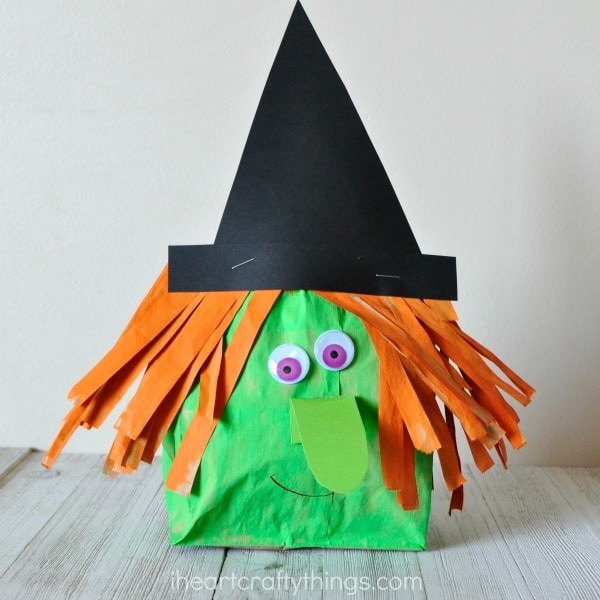 Get into the Halloween spirit with these wicked paper witches! Students will love painting the paper bag green and adding orange hair and googly eyes. Then, use them as Halloween decorations throughout the classroom!
Learn More: I Heart Crafty Things
32. Sorting
Paper bag sorting is a fun and engaging activity that helps learners develop important categorization skills. Kids can creatively sort words, numbers, objects, and more into labeled bags to practice organizing and classifying items.
Learn More: The Activity Mom
33. Barter Bag Game
This activity has students trade items to meet their needs. Students swap pencils, stickers, and gum to retrieve a list of needs. By cooperatively bartering with peers, students learn about trade and working together to meet needs.
Learn More: Barter Bag Game
34. Paper Bag Castle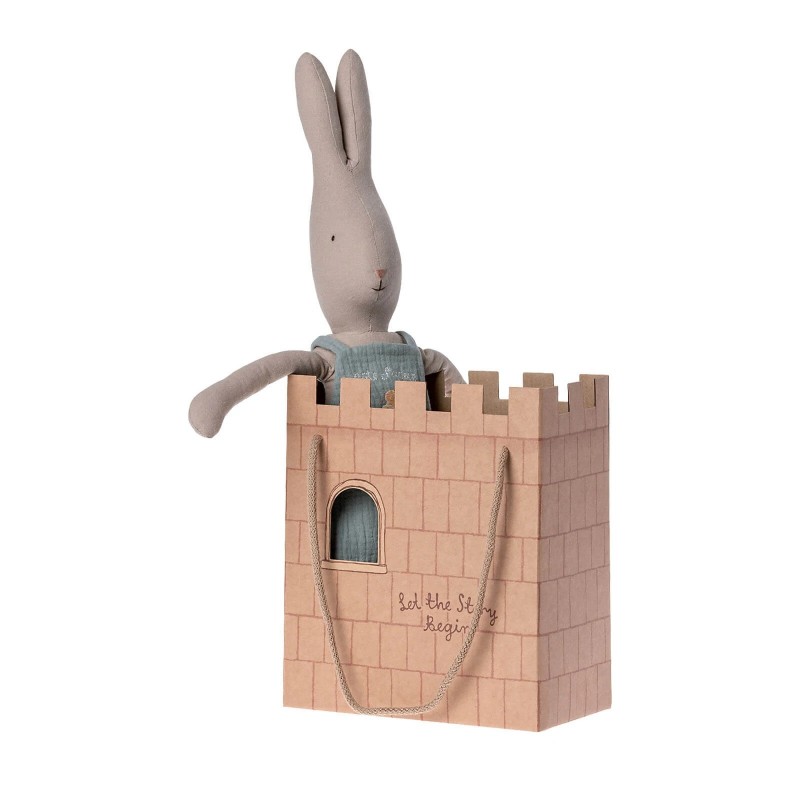 Turn your plain brown bag into a magical castle! All you need are some crayons, glue, an extra sheet of paper, and your imagination. Then, use the castle for stories and finger puppets!
Learn More: Pinterest
35. Paper Bag Report
This fun book report activity helps students summarize a story and practice presentation skills. This creative, hands-on project engages students and makes book reports more interesting. The paper bag visually illustrates the story and improves students' communication skills.
Learn More: teAchnology
36. Paper From Paper
You can use paper bags or newspapers to create recycled bags! This activity is perfect for teaching learners about caring for the environment and how we can positively impact the world around us. So, make a recycled bag and fill it up with treats as a reward for being a good citizen.
Learn More: PB Isotopes
37. Paintings
Turn reusable grocery bags into colorful art! Cut open the bags, let the kids paint, and decorate them with chalk and pastels. The bags then become vibrant, unique works of art! Kids will love the creativity and reuse aspect this craft brings. Display the bags by their handles for an eye-catching decoration in your home.
Learn More: Pinterest
38. Weaving
Weave together colored paper strips to make a fun woven bag! This craft is exciting for kids and helps develop creativity and fine motor skills. Children can customize their bags with their favorite colors and patterns and use them to store treasures.
Learn More: Laughing Kids Learn
39. Paper Bag Pumpkin
This adorable pumpkin craft is perfect for fall! Kids will love painting the bag orange and adding a green vine. The craft only takes 30 mins but the memories will last forever! Spend quality time making this fun Fall craft with your family. Grab supplies and get crafting!
Learn More: Sunshine Whispers
40. Masks
A brown lunch bag mask is a craft suitable for kids of all ages! Smaller kids may need help with cutting, but they can participate in decorating the bag and adding embellishments. This paper bag craft is great for kids and allows for a lot of creativity and customization.
Learn More: Hands On As We Grow