There are so many amazing, creative activities out there involving just a sheet of paper. Working with simple materials is a great way for kids to learn basic engineering skills. As well as often being a challenge for students, it can help them develop great teamwork skills as well. Making paper chains is perfect for little hands and gets learners working on their bilateral coordination skills. Repetitive actions are soothing for kids and they love to see their creations come together in this simple, creative way. Here we've compiled a list of some creative ideas to bring paper chains into your learning space.
1. Make Your Own Wall Hanging
This beautiful wall hanging is perfect to brighten up any learning space and is so simple to achieve. It's also a great activity to encourage student communication and following instructions. Can you believe this is made from just strips of paper?
Learn More: Woo Jr.
2. Thankfulness Paper Chain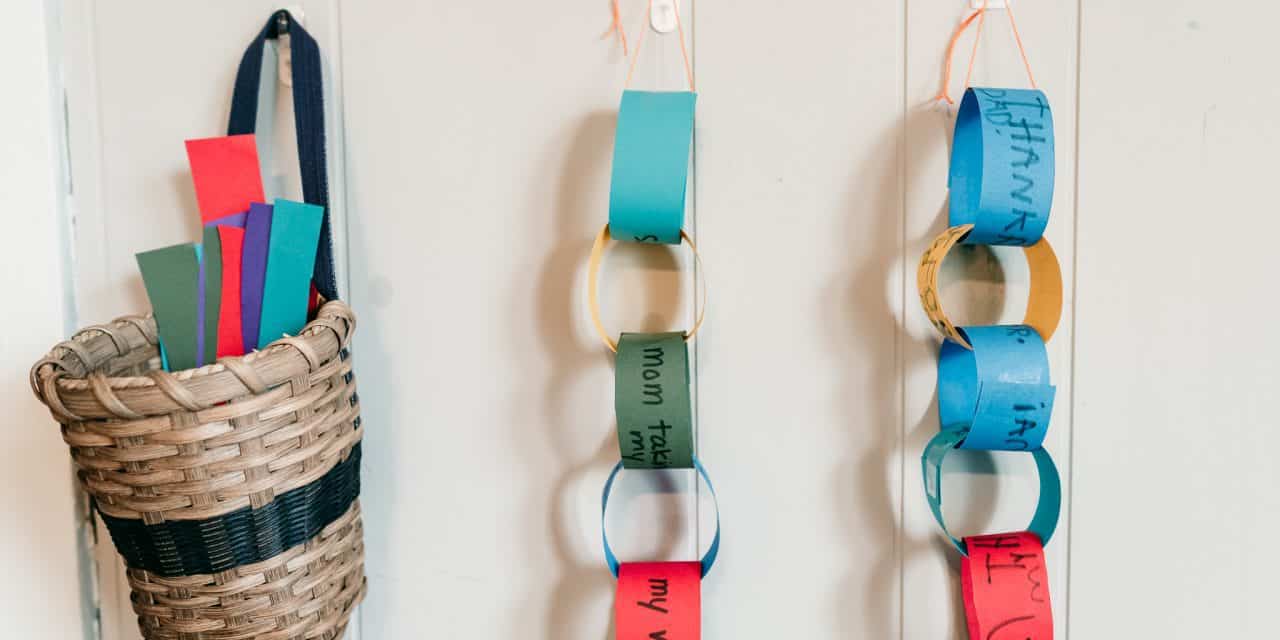 Reminding your students to be thankful is a great way to slow down your day and bring mindfulness into your space. Cut a piece of paper into strips and ask your students to write a short thankful note. Link them together for a lovely decoration.
Learn More: Hustle and Homeschool
3. Paper Chain Caterpillar
Great for little ones, these super simple paper chain caterpillars and so cute and easy to create. You will need some colored paper and a pair of scissors for the antenna, then glue each paper strip together to create your chain.
Learn More: Glued to My Crafts Blog
4. STEM Challenge
Challenge their engineering skills with this classic paper STEM challenge. You can use plain or colored paper for this activity, but remember to give a prize to your winner! A great activity for slightly older kids and fantastic for developing STEM skills.
Learn More: STEM Quick Wins
5. Paint Chip Paper Garland
You may already have lots of these paint chip strips from the DIY store stashed in a drawer. Put them to good use by creating this super cute paper garland. Extra points for recycling too!
Learn More: Pretty Life Girls
6. Learn the Alphabet
Create your very own alphabet paper chain; perfect for strengthening those fine motor skills in little fingers and helping little ones learn their alphabet as well!
Learn More: Hands-On As We Grow
7. Christmas Themed Paper Chains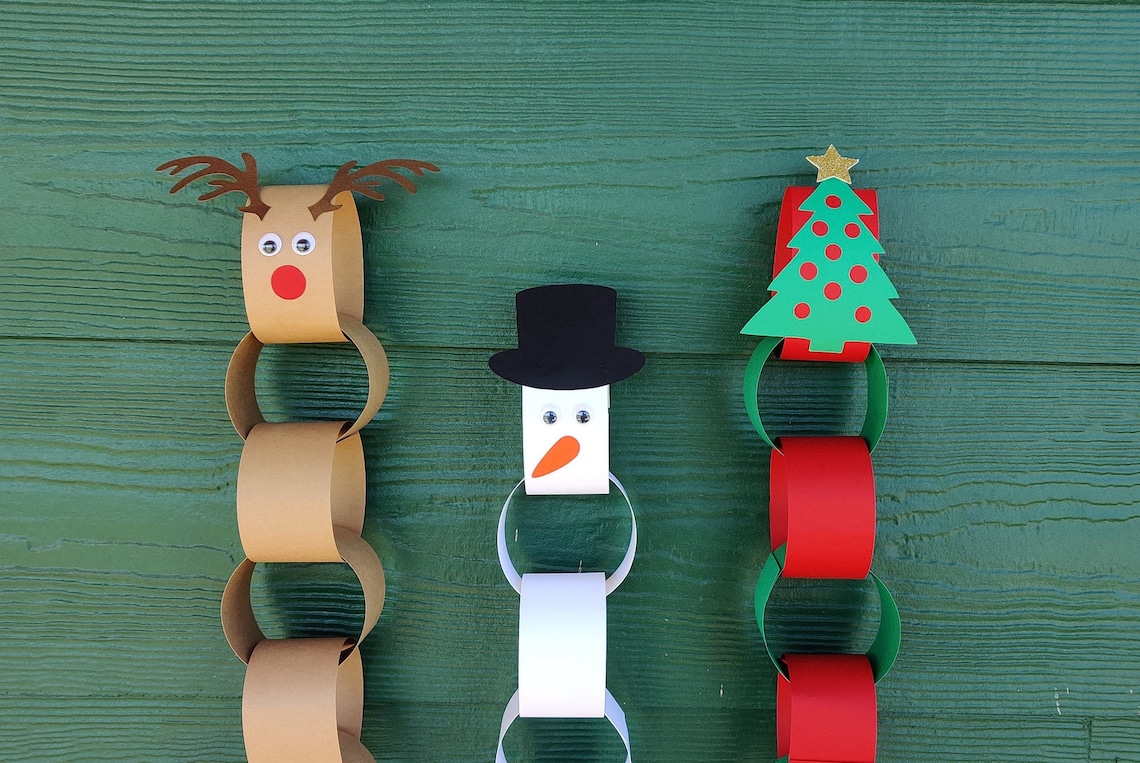 These adorable little guys are made from just sheets of paper! Perfect as decorations this holiday season or to give as gifts! Either way, you will have lots of fun creating these Christmas-themed paper chains.
Learn More: Etsy
8. Number Bond Paper Chain
This math activity for kids is a great way to sneak in extra math practice in a fun, creative way. Let them link together pieces of paper to create their own number bond paper chains. Challenge students to see who can make the most number of bond chains.
Learn More: Boy Mama Teacher Mama
9. St Patrick's Day Garland
All you will need for this is some green paper and you will have a gorgeous, simple decoration for your St Patrick's Day celebrations. Perfect to get all the kids involved with, give a prize to whoever makes the longest chain!
Learn More: The Purple Pumpkin Blog
10. Paper Chain Octopus
This cute guy is ready to bring heaps of fun to your learning space! He is super easy to create for little hands and opens up discussion for animals, sea creatures, and wildlife.
Learn More: Woo Jr.
11. Food Paper Chain
Teach them about the food chain with this adorable food paper chain. A great way to introduce food chain activities with students and is perfect for little fingers. You will need some rolls of tape or glue to stick the strips together.
Learn More: Lily Rae
12. Slinky Dog Paper Chain
If you have fans of Toy Story in your house then they will love this simple activity. This sweet slinky dog paper chain can be easily made independently by kids, but why not join the fun too? Repetitive actions are proven to calm and relax the body, so enjoy!
Learn More: The Chirping Moms
13. Christmas Paper Chain
This free printable festive chain is a creative and fun way to bring some holiday cheer into your home, and perfect to involve little ones in the decorating process! Kids love to watch the chain get longer and longer, make it so the longest chain wins!
Learn More: Sunny Day Family
14. DNA Sequence Craft
A perfect school STEM activity for slightly older kids. teach them about DNA with this brilliant activity using a paper chain.
Learn More: DNA Learning Center
15. Rainbow Paper Craft
This super easy and colorful construction paper activity will bring joy to any room! Perfect for teaching about the environment and weather and quick and easy if you have time constraints too.
Learn More: Brilliant Little Ideas
16. Make Fun Party Decorations
If you don't have a reason to have a party, then find one quickly! These super cute paper chain party decorations are too good to pass up. Perfect for getting everyone involved in the decorating process, even little hands.
Learn More: Pretty Life Girls
17. Paper People Chain
A super traditional paper chain craft that is so much fun for kids. Great for opening up discussion about our families, different types of families, differences between us, and what makes us happy. Great scissor practice for little hands too, working those fine motor skills.
Learn More: Mamalala DIY
18. Valentine's Day Paper Chain
Celebrate Valentines Day in style this year by creating these beautiful Valentine's paper chains with your little ones. All you need are some strips of different colored paper to make the links and follow the instructions to create these pretty heart shapes.
Learn More: Raising Hooks
19. Paper Chain Pythons
Kids are fascinated by snakes and these paper pythons are super fun to make! Experiment with different colors of paper and designs and see which you like best!
Learn More: The Craft Train
20. Paper Chain Jewellery
This is a perfect idea for keeping little hands busy and a creative end-of-lesson activity if your kids are getting a bit restless. All you need to do is cut up some small strips of paper and enjoy the peace!
Learn More: How Wee Learn
21. Recycled Paper Chain
In this inspirational video by Kids for Peace, they demonstrate how they created recycled paper chains. Bring some of their ideas into your learning space and teach kids the importance of recycling.
Learn More: Kids for Peace USA
22. Paper Chain Countdown
A great way to get kids excited about a birthday, Christmas, or a family vacation! Remove a link in the chain each day and watch it get smaller and smaller!
Learn More: Happy Hooligans