Upcycling is a fun way to reuse paper products in your house, especially those scrappy pieces of tissue paper and construction paper that you just can't seem to throw out. Save any paper in your house for kids' crafts! We have tons of fun ideas for paper projects that require minimal prep and only a few basic supplies. So, without further ado, let's get crafting!  
1. Origami Frogs
Use traditional origami folding techniques to make these cute frogs. Measure your paper first, and then follow the folding instructions carefully. Add googly eyes for extra character and try different papers for more fun. Try making baby frogs, too! Watch your kids hop them across the floor once complete!
Learn More: Easy Peasy and Fun
2. Ball Catcher
Enjoy this DIY version of an old pioneer game! All you need to make your very own ball catcher is a piece of string, a ball, a paper cup, and a straw or pencil. Assemble and use to help your little one with hand-eye coordination practice.
Learn More: One Little Project
3. Beaded Paper Butterfly
Accordion folding presents many opportunities for crafts. Make this simple yet striking butterfly. You can amp up the fun by allowing kids to create their own pattern on the paper before cutting the butterfly shape. Be sure you have chenille stems for the antenna! Finish off the craft by adding beads to the antenna.
Learn More: The Craft Patch
4. Paper Plate Flowers
A 100-pack of paper plates goes far with crafting! Cut your paper plate in half with wavy or zig-zap lines to create two flower shapes. Paint and design your hearts out! Cut arcs around the edge of another plate and paint them green to resemble leaves. Glue together to complete the craft.
Learn More: Red Ted Art
5. Construction Paper Twirl Snake
With some simple cuts and a fun rolling process, your swirly-whirly snakes will come to life! Cut construction paper length-wise and decorate with a reptilian pattern. Cut diagonally at both ends to make a diamond shape for the head and tail. Glue on googly eyes and a forked paper tongue for extra personality!
Learn More: Fatherly
6. Rainbow Paper Craft
Use up your old strips of construction paper by snipping them into squares. With a rainbow template, practice gluing the squares with glue sticks along the arcs to make a rainbow. Finally, add some cotton balls at the ends to make clouds!
Learn More: Kidz Craft Corner
7. Transfer Color with Tissue Paper
Cut the tissue paper into small squares and then give the kids paintbrushes and a white piece of paper. Place the tissue paper on the piece of paper and paint it with water to make the pieces "stick" on the paper before allowing it to dry. Then, pick off the tissue paper, and voila- The color will have transferred to the background sheet!
Learn More: JOANN Fabric and Craft Stores
8. Textured Paper Collage
Transferring patterns from textured paper or materials with paint is a fun and memorable activity. Simply take a piece of textured paper, paint it with washable paint and a paintbrush, and then press lightly; paint-side down, onto a blank sheet of paper. Make a tiled display with different textures for more fun!
Learn More: Fun Littles
9. Adorable Paper Pinwheels
Blowin' in the wind! Use a square piece of paper to start. Then, use a ruler to draw and cut your diagonals almost to the center with a pair of scissors. Fold every alternating point into the center and use a flat-headed pushpin to attach to the eraser of a pencil or a straw.
Learn More: The Spruce Crafts
10. Tie Dye Coffee Filters
All you need this time is a paper towel, markers, and water! Make dots, circles, and other shapes on a paper towel with markers. Then, add water droplets with a pipette or a dropper and watch the tie-dye magic appear. After they dry, you can see even more colors!
Learn More: Tot School Tumblr
11. Paper Flextangles
Flextangles are all the rage right now as fidget toys are a huge hit with kiddos. To make a proportioned one, use the template at the link below. Then, color it according to the guide with bright colors and proceed to tape and fold until you have an infinite flex angle in your hands!
Learn More: Babble Dabble Do
12. Weaved Paper Hearts
A great craft for Valentine's Day- this simple woven craft will surely impress your kiddos' friends. Use two different colored cardstock pieces and follow the instructions to draw even lines, fold, and cut your strips. Be careful when you're weaving so as not to rip the paper!
Learn More: Crafts And Drawings
13. Green Paper Turtles
Cut green paper strips and a larger circle for your turtle shell and base. Glue one side of the strip to the edge of the circle. Curl it around to the other side and glue it down. Cut kidney-shaped legs and a circle head out of green paper. Add googly eyes for some personality!
Learn More: SriCraftz
14. Accordion Bees
These wonky bees are sure to make you smile. Cut one 1″ strip of yellow and one 1″ strip of black construction paper first. Use a glue stick to paste them at 90 degrees, and then start the fold-glue process; alternating colors as you go. Don't forget the stinger! Add a head with googly eyes and some wings for extra fun.
Learn More: Easy Peasy and Fun
15. Tissue Paper Suncatcher
Stock up on clear plastic plates at the local dollar store and carefully hot glue a piece of string or yarn to the top in a loop so you can hang it. Then, modge-podge scraps of tissue paper all over the plate and hang the completed project in a sunny spot.
Learn More: Kids Craft Room
16. Paper Animal Bracelets
Use a bracelet template to create these 3D animal effects. Talk about symmetry as you color the ends with your kiddos. Carefully cut it out with a pair of scissors or let your kids try. Then, fold them down; leaving a spot to glue them together for a fun 3D effect.
Learn More: Pinterest
17. Awesome Paper Mache Pots
Use scraps of tissue paper or construction paper and modge-podge them onto a clear cup or balloon. Make sure to use lots of goopy modge-podge and paint the glue on well. Allow to dry in between layers for more texture and color. Finally, pull out the container or pop it open when completely dry!
Learn More: Home DZine
18. Awesome Paper Ninja Stars
Go back to the 80s and make these fun-to-throw ninja stars. Follow a tutorial to get the hang of the folds as you'll use basic origami to fold the four points. Then, help your kiddos fit them together in order to make the complete star. Choose complementary colors for a fun pattern.
Learn More: Gary Easy Origami
19. Toilet Paper Roll Penguins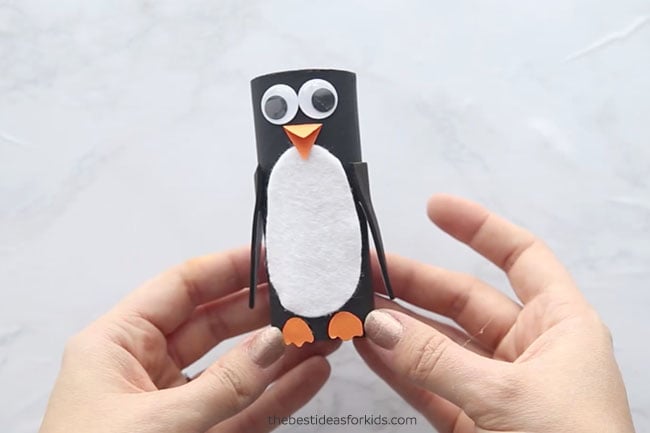 Don't throw out those TP rolls! Create construction paper animals with the help of your leftover toilet roll. Wrap black construction paper around the toilet roll and glue it. Add a white felt oval for a belly, two googly eyes, and black triangles to the side for wings. Then, use a folded diamond in orange for a beak and some small triangles for webbed feet!
Learn More: The Best Ideas for Kids
20. Crepe Paper Flowers
Leftover crepe paper can make beautiful flowers if you fold and cut them into petal shapes. Hold a toothpick upright and glue the petals on one at a time, securing the bottom. Try to create three different petal shapes for the most interesting petals and then add small green leaves!
Learn More: Ventuno Art
21. Confetti Balloon Bowls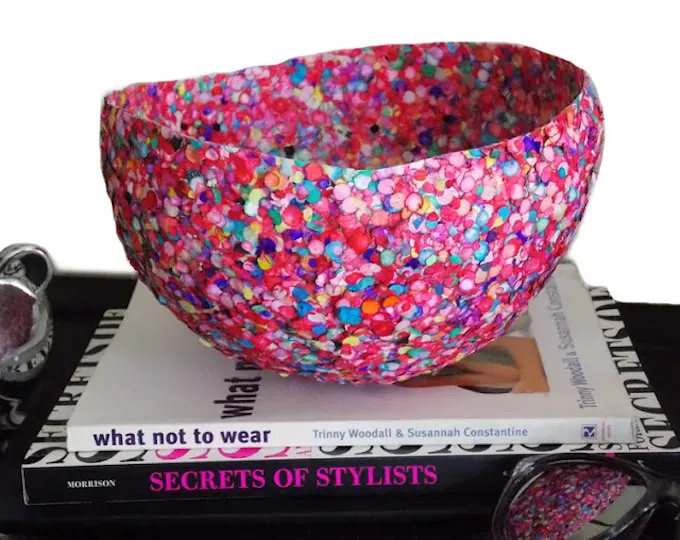 Blow up a balloon to take the shape of your bowl. Get out your modge-podge and paint the balloon. Then, stack on the confetti and add more modge-podge. If you let it dry slightly, you can paint on more confetti- making thicker layers. Let it dry completely before popping the balloon!
Learn More: ModPodge Rocks
22. Crumpled Tissue Paper Holiday Shapes
No matter the holiday, you can use crumbled tissue paper to make an appropriate art project. Trace the shape onto cardstock or construction paper to use as your outline. Then, have the kids dot on some glue and stick crumbled pieces of tissue paper right on top; filling out the shape outline.
Learn More: The Craft at Home Family
23. Heart Paper Chain
Use different patterns and colors of paper to make these festive Valentine's paper heart chains. You'll need a pair of scissors and careful cutting skills. Kids will accordion-fold their paper to create the chain effect and then trace a half-heart before cutting and stretching it out. This is a great lesson for your symmetry unit.
Learn More: Aunt Annie's Crafts
24. Sauropod Handprints
Use a blank sheet of paper and your hand as the stamp. Paint your hand with whatever color you want your dino to be and then extend your thumb. Press your hand onto the piece of paper and then paint another line of paint for the long neck and head. Draw on an eye, nostril, and smile.
Learn More: Planning Playtime
25. Dinosaur Paper Plate
A folded paper plate makes a great dinosaur body! Fold and unfold your paper plate, and then stick on a head and a tail. Add spikes down its back or other horns to mimic your favorite dinosaur. Don't forget the googly eyes. Use painted or colored clothespins as feet!
Learn More: Made to be a Momma
26. Paper Airplanes
Use basic origami to create a variety of paper airplanes. The simplest version with the best hang time begins by folding your paper longways in half. Then, peel down the top corner to make a triangle. Do this three more times, and then repeat on the other side. Test how well they fly outside!
Learn More: Origami Way
27. Homemade Paper
Teach kids about the process of papermaking by trying your hand at it at home. Stretch some old pantyhose over a rounded wire hanger to make a mesh strainer! Blend small bits of construction paper and water to make a slurry. Dump onto the pantyhose and let drain. Then, flip it onto a towel and let it dry!
Learn More: Boston Children's Museum
28. DIY Flower Seed Paper
Follow the basic instructions for making paper (see #27), but dump the pulp into a bowl before straining. Gently fold in wildflower seeds. Then strain and allow to completely dry. Have kids draw pictures or write a letter and let the recipient "recycle" with flowers!
Learn More: Nature Seed
29. Clothespin Chompers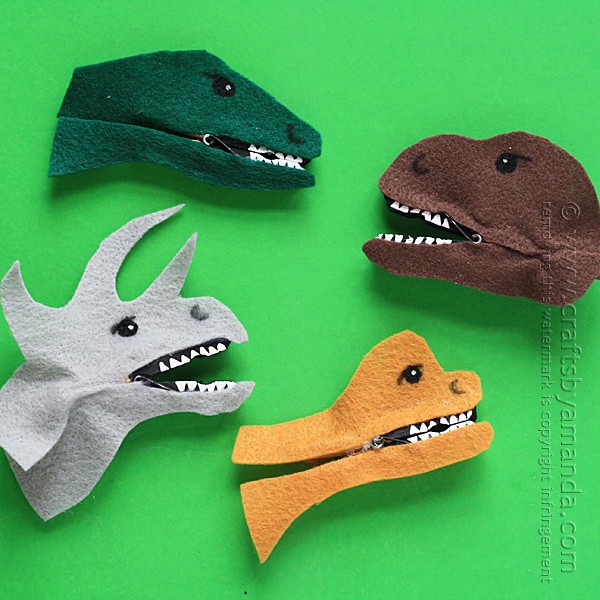 The spring action of clothespins makes for great dino jaws. Paint the clothespins black and then add white dots for the teeth. Trace a paper dino head using a template or your imagination. Then, cut out a jaw and the top of the head! Glue down and get your chomp on after adding facial features!
Learn More: Crafts by Amanda
30. Handprint Jellyfish
Have your kiddo trace their hand and then carefully cut it out to make tentacles! Cut small strips of paper and curl them for longer tentacles. Use the jellyfish head template or just make a half-circle with paper or a paper plate. Draw on some eyes and hang around the classroom!
Learn More: Simple Everyday Mom
31. Hanging Flowers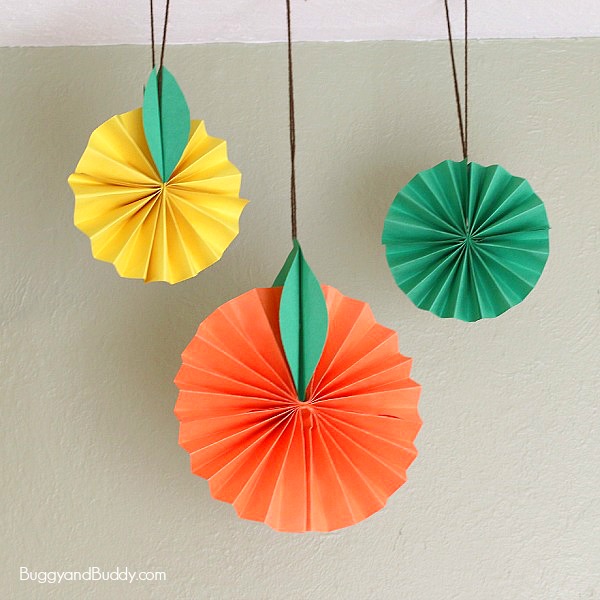 Accordion folds your entire piece of construction paper lengthwise. Then, pinch in the center or tie with a twist tie. Fold and glue the two opposite sides to create a half-circle, and then repeat on the other side to create a full circle. Staple it on a string and tie it together to create an easy decoration.
Learn More: Moms and Crafters
32. Paper Roll Creatures
Build this cute kitty's ears by folding down two sides of the top of a toilet paper roll. Then, paint him black or whatever color your kids choose. Add some googly eyes and chenille-stem whiskers for character and don't forget a squiggly tail!
Learn More: Jumble Tree
33. Paper Towel Octopi
Save all the tubes! You can tape several together for height, but it will take some logical thinking to construct a path for your balls! Squeeze the tubes to make rectangle cuts for inserting new pathways. Cut tubes lengthways to make two paths, and start to build! Then, let those balls roll!
Learn More: MyKidsTime