Do you remember your first doll when you were a child? The games, imagination, and fun that can come from this little toy are magical!
The process of making your own doll can be just as special as the activities and fun that follow. With a piece of paper and some easy-to-follow instructions, you and your friends will be creating adventures and making memories with your very own homemade paper dolls!
Here are 21 ideas for boys and girls to create their new play pal today!
1. Paper, Sticks, and Wrappers Doll
Time to look in your kitchen and craft area for the supplies you need to build this DIY doll. Follow the instructions in the link to see how to arrange, glue, cut, and draw the parts of this sweet playtime doll.
Learn More: Our Family World
2. Watercolor Paper Dolls
For the little painters out there, this craft is perfect! To make the figures you'll cut the silhouettes out of cereal boxes and cover them in white paper. Then, your little ones can paint them any way they like and even make their dolls little pets for extra playtime fun!
Learn More: Zoli Inc.
3. Fabric Scrap Paper Doll
This creative and resourceful idea will result in some truly one-of-a-kind paper dolls for the next playtime. The process of picking and choosing which fabric scraps your kids want to use is just as much a part of the activity as the games they will play afterward.
Learn More: Pinterest
4. Self-Portrait Paper Dolls
Help your students cut out an outline of a body from white paper, and then get a picture of each student's face. Once each face is glued to its paper outline, they can paint and decorate their personalized dolls!
Learn More: Pinterest
5. DIY Origami Paper Dolls
With a few tricks and guidance, your kiddos can fold and piece together this basic paper doll design using origami techniques! Have your students choose the colored paper they prefer and follow along with the video tutorial as a class.
Learn More: Diella Crafts
6. Pirate Finger Puppets
Time to bump up the interactive fun with these adorable finger puppet pirates! The craft uses card stock paper so that the puppets are strong enough to be played with. The cutting and gluing process is great for improving young learners' motor skills!
Learn More: Red Ted Art
7. Clothes Pin Paper Puppets
The possibilities are endless with these manipulative paper and clothespin puppet designs! Watch the video with your kiddos and help them find some inspiration for what style animal, person, or imaginary creature they want to bring to life.
Learn More: Puppetarians
8. DIY Happy Clown Puppets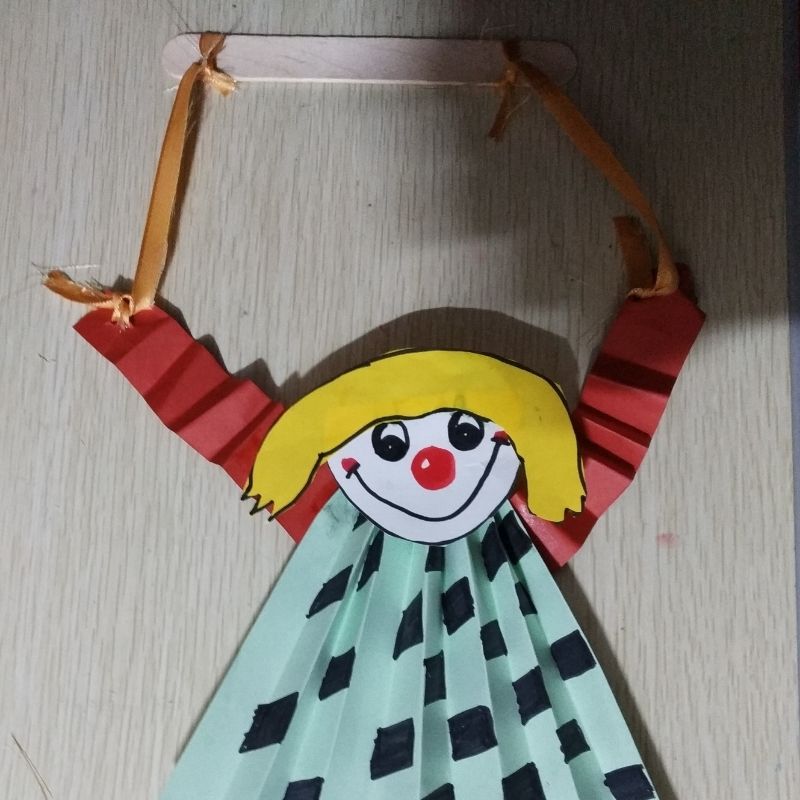 These clown puppets can be made using craft supplies found in most children's classrooms. Colored paper, markers, scissors, ribbon, craft sticks, and imagination come together to design each student's clown with a personality as lively as their own!
Learn More: School My Kids
9. Toilet Paper Roll Puppets
Here's another amazing and easy-to-follow video tutorial for DIY puppets made from toilet paper rolls. This craft uses recycled materials which are good for the environment, and each child can create a paper tube version of themselves to play games with and connect with their peers.
Learn More: Black Cherry Puppet Theater
10. Circus Paper Dolls
Are your little crafters ready for the circus to come to town? These printable paper doll templates are free to download, and can be colored and ready for playtime in record time!
Learn More: First Palette
11. Paper Bag Puppets
When it comes to crafts using paper, there are so many resources we can find around the house or school. Paper bags are a great tool for craft time, and even more, fun when we turn them into puppets of ourselves! You can extend this craft activity by asking students to write down some information about themselves to share with the class.
Learn More: The Littles and Me
12. Moveable Owl Paper Doll
There is a tutorial video provided on the website that shows how to build these wing-flapping owl paper puppets. The cutout design is a template students can easily piece together; cutting, coloring, and gluing together for a hooting good time!
Learn More: Easy Peasy and Fun
13. Paper Chain Ballerinas
How beautiful are these dancing ballerinas? A string of paper dolls can be a super fun project to make with kids. This link has a template you can download for tracing and cutting the ballerinas. From there, use crayons to fill in the face, hair, and outfit and, if you have streamers, add a tutu for extra pizzazz!
Learn More: Mer Mag Blog
14. Paper Cup Dolls
Another creative video tutorial for you and your little ones to try! Use a paper cup to create the face and hair by cutting the bottom and splaying the pieces. Trace and cut colored paper to make the body and add bits of paper for the arms and legs! Decorate using markers and colored cards to complete the look.
Learn More: Craft Merint
15. Muppets Paper Puppets
The Muppets are characters from Sesame Street that branched out into their own universe of stories, songs, and craziness! These printable character papers can be downloaded and cut out for in-class activities as well as at-home fun.
Learn More: Wonder Kids UK
16. DIY Paper Plate Unicorns
From our selection of paper activity ideas, these unicorns are one of my favorites! Instead of using googly eyes, you can have your kiddos cut out eye holes for masked adventures and other interactive games.
Learn More: Glued to My Crafts Blog
17. Cultural Appreciation Paper Figures
Let's discover all the wonderful things that make us special and unique. Our culture can be seen in the ways we dress, eat, and talk to one another. These paper dolls are part of a cultural project where each student chooses a place to research and shares what they learn with the class.
Learn More: Pancakes For Recess
18. Frida Kahlo Paper Plate Dolls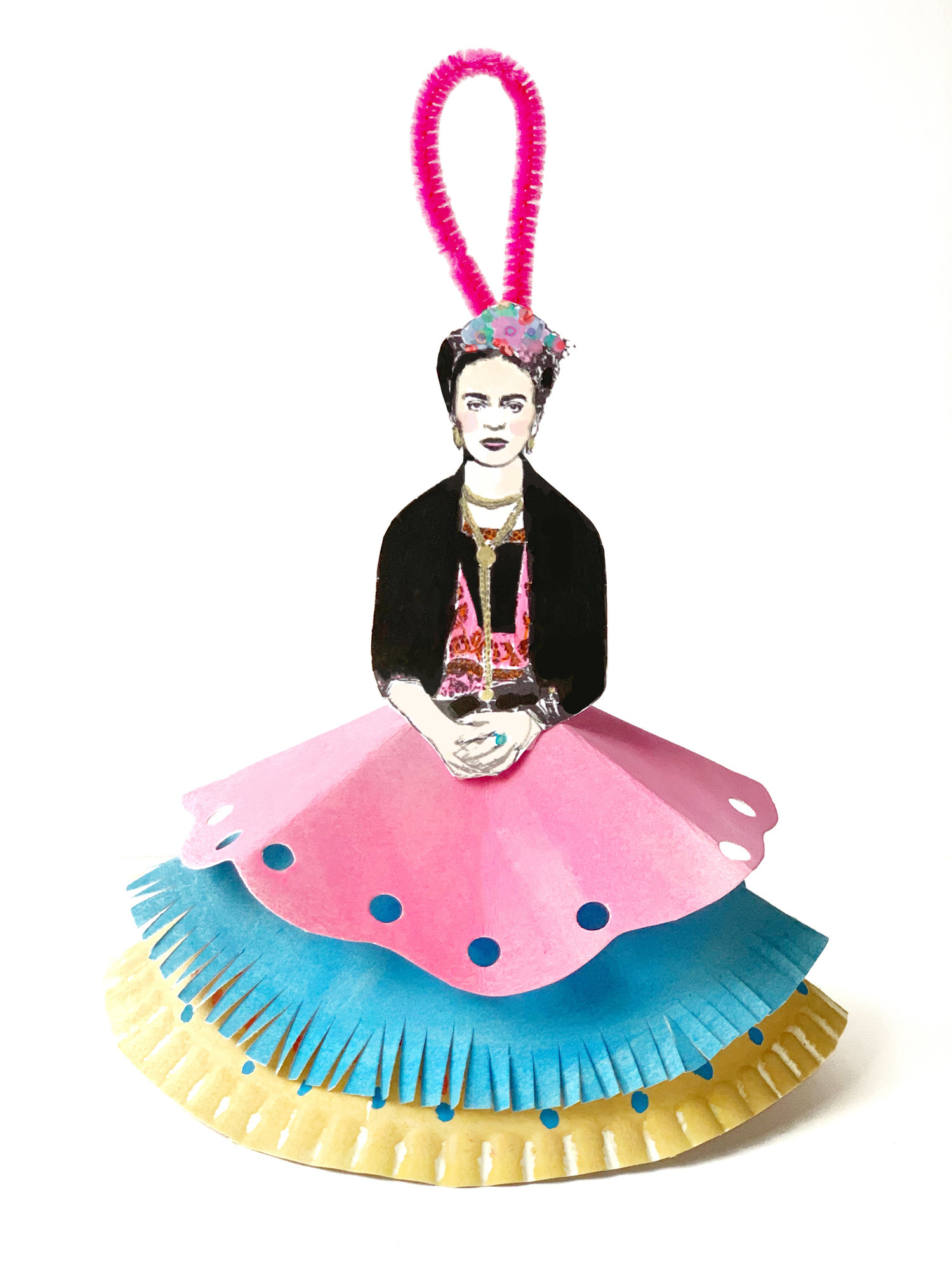 This influential figure has plenty to teach your kids, and this craft is a great way to introduce someone important to learners. This Frida Kahlo ornament is made using paper plates that have been cut and painted for the dress and a printable template of her upper body.
Learn More: Art Camp LA
19. Minecraft Paper Doll Printables
With Minecraft and other online games growing in popularity, it helps to incorporate concepts from these games into classroom craft time. This free 3D printable template takes a little perspective to assemble, but once these figures are ready, playtime will never be the same!
Learn More: Pink Stripey Socks
20. DIY Paper Doll Homes
We are taking creative playtime to the next level with these DIY ideas for paper dollhouses! You can show your kids these inspirational photos to spark their own imagination for how to design and build a cardboard box house for their paper dolls.
Learn More: Paper Source
21. Harry Potter Paper Roll Doll
Infamous Harry Potter is beloved all around the world, and your students would probably love to have a little puppet of him, Hermione Granger, and Ron Weasley to act out scenarios from their favorite book and movie scenes! Toilet paper rolls and a free printable template come together to create these magical paper toys.
Learn More: Ruffles and Rain Boots