It's amazing how much you can do with just a sheet of A4 paper! Teachers and parents alike know that low-tech, puzzle-based activities can be great learning tools for kids in a variety of settings. Road trips, power outages, and easy-to-organize brain breaks are just a few instances when you may need to rely on one! If you're in need of simple, cost-effective activities that promote your child's learning, then you've certainly come to the right place! Check out our collection of 32 unique puzzle ideas to learn more.
1. Tangram Puzzles
Dive into geometric fun with these ancient Chinese puzzles. By forming various shapes with seven flat pieces, you can help learners of all ages develop spatial reasoning and problem-solving skills while getting a fun peek into world history!
Learn More: Scout Life
2. Word Search
With a word search puzzle, you can make learning vocabulary a hidden adventure! As your students scan a grid to find specific words, they'll enhance their focus, spelling skills, and word recognition!
Learn More: Gamesver
3. Mazes
With tricky mazes, you can enhance your kiddos' problem-solving skills in an exciting and engaging manner. By navigating a path from start to finish, they'll boost their spatial awareness whilst cultivating patience and determination.
Learn More: Create & Learn
4. Spot the Difference
With these puzzles, all the instructions you need are in the name of the game alone! They sharpen attention to detail as students compare two seemingly identical pictures and identify subtle differences.
Learn More: Fun with Puzzles
5. Jigsaw Picture Puzzles
Want to build your jigsaw puzzle collection simply and affordably? Print out a picture and laminate it before cutting it to create your own! As they spend time reassembling the pieces, learners will boost their spatial reasoning.
Learn More: Brain Frame
6. Hidden Picture Puzzles
The beloved Where's Waldo puzzles are a classic example of hidden picture games! Print out an image with specific hidden items. Then, exercise your learners' observation and concentration skills by challenging them to locate all the hidden objects.
Learn More: Jagran Josh
7. Paper Folding Puzzles
Origami meets problem-solving in these puzzles! Students will strengthen their fine motor skills and spatial thinking by folding paper along dotted lines to create a 3D shape.
Learn More: Games For Young Minds
8. Cryptogram Puzzles
Did someone say code cracking? That's what cryptograms are all about! By decoding a hidden message via a substitution cipher, students can enhance their logical thinking and letter recognition.
Learn More: YouTube
9. Rebus Puzzles
These visual puzzles are an excellent way to enhance language skills and spark creativity. By prompting your learners to decode illustrations comprised of individual letters, you'll also challenge their critical thinking abilities!
Learn More: Your Dictionary
10. Crossword Puzzles
Here's an oldie that's certainly still a goldie as far as we're concerned! In years past, these timeless word puzzles have served learners well by helping them improve their vocabulary, spelling, and general knowledge. Don't forget- they're an excellent tool for both independent and group work settings
Learn More: Britannica
11. Dot-to-Dot Puzzles
Turn counting into a fun, artistic activity with a simple dot-to-dot puzzle. As your kiddos connect dots in a number sequence, they'll create a beautiful picture while enhancing both their fine motor skills and number recognition!
Learn More: Twinkl
12. Color By Number
Want to merge art with mathematics in a fun and creative way? Here's how! As your learners bring a beautiful picture using an assigned color for each number, they'll enhance their number recognition, learn how to follow instructions, and improve their focus!
Learn More: Super Coloring
13. 3D Paper Puzzles
With these innovative puzzles, your littles can bring 2D paper creations to life! The task will promote their dimensional reasoning and fine motor skills while allowing them to flex their creative muscles.
Learn More: EPC Crafts
14. Optical Illusions
Prepare to be amazed! These puzzles give your students an opportunity to create optical illusions on paper; exploring visual perception and creativity while having fun! Whether it be with markers, crayons, or paints, everyone's sure to have a blast!
Learn More: Kids Environment Kids Health
15. Logic Grid Puzzles
Invite your pupils to fill in a grid based on clues. As they engage in this stimulating feat, they'll sharpen their logical reasoning and deduction skills- leaving them more adept with problem-solving abilities!
Learn More: YouTube
16. Paper Weaving Patterns
Looking for a craft and puzzle rolled into one? Look no further! Weaving paper strips to form patterns promotes fine motor skills and pattern recognition; introducing students to a delightful traditional craft that stimulates the brain.
Learn More: Hand Woven Magazine
17. Symmetry Drawing Puzzles
Mirror, mirror on the wall, who can make the best mirror image of them all? These puzzles enhance visual awareness and creativity as learners must complete the other half of a picture to bring about a symmetrical design.
Learn More: Practicing Symmetry
18. Emoji Decode Puzzles
Turn the language of the digital age into a fun classroom activity by having your students decode phrases represented by emoji sequences. This is great for promoting language skills and fostering a sense of relevance in today's digital-centric world.
Learn More: YouTube
19. Color Puzzle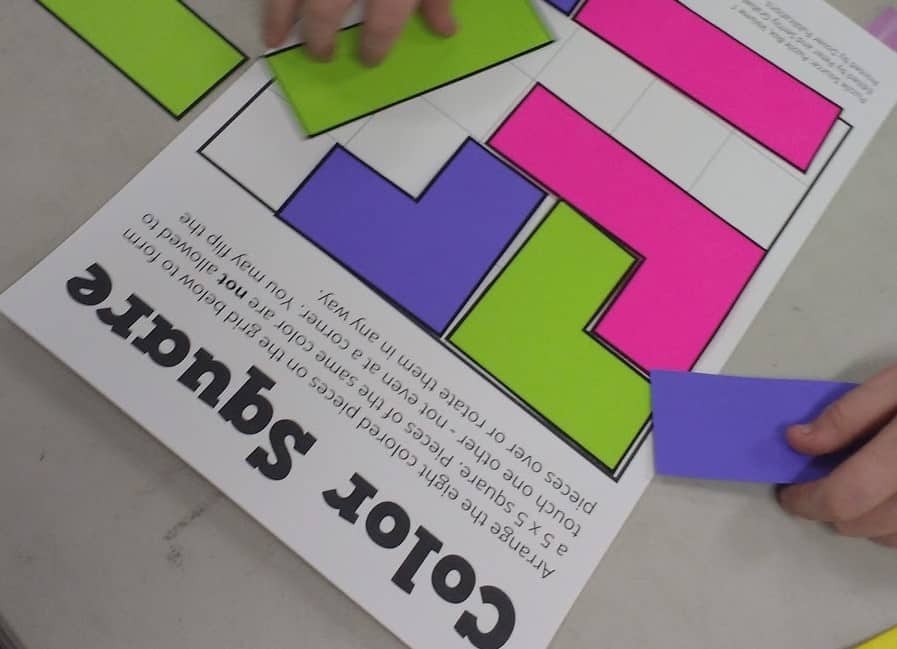 Here's a colorful challenge for young students! Color puzzles can be used in a multitude of ways. Ultimately, they promote color recognition and require their makers to pay attention to detail. Group your students up and challenge them to reorganize colored paper squares based on given sets of instructions.
Learn More: Math = Love
20. Pattern Recognition Puzzles
How about some brain-boosting fun? Similar to the activity above, learners must work to complete patterns using colored paper squares. As they do so, they'll develop their pattern recognition and logical thinking skills.
Learn More: Buggy and Buddy
21. Number Sequence Puzzles
Here, students must exercise their mathematical thinking and pattern recognition abilities to determine the next number in the sequence.
Learn More: YouTube
22. Paper Clock Puzzles
Time for some hands-on learning- pun intended! Get your learners to construct a paper clock and move their hands to match different times. This craftivity will help them understand the concept of time and improve their manual dexterity.
Learn More: YouTube
23. Story Sequence Puzzles
Challenge your kiddos' listening ability and memory skills after storytime. Want to achieve this in a fun way? Get them to complete a story sequence puzzle to map out the story as they remember it!
Learn More: How We Montessori
24. Paper Fractal Art
With fractal art, you can introduce your students to the beauty of mathematics in a fun and creative way. This art form results from geometric patterns being repeated in a similar pattern; combining art with geometry.
Learn More: YouTube
25. Paper Chain Puzzles
Remember paper chains? With this activity, you can use them as excellent educational tools! Simply have your students create patterns with strips of colored paper to develop their pattern recognition and fine motor skills.
Learn More: Community Play Things
26. Alphabet Sequence Puzzles
We'd recommend this next idea if you want to turn learning the ABCs into a game and engage beginner readers. Get your kiddos to piece together all the puzzle pieces that depict images of items beginning with the given letter.
Learn More: This Reading Puzzle
27. Paper Shadow Puzzles
This one's for those keen classroom observers! In this activity, your students must match paper objects to their shadows. Not only is it a fun game, but it serves as the perfect activity to boost visual discrimination skills and bolster an understanding of light and shadow.
Learn More: Rainy Day Mum
28. Find the Pair Puzzles
Promote visual intelligence and foster attention to detail with this pair puzzle! Here, students will need to locate two identical pictures in a group.
Learn More: YouTube
29. Paper Map Puzzles
Bring Geography to life with this puzzle! Get your learners to cut a map into pieces and then reassemble it; enhancing their geographical knowledge and puzzle-solving skills in one shot!
Learn More: Kiddy Charts
30. Fraction Puzzles
Make fractions less intimidating and more fun with this puzzle-based game. Task your students with matching pieces of colored paper, representing fractions, to their numerical equivalents. They'll be having so much fun that they won't even know you're focused on enhancing their understanding of this crucial mathematical concept!
Learn More: What I Learned
31. Season Sorting Puzzles
Embrace the beauty of changing seasons as you engage your class in a season-sorting puzzle. As you discuss the changes that occur between seasons, invite your kids to sort pictures or symbols onto a paper tree to represent all four!
Learn More: Seasons Sort
32. Life Cycle Puzzles
Looking for an opportunity to get up close and personal with Mother Nature? This is it. These puzzles task kids with arranging pictures to depict the stages of a plant or animal's life cycle. With them, you can foster a deeper understanding of biology and the circle of life.
Learn More: I Can Teach My Child