Children's bodies are constantly growing and changing- making them an endless topic of fascination and discussion in elementary school. From growing pains to loose teeth, testing their bodies' abilities to jump, climb, and run, children have a logical, practical need to know about the concept of body parts and their five senses. Human body games and activities are a great addition to any classroom theme about growing, health, nutrition, or the senses! The activities in this list are sure to harness and promote children's natural interest in this ever-important topic.
1. Body Parts Chant
Introduce your lesson and build body parts vocabulary with this fun chant! Students will learn about different parts of the body through movement and begin to understand what those body parts help us do. Students will also explore the concept of body parts in a way that promotes body positivity!
Learn More: Pinterest
2. "The Body Song"
"The Body Song" by English Singsing is the perfect way for your children to review body parts vocabulary terms while they get up and moving! Children tap, shake, and name different body parts while singing along to the lyrics. It is perfect for a themed brain break!
Learn More: English Singsing
3. Parts Puzzles
Assembling these challenging body parts puzzles will help children begin to learn where exactly those parts belong on their bodies! Students will build an entire body and a close-up of a face. Building with puzzles also helps children to develop their spatial awareness.
4. Rock Faces
Making faces from loose parts is a Reggio-inspired way to help students develop their body parts vocabulary. Help your little ones harness their powers of close observation and challenge them to make a self-portrait using the correct color of eyes, similarly shaped nose, mouth, etc.
Learn More: Right-Brained Mom
5. The Brush Game
Integrate literacy and multi-sensory science learning to bring this body parts concept to life! As you read the story I Ain't Gonna Paint No More aloud to students, you can have them use a clean brush to "paint" the same body parts as the child in the book.
Learn More: Still Playing School
6. Human Body Playdough Mats
Using playdough mats to explore the human body is a creative way to help children visualize those body parts we cannot see; like bones, muscles, and organs. Let them draw body part cards and add them to the correct space on their mat for an extra challenge!
Learn More: 123Homeschool4Me
7. Movement Dice
Start your morning meeting with 6-7 minutes of this fun body movement game! Children will roll two dice (get printable at the link below) that tell them which body part to move and how to move it! Incorporate literacy by calling the dice the "noun" and "verb"!
Learn More: Life Over C's
8. Roll & Draw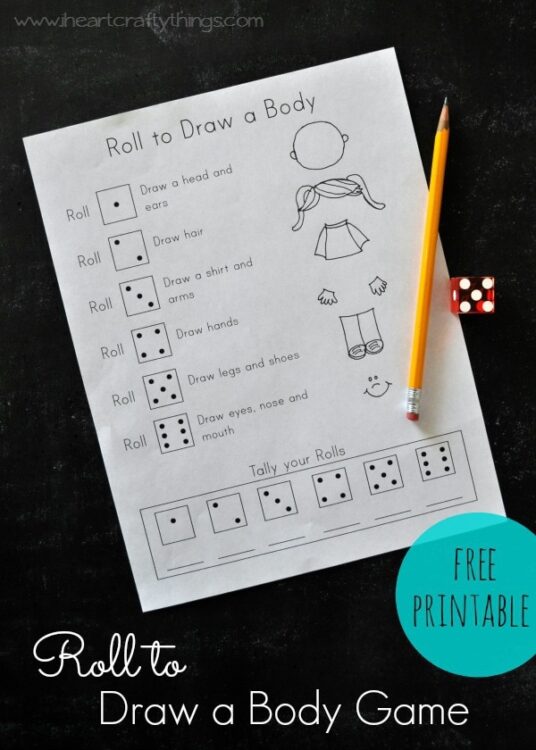 Use this roll-and-draw activity to review body parts and their location on our bodies! This activity integrates math as students recognize dot patterns and tally their rolls. This is perfect if you're looking for a little more than a traditional body vocabulary worksheet!
Learn More: I Heart Crafty Things
9. Mr. Potato Head Senses
The Mr. Potato Head body parts game is perfect for students to review body parts and their associated senses. Children flick the spinner and add the correct part until their entire body is assembled. Put students into teams and have them race for extra fun!
Learn More: A Little Pinch of Perfect
10. Build-A-Face Snack
You can even bring your human body theme into your daily snack time routine by making these edible faces on tortillas or rice cakes! Let students create silly faces and self-portraits or make facial expressions that represent certain emotions before enjoying their special snack.
Learn More: Learn Play Imagine