It's essential to spend time working on cutting skills with your PreK- 2nd grade students. Not only because cutting is a fantastic fine motor activity for their development, but also to save yourself hours of cutting!
If your students love Paw Patrol, then they will love these activities! Get your students skilled with scissors using our collection of 22 fun-for-all Paw Patrol-themed activities!
1. Jigsaw Activity
This jigsaw puzzle is the perfect activity to keep your students busy. They will first need to color the picture in, and then they can cut along the lines of the jigsaw puzzle pieces. Printing onto card stock or the heavy-weight paper is best for this activity!
Learn More: Webs in Cloud
2. Paw Patrol 2D Shape Cutting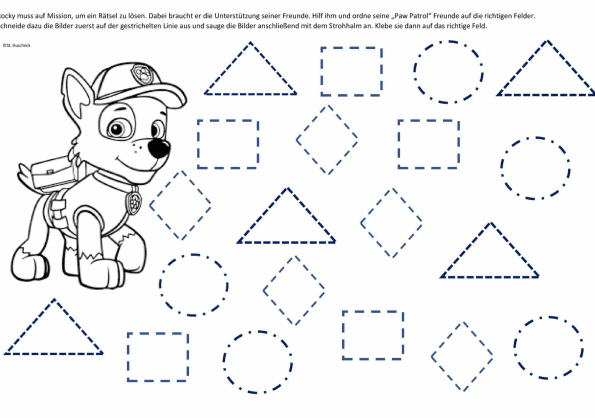 This activity has multiple benefits for your students. Not only will students practice their cutting skills as they carefully cut out each 2D shape, but they can then also practice naming the shapes and discussing their properties.
Learn More: Madoo
3. Paw Patrol Communicator Craft
Using some recycled materials, some printable templates, and basic craft supplies, students can make their very own communicator from the show!
Learn More: Pretty in Baby Food
4. Make Your Own Badge
Students can make their very own badges by following this simple step-by-step video tutorial. Students will cut out the printable template to draw around on pieces of colored cards. Then they can simply cut out their badge and stick on the symbols to complete it!
Learn More: PAW Patrol Official & Friends
5. Paw Patrol Cube
Students can practice their scissors skills when cutting out the template above. Together you can glue the tabs to create this eye-catching character cube. This is a great paper craft but you could use cardstock to make the cubes last longer!
Learn More: Lil Shannie
6. Number Ordering Puzzles
These puzzles are fantastic for literacy or math lessons. They can be used to practice letter or number identification. Print off the template and then get your students to cut along the lines to create their puzzle.
Learn More: Orientacion Andujar
7. Paw Patrol Gift Box
These cute gift boxes are super simple to create. Simply print the template, get your students to decorate it, and then cut it out! They can of course be completed as a paper craft, but you can use cardstock to make the boxes more sturdy and eye-catching.
Learn More: Pinterest
8. Paw Patrol Activity Pack
Your students will enjoy seeing all their favorite characters in this fantastic kids' activity pack! The pack has lots of different activities; focusing on math and literacy. Some of the activities can even be adapted to become cut-and-stick activities to test your student's cutting skills!
Learn More: 1+1+1=1
9. Make a Chore Wheel
This super fun activity lets students make their very own chore wheels. Print out the template and get your students to cut carefully! There is also a super name art activity included too.
Learn More: PAW Patrol Official & Friends
10. Make Your Own Puzzle
Print this puzzle template and encourage your students to cut carefully along the lines to create a puzzle of their favorite characters. Consider laminating the puzzle before your students cut it up to make it last longer.
Learn More: Lil Shannie
11. Paw Patrol Masks
This fantastic printable resource is a great way to get your students practicing their cutting and coloring skills. Best of all; they make great additions to the dressing-up box in your class!
Learn More: Cool 2B Kids
12. Paw Patrol Cutting Practice
This super simple cutting activity is perfect for those students who are just starting to use scissors and still need lots of practice. The straight lines are easy to follow and pages can be cut down if the larger pages are too big to start with.
Learn More: Teachers Pay Teachers
13. Paper Christmas Ornaments
This is a super simple holiday activity for kids to make their own hanging Christmas ornaments. After printing the template onto thick, sturdy paper, all you'll need to add is some ribbon, and students can color them in and cut them out.
Learn More: Paw Patrol & Friends
14. Cardboard Tube Character Craft
These cardboard character crafts are an exciting way to get your students cutting! Print or draw different options for the character's hats or collars and then let your students cut them out and stick them onto their cardboard tubes.
Learn More: Instagram
15. Paw Patrol Matching Game
Let your students practice their cutting skills with these printable cards. Your students can practice their neatest cutting out and then play lots of different games like matching pairs or swapping cards.
Learn More: Boy Mama Teacher Mama
16. Paw Patrol Pattern Sequencing
To complete this activity, kids will need to cut out the missing pieces; allowing them to practice their cutting skills. This Paw Patrol-themed sequencing activity is the perfect way to get learners excited to practice their cutting and sequencing skills.
Learn More: Pinterest
17. Egg Holder Craft
This egg holder is a brilliant craft to complete with your students around Easter time. Students can select a template of their favorite character to color in. You can then encourage them to carefully cut it out before putting it together to hold a chocolate egg!
Learn More: Paw Patrol & Friends
18. Rubble Pop-Up Birthday Card
The video provides easy-to-follow instructions for learners to make a fun birthday card. All that's needed are some basic craft supplies and your students can then cut out images of Rubble for their cards!
Learn More: Instagram
19. Paw Patrol Line Cutting Practice
Line cutting is a fantastic activity to develop fine motor skills and improve dexterity! This tracing activity sheet can be easily adapted for cutting practice and it would be easy to incorporate this as a daily activity in your classroom!
Learn More: Teachers Pay Teachers
20. Make a Collage
Using coloring sheets, your students could color, cut, and create super collages of their favorite Paw Patrol characters. Leave lots of time for this activity so that students can cut out lots of different pictures to create a varied collage.
Learn More: Cool 2B Kids
21. Cut and Paste Number Activity
The best way to engage your young students in numeracy practice is by planning lots of fun math activities. Students will need to carefully cut out the numbers before ordering and sticking them down. This activity could also be easily adapted to become a letter recognition or alphabet ordering task.
Learn More: Pinterest
22. Chase Paw Patrol Puzzle
This fun puzzle activity is super for cutting practice. Your students will cut along the dotted lines to separate the pieces of the puzzle before putting it back together to reveal a picture of their favorite character! Print this activity onto cardstock to make it more durable.
Learn More: Teachers Pay Teachers