Learning about animals can be so much fun for preschoolers! They love to move like animals, make sounds like animals, and share what they know. When the warm weather months come to your region, what better way to beat the heat than using cool penguin activities with the kids? Read on for 20 penguin-theme preschool activities to enjoy this summer--or any time of year!
Get out of the house for your preschool penguin activities! Things like penguin sensory activities in the yard or going to the aquarium will make memories and be a valuable learning experience.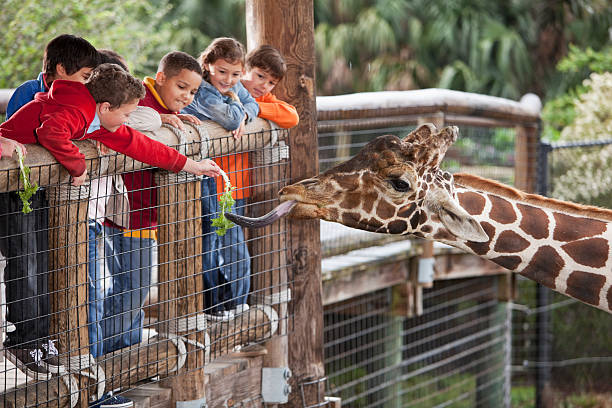 Start your preschool penguin study off with a real experience that makes memories! Research your local zoos and aquariums, and see which has penguins on display. Zoo exhibits let you get up close and observe penguins' natural behaviors. Take some pictures and jot down your observations to research more after your visit.
Learn more: Akron's Zoo
Take this penguin preschool activity outside and see what kind of icy fun happens when you try it. Freeze water in a baking tray, freeze fun penguin toys into an ice tray, and create your own ice skating rink. Next, see how far the ice penguins can skate down the sidewalk, and notice as they melt how they might leave streaks of water behind!
Learn more: Messy Little Monster
Try some penguin cosplay! Use some of that pile of online shopping boxes you have and create penguin shapes to fit your preschooler. Take a waddle in the yard and find some cardboard fish for dinner. Most importantly--have fun!
Learn more: Crystal and Co.
Get Some Exercise with Penguin Movement Fun
4. Penguin Yoga Task Cards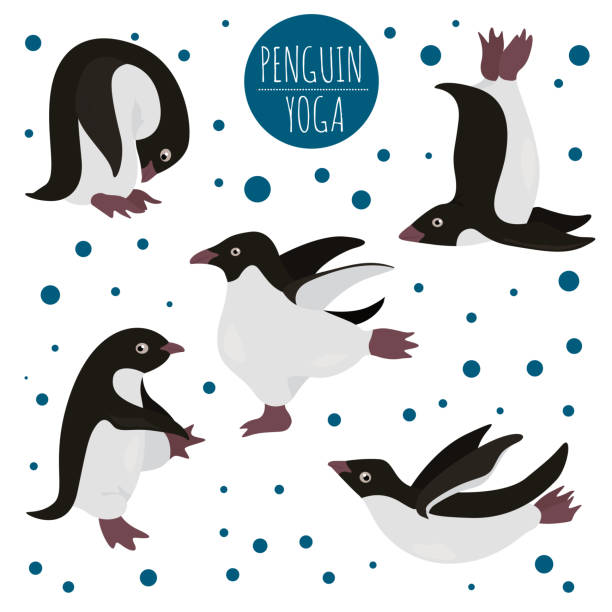 Adding to the list of fun penguin activities are these super-cute yoga cards. Play some arctic sound effects and take turns pulling cards to try.
Learn more: The OT Toolbox
Another yoga penguin preschool activity is Cosmic Kids Yoga Adventures. The instructor is engaging and kids will love role-playing along with the video. Try it!
Learn more: Cosmic Kids Yoga
Another yoga penguin preschool activity is Cosmic Kids Yoga Adventures. The instructor is engaging and kids will love role-playing along with the video. Try it!
Learn more: Mr. Scooter
Penguin Sensory Activities
Sensory play is a fantastic way to allow preschoolers to explore different materials and learn real-life skills such as pouring, molding, sorting, and following directions.  Don't be afraid to get a little messy! Throw down a table cloth or some newspaper and set up materials like water, animal figures, sand, ice, and paper.
7. Penguin Water and Wax STEM Experiment
How do penguins stay dry despite all the swimming they do? This penguin science
exploration is easy and fun for preschoolers. Color the penguin with crayons and spray blue water to observe how the wax coverings on penguin feathers help them to stay dry!
Learn more: ABCs of Literacy
8. Get Artistic with Model Magic Penguins
9. Penguin-Themed Winter Sensory Bottle
Make sure the supplies are on-hand for this one first, but who doesn't love snow globes? Easy to make--and at the end, you have a cheery penguin keepsake!
Learn more: Life Over C's
10. Adorable Penguin Lego Building
Adorable Penguin Treats From the Kitchen
11. Penguin Graham Cracker Treats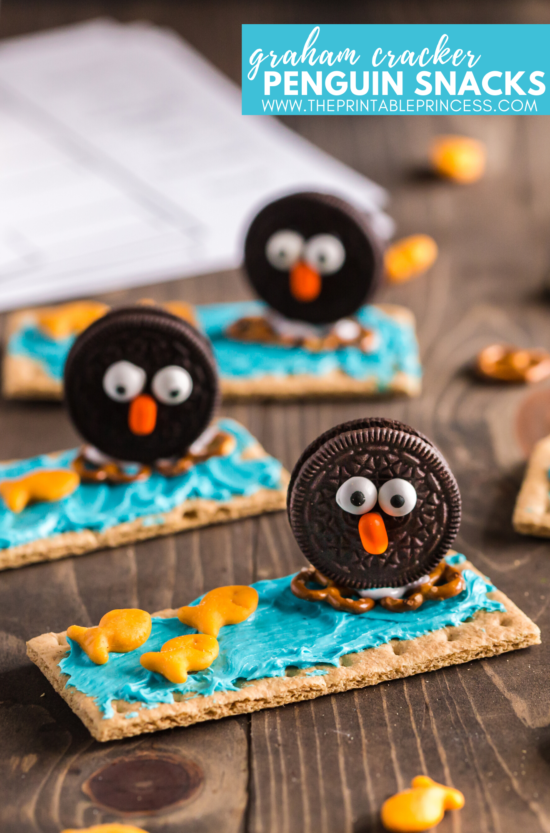 These penguin snacks are just as cute as they are yummy! Using Oreo cookies and goldfish crackers makes this treat easy to make together in the kitchen. And, who doesn't love using icing?
Learn more: The Printable Princess
12. Frozen Banana Penguins
This adorable penguin treat will be a great cool down in the warm weather this summer, and allow preschoolers to learn about the science of freezing and melting.
Learn more: Momma Told Me
13. Good Old Goldfish Crackers
Goldfish crackers have long been a childhood favorite. They add more fun to this list of activities for preschoolers by allowing them to eat like a penguin! After all, penguins are fantastic swimmers with their short fins and find all the fish they can eat in the icy arctic waters.
14. Play a penguin-themed alphabet game
Repetition is key when learning letters and sounds, so this game is a learning experience you can play again and again. Added bonus? Use the goldfish crackers from your snack as space markers!
Learn more: ABCs of Literacy
15. Penguin Skate Online Game  
See which one of you can slide the furthest and get more candy canes! The game only really requires the use of the space bar (or tapping the screen on a tablet), so it is easy enough for young children to feel successful.
Learn more: Crazy Games
16. Feed the Hungry Penguin Game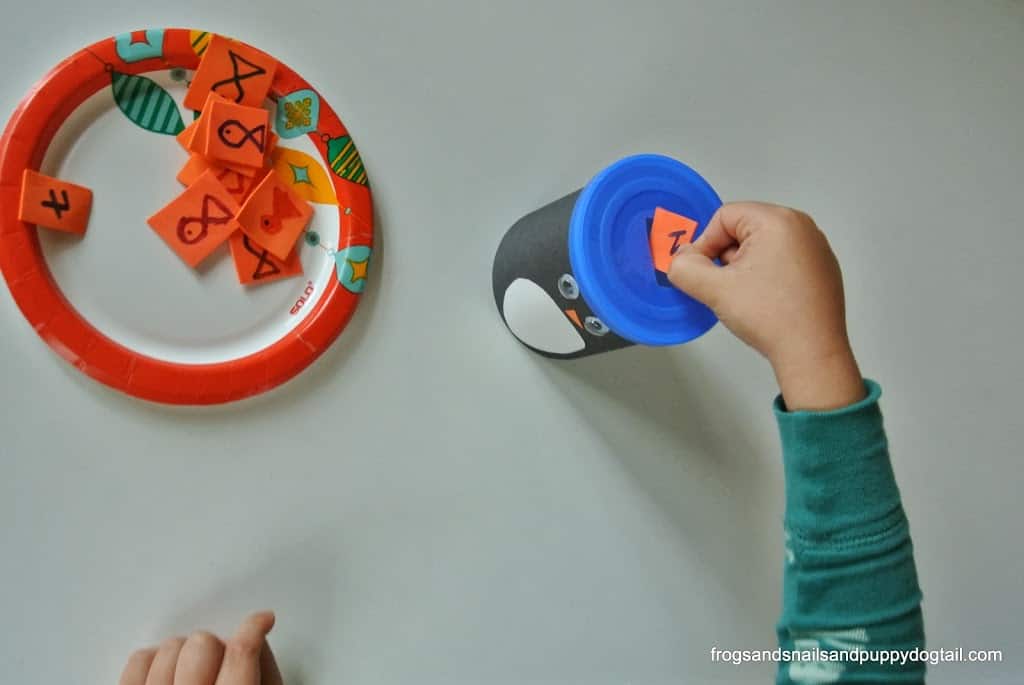 Create a Penguin Craft to Display
This adorable penguin craft is made from a circle, so preschoolers will be able to review shapes and colors! If it is easier, have the eyes, beak, and feet precut or allow kids to use markers to draw them on.
Learn more: Reading Confetti
18. Make a Penguin Party Hat
This adorable penguin headband craft has step-by-step directions and is made entirely of construction paper. Pre-cut the shapes for the glue on penguin body features, so all preschool-aged children have to do is glue them!
Learn more:: Kids' Craft Room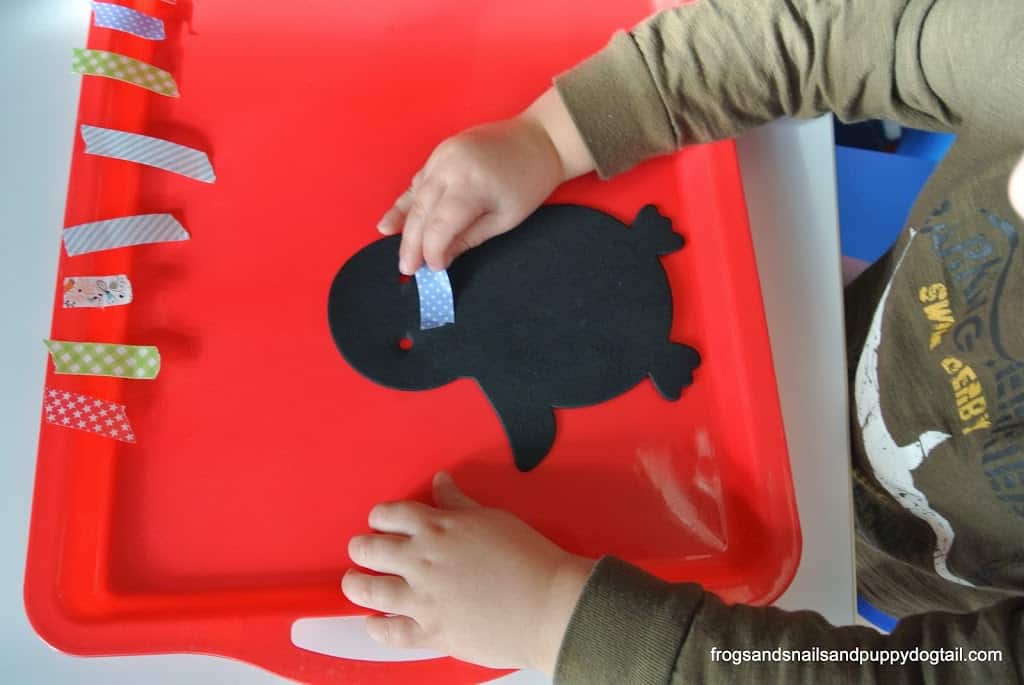 This adorable penguin activity sets children's minds free to decorate a plain penguin shape however they want to! The tape can be used for scarves, hats, and other designs to bring the penguin to life.
Learn more: Frogs and Snails and Puppy Dog Tails
Celebrate with Another Penguin Song
This song and dance is a fun way to end our list of penguin activities. It has directions for what to do in the lyrics and helps kids practice left and right movements.  Have fun!
Learn more: Jack Hartmann Kids Music Channel