Our moon is a constant reminder that we are not alone in our solar system; there are other celestial bodies surrounding us that all have their own parts to play. Things like solar eclipses, the ever-changing cycle of moon phases, and quirky names of full moons (ever heard of a grass moon? or egg moon?) prompt students to ask higher-order questions about our nearest neighbor. These awesome activities will help your students have engaging learning experiences while they get all their answers!
1. Why Does the Moon Change?
This SciShow Kids video is the perfect introduction to the moon's phases. It goes over each stage of the phases, explains how sunlight reflection is involved, and previews some of the other activities you will try in the coming weeks!
Learn More: SciShowKids
2. Oreo Moon Phases Activity
Grab this free printable for a delicious cookie moon activity! You will need to provide four Oreos per student and then prompt them to create a cookie model of the phases of the moon by scraping parts of the frosting off Oreos. The best part: there are differentiated versions of this cookie moon cycle!
Learn More: A Sprinkle of Pink
3. Moon Phases Cup: A Child-Sized Model!
Your students will love getting to create this simple, hands-on moon activity using simple materials. Children make drawings of moon phases around the outside of a cup. They place a piece of paper with a yellow circle inside one cup. When you spin the cups, the moon phases change!
Learn More: Happy Tot Shelf
4. Play-Dough Mats
Use these play-dough mats and a cookie cutter for a moon phase activity that will keep even little students engaged! Encourage children to cut playdough to match the different phases; like the waning crescent, gibbous moon, etc. Bolster vocabulary as you play together!
Learn More: Turner Tots
5. Glue Resist Moon Paintings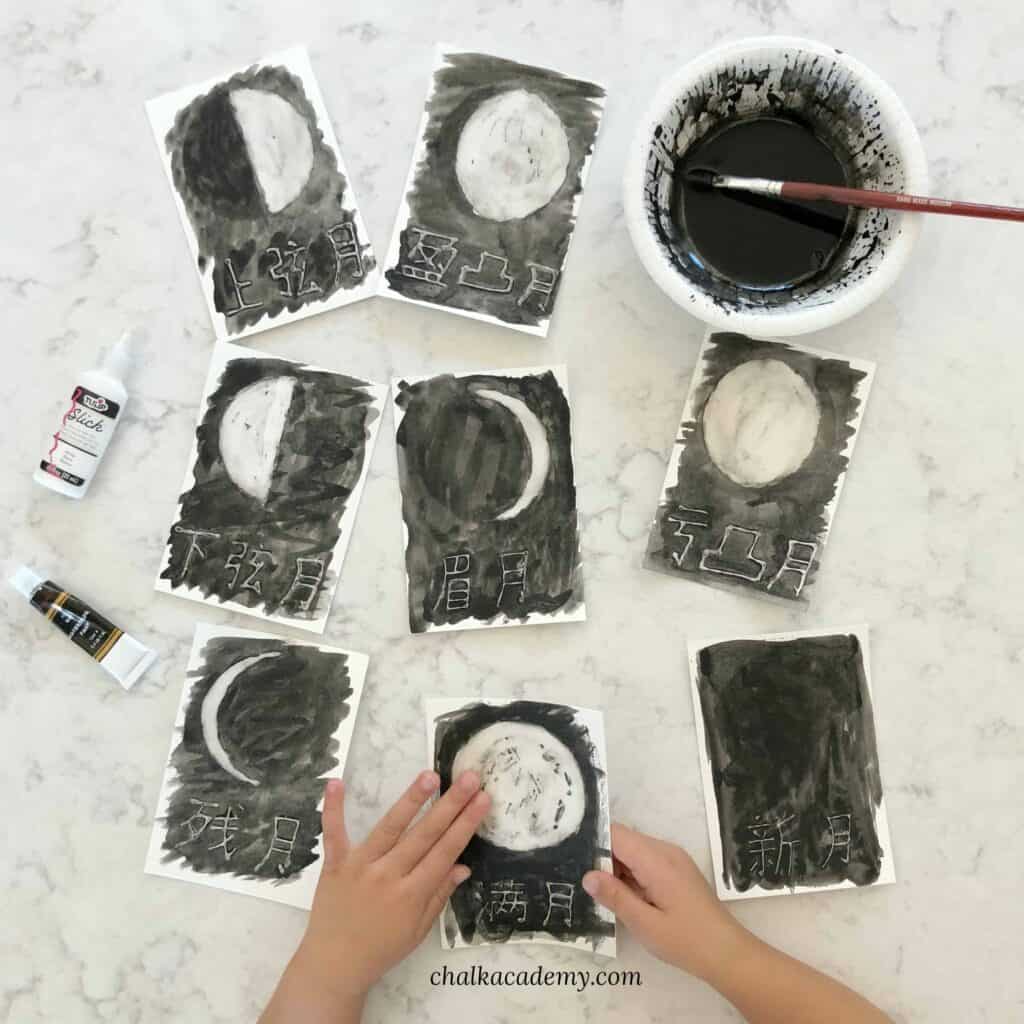 Integrate the visual arts with your science activities! Children fill in simple outlines of the moon phases using white school glue and then paint their paper using watercolors. The glue causes the paper to resist the watercolor in certain areas; leaving you with beautiful, tactile models of the moon!
Learn More: Chalk Academy
6. Printable Moon Garland
Rather than creating a moon phases chart, try making a garland instead! Use the attached printable or get inspired by the original to create your own! Then, hang up and label the moon phases to reference in future lessons.
Learn More: Draw Calm
7. Moon Gross Motor Game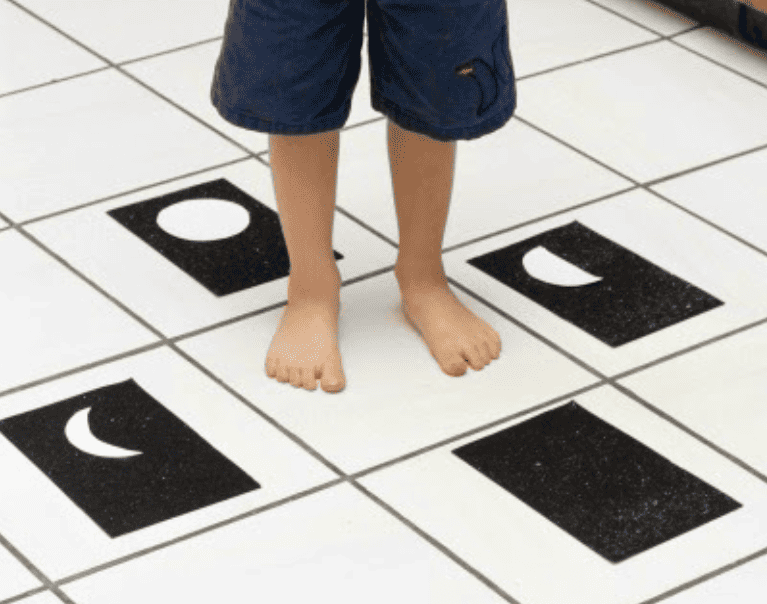 This simple, DIY gross motor game gets children moving while they recall phases of the moon. Name a moon shape and have the children hop onto the correct phase. Or, mix it up and you can jump on a phase and have the students name it!
Learn More: Learn, Play Imagine
8. Moon Bundle
Use this simple cut-and-paste printable to practice labeling the moon phases cycle. Students can keep this cycle of moon phases near their workspace to use when tracking the moon's activity or completing related lessons.
Learn More: Natural Beach Living
9. Hula Hoop Moon Phase Circle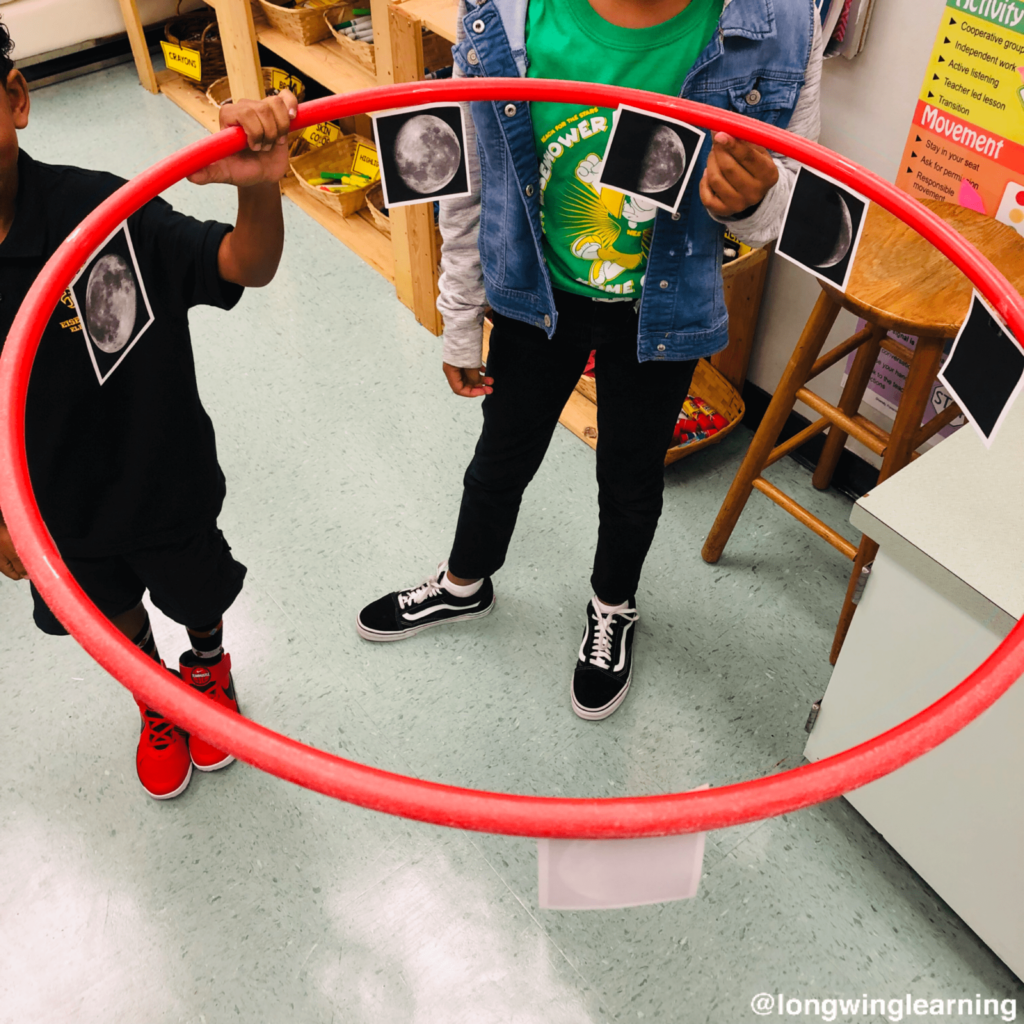 This interactive moon phases project helps children visualize the way the moon changes in a month. Have students attach moon photos around a hula hoop. Then, several students hold the hula hoop while one student spins around inside to see how the moon changes over time from the earth.
Learn More: Longwing Living
10. Moon Phase Projector
This moon phase project involves making a simple projector from materials you can find at home. You will cut out the different slivers of the moon from the end of an empty salt container, and then attach a flashlight to the other end. The light shining through will project the moon phase cycle!
Learn More: What We Do All Day
11. Moon Phase Puzzle
Challenge children to make their own puzzles in this moon phases craft. Children will make a template for the puzzle to be built upon, then cut out the quarter moon, crescent moon, etc. to match the template and complete the puzzle! Label each phase for a greater challenge!
Learn More: What We Do All Day
12. Moon Tracker Worksheet
If you're looking for a simple activity to keep children's learning alive at home, send them off with this moon tracker page. Task them with observing the moon each night and coloring in the unlit and lit portions of the moon on each circle. It's fun for students and their families!
Learn More: Superstar Worksheets
13. Moon Phases Song
Catchy songs are a great way to help children comprehend new ideas. This HiDino kids' song about the phases of the moon at night is perfect for helping kids retain this new information. Play it at your morning meeting before you add it to your moon phase calendar or engage in your moon phase activities!
Learn More: HiDino Kids Songs