When we are young, we learn sounds and words in various ways. Usually, we hear a word and register it to the meaning of an action or object. Phonemic awareness is the understanding of how words/sounds can break down and build-up, and is very important when it comes to learning how to read.
Toddlers can benefit from different exercises and activities that break down words into segments, syllables, and sounds. From there they can learn each part's meaning and grow in their understanding of language. Here are 20 of our favorite games and activities to improve foundational literacy skills as well as critical pre-reading skills in toddlers.
1. Listening With Closed Eyes
One of the first phonemic awareness skills preschoolers can work to improve is their ability to recognize single sounds. Focusing attention on what you hear is the first phase of breaking down and registering each phoneme. Have your students close their eyes in class and say the sounds they hear.
Learn more: Teach Starter
Word segmentation is a great practice in learning how phonemes work and sound together. You can find these cute printable flashcards of different images or make your own. Next, grab some cotton balls and use them to count the letter combinations that make up each word.
Learn more: Fantastic Fun and Learning
Collect some familiar objects around the classroom and put up a barrier so your students cannot see them. This listening game is excellent practice for learners to block out and separate sounds between those that are ambient and those that are important. Try using objects they hear regularly so students don't get frustrated or discouraged.
Learn more: Teach Phonics
One hands-on learning tool that combines letter sounds and motor skills is segmenting and blending words using LEGOs. Start off with simple 2-3 letter words and have your students break apart the pieces and say the letter names, then put the blocks together to make each word.
Learn more: A Teachable Teacher
5. Letter Sounds Tic Tac Toe
For this sound game, print out some picture cards, grab some yarn, and make a tic tac toe board on the floor. You can choose to focus on initial sounds or ending sounds depending on what your learners are struggling with.
Learn more: This Reading Mama
6. Similarities and Differences Game
Get your preschoolers up and moving with this fun game that improves phonological awareness. Place 3 hula hoops on the floor and choose 3 words your students are familiar with. Each word is represented by a hula hoop. Once you've said the words, the students must jump into the hula hoop of the word that sounds different than the other 2.
Learn more: Teach Starter
Let's focus on identifying individual sounds in a word. Ask your students for simple word corrections where one sound is off. For example, "Who do you see if you are sick?" "Poctor?". Your students can then answer and say "no, doctor!".
Learn more: Tejedastots
8. Word Formation Bracelets
Props, crafts, and games are useful strategies for building a strong foundation of language in your preschoolers. These learning bracelets made from pipe cleaners and beads are a fun and interactive way for students to visualize combinations of letters and practice putting them together.
Learn more: A Teachable Teacher
9. Word Sorting With Pictures
Every word has a certain number of sounds and letters. You can use these free printable candy jars and images to play an activity that relates phonemes to letters, then counts and categorizes them.
Learn more: Fantastic Fun and Learning
11. Sound Identification Signs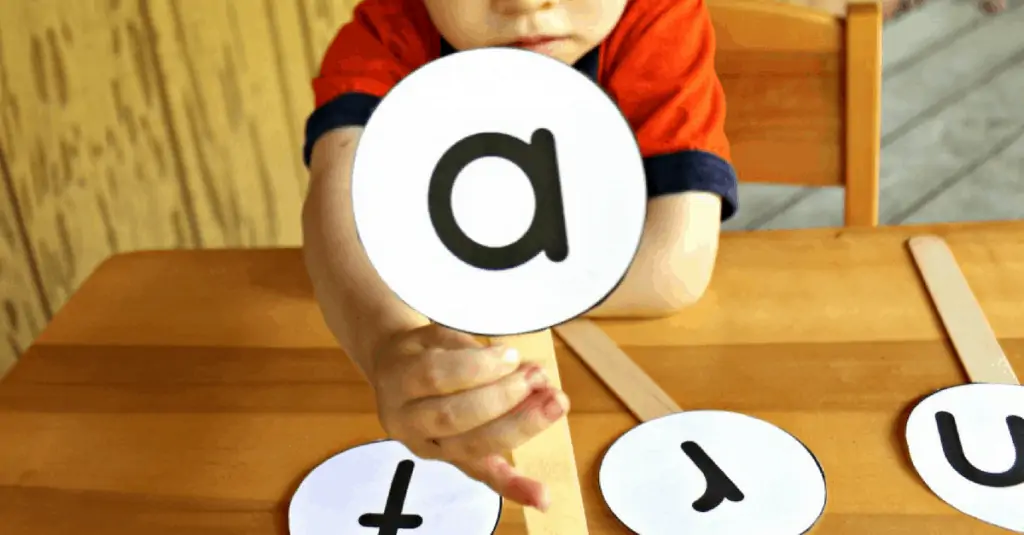 Simple and effective, you can make these letter signs yourself with popsicle sticks and letter printouts. Start off by asking your kiddos to identify the initial sound/letter, then once they understand the game, you can make it more challenging by asking for the middle sound or ending sound.
Learn more: Easttn Family Fun
This is a children's book teaching phoneme awareness skills through the struggles of a hungry monster who speaks a language where he changes the first sound in his words. You can do a read-aloud of the book and practice with the examples used as well as some of your own.
Learn more: Amazon
Did you know there is an app you can download for free onto your smart device that helps kids learn phonemic awareness? The app uses rhyming words and images to test kids' understanding of sounds and letters.
Learn more: Apple
The pattern of the song is the same melody as "If you're happy and you know it, clap your hands", but the words are "If you think you know this word, shout it out!". Once you've gone through the verse, spell out some easy words and have your students say the words back.
Learn more: Simply Kinder
Ask your students to think of the initial sound in their name, then have them look for an object in the classroom that starts with the same sound. This will get your kids thinking and moving in a fun and interactive way!
Learn more: Tejedastots
16. Phoneme Rhyming Bingo
Print out some bingo cards with images of familiar objects your students will recognize. When playing the game instead of saying the names of the objects, say words that rhyme with them. For example, instead of saying "car" say "far".
Learn more: Carls Corner
You can find this activity bundle with tons of rhyming and sound recognition games your preschooler will love!
Learn more: Pre-k Pages
18. Initial Letter Sound Scavenger Hunt
You can get creative with how you want to arrange your scavenger hunt. Each egg has pictures of objects your students need to match with the initial phoneme on the dinosaur picture. Hide the eggs around the classroom or place them in a sensory bin.
Learn more: Fantastic Fun and Learning
Here's a super fun language game that uses motor skills, color and sound recognition, and memory skills. You'll need some cookie cutters in the shape of various familiar objects and letter stamps. Have your preschoolers take turns shaping the playdough and stamping it with the initial and ending letters.
Learn more: Modern Preschool
20. Matching Animals and Foods
Hopefully, you have some toy animals and food items in your classroom you can use for this phonemic awareness activity. First, have your kids categorize the animals based on their initial phonemes. Then, ask them to do the same thing with food items for extra practice and to improve their phonemic awareness skills.
Learn more: The Playbased Mom