According to many history books, the pilgrims were the first English settlers to come and stay in America. Their legacy is celebrated annually when we gather for Thanksgiving. Pilgrim crafts and activities for Thanksgiving are a great way to bring fun into the process of learning our nation's history and getting in touch with our country's past.
Here are twenty-six of the best activities to help students in lower elementary ages and grades learn about the pilgrims and their importance in history.
1. Ten Essential Facts About the Pilgrims and the First Thanksgiving
This ready-to-go lesson plan covers some of the most basic and interesting facts about the first pilgrims. It goes through their interactions with the local indigenous people and also debunks some long-held myths about the first Thanksgiving. Plus, this resource is full of printable pilgrim activities to keep students engaged.
Learn More: Bloglovin'
2. "Long Ago vs. Now" Picture Cards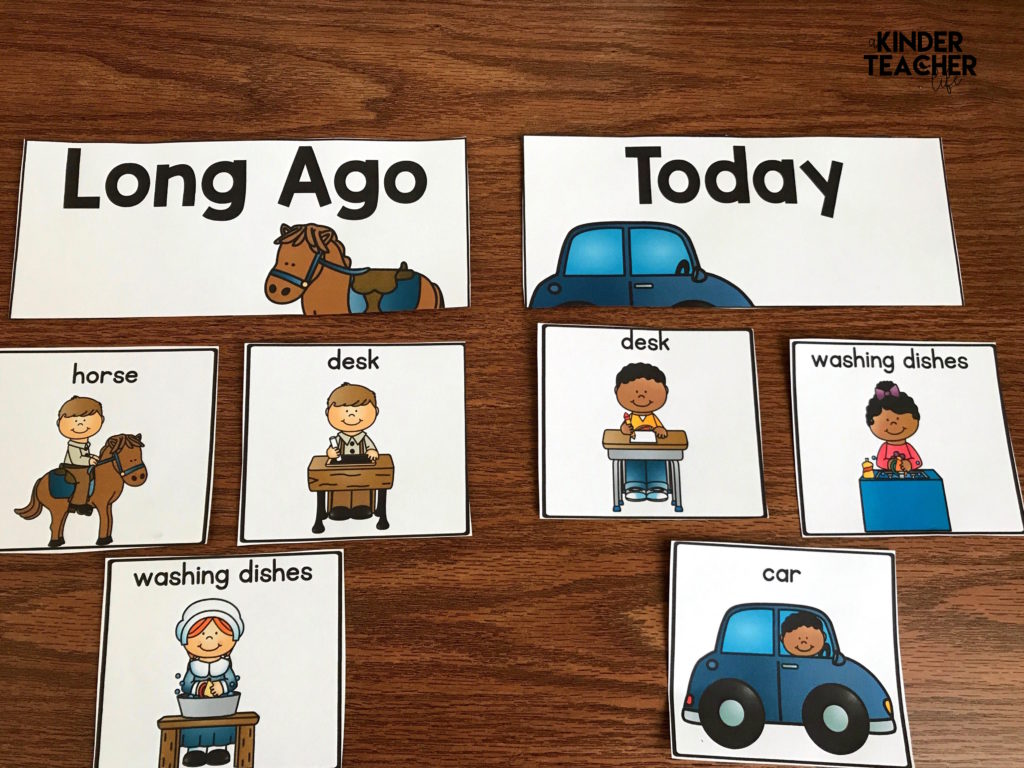 With this fun craft, you'll make a series of picture cards that show kids the differences between life in the pilgrims' time and life now. They'll think by comparing and contrasting two very different eras and learn all about what pilgrims do in their daily life.
Learn More: Teachers Pay Teachers
3. Read Aloud: "Peter and the Pilgrims"
This picture book is a great way to introduce the pilgrims' ways of living and thinking. It follows the story of a young man and his adventure on board the Mayflower. It also tracks the first times of settlement in the "new world," and offers a kids' perspective on these historic events.
Learn More: Amazon
4. Make Your Own Pilgrim Hat
This pilgrim hat craft makes excellent use of black construction paper. Kids can use black construction paper to make a tall hat with a shiny buckle. They would fit right in, eating fresh meat and pumpkin pie at the very first Thanksgiving Day feast!
Learn More: Pinterest
5. Mayflower Pilgrim Boat Craft
This pilgrim craft focuses on the role of the Mayflower in the pilgrims' story. You can craft this pilgrim experience with brown or black paper and some materials for decorating the ship. Older kids can research the different features and specs of the ship so that they can add an extra element of American history to their fun pilgrim craft.
Learn More: Mrs. Schmelzer
6. Edible Pilgrim Log Cabin
Simply set up some paper plates and provide pretzel or cracker sticks with some peanut butter or other nut butter. Then, show your students pictures of the log cabins that early English settlers inhabited in their early years in the New World. Try to build a "log cabin" with the snack materials. Whose will be the sturdiest?
Learn More: Pinterest
7. Topic Writing Activities about Pilgrims
This activity is great for bringing perspective and critical thinking into your Social Studies – History class. It incorporates different prompts in order to offer a full writing experience for upper-elementary and middle school students. It also prompts students to think outside their own perspectives in order to write.
Learn More: Teachers Pay Teachers
8. Read Aloud: "Giving Thanks: The 1621 Harvest Feast"
This is one of the books about pilgrims that is appealing to mid-grade readers. The photos — rather than illustrations — are a great way to incorporate a more human element into this age-appropriate book, and it delves into the topic with a clear and honest perspective.
Learn More: Amazon
9. Edible Pilgrim Hats: A Sweet Snack
With just a few ready-made ingredients like peanut butter cups and cookies, you can make an adorable and delicious pilgrim hat craft. This is a fun and sweet snack that you can have on the Thanksgiving table or that you can make in your classroom with relatively little mess. Plus, the students will love the tasty treat!
Learn More: Ideas Hallmark
10. Classroom Unit: "Mayflower Courage, Perceptions, Sensitivity, and Racism"
This classroom unit includes everything you need to teach and tackle the big underlying issues surrounding the pilgrims, including issues of racism and forced settlement. It's geared towards young learners and uses age-appropriate language and examples to teach these big ideas to little learners.
Learn More: Rainbows Within Reach
11. Read Aloud: "What Was the First Thanksgiving?"
This is a picture book that explains the story of the first Thanksgiving from start to finish. It goes through all the basic pilgrim plot points and also incorporates the perspective of the Native Americans. The exaggerated illustrations are a favorite feature for most children.
Learn More: Evergreen
12. Pilgrim's Journey to the First Thanksgiving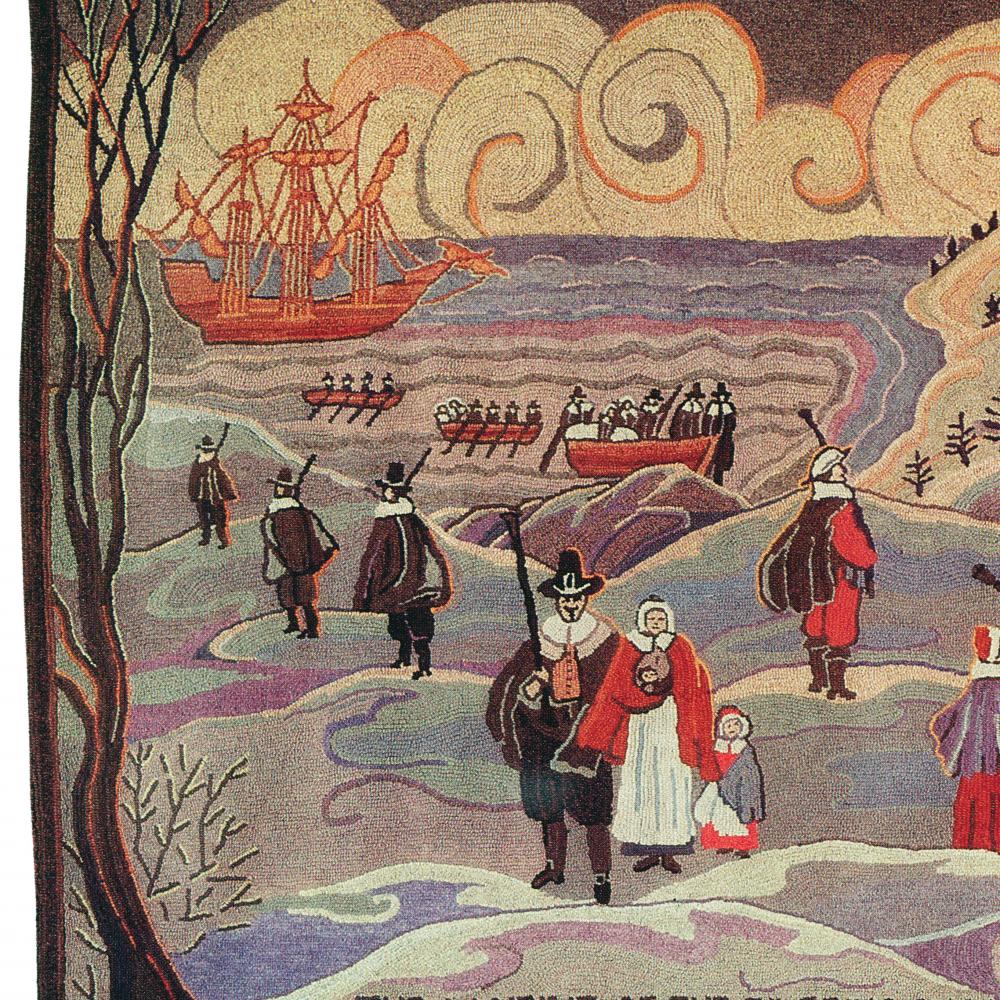 This bundle of Pilgrim Crafts and Activities features ready-to-go printables and freebies that are great for elementary school students. The American history activities are great for either introducing or reviewing the main events and ideas about the early settlers and the pilgrim's experience in the New World.
Learn More: First Grade Fanatics
13. Make a Pilgrim Book (with Lower Elementary Students)
When it comes to crafts about pilgrims, this detailed pilgrim workbook has pretty much everything: writing practice, fun textured mini-projects, and an impressive end result that kids will be so pleased to take home. It's perfect for kindergarten and first-grade students, and it's a fun project to do over several days, too.
Learn More: Eberhart's Explorers
14. Printable Pilgrim Coloring Sheets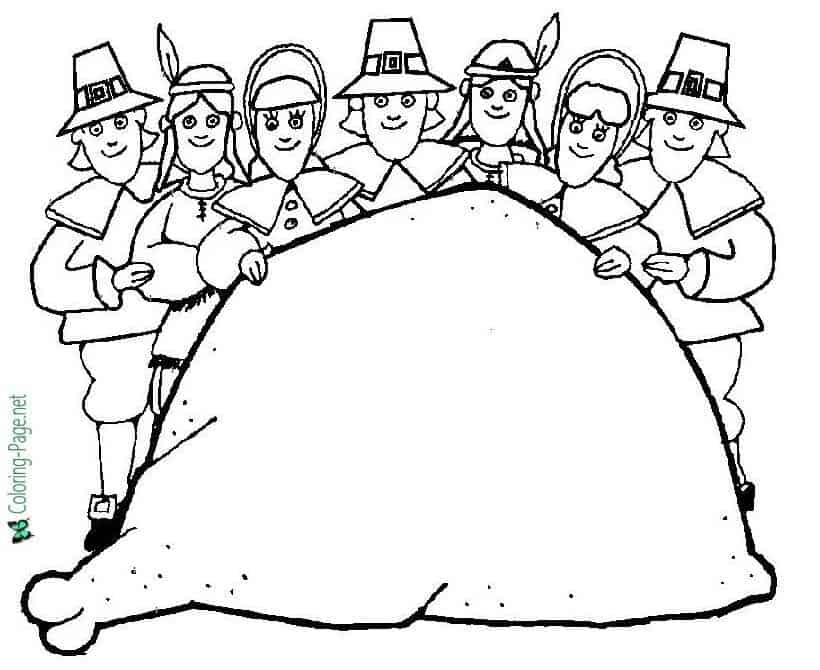 This activity is great for any aged children who want to spend some time relaxing with a coloring task. It is a fun way to keep little hands busy while talking through the main ideas and points of your history lesson, and it's an effective way to bring everyone together around the family table.
Learn More: Coloring-Pages.net
15. Pilgrim Paper Bag Craft
This adorable pilgrim craft starts with a brown paper lunch bag and just gets cuter from there. You can use colored and black paper to make the faces and outfits of the pilgrims, and feel free to incorporate all kinds of materials into the craft project!
Learn More: First Grade Wow
16. Unit Study: Thanksgiving and the Pilgrims
This is a unit lesson plan that is ready to teach young students about the significance of the pilgrims and the First Thanksgiving. It also delves into the role of Native Americans in the story of early settlement and encourages kids to take the perspectives of all parties involved.
Learn More: Refined Metals Academy
17. Read Aloud: "Two Bad Pilgrims"
This picture book offers a fresh take on the pilgrims and the story of the first Thanksgiving feast. It follows the story of two mischievous boys as they run in and out of the pilgrims' settlement as the first Thanksgiving unfolds around them. It's a fun and quirky new way to see American history!
Learn More: Amazon
18. Pilgrim Card Matching: Cause and Effect
This is a great critical thinking activity for American history lessons. Students should identify and match the different causes and effects that ultimately led to the pilgrims' trip on the Mayflower and their adventures in the New World. It is also a great way to review and prepare for any upcoming unit after Thanksgiving.
Learn More: Teachers Pay Teachers
19. "Eating the Plates" – A Pilgrim's Book of Cooking and Manners
If you've ever wondered how and what pilgrims ate, this book has all of the answers! It includes plenty of recipes and descriptions of the parties and events where this food was the centerpiece. Plus, it will help instill a sense of kindness and manners in young readers.
Learn More: Goodreads
20. Toilet Paper Roll Pilgrim Craft
You can upcycle finished toilet paper rolls to make cute Mr. and Mrs. Pilgrim dolls. They will look adorable on the center of your Thanksgiving table, or you can help the kids use these and other props to act out the story of the first Thanksgiving for the whole family around the dinner table!
Learn More: Today's Mama
21. Pilgrim Boy Body Biography
Your students will be able to learn about the life and times of a pilgrim boy by looking at the features and accessories he has. Kids will get to learn about the outfits and activities that defined the lives of the youth in early English Settlements in American history.
Learn More: Learning with Firsties
22. Turn Yourself into a Pilgrim Craft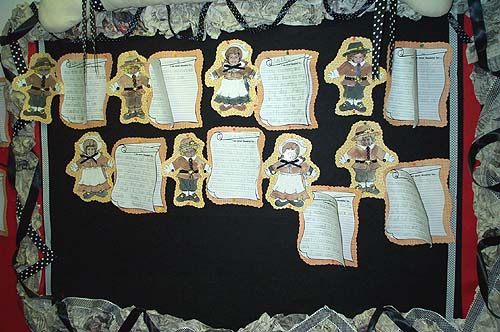 This is a great chance to incorporate students' photos into a fun Thanksgiving craft. Have kids take a photo of their faces, then cut them out to paste into the template provided. Then, let their creativity fly as they decorate themselves as little pilgrims!
Learn More: Garden of Praise
23. Learn Contractions with Pilgrim Pals
This Thanksgiving pilgrim worksheet focuses on contractions that we hear in our everyday English. With the help of cute pilgrim pals, students can practice spelling and apostrophe placement. It's the perfect worksheet to learn contractions while also promoting the Thanksgiving spirit.
Learn More: First Grade Delight
24. Writing Template: The Pilgrim's Ship
This template is shaped like the Mayflower ship, and it's designed to get students' creative writing juices flowing. Have students write about experiences and amazing sights that the pilgrims experienced on the Mayflower; for a more creative approach, have students write from the traveler's perspective.
Learn More: Pinterest
25. Make Pilgrim Crops with Dried Items
Crops played a huge role in the lives of the pilgrims, and this craft is all about crops! You simply print the template and use dried materials like unpopped popcorn, dried beans, and others. The result is a creative mosaic of crops, crops, and more crops!
Learn More: All Kids Network
26. Thanksgiving and Pilgrims History Unit
This is a ready-to-teach history unit that is great for grades 2 and 3. It brings in several activities, including printables and games that go over well with students. It includes information and lesson plans for introducing and reviewing all the major themes about pilgrims, Native Americans, and the First Thanksgiving.
Learn More: Kindergarten Nana