Whether you are planning for Earth Day, teaching little ones how to take care of our Mother Earth, teaching ABOUT our Earth, or you just want crafts themed around this big blue planet we call home, these 23 ideas are going to get your creative juices flowing! These activities were sourced to provide a variety of creative ideas for recreating the Earth.
1. Color Your Own 3D Globes
These craft kits come ready to go from Oriental Trading Company for kids to be able to color, glue, and display. Work on naming major continents and oceans, or just use them for decoration- whichever you choose kids will enjoy them!
Learn More: Oriental Trading Company
2. Mosaic Earth
This small hanging ornament portrays our wonderful planet with a smile and a bit of glitz. It's low-prep and lots of fun and kids will enjoy making this adorable ornament to take home to remind them how important our planet is.
Learn More: Oriental Trading Company
3. Stamped Earth for Preschool
Using a cardboard circle cutout (or another circular object) as an Earth template and some washable paint, preschool students will be able to stamp away their creativity onto black construction paper with this cute and simplistic craft.
Learn More: Make Easy Crafts
4. I Heart Earth
Using a simple jar lid, some clay, and a heart cutout, this ornament will have your kids swooning! They will press air-dry clay into the circle to create the idea of the earth, and then adhere it all to the heart. This little craft makes a great gift for families.
Learn More: Make Easy Crafts
5. Mess-Free Earth Painting
Want to have kids create an abstract Earth? Want to let kids paint without the mess? You'll get both perks with this simple Earth art project. Place a paper plate into a gallon plastic bag with green, white, and blue paint to mimic the colors of the Earth, and then have fun squishing the paint around.
Learn More: Still Playing School
6. Dirt Painting
When it comes to creating a crafty replica of the Earth, what better substance to use than some real dirt!? Students will use traditional mediums to fill in the water, but when it comes time to complete the landforms, dirt is in order!
Learn More: Kids Activities Blog
7. Mosaic Ornament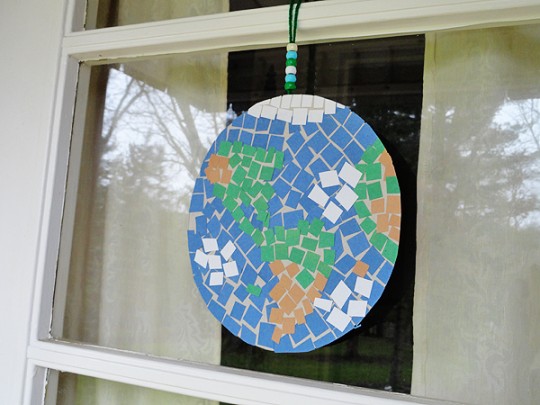 Teach students about the art of mosaics with colorful construction paper and a round cutout of cardboard. Top it off with a beaded loop to hang and you have a beautiful mosaic Earth ornament to treasure!
Learn More: Make and Takes
8. Tissue Paper Earth
Tissue paper and green land mass cutouts transform an ordinary paper plate into these super cute textured models of the Earth that kids can easily create.
Learn More: The Craft-at-Home Family
9. Spinning Paper Earth
Using simple pieces of paper or cardboard, this idea lets kids get creative by coloring the Earth on 2 sides and then hanging it from a strand of yarn, complete with a beaded train to add that certain pizzazz.
Learn More: The Craft Train
10. Handprint Earth Craft
Whether you are celebrating Earth Day or a birthday, this craft makes an adorable picture to adorn any fridge, or card for that special someone. Kids will trace their hands as one of Earth's land masses and then glue it, in addition to the other pieces to the paper.
Learn More: Simple Everyday Mom
11. Balloon Stamping
Using blue and green paint, as well as slightly inflated balloons, kids can create marbled earth shapes on a sheet of black construction paper (or another color of their choice). This craft is perfect for toddlers and young children.
Learn More: I Heart Arts and Crafts
12. Puffy Earth
Let kids have a little fun with messy art! Using white glue, shaving cream, a simple paper plate, and food coloring "paint," kids will be able to create this puffy little cutie to take home and display with pride.
Learn More: Sunshine Whispers
13. Earth Suncatcher
Kids can make these beautiful little works of art using super simple materials. Tissue paper and pieces of wax paper sandwiched together to allow for a very nice replica of some stained glass. Hang them in the window for an epic showpiece.
Learn More: Crafts on Sea
14. Coffee Filter Earth
Coffee filters apparently have more than one use! In this application, kids can practice their "planned" scribbling skills with markers on the coffee filters that you can then wet to create these beautiful tye-dye replicas of our beautiful planet Earth.
Learn More: Darcy and Brian
15. Earth's Layers 3D Project
This particular craftivity helps kids understand the layers of the earth from the outside in. Simply print, cut, color, and learn! This is an amazing way to learn about our giant planet!
Learn More: Teachers Pay Teachers
16. 3D Round DIY Model
Simply print this activity for kids to color, cut, label, and create this beautiful and more extensive version of the globe. This is the perfect activity for extending advanced kids or having kids work on a creative project at home.
Learn More: Teachers Pay Teachers
17. Earth Moss Ball
This is an adorable and unique way to represent our Earth! Using a mix of natural materials and a ball of yarn, students can create a really epic Earth circle to display in trees outside or in a bedroom.
Learn More: Mother Natured
18. Adorable Earth
What kid doesn't love creating with clay? Better yet, what kid doesn't love creating adorable little characters with clay? Simple-to-follow instructions, coupled with some air-dry clay offer the opportunity for kids to make this adorable little piece of artwork.
Learn More: Adventure in a Box
19. Earth Necklace
Create some wearable art with this fun and adorable craft. A simple salt dough recipe, some acrylic paint, and satin ribbon turn into a beautiful way to pledge your student's love for mother Earth.
Learn More: Kitchen Counter Chronicle
20. People of the Earth
Celebrate the very diversity that adorns our Earth with this craft that starts as a coffee filter craft, but ends in a beautiful representation of not only our Earth but the many cultures and people who make up the planet's diversity.
Learn More: I Heart Crafty Things
21. Playdough Earth Layers
Recreate the Earth with scientific accuracy using playdough to help kids see and understand the variety of layers that envelop the core. A cross-section ends up revealing the final product.
Learn More: Playdough to Plato
22. Printable 3D Earth Collage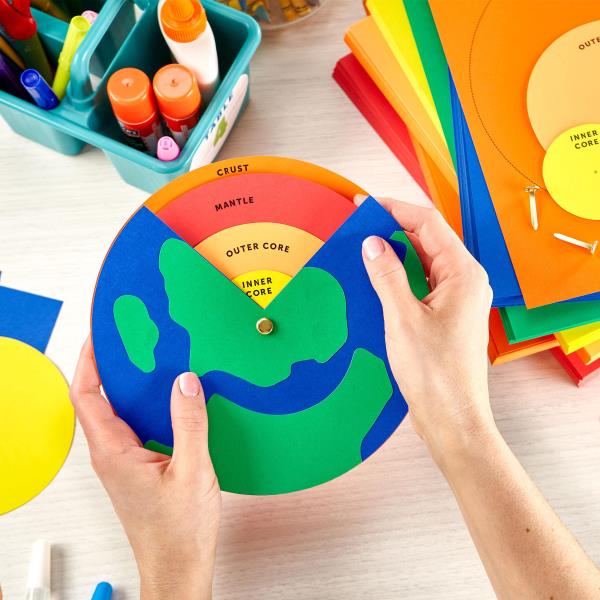 This completely digital template is the perfect download to grab for kids to create a colorful and creative work of art. It exemplifies all of the beauty that is on our Earth and makes a piece parents will not want to toss.
Learn More: Astro Brights
23. Mother Earth Collage
Another digital template, but this time celebrating the mother of all mothers: Mother Earth. This craft is elegant, fun, and perfect for students who want something they can treasure for many years to come.
Learn More: No Time For Flashcards
24. Salt Dough Earth
The world is in their hands – literally! Start by handing out some salt dough and let your students get sculpting! Have them mold their mini-Earths and then guide them to shape and press in the continents. Once they are dry, your kiddos can add color to their little world by painting it to resemble a globe. This isn't merely arts and crafts—it's a hands-on lesson in geography.
Learn More: Little Bins for Little Hands
25. Earth Day Slime
Ready for some slimy science? Have your kiddos mix up two batches of slime- one green and one blue. As they squish, squash, and mix the colors thereafter, seize the moment to chat about our Earth's ecosystems.
Learn More: Preschool Inspirations
26. Earth Button Craft
Get crafty with your students and create a cool button-collaged Earth! You can start them off with an array of blue and green buttons that they can simply stick onto a canvas to bring their globe to life.
Learn More: Non-toy Gifts
27. Origami Earth
Now, this isn't your average paper-folding exercise! Equip each of your learners with squares of blue and green paper and then slowly guide them through a series of intricate origami steps. Amazing Earth replicas will come to life with every fold
Learn More: YouTube
28. Globe Lamp
Illuminate their world! Show your students how to use paper mache and balloons to create their glowing Earth's shape and then get them to paint once dry. After the paint has completely dried, have them pop the balloon, insert lights, and voilà! Your room will be adorned with lots of glowing mini-Earths.
Learn More: CC-Craft
29. Earth Mobile
For this super simple Earth mobile idea, grab some string and paper and let your kids do the rest! Guide them to create a picture of the Earth and some other celestial bodies before showing them how to link these together with string. A living, swinging, revolving model of the Earth and its cosmic neighbors is yours for the making!
Learn More: Teach Starter
30. Earth Day Bracelet
Beads and threads become a fashion statement with this next idea! Have your students string together blue and green beads. Each bracelet they create will become a wearable reminder of all of the important Earth Day conservations you will have in your class. They'll leave the room more stylish and more conscious- how great!
Learn More: Kaplan Learning Center
31. Planet Earth Wind Chime
Let's bring a little cosmic melody into the room! Get your kiddos to create a wind chime featuring not just Earth, but the entire galaxy. Not only will these wind chimes look amazing in your classroom, but they'll also sound great too!
Learn More: SoCal Field Trips
32. Egg Carton Earth
Reduce, reuse, and create! Let your learners' creativity shine as they transform old egg cartons into exquisite 3D Earth models. To do so, have them paint each cup to be a part of a specific continent or ocean. It's a lesson in both recycling and world geography!
Learn More: Planet Pals
33. Earth Paper Quilling
Artistry meets geography with this super intricate craft! Give your little artists thin strips of green and blue paper to quill into intricate Earth designs. Each twist and curl will bring them closer to appreciating our planet's unique beauty.
Learn More: YouTube
34. Earth Dream Catcher
Dream of a greener Earth! Have your kiddos weave dream catchers in Earth's color palette. As they craft, you can share hopes of a more sustainable world and discuss how we can protect our planet.
Learn More: The Best Ideas for Kids
35. Earth String Art
Geometric delights await! Start by giving your students a taste of carpentry as they hammer nails into their canvas. Next, show them how to use the string to create artistic designs of their own.
Learn More: Pinterest
36. Earth Day Terrarium
Here's an idea that invites your kiddos to craft their very own jungle in a jar! Have your green-fingered kiddies layer rocks, soil, and plants into glass jars to craft their own mini Earth biomes. Each terrarium is its own tiny world; reflecting our planet's varied habitats. Talk about bringing the outside in!
Learn More: Marin Mommies
37. Felt Earth
Get ready for some plush geography! Have your students snip and stick pieces of felt to craft their own huggable Earth. These soft and fuzzy creations are not just cute; they're an invitation to explore geography through touch. It's a feel-good activity in every sense!
Learn More: Big Family Blessings
38. Earth Diorama
Your students will have a whole mini world at their fingertips with this super creative Earth-themed diorama craft. Tiny forests, oceans, and mountain ranges will come alive as they paint, stick, and create!
Learn More: Pinterest
39. Earth Lantern
Have your learners create cute Earth lanterns with this fun crafting idea. Gather up some recycled jars, tissue paper, and tea lights, and let your students get crafting. Once they're finished, light them up, and watch as a miniature Earth shines through the glass.
Learn More: Pinterest
40. Weaved Paper Earth
Show your students how to weave blue and green paper strips together to create an artistic take on our planet. Their end creations will serve as both artwork and evidence of their perfecting of this cool crafting skill.
Learn More: Pinterest
41. Painted Rocks Earth
Time to make rock painting an educational endeavor! Have your artists choose smooth stones and give them some paint to use to transform them into little planet Earths. From geology to art, each painted rock is sure to be a celebration of both our planet and your kiddos' artistic skills.
Learn More: YouTube
42. Earth Day Wreath
This one's for the nature-lovers! Take your little nature enthusiasts on a quick scavenger hunt to equip them with leaves, twigs, and flowers. Their findings will become the raw materials for your Earth Day wreaths which will look great hanging in your classroom.
Learn More: Living Porpoisefully
43. Earth Puzzle
Get your kiddies to create their very own Planet Earth jigsaw puzzle. Have them snip jigsaw puzzle shapes from old maps or pictures before having a go at putting the Earth back together again! As they work, they'll realize just how interconnected our planet really is.
Learn More: YouTube
44. Earth Day Bookmark
Listen up, book lovers! Give your readers blank bookmarks and let them go to town decorating them with some of our planet's most awe-inspiring landscapes. The moment they flip to the next chapter, they'll be reminded of the beautiful planet they call home. What better companion for an engrossing read?
Learn More: YouTube
45. Earth Clay Pot
Let your students unleash their creativity by painting clay pots in shades inspired by the Earth's palette. From the rich greens of the rainforest to the cool blues of the polar ice caps, these pieces are sure to stand out! Help your kiddies plant seedlings in them before letting Mother Earth do her thing.
Learn More: Pinterest
46. Earth Keychain
Here's the key to a greener planet! First, let your little crafters mold a minuscule Earth out of clay or beads. Next, help them to attach these to key rings, and voilà—your students can carry the world with them wherever they go. A jingle in their pocket is a shout-out to the planet that they must protect.
Learn More: YouTube
47. Shrink Plastic Earth Pins
Prepare for a magic show! Start by getting your students to draw the Earth on shrink plastic. Then, pop their designs into the oven to shrink before helping them attach a pin to the back. Tiny yet mighty, these pins will be an emblem of pride for your eco-conscious pupils.
Learn More: YouTube
48. Earth Sand Art
It's what's on the inside that counts! Equipped with colored sand and glass jars, guide your learners in carefully layering the different colors to mimic the Earth's layers. At the end of the day, they'll have a layered masterpiece that showcases the Earth, inside to out!
Learn More: Pinterest
49. Earth Pom Pom Craft
Have your kiddos create their very own Earth-inspired pom poms with this idea! Help them wind lengths of yarn around their fingers and then show them how to snip and shape into a pom pom. The end result is a fluffy little Earth that serves as a cute and fuzzy reminder of our lovely blue planet!
Learn More: What We Can Do With Paper And Glue
50. Yarn-Wrapped Earth
Wrap it up, folks! Start your students off with styrofoam balls, and then have them wind yarn around it. As they build up the layers of yarn, their pieces will come to life with each new layer. What a great way to combine art and geography!
Learn More: Yarn & Hooks
51. Earth Embroidery
Get those needles and thread at the ready! Let your kiddies have a go at embroidering the Earth, one stitch at a time, onto a piece of cloth. This idea is a great way to teach your students the art of patience and precision! With each tug of the thread, a new piece of Earth takes form.
Learn More: YouTube
52. Earth Day Tote Bag
Fashion meets activism with this next idea! Let your class go wild as they use fabric paint to decorate plain tote bags with unique Earth Day designs. Their end result will be a practical and stylish piece that's sure to make a statement!
Learn More: YouTube
53. Earth Scratch Art
Treat your class to the wonders of scratch artwork! Set them up with some scratch art paper and let them scratch away at the paper to create a cool image of the Earth. These planet Earth artworks are sure to pop- just like our own planet does against the dark backdrop of space!
Learn More: SCYAP
54. Marbled Paper Earth
Abstract aficionados, this one's for you! Show your kiddos how to drip ink onto water and swirl the colors together. Next, have them dip a piece of paper onto the surface to create a cool marbled Earth. It's an abstract, arty spin on the Earth as we know it.
Learn More: Pinterest
55. Earth Day Nature Mosaic
Naturalists, assemble! Head outside and have your students gather natural objects like rocks, leaves, or twigs. Next, back in your classroom, get them to assemble these bits of nature into a mosaic masterpiece. The result is a tribute to Earth's vast diversity as well as to your local environment!
Learn More: Kindergarten Worksheets and Games