Playdough is the ultimate preschool classroom tool as it can be used in a wide range of games, crafts, and activities. Whether you're doing counting practice or working on color recognition, playdough is perfect for young learners! It's a fantastic medium to build fine motor skills and get your kids' creative minds churning.
So, grab your dough scraper, cream of tartar, and a bunch of sheet protectors! These lessons are going to be a riot of color and a few of them even provide a super tasty treat!
1. Homemade Playdough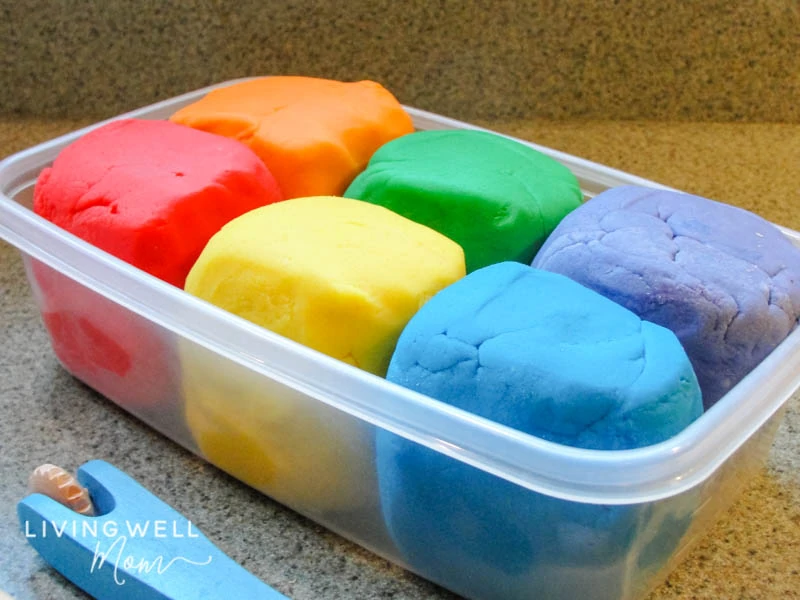 Ensure you never have an empty dough container with this DIY playdough recipe. You'll need flour, water, cream of tartar, salt, and oil. Add some gel food coloring to create a rainbow of options for your kids to play with. Store in zip bags for months of fun.
Learn More: Living Well Mom
2. Gluten-Free Playdough Recipe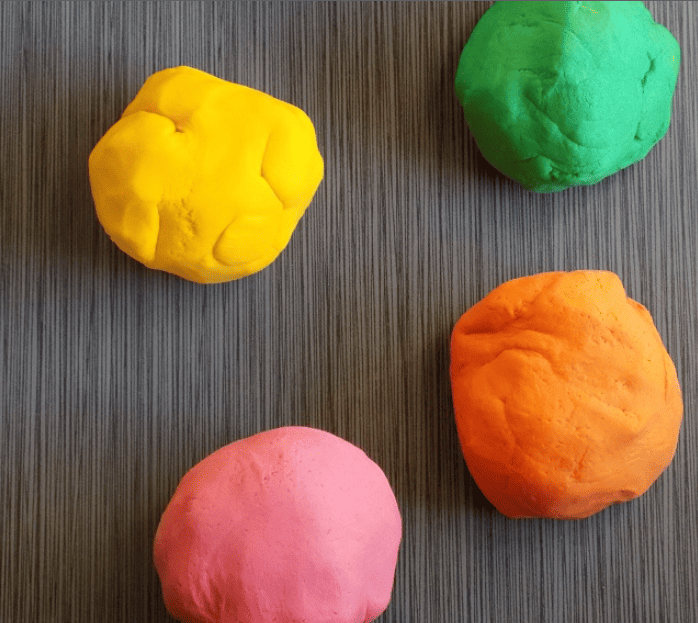 If you have learners with a gluten allergy in your class, this recipe uses gluten-free flour to keep things safe. Slowly add water to the mixture until you get the right dough consistency. Add kid-safe essential oils and some water if it starts to dry out.
Learn More: One Savvy Mom
3. Alphabet Playdough Mats
Alphabet mats are an awesome tool to practice A-Z letter formation. Practice letter recognition by reading the letters before your kids mold them in playdough. Afterward, they can decorate the images and build their reading vocabulary!
Learn More: This Reading Mama
4. Fish Counting Mats
These mats are excellent for 1-20 number formation. Mold some fish (or use fish-shaped crackers). Then, add the correct number to the bowl, shape the number, and place the correct number of dots in the squares. Place them in protector sheets to reuse throughout the year.
Learn More: Nurtured Neurons
5. 2D Ice Cream Shapes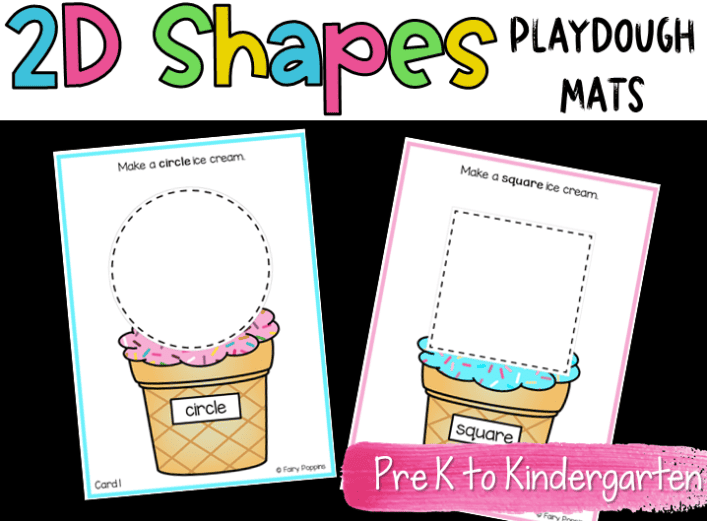 Who doesn't love ice cream? These cute cones teach kids all the shapes. Once they've filled in their shapes, extend your lesson by discussing the number of sides, corners, and angles. When you've finished head out for an ice cream cone and spot the shapes in real life!
Learn More: Fairy Poppins
6. Weather Mats
Cater to your budding meteorologists with these weather-themed playdough mats. As they complete the pictures, you can talk about the water cycle and different types of clouds. It's a crafty compliment to your weather science units.
Learn More: Primary Theme Park
7. Playdough Bugs
Make bugs cool! This fun craft requires playdough, pipe cleaners, straws, toothpicks, and googly eyes. Let your kids design bugs from pictures or imagine their own! Have them describe the minor and major motor movements of their creepy crawlies when they've finished.
Learn More: Frugal Fun 4 Boys
8. Spring Playdough Mats
Spring into action with these themed mats. Learn all about flowers and bugs and the amazing colors that appear in spring! The beautiful bug playdough mats are a good introduction to pollinators and their role in creating the foods we eat.
Learn More: Itsy Bitsy Fun
9. Winter Playdough Mats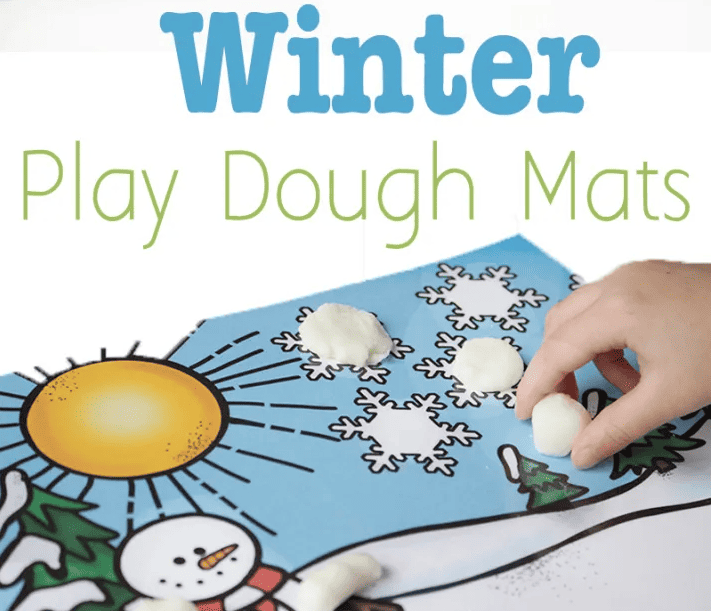 Keep your kids busy when it's too cold to head outside. These fun mats encourage kids to build their own Winter scenes with unique snowflake shapes and fun hats for Frosty. For an extra special surprise, add some glitter to your winter-themed playdough.
Learn More: Landeelu Creating a Home
10. Summer Playdough Mats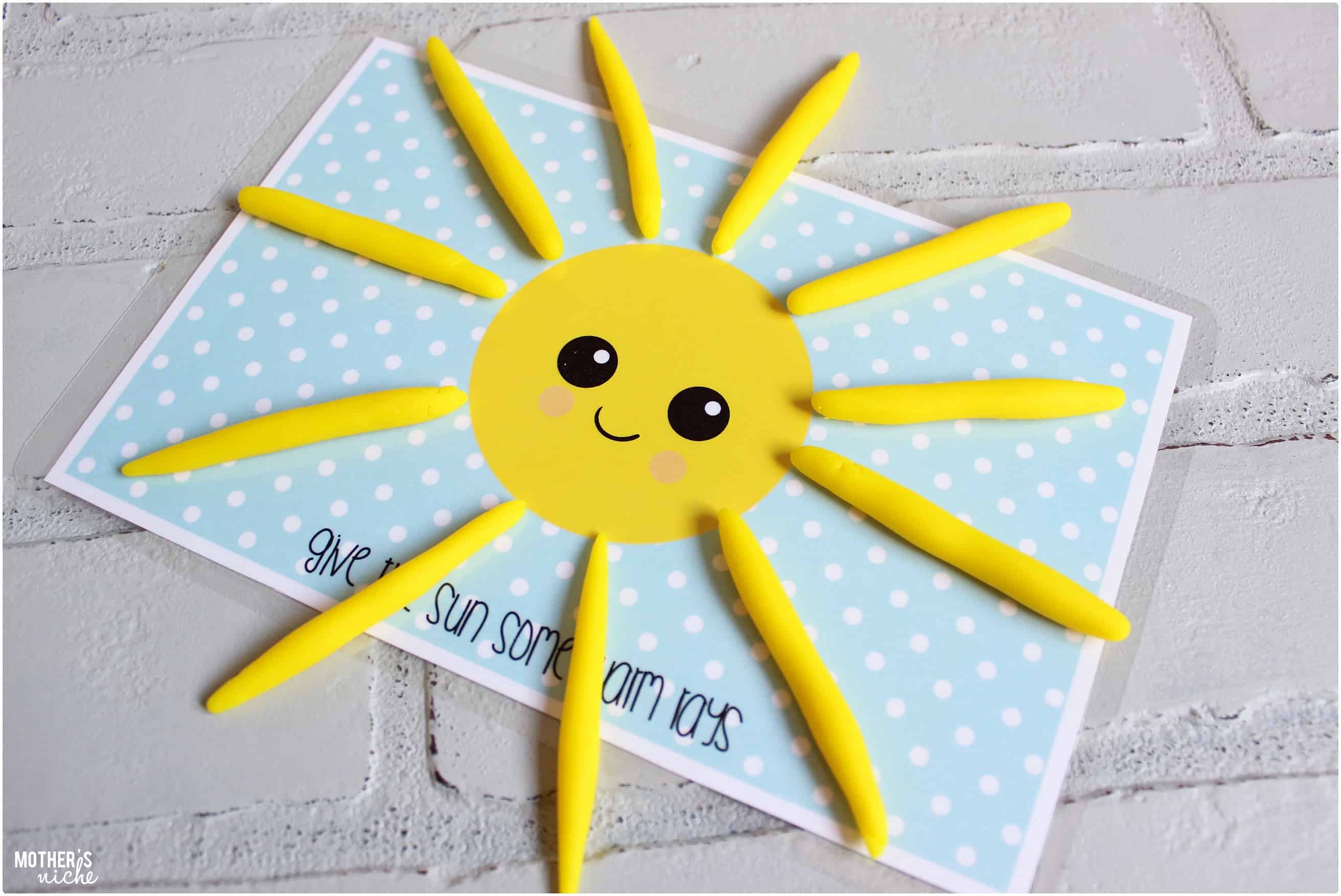 Don't let bad weather keep you from the beach this year! These adorable playdough mats are perfect for practicing counting and basic shapes. Whether you're counting watermelon seeds or stacking ice cream scoops, you're sure to have a blast "under the sun".
Learn More: Moms Who Think
11. Fall Playdough Mats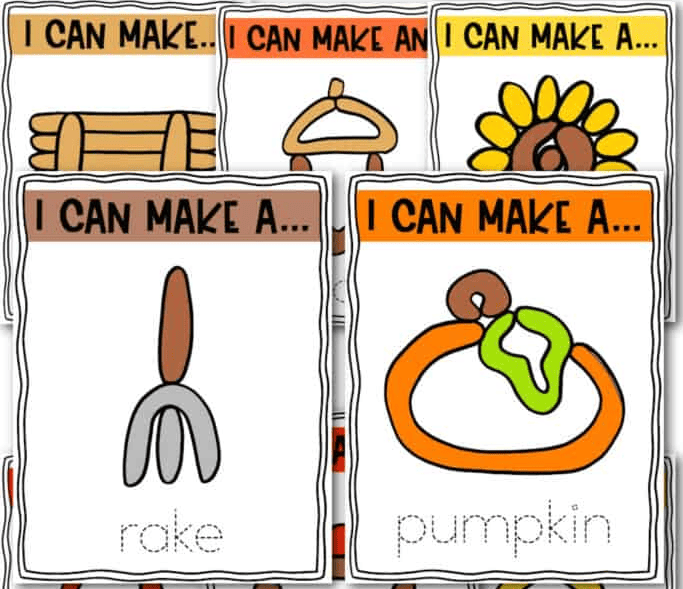 Halloween, Thanksgiving, and all the colors of the wind are in this amazing pack of playdough shapes! Be sure to make a big, multi-colored batch of playdough to cover all the shapes. You can also choose to practice pencil writing or use dough letters for the words.
Learn More: Sea of Knowledge
12. 3D Faces
Turn those frowns upside down! For these 3D faces, turn a bowl upside down and cover it in playdough. Then, your kids can decorate their faces! It's an excellent resource to discuss emotions and how to respect people's feelings.
Learn More: Artful Parent
13. Scissor Skills
This activity helps your little ones get comfortable with scissors while building their motor skills. Show them how to correctly hold a pair of scissors. Then let them cut piles of playdough into small pieces. Give them a set of design-based motor tasks to complete for extra practice.
Learn More: Modern Preschool
14. Pasta Matching Game
Build your own playdough-based games with some dry pasta. Press some pasta into playdough to work on shape recognition skills. Count to see how many of each shape there are. For a challenge, match up the various patterns or replicate someone else's pasta picture!
Learn More: Kids Activities Blog
15. 2D and 3D Shape Building
Help your kids visualize the transition from 2D to 3D with this cool activity. Grab multi-colored craft sticks and some play dough. Start by building 2D shapes. Then convert them to 3D models! Use the models to discuss topics like symmetry, volume, and surface area.
Learn More: In The Playroom
16. Vegetable Mats
Get your kids excited about vegetables! This pack of playdough shape mats is perfect for learning vegetables, spelling lessons, and practicing pencil control. After you've shaped the veggies, demonstrate a functional pencil grasp for your little ones to practice before they trace the letters.
Learn More: Etsy
17. Color Theory
Turn your playdough into an art canvas. This colorful activity helps build artistic expression while teaching kids how to mix colors together. You can have kids write hidden messages in the dough or create their own tie-dye patterns.
Learn More: Homegrown Friends
18. Subtraction Smash
Add a bit of dough plays to your math lessons. Write some simple subtraction equations on notecards. Then set out the correct number of dough balls and smash the subtraction number to get the correct answer! Re-roll the balls for addition problems.
Learn More: Mama Papa Bubba
19. Teeth Counting Games
Count those pearly whites! This counting playdough mat is a great way to kick off your kid's counting and number recognition skills. Simply roll the die and then place a tooth on the corresponding number. The first one with a full mouth of teeth wins!
Learn More: Tot Schooling
20. Transportation Mats
Planes, trains, and excavators! Learn A-Z letter formation with these playdough printables. Have your kids trace the letter with their finger and say it out loud before they craft it out of play dough. Place the mats in sheet protectors to reuse throughout the year.
Learn More: The Chaos and the Clutter
21. Animal Playmats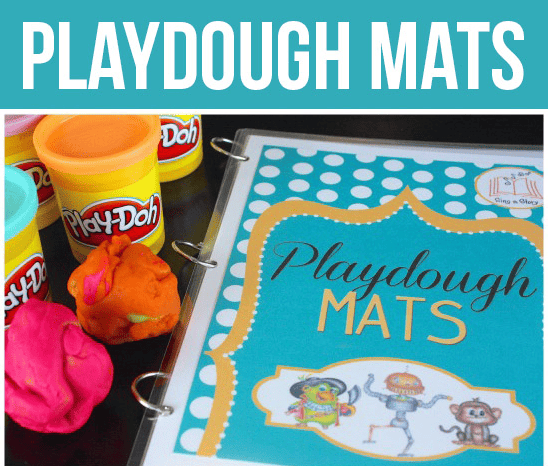 Learn all about the animal kingdom with these printable playdough mats. Your kids can design animal faces, learn about their habitats, and create fun (or funny) costumes for them to wear!
Learn More: The Dating Divas
22. Make A Face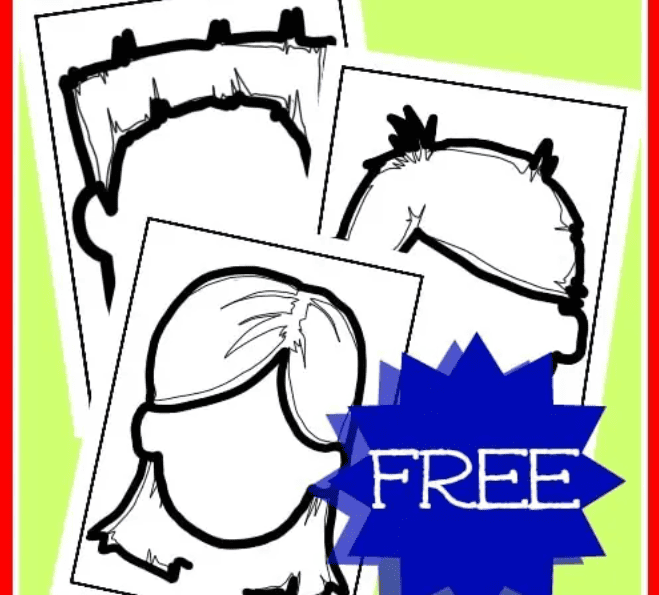 Build emotional literacy by making faces! Once they choose their face form, let your kids design how they're feeling. Or you can ask them to show what a specific emotion feels like. For a challenge, make a face and have them tell you what emotion it is.
Learn More: Homeschool Giveaways
23. Lego Learning
Combine two of your kids' favorite toys! Use Legos to craft all sorts of patterns in playdough, and work on A-Z letter recognition or spelling practice. It's great for spatial awareness and fine motor skill building.
Learn More: One Perfect Day
24. Musical Instrument Mats
Add some playdough play time to your music lessons! These cute printable playdough mats teach kids different musical instruments. As they craft their instruments, play a sound clip so they can hear what each sounds like.
Learn More: Kindergarten Worksheets and Games
25. Geometric Shape Prints
Discover new shapes with these awesome playdough printables! Students stack and press the geometric tiles according to the sheets. Then after carefully peeling the tiles, unveil the new shape creations! This easily turns into a 3D modeling activity for older students.
Learn More: Miss Giraffe's Class
26. Flower Mats
Get ready for spring with this printable mat. It offers the chance to work on a variety of skills, such as counting, fine motor, and creativity! Have your kids count the petals or reimagine the flower stem into something completely new.
Learn More: Learn with Play at Home
27. Family Photo Playmats
Bring crazy hair day home! This sensory activity allows your little ones to dream up new, fantastical hair-dos for the whole family. Use your hands, scissors, or a garlic press to make all kinds of hair types.
Learn More: No Time for Flash Cards
28. Playdough Fossils
This activity is perfect for teaching all about fossils and creating keepsakes (or holiday gifts) with your kids! The salt dough is a cooked playdough recipe that is sure to inspire questions about baking and chemical changes through heat.
Learn More: The Imagination Tree
29. Playdough Cupcakes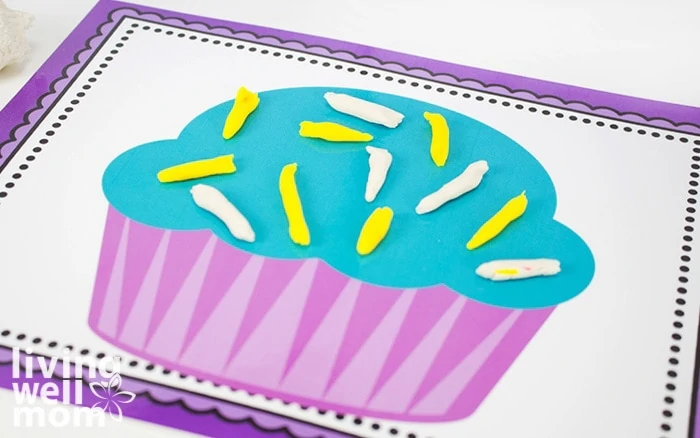 Celebrate birthdays with these adorable cupcake playdough mats. It works best with a little bit of play dough in a range of attractive colors. The open-ended pretend play inspires your little ones to create without making a huge mess.
Learn More: Living Well Mom
30. Edible Playdough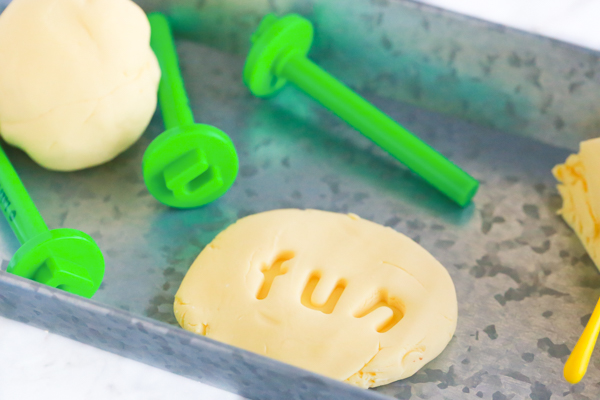 If you want a craft that doubles as a tasty treat, edible playdough recipes are the way to go! You'll need instant pudding mix, cornstarch, and water for this quick and easy dough. Be sure to knead it to get the right dough consistency.
Learn More: Simply Being Mommy
31. Jello Playdough
Make edible playdough rainbows with some Jello powder! This recipe is great for kids (and adults) of all ages and is perfect for all kinds of sensory play. Have your kids help make it to work on measuring skills.
Learn More: Growing a Jeweled Rose
32. Telling Time Mats
Build your kids' time-telling confidence on analog clocks with these fun mats. You can choose to either set the clock hands and have them write the time or do the opposite. Be sure to practice quarter to and quarter past!
Learn More: This Reading Mama
33. Eyeball Counting
Grab as many googly eyes as you can find for this monstrous math play. Shuffle a deck of numbered cards and have your kids pick one. Then, practice counting as they put the correct number of eyes into their monsters!
Learn More: Imagination Soup
34. Castle Playdough Mats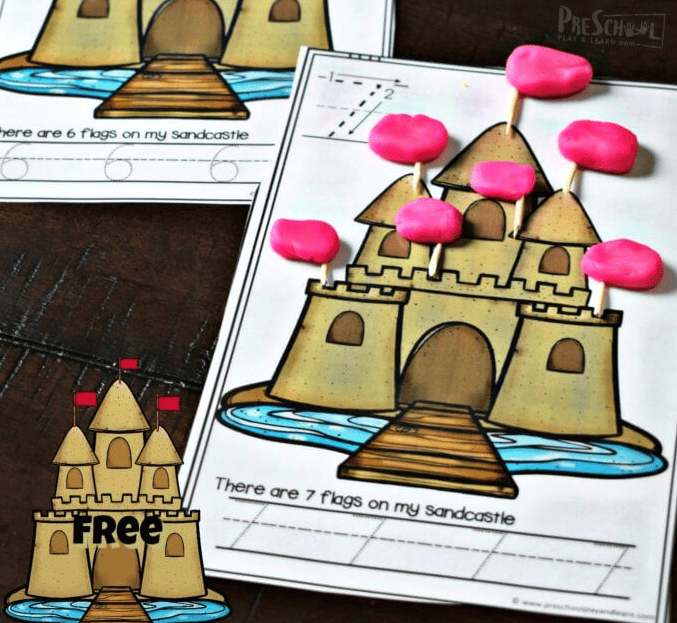 Create a treasure map that leads your kids to their very own castle! These printables are geared towards practicing counting and pencil writing skills. Turn them into a scavenger hunt by placing one pirate flag in the mix!
Learn More: Free Homeschool Deals
35. Playdough Smashed Potatoes
Help your playdough spuds escape from the kitchen! Use the mold to make some potatoes. Spin the spinner to see if you can avoid getting chopped, pressed, or thrown into the deep fryer! The winner gets some french fries!
Learn More: Amazon