Teaching kids the difference between singular and plural words is not always the most exciting concept. This can be especially true for kids that struggle with English. That's why finding suitable plurals activities to keep the kids engaged is imperative! 
So, to help get you started, we've come up with a list of 20 unique plural activities! A lot of them can also be assigned as take-home activities, so your little ones can get all the practice they need. Let's check them out.
1. Board Charts
This exercise is great for all the visual learners in your class. You will divide the board into three columns with plural endings "S, ES, and IES." Have the kids come up to the board and add a word into the column with the correct plural form.
Learn More: Lauren Piper
2. Brain, Body, or Bust
Brain, Body, or Bust is a kid's version of jeopardy. Using PowerPoint, kids will pick a number and enter a category. The brain category requires kids to answer questions about plurals. The body category has the kids complete movement instructions on the card. Lastly, the bust slide means the team loses all their points!
Learn More: Lauren Piper
3. Plural Nouns Crossword
Kids really love a good crossword! This noun activity will keep them busy for a few minutes. This also allows the teacher to go around and work individually with students who may need more help on a plurals activity.
Learn More: ESL Activity
4. Flashcard Sentences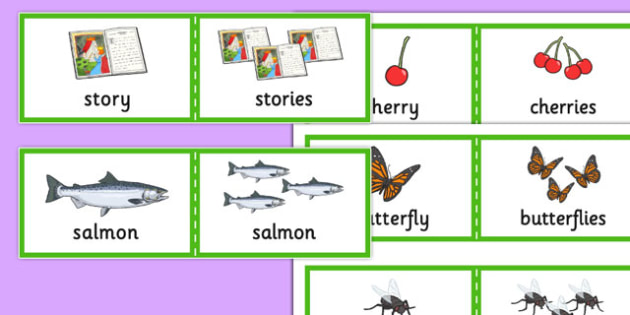 For those who are just learning singular nouns and plural nouns, this is a great activity. Flashcards are underutilized when teaching grammar, and they're always a dependable noun activity. Simply send your kids home with a set of flashcards to review.
Learn More: ESL Activity
5. Singular And Plurals Game
Here you can match the singular and plural nouns to the correct size by using piper cleaners or straws and putting a whole punch in the paper cards. You can do this in a number of ways to get creative. Have kids place the appropriate card in the right category.
Learn More: Early Learning at Home
6. Reading Passages
Being able to spot plural nouns is important, but you can also create your own Adlib reading passages. Leave certain areas blank so kids can fill in the noun based on the description of the event. This is best for 2nd grade and up.
Learn More: Around The Kampfire
7. Reading Books
There are many great books out there that focus on singular and plural nouns. "One Foot, Two Feet" is just one awesome example your second grader can choose from.
Learn More: Around the Kampfire
8. Bango
Lots of schools have switched over to letting their kids learn online. If you're looking for a fun homework task, let your learners play Bango. Kids will enjoy breaking rocks to get the correct answers based on the plurals.
Learn More: Room Recess
9. Singled Out
Consider this tag game to be an educational one. This needs to be played outside or in a gym where kids have a large enough area to run around in. When the person who is "it" tags someone else, they need to yell a plural form of a noun.
Learn More: Study.com
10. Turn It Plural
In this game, kids will have a deck of picture cards that display a singular noun on it. Two kids will take turns converting singulars into plurals and earning a point for the correct answer. This is great for elementary students that need a fun activity for practice.
Learn More: Study.com
11. Which Ending Will You Add?
This is a quick and simple activity where kids will choose the correct ending for regular and irregular plurals. Simply let them fill out an S, ES, or IES at the end of the word.
Learn More: No Worksheets Allowed
12. Classroom Quantities
Teaching resources don't have to be hard to come by. Simply ask the class about different classroom quantities. For instance, how many chairs are in the classroom? Let the kids point out what the plural word is after answering.
Learn More: TEFL Handbook
13. Classroom Quantities Part Two
Here we put a spin on the above activity. You can have the kids guess the answer without telling them what the plural is. Example: "There are three of these in the class. What am I thinking about?"
Learn More: TEFL Handbook
14. Picture Cards Round Two
There are a lot of different ways to use picture card activities. This activity allows your kiddos to make their own. This allows them to get creative while also working on irregular and regular plurals.
Learn More: Kid's Pages
15. Look, Cover, and Write
This is a great exercise for younger kids. Have them look at the plural and then cover it with their hand so that they have to remember it. Then, have them write it down. Repeat this process until they get it right. 
Learn More: Making English Fun
16. Cut-and-Paste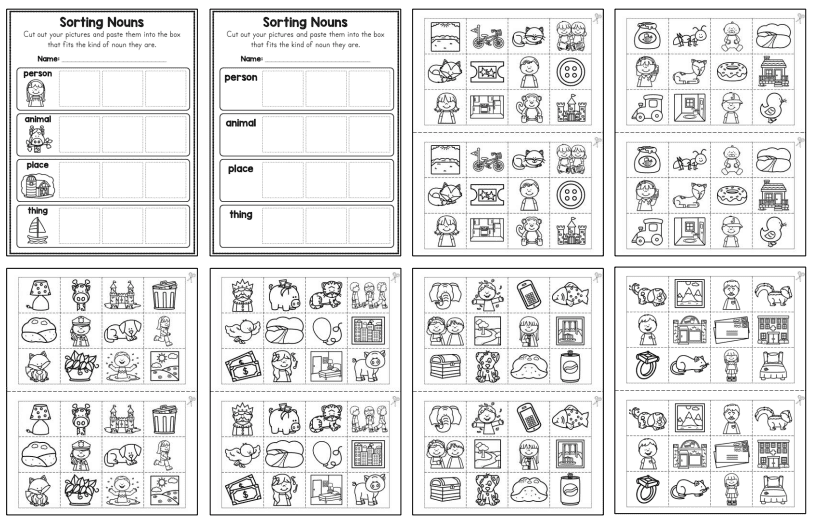 Who doesn't love a class cut-and-paste activity? You can do this with regular or irregular plurals, depending on your student's age and level. Have the kids cut and paste the words under the right section.
Learn More: Making English Fun
17. Easy Introductions
Using charts is a great way to introduce the class to noun rules and noun plurals. To do this, set a chart up like the one pictured below with the rules and examples that follow. Consider this their cheat sheet.
Learn More: Games 4 ESL
18. Irregular Plurals Guessing Game
Make a list of items and have your students provide their singular nouns. Let the kids guess what their irregular form is by writing their answer next to it. This focuses on noun forms.
Learn More: Games 4 ESL
19. Lego Activity
Most kids love Lego, which is why we're throwing this task into the mix. It's simple; using a dry-erase marker, write a regular, singular noun on one Lego and the plural ending on the other. Your kiddos will then have to match them up as they build a tower.
Learn More: Still Playing School
20. Create Your Own Board Chart
Instead of the teacher creating a board chart, let the kids make their own cheat sheets to help them study for the next quiz.
Learn More: Lucky Little Learners