Children are active and have a lot of energy to spend during the day. Why not keep them busy with pom poms? Yes, pom poms are cute, colorful, and fuzzy, but they're also great learning sources! Counting, sorting and watching pom poms fly into the air. There are so many versatile ways that these little decorations can be used to help children learn and play! Here are 22 fantastic ways you can use pom poms to educate and entertain your little ones.
1. Pom Pom Sensory Bin
Pom poms can provide a sensational sensory experience for young learners. Kids can sort, scoop and feel the textures of pom poms that you place into a bin. Add other items and have the kids search for and remove all the pom poms.
Learn More: Fireflies and Mudpies
2. Sensory Bin Idea: Pom Pom Pick Up
Remember those machines where you tried to choose a stuffed toy with a mechanical claw? How difficult was it to win a toy! Kids will always win with this variation. Cups, tongs, and tweezers become gamified objects to make pom pom time a fun challenge.
Learn More: Lovevery
3. Pom Pom Sorting: Learning Colors
Turn learning colors into a tactile experience with this fun sorting activity.
Colorful pom poms become fuzzy little teachers to help young learners identify and match colors.
Learn More: The Global Montessori Network
4. Pom Pom Sorting by Size
Pom poms come in a variety of colors and sizes. They can be great teaching tools to help students learn about small, medium, and large objects.
Little hands will be busy while their minds are actively learning about simple size distinctions.
Learn More: Homeschoolaec.com
5. Sorting By Size Blindfolded
Tactile learning is important in developing a child's cognitive, and language, skills as well as physical abilities. This is a simple pom pom activity where little ones distinguish between big and small.
Give little hands a big challenge by using a blindfold. Kids will "see" with their hands.
Learn More: Laughing Kids Learn
6. Busy Pom Pom Activity
Kids will be busy sorting cute pom poms by size and color with this critical thinking activity. Busy hands power up the brain to think and analyze! Ready, set, sort!
Learn More: This Crafty Family
7. Sticky Sorting
Active little ones will enjoy this creative twist of the pom pom sorting activity.
Provide kinesthetic options by allowing kids to stand or move about the class or home to sort pom poms by color or size, using a sticky board.
Learn More: Powerful Mothering
8. Pom Pom Egg Carton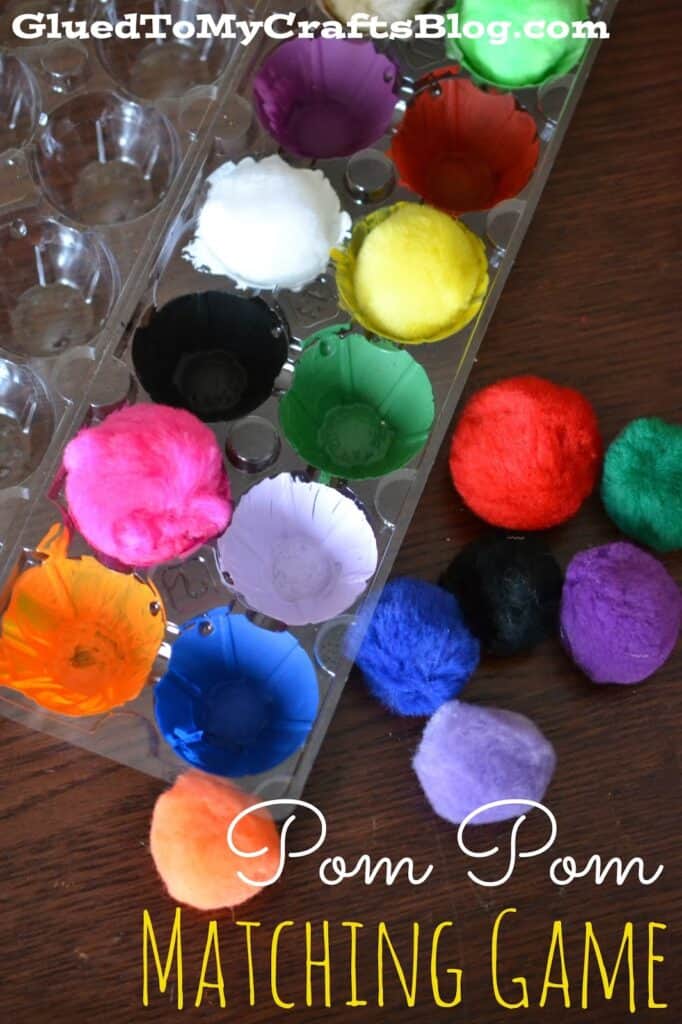 Sorting is super fun for little ones. This is an activity that is just as fun to prepare as it is to play. All you need is an empty egg carton and some paint and you'll have an eggcellent sorting game!
Learn More: Glued to my Crafts
9. Pom Pom Push: Box Version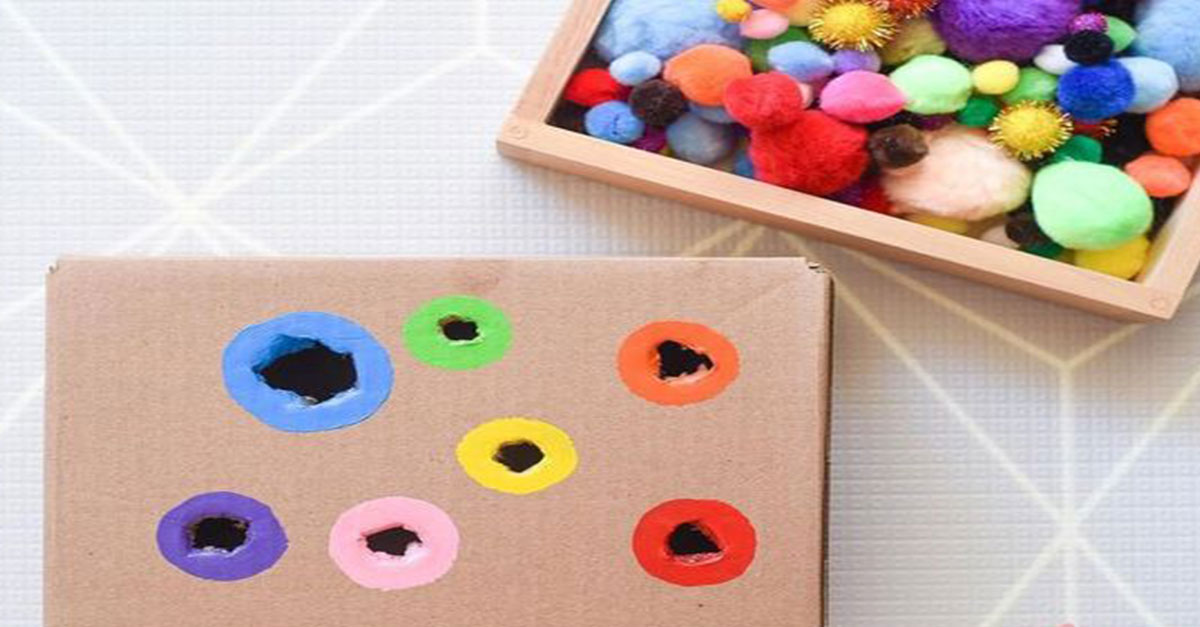 Grasping and sorting-by-color skills go hand in hand with this fun pom-pom activity. Kids will reinforce their color identification skills while making their little hands stronger as they choose and push pom poms into the box. 
Learn More: Aussie Childcare Network
10. Pom Pom Push: Caterpillars and Shapes
Hands-on learning is always a fun way to practice what we learn. Kids can practice sorting colors with the help of a friendly and colorful caterpillar!
This activity can be used to teach shapes too. Simply change the caterpillar's body into squares, triangles, or circles!
Learn More: School Time Snippets
11. Pom Pom Toss Game
This may look like just another fun game, but it's also a great opportunity to build coordination and concentration. Kids will be entertained for hours trying to toss pom poms into cardboard tubes.
Keep your little ones active and cheering with this fun game!
Learn More: The Imagination Tree
12. Flying Pom Poms
Science and fun go hand in hand with this energetic activity. These shooters are fun to make and fun to use! Teach kids about distance and force as they try to shoot pom poms near and far using balloons, toilet rolls, tape, and pom poms to design their craft!
Learn More: Left Brain Craft Brain
13. Pom Pom Drop
Turn an ordinary sorting activity into a fun pom pom drop! Active children will enjoy moving about as they drop the little pom poms into the correct tubes and cheer when the task is accomplished!
Learn More: Princesses, Pies, & Preschool Pizzazz
14. Pom Pom Alphabet Tracing
Learning the alphabet transforms into a hands-on activity with some pom poms and contact paper. Kids will enjoy tracing letters or words with colorful pom poms while standing or moving around the class.
Learn More: Entertain Your Toddler
15. Alphabet Hide and Seek
Let's play hide and seek! Children will enjoy finding letters hidden amongst the pom poms and matching them to the letter board. This is a great vocabulary teaching tool when kids say a word that begins with the letter they chose!
Learn More: Logan'swaytv
16. Pom Pom Sensory Alphabet Craft
Let's learn our A, B, C's with pom poms! Sensory letters are a fun and tactile way to help children recognize letter forms. Reuse the colorful creations to review the alphabet with your little learners!
Learn More: Parent's Homework Hub
17. Let's Count with Pom Poms
Counting while creating fun food items is a sure way to get kids to practice their numbers! Kids will enjoy coming up with fun food items while using the correct number of pompoms.
Learn More: Homeschoolaec.com
18. Counting with the Pom Pom Caterpillar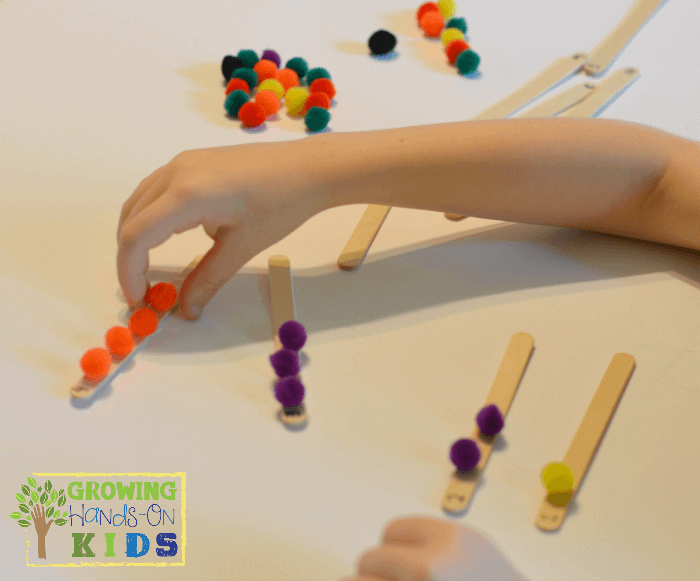 It's fun to count when you have a hands-on activity using pom poms.
Busy kids will be focused and entertained as they pick their favorite colors and choose the correct number of pom poms to match the indications on the sticks.
Learn More: Growing Hands-on Kids
19. Pom Pom Lollipops
Let's build a pom pom lollipop forest! Grow a fuzzy forest of colorful pom pom trees while teaching kids about differing heights and explaining the words "tall" and "short". Grab some gummy bears and create a fun adventure in the lollipop forest.
Learn More: What Do We Do All Day
20. Pom Pom Peg Doll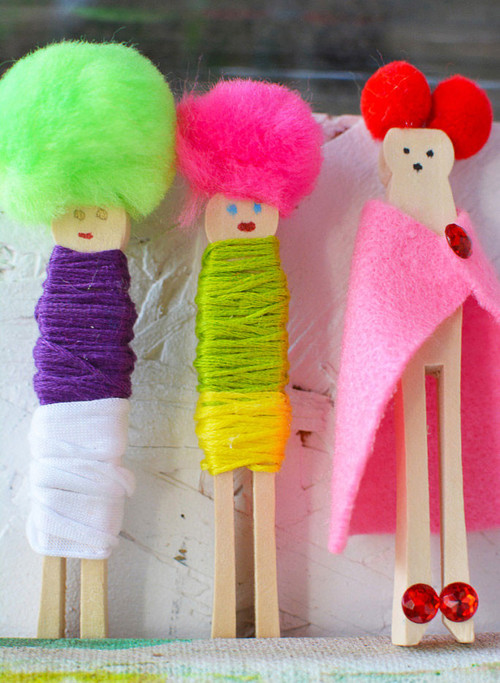 Kids will have fun creating and playing with their pom pom dolls. This is a simple activity that will help you recycle any materials you have lying around your home or classroom.
Learn More: All Free Kids Crafts
21. Framed Pom Pom Art
Create beautiful and colorful artwork with pom poms.
The artwork will last a lifetime in a cute frame and visitors will be impressed with what your child created using only pom poms and glue!
Learn More: Repeat Crafter Me
22. Pom Pom Arts & Crafts Time
Pom poms are great teaching tools but they can also turn your kids into creative geniuses! Inspire them to imagine and make with these wonderful and easy arts and crafts ideas.
Learn More: Artsy Craftsy Mom