Air-popped popcorn is a very healthy snack for children and adults alike. It contains polyphenols which are beneficial antioxidants. Incorporating popcorn activities into your child's school day is an effective way to motivate them and get them more excited about learning. We will explore 35 fun popcorn games that not only evoke mental stimulation yet also tease the taste buds! Read on and be surprised as you discover all the popcorn-related learning opportunities just waiting to be explored! 
1. Why Does Popcorn Pop?
Did you know popcorn is one of the world's oldest snack foods? You will be surprised to learn this fact and so many more as you engage in this activity. Children will explore Wonderopolis and write down 5 popcorn facts to share with their classmates.
Learn More: Wonderopolis
2. Popcorn Monsters
This delicious snack only requires 2 ingredients: popcorn kernels and orange candy melts. After popping the popcorn, you will simply pour the melted orange candy over the popcorn and freeze it for 15 minutes.
Learn More: Hungry
3. Popcorn Distance Throw
This is the perfect popcorn game to play as a group! Children will take turns throwing a piece of popcorn as far as they can. The person who can throw it the furthest will win a special prize. I love this fun idea for a popcorn-themed party for kids!
Learn More: One
4. Popcorn Straw Challenge
Ready for competition? Each person will need a straw and some popcorn. Competitors will blow through the straw to move the popcorn across a surface. Whoever can blow the popcorn to the finish line the quickest, wins.
Learn More: One
5. Popcorn Drop
This game should be played with two teams. First, you will make 2 shoe cups and fill them with popcorn. Keep the popcorn in the cup until you get to the drop box. Who will fill their box first?
Learn More: Better
6. Popcorn Relay Race
Children will run around with a plate of popcorn on their heads. You will set a start line as well as a finish line. Once the children get to the finish line, they will dump their popcorn into the bowl that awaits.
Learn More: Lady
7. Popcorn Subtraction Activity
This popcorn-themed subtraction activity is so creative! Students will use manipulatives as a visual representation of popcorn being taken away. This hands-on math activity is perfect for academic centers.
Learn More: Teachers Pay Teachers
8. Estimating Volume With Popcorn
Students will learn how to estimate with this engaging activity. First, you will gather 3 containers in assorted sizes. Students will guess how many popcorn kernels are needed to fill each container. Then, they will count them and compare them.
Learn More: The Teachers' Time
9. Guess How Many
First, fill up a mason jar with kernels of popcorn. Make sure to count the kernels as you fill-up the jar. Write the total number down in a hidden place. Children will then guess how many popcorn kernels are in the jar. The person to guess the closest number wins!
Learn More: Skip
10. Dancing Popcorn Science Experiment
For this fun dancing popcorn activity, you will need popcorn kernels, baking soda, and vinegar. The result of the chemical reaction sure is entertaining as your children watch the kernels dance. This would be an interesting activity for science centers.
Learn More: Popcorn
11. Parachute Game
Little ones will love this parachute popcorn game! The children will each hold onto the edge of a large parachute and the teacher will pour balls on top of the parachute. Children will lift the parachute up and down to make the balls resemble popcorn popping in a pot. How fun!
Learn More: Gardengate Academy
12. Pass the Popcorn
This is a fun twist on the traditional game "Hot Potato". Children will sit in a circle and pass around a cup of popcorn while music plays. When the music stops, the person holding the popcorn is "out" and moves to the middle of the circle.
Learn More: Patty Shukla Kids TV – Children's Songs
13. Popcorn Craft
I love this adorable popcorn box craft! Prior to starting, you will prepare the box portion by using hot glue to assemble popsicle sticks to form the base of the craft. Then, students will stick cotton balls and decorate them with paint.
Learn More: Keep Calm and Mommy On
14. Rainbow Popcorn
How amazing are these rainbow-colored popcorn pieces? Start by preparing six sandwich bags with various food coloring. Add 3 tbsp of sugar to each bag. Shake the mix and pour into a small saucepan with water to melt the sugar. Remove from the heat and add the popcorn.
Learn More: Desserts On a Dime
15. Popcorn Sight Words
This is an excellent resource for children to practice sight words. Each student will read a word from the popcorn pile. When they get the word correct, they can keep it. If they do not know the word, it will be added to the un-popped popcorn pile.
Learn More: Teachers Pay Teachers
16. Popcorn Drawing
Check out this popcorn drawing tutorial for your little artists to enjoy. They will need markers, pencils, and blank sheets of white paper. Children will follow along to create their own popcorn masterpieces.
Learn More: Art for Kids Hub
17. Popcorn Puzzle
This printable puzzle is a very engaging resource. Children will cut out the puzzle pieces and put them together to solve the riddle; "What type of music gets popcorn to dance?" You may be interested in printing this out or using a digital version if you have online distance learners.
Learn More: Your Therapy Source
18. Alphabet Matching
Children will each take a piece of popcorn from the box. The popcorn will either have a letter on it or it will say "Pop". If they draw a "Pop", they will put it back in the box. If they pull a letter, they will identify the letter and the sound it makes.
Learn More: The Teacher Bag
19. Popcorn Trivia
There is A LOT to discover about popcorn! Put your child's knowledge to the test with this popcorn trivia game. Children will explore fun facts about popcorn and guess if each statement is true or false. Students will have fun discovering new things about their favorite snacks.
Learn More: What the Popcorn
20. Popcorn Rhymes
This rhyming game is both amusing and educational! Everyone will sit together in a circle and will take turns coming up with a word that rhymes with "Pop". Then, you will do the same thing with the word "corn". Challenge your learners to see who can name the most!
Learn More: What the Popcorn
21. Popcorn Poetry
Prepare a bowl of fresh popcorn and get ready for a poetry session! These popcorn-themed poems are an excellent way to teach poetry. As your student's snack, have them use their senses to write their own poem about popcorn.
Learn More: Nana's Corner
22. Popcorn Party
If you need the incentive to encourage students to work, consider offering them a movie and popcorn party! You can use this as motivation for students to exhibit positive behavior or as a reward when they reach an academic or attendance goal. Regardless of the reason, you can't go wrong with movies and popcorn!
Learn More: The Simply Organized Teacher
23. Popcorn Riddles
I found it at a movie theater, but I do not have a ticket. What am I? Popcorn, of course! Share these awesome riddles with your students and have them write their own popcorn-related riddles to entertain their classmates. Encourage them to use their senses and be creative!
Learn More: Riddles
24. Popcorn Factory
Have you ever wondered how popcorn is made at a factory? Do they have the world's largest air popper? What do they do with the un-popped popcorn? How do they make flavored popcorn? Take a journey through a popcorn factory to learn how it's made!
Learn More: Insider Food
25. Popcorn Song
This catchy popcorn song is fun to sing and provides cool facts; making it educational! Students will learn their "popcorn words"; also known as sight words. This is a great introductory activity prior to playing your favorite popcorn games.
Learn More: Jack Hartmann Kids Music Channel
26. Popcorn Scavenger Hunt
For this scavenger hunt, children will be given a list of items they will need to find in a pool of popcorn. Yes, you will literally fill up a baby pool with popcorn! Children will have a blast digging through their favorite buttery snacks to find special toys.
Learn More: Pinterest
27. Popcorn Stick Game
This game would make a fantastic circle-time lesson. Students will pass the bowl of popcorn around and take one stick each. They will read and answer the question on the stick. The person with the most sticks at the end will win.
Learn More: Rana Lions Blogspot
28. Popcorn Writing
First, show a video to your students of popcorn popping in slow motion. Have them carefully observe this process and write down everything that comes to mind. Encourage them to use their senses to write a story about popcorn.
Learn More: Todd's Kitchen
29. DIY Popcorn Stand
This is an excellent dramatic play idea. You will need a cardboard box, red spray paint, yellow poster board, and white painter's tape. Students can decorate it themselves for a fun art session.
Learn More: Pinterest
30. Popcorn Balls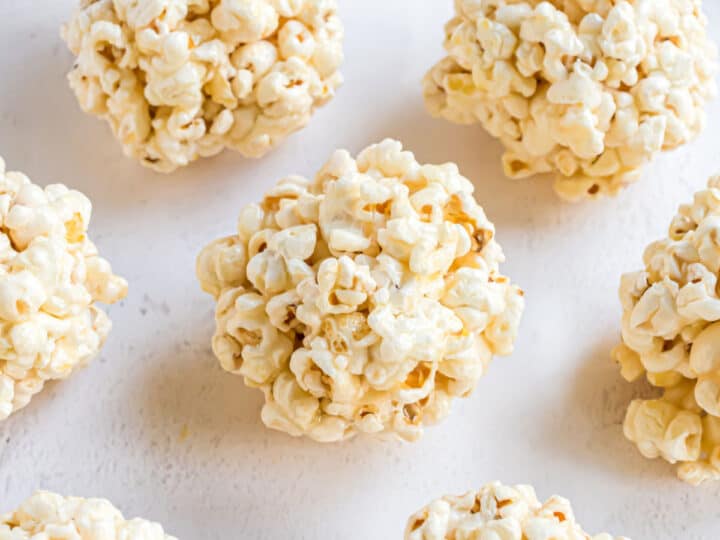 Check out this recipe to make delicious popcorn balls! You will need popped popcorn, sugar, light corn syrup, water, salt, butter, vanilla extract, and food coloring. The recipe includes tips and tricks to get the balls to stick together. These soft balls of popcorn make the perfect snack.
Learn More: Taste of Home
31. DIY Popcorn Bar
This popcorn bar covers all the bases! Children will love to top their bowls of popcorn with various candies. This popcorn bar is perfect for a birthday or holiday party with friends and family.
Learn More: Tula Mama
32. Popcorn String Craft
To create a popcorn garland, you will first need to gather some materials. This includes popcorn kernels, air poppers, string, a needle, and cranberries if desired. You will pop the popcorn and allow it to cool. Then, cut the thread and prepare the needle. String the popcorn and decorating!
Learn More: Best Corn Popper
33. Bucket Ball Toss
To play, students will work in groups of two to see who can fill their bucket with popcorn first. You will use the nylon straps to attach the bucket to the player's head or around their waist. The pair will quickly throw and catch the popcorn balls using their buckets.
Learn More: Oriental Trading
34. Taste Test
Who is up for a taste test challenge? I would recommend printing the score sheet on cardstock paper. Children will each receive a checklist and will taste many types of popcorn. They will then give each one a score to vote on which they think is the best!
Learn More: Etsy
35. Popcorn Bulletin Board
Involve your students in getting creative with a bulletin board! This is a great way for students to take pride and ownership of their classroom. To create the 3D effect, you will need to place tissue paper behind the popcorn tub.
Learn More: Little Fun Little Learning Blogspot