Prefixes and suffixes are essential building blocks in the English language. They help us understand the meaning of words, expand our vocabulary and make word formation much easier. Students will be delighted to discover that by attaching prefixes to the beginning of words, or suffixes to the end, they are able to change the meaning of common words and create entirely new ones!
This collection of crossword puzzles, word search games, songs, videos, presentations, and books is designed to develop morphological awareness and foster critical thinking while helping kids apply these powerful linguistic tools to convey their thoughts more effectively.
1. Develop Long-Term Writing Skills
This interactive prefix and suffix activity invite students to write and draw examples of words that incorporate these linguistic tools and discuss how they impact the meaning of the word. This activity encourages critical thinking and creativity while reinforcing language skills.
Learn More: Tiny Teaching Shack
2. Printable Anchor Chart
Anchor charts, such as this one, provide a visual reference for students to understand and use word parts in reading and writing. This chart is designed to help students expand their vocabulary, decode unfamiliar words, and improve their spelling and word analysis skills.
Learn More: Crafting Connections
3. Build Literacy Skills with a Powerpoint
The interactive and visual nature of this presentation holds kids' attention while helping them understand the meaning and function of these linguistic elements. Additionally, it enhances their vocabulary while helping to improve their reading comprehension and writing skills.
Learn More: Teach Starter
4. Fun Non-Digital Task Card Option
Each of these task cards contains a base word to which kids can add a prefix or suffix to create a new word. This activity not only helps them learn new words but also strengthens their understanding of word roots and word formation.
Learn More: Crafting Connections
5. Fun Activity for Extra Practice
This informative and engaging Brainpop video features bright colors, fun animations, and catchy music to grab the viewer's attention. Moby and Tim cover common prefixes and suffixes, the role they play in forming new words, as well as the root words that are the basis for many words in the English language.
Learn More: Brain Pop
6. Practice with Prefixes and Suffixes
For this hands-on activity, students simply need to cut out prefixes and suffixes, sort them according to the tabs in their colorful notebook, and start combining them to form new words.
Learn More: Simple Skilled in Second
7. Teaching Prefixes and Suffixes With a Song
Kids are sure to love singing along to the catchy lyrics of this fun song while learning how to add prefixes and suffixes to words to create new meanings. Students will improve their vocabulary, comprehension, and writing skills while having a blast!
Learn More: The Bazillions
8. Fun Prefix & Suffix Video Lesson
This educational video uses engaging graphics, animations, and easy-to-understand examples to explain the concept of adding a word element before or after a base word to change its meaning.
Learn More: Kids Academy
9. Online Game for Elementary Students
In this online game, kids pop balloons that contain either a prefix or a suffix. It's an interactive way for kids to learn about language structure and vocabulary while having a blast!
Learn More: Word Wall
10. Critical Grammar Skill Questions for Students
Children are given a passage filled with words that have prefixes and suffixes and must use context clues to decipher the words and their meaning before answering the comprehension questions at the end.
Learn More: The Literacy Nest
11. Literacy Centers Practice for Students
Perfect for literacy centers, this Uno-like card game challenges students to add prefixes and suffixes to base words to create new and exciting words. Watch their language skills soar as they become word-building pros!
Learn More: Teachers Pay Teachers
12. Prefix, Suffix, and Root Puzzles for Students
These colorful puzzles challenge students to identify the prefix, root word, and suffix in words. They are sure to have fun piecing together words and expanding their understanding of word structure while building a solid foundation for reading and writing.
Learn More: Teachers Pay Teachers
13. Essential Prefixes and Suffixes Crossword
Crosswords are an excellent way to help kids expand their vocabulary and improve their spelling skills. Watch as they strengthen their spelling and critical thinking skills while working independently or in groups.
Learn More: Word Mint
14. Practice Prefixes and Suffixes With a Bingo Game
Kids will love learning about these important parts of language while playing a classic game of Bingo. More than a fun activity, it's the perfect choice for building their vocabulary and improving their decoding skills.
Learn More: Michaels
15. Puzzle With Movable Game Pieces
This hands-on activity involves matching pictures with their corresponding prefixes and suffixes to form a complete word. The visual aspect makes it engaging and fun for kids to learn, while also improving their critical thinking and problem-solving skills.
Learn More: Miss Giraffe's Class
16. Read a Picture Book to Develop an Understanding of Prefixes
This fun-filled book about prefixes (and the companion book about suffixes by the same author) can improve students' reading comprehension and enhance their writing skills. With their colorful illustrations, captivating stories, and engaging activities, they will be eager to learn more about these important parts of language!
Learn More: Amazon
17. Jenga Task Cards
After picking a block to take out of the Jenga tower, players have to identify words with different prefixes and suffixes that correspond to the color of the chosen block. This is a terrific game for reinforcing language skills while having a blast with friends and family!
Learn More: Jennifer Findley
18. Develop Vocabulary Skills With a Graphic Organizer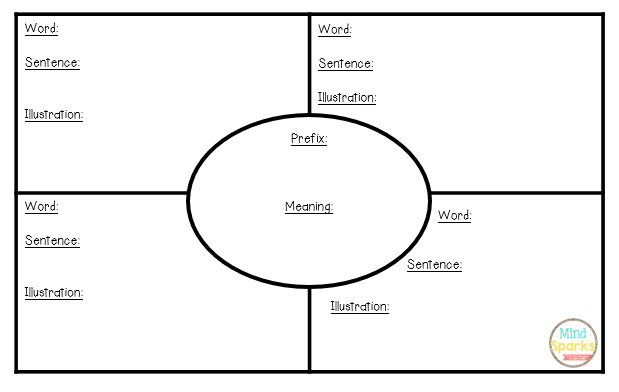 Graphic organizers are like secret weapons for language learners! Not only do they help students break down big words into manageable parts, but they also boost vocabulary retention and make it easier to understand the meaning of words.
Learn More: Sparking the Mind
19. Try Boom Cards to Build Major Vocabulary Skills
These self-checking digital task cards can be accessed from anywhere in the cloud. Students can build their morphology skills by answering a series of questions to identify prefixes and suffixes in various teacher-created examples.
Learn More: Boom Learning
20. Hands-on Prefix and Suffix Activity
This fun game challenges kids to match the prefix, root word, and suffix to create a complete word, strengthening their understanding of word structure and increasing their vocabulary retention.
Learn More: Ms. Crafty Nyla