While many preschool students innately learn how to make friends, become friends, and be good friends, it is extremely important for their social growth to have explicit opportunities to practice and learn about friendship. Families with strong social bonds make it easier for children, but those that do not have these bonds tend to struggle and take a little longer to learn these skills.
Read below about 26 fun activities you can do to help preschoolers learn and practice friendship.
1. Story Time: Rainbow Fish, by Marcus Pfister
Marcus Pfister has been teaching young kids through his book, Rainbow Fish, for over 20 years. Rainbow Fish learns a hard lesson while teaching youngsters what's really important.
Learn More: StoryTime at Awnie's House
2. Story Time: Friends, by Helme Heine
Another classic story about friendship keeps preschoolers engaged with a friendship theme, this focuses on how friends can do everything together, but also need to spend time apart.
Learn More: Let's Read with Mrs. Jen
3. Fill a Bucket Storytelling Kit
Preschoolers LOVE this book and the accompanying activity. Kids learn kindness through the eyes of "filling the bucket" of others. Acts of kindness and good deeds improve friendship, lead to friendship and keep friendships.
Learn More: Lakeshore Learning
4. Thumbprint Friendship Necklaces
Have kids participate in this fun, hands-on craft using large beads, string, and air-hardening clay. Creating something from hand and then gifting it to others teaches how to put thought into a gift and how to gracefully receive a gift.
Learn More: Pinterest
5. Kind Words Friendship Sensory Lesson
Making friends takes kind words. This activity helps make a kinesthetic connection with those skills using sandpaper which doesn't feel so pleasant, and cotton balls which are soft and fluffy as kids learn how to interact with one another.
Learn More: Preschool Powol Packets
6. "I Like You" Friendship Rhyme
Having kids use this as an activity opener with this adorable rhyme is a great way to reinforce friendship. Sung to the tune of "Are You Sleeping" it will become a simple, catchy tune your preschoolers will be singing for a long time.
Learn More: Pinterest
7. I Can be a Super Friend Social Story
Social stories and friendship stories are simple, highly graphic stories that preschoolers can easily follow and understand because of the visuals. This one is adorable and printable. Simply laminate and clip them together for your preschoolers.
Learn More: Engaging Preschool Minds
8. Create a Friendship Wreath
Have all the students work together to create handprints for a wreath that will all be put together and then displayed in the classroom as a reminder to every one of the friendships that are in the room.
Learn More: Preschool Playbook
9. Who is Being A Friend
Use this as an individual activity, or as a whole class activity on a large poster to initiate the conversation of friendship with your preschoolers. The images serve as a way for kids who can't read to determine if the kids are being friends or not.
Learn More: Firstie Land
10. Make Some Friendship Salad
Starting the discussion about friends with preschoolers with a sweet fruit salad is a way to immediately grab their attention and get them going. When they are done helping to make the salad, they can eat it and enjoy it as a whole class of friends.
Learn More: Kinder Gals
11. Look How We Fit Together
Your preschoolers will be amazed at this activity because when it's finished, you'll be able to put every piece that each child creates together! Give them some finger paint, ask for a photo from home, and then help each child create a one-of-a-kind piece that fits with their friends!
Learn More: Really Good Stuff
12. Words Hurt Lesson Activity
This really graphic activity will help very young students with their social skills. Teaching them that some words aren't nice really gives them a place to start the building blocks of great friendships.
Learn More: Hey Teacher
13. Host a Friendsgiving
Thanksgiving is a time that many of us utilize to teach thankfulness, but what about friendship? This kit includes fun activities for preschoolers centered around celebrating not only being thankful but thankful for friendship. Use it as a complete class party, or simply restrict your class to just the activities.
Learn More: Crayon Box Creations
14. Rainbow Fish Activity
Don't just READ Rainbow Fish, especially when you have an awesome resource like this one! These friendship-themed activities could provide an entire week of awesome things to do around centered around the idea of friendship building, and it will tie back to the book flawlessly!
Learn More: Little Stars Education
15. Make a Friendship Chain
Download the free template below and have your little ones decorate with friendship fingerprints, colorful construction paper, watercolor, tempera paint, or just crayons, and then display the chain in the room to keep their friendships in plain view.
Learn More: Pinterest
16. Create a Friendship Story
Friendship in preschool is a pretty abstract idea. This adorable story and friendship art activity help the idea to become less abstract by having kids color the pages together, and then sit together and read the story as a whole class.
Learn More: KidSparkz
17. Use a Pocket Chart to Display Good vs. Poor Friendships
Create a space in your room to display examples of students being good friends and what it looks like when they are not. This helps them to visualize, remember, and remind one another of what good friendship is.
Learn More: Mrs. Jones's Creation Station
18. Friendship Blocks
These friendship blocks (or tubes) help kids learn to remember one another, but also drive home the fact that they are all connected. Kids love building their classes with them and have many uses within the classroom.
Learn More: Teach Preschool
19. Make Friendship Stew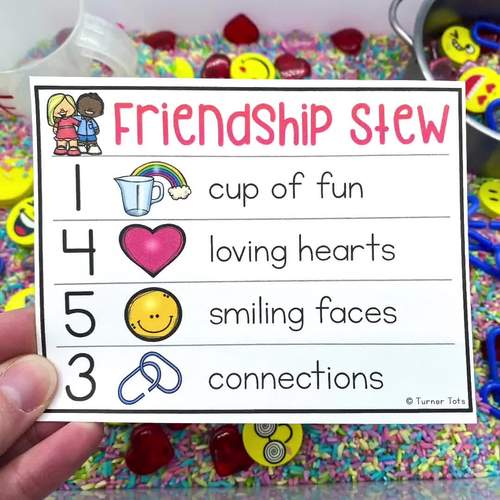 This is great for Valentine's day or any day, really. Students can participate by adding their own pieces as you call for them to create this recipe which doubles as a sensory bin!
Learn More: Turner Tots
20. Nobody Hugs a Cactus, by Cater Goodrich Read Aloud
This sweet book about a little cactus really teaches kids that sometimes even the people with the most thorns need love too.
Learn More: Reading Rhino
21. Try a Compliment Circle to Build Friendship
Preschoolers are never too young to learn how to compliment one another. Try to focus on simple compliments, to begin with, and then when you revisit the idea later you can focus on more personality/virtue type compliments.
Learn More: Paige Bessick
22. Introduce the "Friendasaurus"
This adorable idea works great for a dinosaur-themed lesson, but will work in any preschool setting because, let's face it, what kid doesn't love dinosaurs?
Learn More: Pinterest
23. Do You See Our Friend Song
Help kids remember the names of their friends in class while teaching them the importance of calling one another by name with this sweet song sung to the tune of "Do You Know the Muffin Man?"
Learn More: Teaching Mama
24. Sit or Stand
While this particular version is made for Kindergarten, it can easily be tweaked for preschool by changing a few of the options around. It gets kids up and moving as they decide if they like or don't like specific things, and helps them determine who in their classroom has the same preferences!
Learn More: Pinterest
25. Should I Share My Ice Cream, by Mo Willems Activity and Book
Mo Willems is an amazing author who catches the interest of all kids. His characters, Elephant and Piggie teach kids how sharing is an important part of friendship in this adorable and hilarious book. Couple it with this read-aloud activity of friendship ice cream to complete the perfect lesson.
Learn More: Sunny Day Family
26. F is for Friends Coloring Activity
Teach kids what friendship is and the letter it starts with! "F is for friend" is a great discussion point, dexterity activity, and coloring sheet that can be printed on white paper or colored paper and then decorated to display within the classroom.
Learn More: KidSparkz