If you have a child about to enter preschool or kindergarten, you may be looking for some pre-reading or writing activities to prepare them for success. Literacy isn't always about books and reading. In this article, we have put together 30 teacher-recommended literacy activities you can do with your preschooler to ensure they develop to their fullest potential.
1. Sandpaper Letter Tracing
Sandpaper letter tracing not only prepares your students for writing, but for letter recognition! This activity allows your children to practice their fine motor skills, and letter shapes and can be extended to any reading level. Children can move from writing and reading the letters to CVC words and more!
Learn more: How We Montessori
Nomenclatures have originated from the Montessori method that prepares your preschoolers for reading. This pre-reading skill allows students to match pictures to words and words to words, allowing them to develop their letter and reading skills by the way the words look, and also learn the vocabulary at the same time!
Learn more: Google
3. Beginning Sound Picture Matching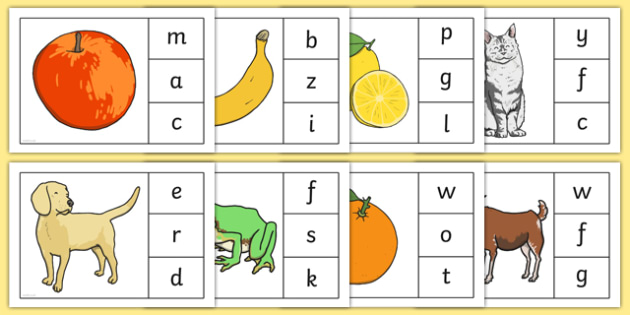 Beginning sound picture matching is the ideal reading activity for any preschooler. This activity for preschoolers allows students to say the word and identify the beginning sound of each letter. That is a great way to practice letter sounds and recognition.
Learn more: Pinterest
4. Letter Scavenger Hunts
Preschoolers need to learn the names of the letters and the sound of each letter. This scavenger hunt allows preschoolers to be active and explore, while they are engaged in this alphabet hunt. This activity can be adjusted for any reading level and can be used for finding things that begin with each letter as well!
Learn more: The Many Little Joys
The clue game is an excellent way to teach your preschooler letter sounds. Fill a basket with random items that start with different letters. Then begin to say, "I'm thinking of an object! It starts with the letter/sound...." Then your child can use their literacy skills to find the object that you are thinking of!
Learn more: Bright Little Owl
6. Reading, Reading, and Re-Reading
Bob's Book Series are the perfect books for preschoolers that a recommended by teachers. These decodable books have various levels and begin by introducing CVC words. Your preschooler will feel accomplished the moment they finish this book, as they learn how to blend letters and read on their own!
Learn more: Amazon