Afternoons for preschoolers can be challenging, especially once they stop napping. Taking them outside to run around is always a great option, but the weather or location may not work for that. Here you'll find a mix of outdoor and indoor activities that will help everyone get through those challenging afternoon hours. Many are going to help kids expend some energy, whereas others are going to require some focused attention. Either way, they'll help keep the peace. Enjoy!
1. Comet Catch
Kids will love catching and throwing these comets. Just attach 2 different colored streamers to a ball and let the fun begin. The activity is intended to show kids how comets orbit the sun, which is different from the planets. They'll love throwing the comets too.
Learn More: Life With Moore Babies
2. Moon Sand
Moon sand is so easy to make and something that kids will love playing with. Sensory activities are so important for kids and this one will not disappoint. I remember making this with my son when he was around 3 and he absolutely loved it.
Learn More: Little Learning Club
3. Toy Car Garage
This is a great activity for preschool children. Simply take some cardboard, cut an entrance and exit, and paint. Once it's dried, kids can use it to park their toy cars. The painting part alone is a fun activity for them, but knowing that it will lead to a place to park their cars, is even better.
Learn More: Tiny Beans
4. Brown Bear, Brown Bear Color Hunt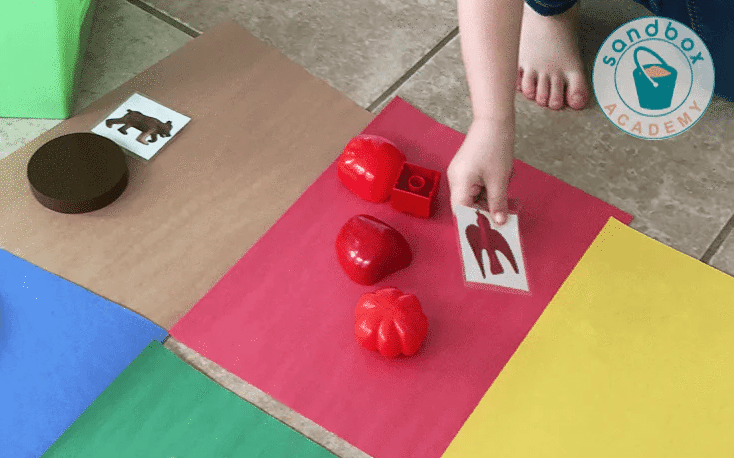 Kids will love searching for items to place on the construction paper sorting mat. Aside from being a great way to reinforce colors, this is a quick activity to set up and can be done more than once.
Learn More: Sandbox Academy
5. Popsicle Stick Busy Bag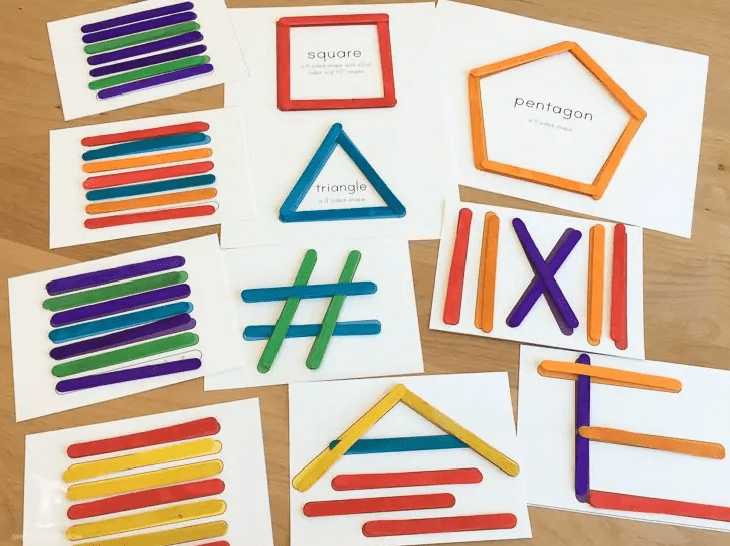 These are great for activity centers. You can use them to reinforce an array of skills and they will keep kids occupied. Some are more challenging than others, so pick what works best for your students.
Learn More: Simple Everyday Mom
6. Cotton Ball Penguin Craft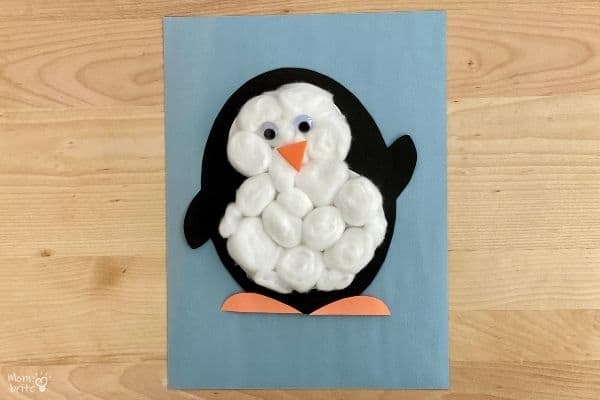 What a cute art activity to do with preschoolers. This activity requires very little prep as there is a template for the penguin included, and it's easy to glue everything together. Cotton balls make this multisensory too.
Learn More: Mom Brite
7. Mushroom Mosaics
These adorable mosaics will keep kids busy for a long time. Kids can tear up colored paper scraps and then use them to create these mushrooms. I love that it's also a motor activity that kids will benefit from as well.
Learn More: Fireflies And Mudpies
8. Birdseed Ornaments
Easy to make and super cute! These ornaments are great for preschoolers to make. This motor activity teaches them how they can help feed hungry birds in the Winter. All you need is some birdseed, unflavored gelatin, and corn syrup to make them!
Learn More: One Little Project
9. Handprint Apple Tree
These adorable trees are sure to please. Kids will either trace their hands or get some help from a grown-up, then assemble. It's a hands-on activity that will keep kids busy for some time and is fun to do in the Fall to cast a focus on how the natural environment is changing.
Learn More: Simple Everyday Mom
10. What Melts in the Sun?
This activity is super simple to set up but gets kids thinking. All they have to do is pick things they think might melt in the sun, then place them in a metal muffin pan. Then take it outside and see what melts. I would do this activity on a warmer day so more objects melt.
11. Measure with Magnets
This activity is set up on the floor on purpose to incorporate movement, which is helpful during those afternoon hours. Simply place strips of tape on the floor for kids to measure using magnetic tiles. Then they can find a number card that matches or share their findings with someone else.
Learn More: Days With Grey
12. Listening Walk
Take kids on a walk with these printouts and tell them they have to be quiet so they can listen to the sounds. When they hear them, they color them in. It's a great way to connect with the outdoors and helps expend some extra energy as well.
13. Nature Monsters
After taking a nature walk, we may end up with found objects that we don't necessarily want to keep. Here's a great way to reuse them in a fun way. Just glue on some googly eyes and play with your new creatures!
Learn More: Crayons And Spice
14. Fizzy Rainbows
Kids love science experiments, especially those that are hands-on. This one uses food coloring, vinegar, and baking soda. Mix the food coloring and vinegar and let kids use droppers to create art in a pan of baking soda.
15. Tape Road
Tape roads are super fun and easy to set up, plus it gets kids moving. It's the perfect indoor activity for preschoolers and can be done over and over again. We have plenty of toy cars in my house, so I may have to try this out soon!
Learn More: Hands-On As We Grow
16. Gross Motor Plate Spinner
This can be done either as a whole class or in small groups. Either way, it's great for getting out some energy, especially if you're looking for an indoor activity. Just print out the template, glue it on a paper plate and attach the spinner with a split pin.
Learn More: The Pinterested Parent
17. Trap, Cut, and Rescue
Tape some small figures inside a muffin tin and then hand over the scissors. Tell kids they have to rescue who is stuck inside and watch the fun ensue. It's a great activity for children to work on their cutting skills too.
Learn More: Days With Grey
18. Alphabet Yoga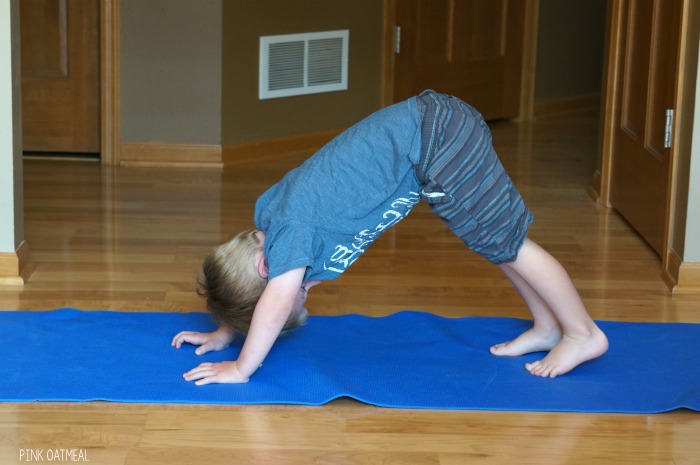 Get kids moving and practicing their ABCs. Yoga is a great way to increase physical activity levels in children and teach them a way to destress when they get older. It's a great indoor activity to do on cold or rainy days.
Learn More: Pink Oatmeal
19. Dinosaur Stomp
Get kids stomping, moving, and following some hand motions with this song. It integrates music and movement in a fun way that will help work out some energy mid-afternoon when things tend to get a bit hectic.
Learn More: The Laurie Berkner Band – Kids Songs
20. Hula Hoop Hop
Place hula hoops on the floor or ground and have kids jump from one to another. You can place them further apart to make it more challenging. It can be a moderate-to-vigorous physical activity depending on how you choose to structure it.
Learn More: Learn Play Imagine
21. Indoor Apple Picking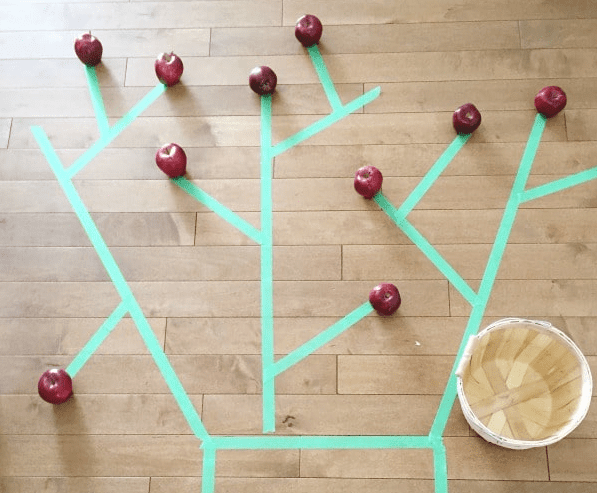 Make some tree branches on the floor out of tape, place some apples on the tree, and have your kids pick them up. It gets them moving while they practice their counting skills. If you don't want to use real apples, you can always crumple up colored tissue paper and use that in their place.
Learn More: Hands-On As We Grow
22. Twister Shapes
A new take on a classic game. This is perfect for indoor recess and will help with gross motor skills, shape reinforcement, turn-to-take and so much more. Spin the dial and have your students follow the instructions to place the corresponding body part over that shape.
Learn More: Amazon
23. A-Z Exercises
This list of exercises provides lots of activity among preschoolers. They are perfect for children of all ages, but teaching kids the importance of physical activity from a young age is so important for their future health and fitness.
Learn More: Little Bins For Little Hands
24. Make a Telescope
Outer space is intriguing for everyone so kids are sure to love making these telescopes. I love that they are using toilet paper rolls which teaches kids that we should try to repurpose and reuse things whenever possible.
Learn More: Things To Share And Remember
25. Homemade Bouncy Balls
Bouncy balls are so much fun to play with and this is the perfect opportunity to make them since the store-bought ones are extremely hard. They are exactly what you need when looking for an indoor activity and kids will love making them.
Learn More: The Krazy Coupon Lady
26. Eye Dropper Counting
Kids love using eye droppers, so this activity is a guaranteed crowd-pleaser. It helps them with counting and fine motor skills. It will undoubtedly turn into a color-mixing activity at some point as well.
Learn More: Teach Beside Me
27. Hatching Frozen Dinosaur Eggs
This is a great activity for toddlers. Simply freeze small plastic dinosaurs in plastic eggs and then give kids different tools to use in order to free them. It will keep them busy for a good amount of time and they'll have fun trying to see what works best to free their dinosaurs.
Learn More: Little Bins For Little Hands
28. Cardboard Roll Letter Match
Toilet paper and paper towel rolls can be used for many things. Here they are used to help preschoolers practice their letter recognition and fine motor skills. This activity will keep them quiet while they focus on finding each letter.
Learn More: Taming Little Monsters
29. Number Weave
Number weave is useful for number recognition, counting, and fine motor skills. It's also another way to reuse paper towel rolls. This activity is good for centers especially in the afternoon since it requires focus and will help kids relax.
Learn More: Toddler At Play