The first few days of school can be nerve-racking for everyone. Ensuring students feel comfortable, and building a caring classroom community, are the most important things for a preschool teacher to do those first couple weeks of school.
One of the best ways to build excitement and develop important routines for classroom management is to practice through play. That is why we have developed a list of twenty preschool themed getting to know you activities to start your year off right.
Have students decide on their favorite animal ahead of time. This will help you prep the correct amount of craft items for this fun activity. The next day, students can become that animal by making a mask! Learning something about a classmate, like their favorite animal, is one easy way to get to know them.
Learn more: Crafts 4 Toddlers
2. Share Your Favorite Food
Lay play food out on a table. Have students pick their favorite food out of the pile. Then have students find a partner who has food similar to their own. For example, carrots and broccoli might find each other since they are both vegetables.
Learn more: Play Teach Repeat
3. Play Duck, Duck, Goose
Here's a fun icebreaker activity that requires absolutely no prep! Change it up by having students say "Duck, duck" and then a student's name instead of saying "goose" when they tap a classmate's head. This will help reinforce learning names.
Learn more: Howcast
What better way to get to know students than with a family collage! Ask parents and guardians for family pictures in your back-to-school welcome letter so students will have everything they need to create this in the first few days of school.
Learn more: Cedar Hill Prep
5. Build Mindfulness Together
Moving together as a group is a great way to build comradery. If you have multiple laptops or tablets in your digital classroom, you can set up a few yoga poses around the room. As students move between center choices, ask them to show you the pose they just learned.
Learn more: Yore Mi Kids
In this fun ice-breaker game, the teacher reads the cards. If the statement applies to the student, that kid will move in the way written on the card. It's a simple game that will start a conversation between students as you learn about their home life.
Learn more: Teach Starter
Any simple but fun memory game done in pairs or groups of three will help break the ice during those first few days. Once students have collected their matches, have them pick one that relates to them and then prompt them to discuss why they chose it with their neighbor.
Learn more: Ice Breaker Ideas
8. Ask Attendance Questions
That first day when everyone arrives at the classroom for attendance can be nerve-racking and boring as you call out each student's name. Use this list to make taking attendance extra fun with these daily questions students answer when you call their names.
Learn more: Teach Simple
9. Play "Would You Rather"
Similar to number 14 below, this can be a seated activity or one that requires movement depending on the setup. You will be one fulfilled and happier teacher once you have gotten to know your student's preferences with this favorite game.
Learn more: The Printable Princess
Have students pick out their favorite color inflated balloon. Help them use a sharpie to write their name on the balloon. Turn on music for the ultimate balloon dance party! Nothing shakes the nerves out like moving your body and giggling together.
Learn more: First Cry Parenting
Play this simple game for your next circle time activity. For preschoolers, I would alter the questions to be pictures instead. For example, a picture of a dog for a red Starburst to indicate red means you should share if you have any pets.
Learn more: Super Teacher Worksheets
The beach ball makes such an excellent game. Even my high schoolers love it. Students stand in a circle and toss the ball until the teacher says "stop." Whoever is holding the ball at that point must answer the question that is closest to their thumb.
Learn more: Super Teacher Worksheets
For this silly game, you'll cut pieces of string, or pieces of yarn, between 12 and 30 inches long. Place them all together in one big clump. Students have to twirl the string around their fingers as they talk about themselves. Who will have to talk the longest?
Learn more: Medium
While this can certainly be done as a seated conversation starter, I like to get kids moving by having pictures of the "this" or "that" on a slide show with arrows. For example, if you prefer Batman, stand over this way. If you prefer Superman, stand over that way.
Learn more: Healthy Happy Impactful
Everyone has played "I Spy With My Little Eye" at some point. The catch here is that you have to "spy" something that is on or about another person. Once the class has found the correct person you are spying on, that person says their name and shares something about themselves.
Learn more: Learn English Kids
Since it's unlikely your preschoolers can read, keep it simple with emotional pictures of things like putting on shoes or brushing teeth. Depending on your age group, an animal charade theme may or may not be appropriate.
Learn more: Health Happy Impactful
17. Have a Show and Tell Day
Build social skills by having students present in front of the class. Take the pressure off by having the topic be about themselves. Students can bring in an object from home, or you can provide class time to create a meaningful drawing as pictured here.
Learn more: Illinois Early Learning Project
Learning everyone's name is the first step in creating a caring classroom community. What better way to remember names than with a clap! In this preschool theme game, students will clap their knees and hands twice before stating their names.
Learn more: Kids English Theatre
Create a community of learners with this outside adventure! Whoever is "it" must wear a silly hat for this simple game. Once you tag someone else, you have to reveal something about yourself before handing over the hat.
Learn more: Nurture Store
20. Whooo Am I? Owl Craft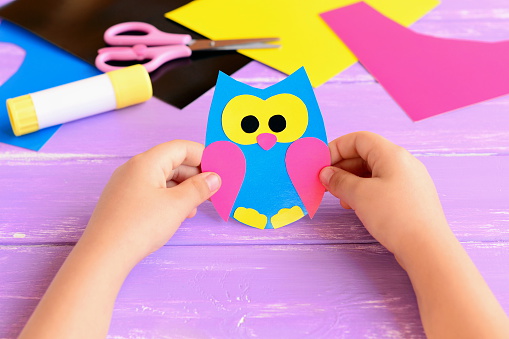 This is a great idea for your art center-themed craft. Students will write something about themselves, like their eye color or hair color, on the wings of the owl. A picture of themselves is glued to the owl's body and hidden by the wings for everyone to guess who.
Learn more: Lakeshore Learning