Preschool is the first time in a child's life when they spend considerable time away from home. This transition can be confusing for children, so it's the teacher's role to create exciting activities. With engaging lessons, children can take their minds off missing home and be excited to attend school every day. Not sure what tasks your little ones would love? Don't worry! Keep reading to discover 25 educational activities for preschoolers.
1. Handprint arts and crafts
Handprint art is a popular choice for preschools and is so versatile! Children can make this art to learn about different animals, seasons, and holidays. Simply have them dip their hand in colored paint, press their hand onto a sheet of paper, and wait for the print to dry before adding details with crayons and markers.
Learn more: Treasure Every Moment
2. Hot potato
Hot potato is a fun activity that helps kids sharpen their hand-eye coordination. The rules are simple: have the students toss around a ball and the person that drops it, has to sit in the center for the next round. Be sure to use a large, squishy beach ball to ensure that nobody gets hurt.
Learn more: Playworks
3. Musical chairs
This game is a classic to get children up and moving! Arrange chairs in a circle around the room and have the kids walk clockwise around the chairs. While they're walking, play a fun song and suddenly stop the music at random intervals. Every time the song stops, kids have to find a seat. Remove chairs between rounds. The last one standing is "out" on the next round.
Learn more: Party Games 4 Kids
4. Color sorting
Make a fun activity to help preschoolers learn colors. Print out easily recognizable images in different colors (fruits and animals work well). Laminate your printouts and glue a magnet to the back of each one. Then, have your students arrange the printouts by color on the whiteboard.
Learn more: The Activity Mom
5. Song time
You can't go wrong with classroom song time! There are many options, especially with free streaming services like YouTube. Choose popular songs that teach preschoolers their ABCs, numbers, days of the week, months, etc.
Learn more: Twinkle Little Songs – Nursery Rhymes
6. Worksheets
Make some educational worksheets for the children to complete. This may be hard for them to get used to at first, but they need to learn to do worksheets early so they become bright students in elementary school. Have them complete the worksheets using crayons in their favorite colors to make things more interesting.
Learn more: The Faithful Help Meet
7. Cookie number match
In preschool, children should start learning how to count. This number-matching activity uses cute little cookies to teach kids how to count to 10. Have them match the number of chocolate chips on a cookie to the corresponding number on the printout.
Learn more: Etsy
8. Seasonal trees
Art is the perfect way to teach preschoolers about the seasons. Many online templates with tree branches can be decorated based on the season. You can use paint, markers, crayons, and other craft supplies. Surprisingly, broccoli makes a beautiful stamp for this art project!
Learn more: Glued to My Crafts
9. Weather wheel
Make learning about weather fun by crafting a weather wheel. Help your preschoolers make their weather wheels, then ask them to adjust the wheel daily based on the weather.
Learn more: Arrows and Applesauce
10. ____________ of the week
Challenge your preschoolers to learn about new things every week! Make a bulletin board with themes you can change weekly. You can teach your students about one new color, number, letter, and shape.
Learn more: Let's Play, Learn, Grow
11. Funky hats
Craft time! Have your students make fun hats using plates and construction paper. Afterward, they can use their crafted caps for class play or fun during recess.
Learn more: Re-Fabbed
12. How tall am I?
Both parents and kids will love this one! Create a display that has the height measurement of all of the preschoolers. Re-record their height at the end of the year to compare how much they've grown since the start of the year.
Learn more: Sharon Smith-Bullock
13. This feels…
Use crafting as a way to teach children about sensory adjectives. Have your students trace their hands several times on a piece of paper. Then, give them an assortment of crafting supplies such as cotton balls, candy wrappers, tape, etc. Help them glue these objects to the hand tracings and write the texture below them.
Learn more: Butterflo Kids
14. Seasonal crafts
Kids love to create and decorate things, while parents love seeing their kids come home with adorable, handmade items. A popular, cost-effective Christmas craft is making tree-shaped ornaments out of popsicle sticks. Have students color and decorate their ornaments with their favorite colors and finish them off by looping a piece of string around them.
Learn more: Six Clever Sisters
15. Fingerprint math
Children need to learn foundational math early, as it's one of the more complex subjects. Give learners a worksheet with cute caterpillar faces and numbers. Have the preschoolers use finger paint to dot out the rest of the caterpillar's body based on the number next to it.
Learn more: Play Ideas
16. Emotional check-in
Children often struggle with outbursts because they don't have the language they need to express their feelings. Help them learn how to express themselves by completing a daily emotional check-in before they enter the classroom. One great way to do this is to make a cute display using emotion cards, cardstock, and popsicle sticks!
17. Duck duck goose
This activity is a classic! Have students sit in a circle and then choose one to be the "goose". The goose will walk around the circle, tapping each student's shoulder, and name each one "duck". Once they choose someone else to be the goose, that student must get up and chase the original goose in order to tag them before their spot is stolen.
Learn more: Wiki How
18. Simon says
A classic gesture game! Have all the preschoolers gather around before saying a command for them to do. For example, you could say: "Simon says jump up and down" or "Simon says clap your hands three times". If students don't follow the command, they're out of the game.
Learn more: Wiki How
19. School scavenger hunt
Create a fun scavenger hunt for your kids! Hide things in the classroom or around the school and have them search for them. Give them a worksheet with a list of the hidden items as well as a sticker sheet to mark off the items as they find them.
Learn more: Wiki How
20. Healthy or unhealthy?
Children need to learn the importance of eating a balanced diet. Make a display with two columns labeled "healthy" and "unhealthy". After that, give each student a printout of a food item with some adhesive or clip. Have them categorize the food item as either healthy or unhealthy.
Learn more: Teacher Mun
21. School play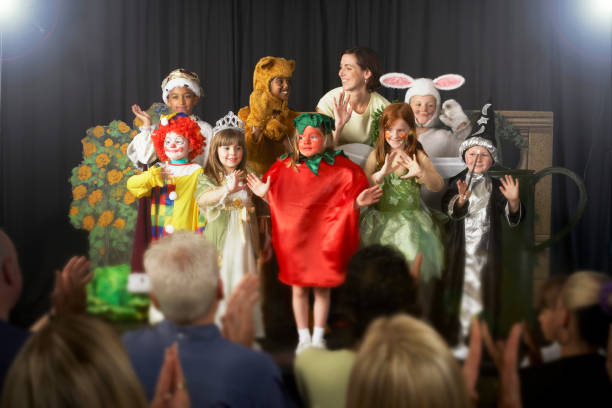 School plays are so exciting for everyone! Choose a suitable play for the students with lots of cute animals, songs, and characters. Then, host a series of crafting days to prepare props for the play. Invite parents and other teachers to come and watch the theatrical performance!
Learn more: Preschool Plan It
22. Dot stickers, flowers name
Teach your students how to spell their names. Draw flowers that spell out their names and then have them apply alphabet stickers on the petals to spell them out.
Learn more: Happy Tot Shelf
23. Classroom greetings
This is a cute way to check how your students are feeling daily. Make a poster labeled with greetings such as a hug, handshake, high-five, etc. Then, as your students enter the classroom, ask them to point out their preferred greeting for the day.
Learn more: Wise Minds. Big Hearts
24. Learn your emotions
Children should know how to describe their emotions clearly, and this is a fun way to do just that! Give your students a worksheet with blank faces labeled as different emotions. Ask them to draw their expressions based on the labeled emotion.
Learn more: Slideshare
25. Move like an animal
This is a cute way to teach your students about animals and their corresponding verbs. Make dice with various pictures of animals on each side. Label each side with phrases such as "bark like a dog" or "hop like a frog". Toss the dice in the middle of the room and have the preschoolers move like the animal it lands on.
learn more: Busy Toddler