Get ready to explore the wonderous world of one of Earth's greatest elements; wind! We'll guide you through 18 thrilling wind-inspired adventures that are sure to captivate your students' imaginations and spark their curiosity. By incorporating these activities into your lessons, you'll create memorable experiences, foster a love for nature, and unleash creativity. So, let's set sail on this breezy adventure together!
1. Whirling Pinwheels
Let your preschoolers unleash their creativity as they design and decorate their very own colorful pinwheels. Once your learners are equipped with their trusty wheels, move outside and prompt your learners to watch them spin and dance in the wind!
Learn More: Kids Activities Blog
2. Windy Nature Walk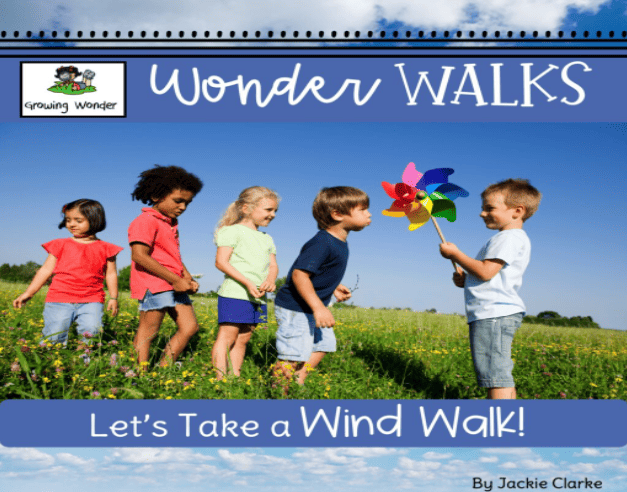 Take your little explorers on a sensory-filled nature walk. They'll connect with nature as they get to feel the cool breeze on their faces and listen to the gentle rustling of leaves.
Learn More: Roots and Wings Kindergarten
3. Flying Kites
On a sunny day, grab some kites and head outdoors with your preschool class. They'll have a blast running and watching their kites soar high in the sky as they're carried by the wind.
Learn More: Rhythms of Play
4. Windsock Creations
Get crafty and help your students create personalized windsocks using colorful materials. Hang them outside and let the wind transform them into vibrant motion-filled masterpieces!
Learn More: YouTube
5. Wind Chimes Symphony
Spur on your little musicians to craft beautiful wind chimes using everyday objects. Once the finished products are hung in the playground trees, learners be delighted by the melodies created as the wind whispers through the chimes.
Learn More: Sugar Spice and Glitter
6. Wind Experiment
Time to get hands-on with a wind experiment! Provide objects of different shapes and sizes and prompt your students to observe how the wind affects their movements.
Learn More: Creative Star Learning
7. Wind Dance
It's time to let loose and have a wind dance party! Encourage your students to move and groove like leaves, birds, or even playful kites in the wind. They'll have a blast expressing themselves through movement.
Learn More: Scholastic
8. Blow Painting
What preschooler doesn't like to get messy! Guide your little artists as they blow paint across the paper; creating unique designs with the help of the wind.
Learn More: Happy Toddler Playtime
9. Wind Race
Engage your preschoolers in an exciting wind race! Set up a relay where they must use their breath to blow lightweight objects across a finish line. This friendly competition is perfect to showcase the force of the wind.
Learn More: Crafty Morning
10. Windy Storytime
Gather your students for a cozy circle time and dive into wind-themed storybooks. Let them get lost in tales of wind-blown adventures and how the wind affects different characters' lives.
Learn More: Roots and Wings Kindergarten
11. Windy Art Collage
Unleash your students' artistic talents by creating wind-inspired collages. They can tear paper and use feathers or other materials to capture the essence of a windy day.
Learn More: Innovation Kids Lab
12. Windy Yoga
Introduce simple yoga poses that mimic the movements of the wind. Your little yogis can sway like trees, stretch like windmills, and relax like fluffy clouds. Enjoy this fun activity at the end of the day to enjoy a sense of calm and promote body awareness.
Learn More: Kids Yoga Stories
13. Wind Catchers
Help your students design and decorate wind catchers using recycled materials. Hang them outdoors and watch as they sway and spin; catching the wind's gentle whispers.
Learn More: YouTube
14. Wind Blowing Bubbles
Prepare to enjoy a mesmerizing activity! Explore the magic of bubbles by blowing them in different wind conditions. Observe how the wind affects their size, shape, and direction they drift.
Learn More: Kidtober
15. Windy Sensory Bin
Create a sensory bin filled with lightweight materials such as feathers, ribbons, and tissue paper. Let your students explore and feel the textures as they discover how the wind interacts with them.
Learn More: The Resourceful Mama
16. Windy Windsock Dance
It's time to put on a windsock dance party! Crank up some lively music and encourage your preschoolers to move and dance with their windsocks. Watch as their creations twist, twirl, and sway with the rhythm of the beat.
Learn More: TTS
17. Windy Puppet Show
Engage learners in an imaginative activity that combines storytelling and wind exploration. Help your students create their own wind puppets using paper, sticks, and strings. Encourage them to perform a puppet show where the characters interact with the wind.
Learn More: Pinterest
18. Windy Nature Art
Take your preschoolers outside to collect natural materials like leaves, twigs, and flowers. Back in the classroom, provide glue and paper for them to create wind-inspired art pieces using these materials. It's a hands-on activity that combines nature exploration and creativity.
Learn More: Thimble and Twig