Pop quiz: What's a 3D object with identical ends and parallel sides? A prism! Significant scientific discoveries have been made using prisms. For example, prisms helped demonstrate that white light is made up of the colors of the rainbow! The geometric properties of prisms are also important to understand, as these shapes are used to make various technology, including telescopes and microscopes. This list of 20 engaging prism activities is designed to get your students excited about the prism's light-bending and geometrical properties!
Science Activities
1. Watch The Dr. Binocs Show
This animated video provides a thorough, kid-friendly explanation of what a prism is and how it can bend light to make a rainbow display. You can show this video to your kids as a short introduction to prisms.
Learn More: Peekaboo Kidz
2. Watch Teacher Freddie
Here's another video explanation of prisms and how they can produce rainbow patterns. This video also describes how the process that creates rainbows from prisms (light refraction) is the same as what happens when rainbows are created in the sky after rainfall.
Learn More: Teacher Freddie
3. Prisms & Sunlight
Playing with triangular or crystal prisms in sunlight could keep some of your students busy for hours. They will notice the eye-catching rainbow patterns on the wall as the light passes through their prism.
Learn More: Little Bins for Little Hands
4. Rainfall Rainbows
After learning that rain droplets can act like prisms to form rainbows in the sky, it can be an exciting outdoor opportunity for your class to view a natural rainbow. When this marvel is in sight, you can review the science of rainbows together!
Learn More: Engineering Emily
5. Light Source Prism Experiment
Does a rainbow color pattern from the prism differ depending on the light source? Your kids can investigate this question with an experiment that compares incandescent, fluorescent, and cadmium light. You can check the resource below for a list of observation questions.
Learn More: NASA
6. Homemade Prism with a Mirror
Your students can make a homemade prism using a mirror placed in a pan of water. When placed beside a sunny window, the refraction rainbow pattern will be reflected on the wall.
Learn More: NASA
7. Homemade Prism with Glass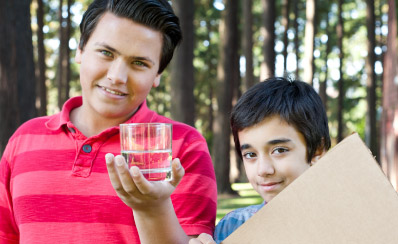 Here's another homemade prism for your little ones to create. Your students can cut a hole into a piece of cardboard and place it near a glass of water. They must place these elements in such a way that the sunlight passes through the hole into the glass. They can then place a piece of white paper down to observe the rainbow pattern.
Learn More: Lawrence Hall of Science
8. Coloring Page
Get out your colored pencils because it's coloring time! Your students can color in this picture of a prism-refracting light. The order of the colors is important as their position will differ based on the wavelength of light.
Learn More: Twinkl
9. Newton's Prism Experiment
How do we know that white light consists of these colors and not that a prism produces these colors? You can teach your kids about the famous experiments that prove this. Perhaps you could do an in-class demonstration too.
Learn More: Khan Academy India – English
10. Interactive Prism Experiment
If you don't have prisms on hand, your students can use this interactive resource to manipulate prisms with light. It includes a white light and two prisms so your students can recreate Newton's prism experiments.
Learn More: Molecular Expressions
Geometry Activities
11. Fill 'Em Up
Physical demonstrations can be some of the most effective techniques to teach students about the volume of prisms. For this activity, have them collect small and empty boxes to fill with cubes. Your students will discover how the number of cubes relates to the volume of the box.
Learn More: Hooty's Homeroom
12. Build Your Own Boxes
Your students can create 3D boxes using grid paper, scissors, and tape. They can then investigate how the dimensions of their boxes relate to the overall volume of the prisms.
Learn More: Hooty's Homeroom
13. Paper Triangular Prism
Your students can explore the shape of a triangular prism by building their own with this paper template. They can do this by folding the paper on the dotted lines and gluing or taping the edges together.
Learn More: Education
14. Digital Math Escape Room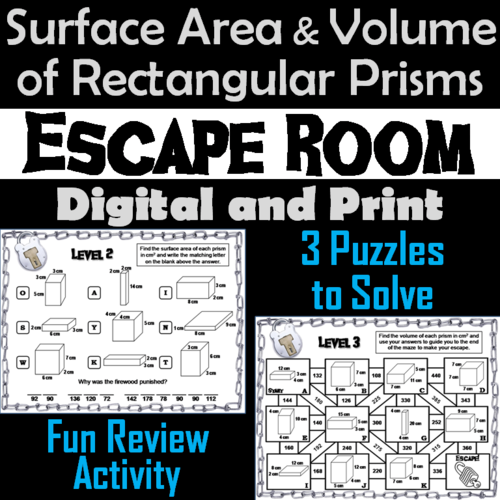 Your students have been locked inside the classroom by a mad mathematician and must use their math problem-solving skills to break out! This breakout escape room contains 3 rectangular prism puzzles. Take your pick between a printable or online version!
Learn More: Science Spot
15. Surface Area Pixel Art
You don't often see art in math class, but these digital pixel art activities are about to change that! Your students can correctly answer surface area questions about rectangular and triangular prisms to reveal a beautiful digital art piece, pixel-by-pixel.
Learn More: Apples and Algebra
16. Surface Area of Triangular Prisms Maze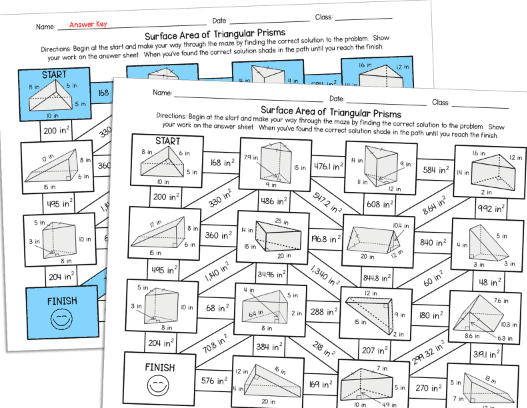 Incorporating puzzles or a maze can make solving math problems a little extra fun! In this printable maze activity, your students will solve for the surface area of triangular prisms to get to the finishing point.
Learn More: Teachers Pay Teachers
17. Volume of Prisms Maze
Your students can practice solving for the volumes of rectangular and triangular prisms in this alternative maze activity. This one is available in both printable and digital formats!
Learn More: Teachers Pay Teachers
18. Surface Area of Prisms Worksheet
I like to use class time for hands-on learning and activities, but worksheets are still a valuable resource for your students to practice what they have learned. This worksheet deals with solving the surface area of triangular prisms.
Learn More: Math Worksheets 4 Kids
19. Volume of Prisms Worksheet
This worksheet deals with solving the volume of prisms. This website has a variety of worksheets you can check out for other math lesson topics.
Learn More: Math Worksheets 4 Kids
20. Watch FuseSchool
FuseSchool is a great resource for math lessons and tutorials. This video discusses finding the volume of prisms. It starts by defining what a prism is and then walking through the formula of finding the volume of both rectangular and triangular versions.
Learn More: FuseSchool – Global Education