Choosing the right prom theme can transform an ordinary high school event into a memorable, once-in-a-lifetime experience! Whether you're aiming for an atmosphere of vintage elegance, an adventurous escape, or a journey into the future, the right theme will help you set the stage for a night full of laughter, romance, and unforgettable moments. We've rounded up a variety of captivating prom themes that are designed to inspire and entertain- leaving your prom the talk of the town!
1. Under the Sea
Invite your students to dive into a magical underwater world by creating an oceanic prom with seashell centerpieces, coral drapes, and shimmering blue lighting. With an aquarium-like ambiance, this theme promotes a serene ambiance.
Learn More: Under the Sea Theme
2. Great Gatsby/Roaring 20s
Unleash the glitz and glamour of the Roaring Twenties with a twenties-themed delight! Bedecked with pearl necklaces, feather centerpieces, and golden candelabras, this theme will transport prom-goers right into a quintessential Jazz soirée!
Learn More: Roaring 20's
3. Hollywood Red Carpet
Bring Hollywood glamour to your school with this star-studded prom theme. By adorning the entrance with a glamorous red carpet and velvet ropes, your students are bound to feel like A-list celebrities making their grand entrance. Don't forget to organize faux paparazzi to snap up photos and add to the glitz of the night!
Learn More: YouTube
4. Enchanted Forest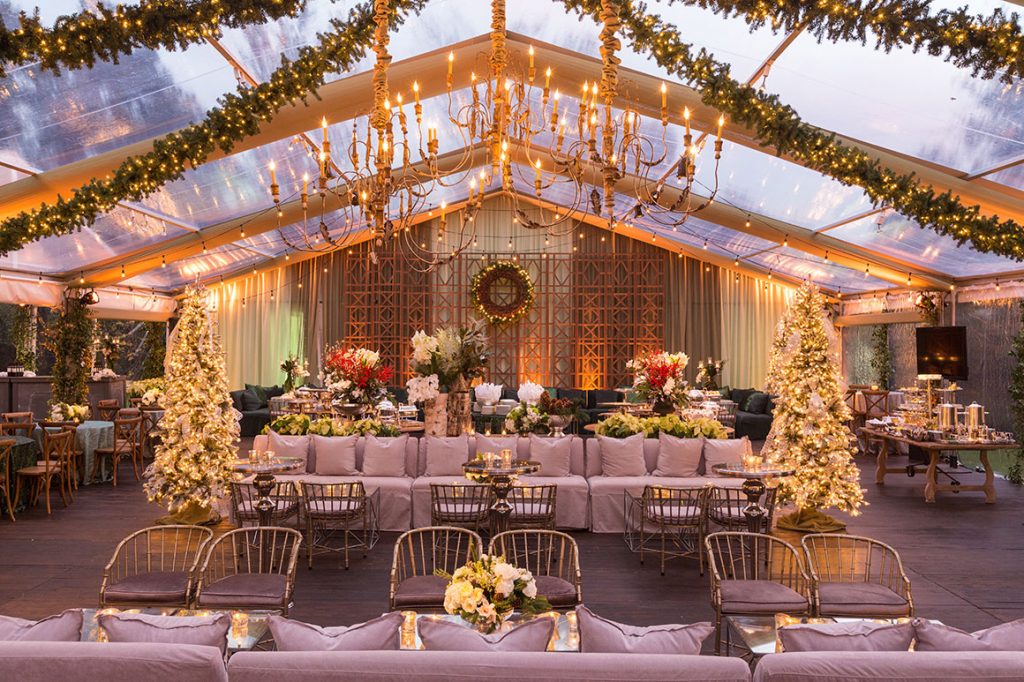 Create a magical realm where every corner holds a whisper of mystery. With towering faux trees, twinkling fairy lights, and mythical creatures peeping from every corner, this enchanted forest theme brings a fantastical world to life; turning prom into the perfect fairy tale!
Learn More: Swift Events
5. Candyland
Who doesn't dream of a world made of sweets? With vibrant colors, larger-than-life candy props, and delectable treats around every corner, this theme will transform your venue into a confectionery wonderland!
Learn More: Pinterest
6. Masquerade Ball
Imbued with an air of mystery and elegance, this theme captures the essence of an old-world masked ball. Students can enjoy wearing masks and putting on a show amidst the opulent decorations that set the stage for a night of dance and intrigue!
Learn More: Pinterest
7. Arabian Nights
Allow learners to revel in an Eastern spectacle with a night filled with mystery, color, and enchantment. With lush pillows, vibrant drapes, golden lanterns, and the rhythm of traditional Arabic music, this theme is all you need to immerse your students in the rich tapestry of Arabian culture.
Learn More: YouTube
8. Winter Wonderland
Create a frosty fantasy by creating a panorama of snowflakes, icicles, and sparkling lights. This ethereal Winter landscape, awash with shades of white and blue, will rapidly transport your students to a magical, snow-kissed world.
Learn More: Winter Wonderland Theme
9. Casino Night
Deal your learners into a night of high-stakes fun! With faux poker tables, slot machines, and playing card decorations, this Las Vegas-style theme offers a prom experience straight out of the glitzy sin city- full of thrill and excitement!
Learn More: Pinterest
10. Space Odyssey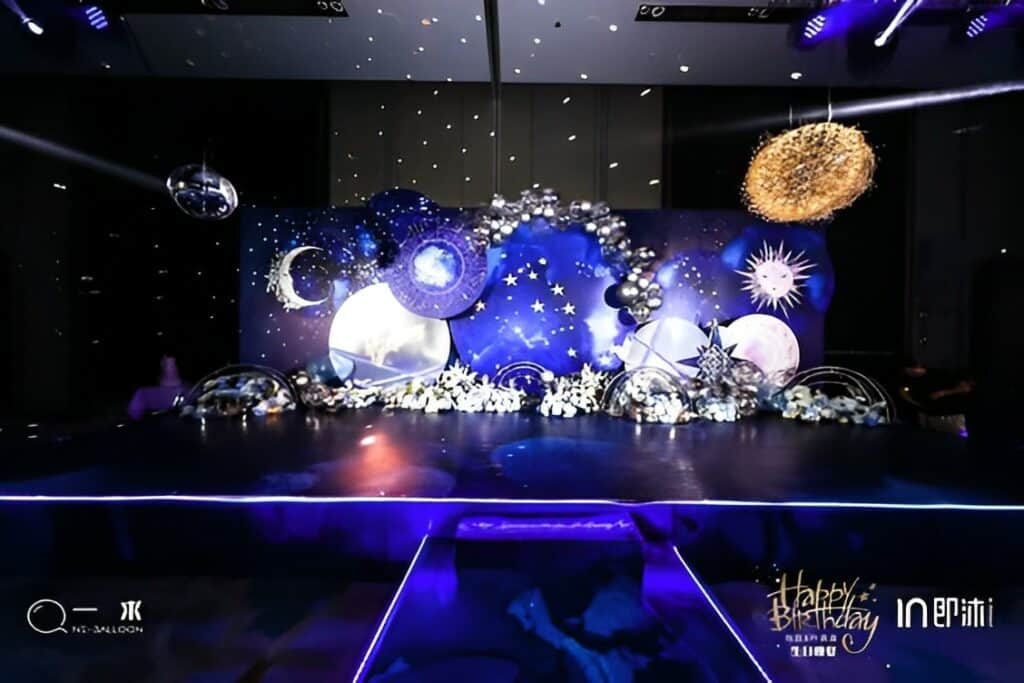 Set your countdown for an interstellar prom night! Filled with glowing stars, nebula drapes, and other-worldly props, this theme gives your prom-goers a glimpse of the cosmos!
Learn More: Pinterest
11. Superhero Soiree
This dynamic theme prompts students to celebrate their inner superhero or villain. With comic book-inspired decorations, cityscape backdrops, and POW signs, it's sure to make everyone feel super!
Learn More: Self
12. Black and White Ball
A timeless blend of simplicity and elegance is unearthed with this monochromatic theme that creates a sophisticated atmosphere. If black and white seems a little too boring for your liking, you can always spunk things up with bold patterns and wild designs!
Learn More: Black and White Theme
13. Glow in the Dark
Ignite the night with a truly electrifying theme! Neon décor, glow sticks, and black lights will transform your venue into a vibrant rave.
Learn More: Glow in the Dark Theme
14. Parisian Romance
This theme encapsulates the charm of Paris and invites your students to explore the city of love for the evening. With Eiffel Tower replicas, chic Parisian café setups, and romantic streetlight decorations, everyone will feel like they're strolling cobblestone streets!
Learn More: Paris Theme
15. Hawaiian Luau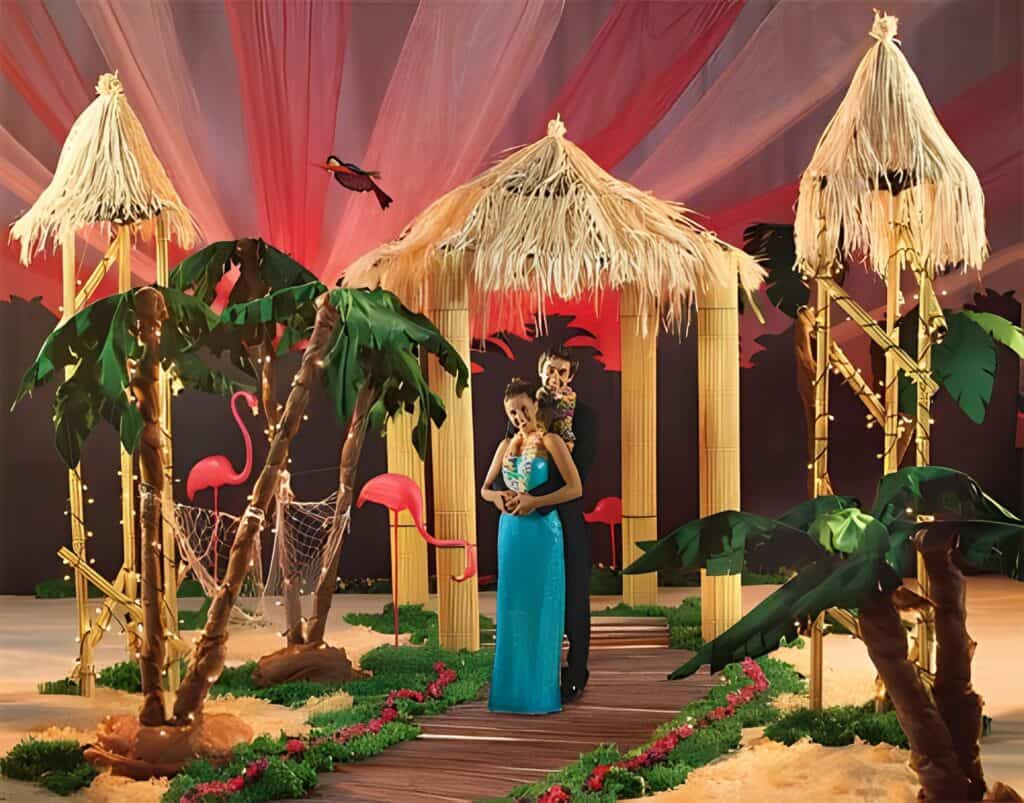 Say aloha to a tropical paradise! With lush palm trees, vibrant floral decorations, and Hawaiian print drapes, this theme brings the sun-soaked Hawaiian shores right to your prom venue!
Learn More: Pinterest
16. Medieval Times
Journey back to an era of chivalry and courtly love. With royal thrones, traditional coats of arms, and stone castle decorations, this theme immerses students in a medieval setting.
Learn More: Pinterest
17. Bollywood Bash
Infuse the night with the vibrant spirit of Indian cinema. Set to the rhythm of foot-tapping music and decorated with colorful drapes, twinkling lights, and traditional Indian motifs, this theme encapsulates the excitement and glamour of all things Bollywood!
Learn More: The Events Company
18. Carnival Extravaganza
Step right up and enjoy a night of fun and games! With popcorn machines, circus tents, and game stalls, this festive theme turns prom into a lively carnival
Learn More: YouTube
19. Safari Adventure
Embark on a wild journey through the African Savanna by hosting a Safari-themed adventure. With earthy tones, tribal patterns, and animal print decorations, this theme will transport students right to the heart of Southern Africa.
Learn More: Pinterest
20. Greek Gods and Goddesses
Ascend to Mount Olympus for an evening by adorning your prom venue with Grecian columns, ivy-laden backdrops, and laurel wreath decorations. With this as your chosen theme, you'll effortlessly immerse students in the splendor of ancient Greece- making everyone feel like a god or goddess!
Learn More: Reddit
21. Decades Dance
Take a nostalgic trip back in time! Whether it's the rock 'n roll 50s, psychedelic 60s, disco 70s, pop culture 80s, or grunge 90s, this theme invites students to groove to retro beats and reminisce about iconic moments from the past.
Learn More: Seventeen
22. Disco Fever
Get ready to strut on an illuminated dance floor under a shimmering disco ball. With funky music, metallic decorations, and vibrant colors, this theme will have everyone feeling the fever of a boogie wonderland.
Learn More: Pinterest
23. Circus Extravaganza
With popcorn machines, game booths, and bright, circus-inspired decorations, your venue will transform into a lively circus; promising an evening of fun and games. Let the antics begin!
Learn More: Circus Theme
24. Haunted Mansion
Invite your students to delve into a world of mysterious elegance with dim candle lighting, cobwebs, and antique furniture. This theme blends the perfect amount of spookiness with sophistication- inviting students to enjoy an eerie yet enchanting night.
Learn More: Haunted Mansion Theme
25. Around the World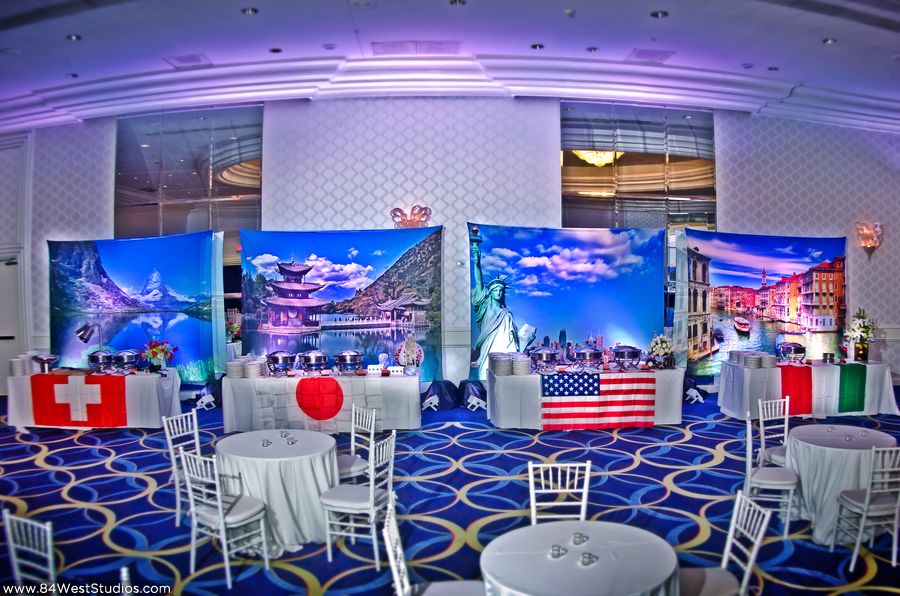 Embark on a globe-wide adventure without leaving the dance floor! With booths, traditional food, and cultural decorations representing various countries, this theme gives your students a taste of the world's rich diversity.
Learn More: Around the World Theme
26. Vintage Glamour
Immerse all attendees in a timeless atmosphere of class and elegance with sepia tones, vintage cars, and retro attire. This theme will help you capture the allure of the golden age- creating a charming and unforgettable evening.
Learn More: Vintage Theme
27. Fantasy and Fairies
Step into an ethereal realm filled with fairy lights, pastel floral decorations, and enchanting props. This theme aims to cast a magical spell on your venue- turning it into an otherworldly garden where dreams come to life.
Learn More: Pinterest
28. Alice in Wonderland
With this theme, you might just fall down the rabbit hole into a whimsical world of magic and eccentricity. With topsy-turvy decorations, vibrant colors, and a Mad Hatter-inspired tea party setup, this theme aims to help you re-envision the captivating world of Wonderland.
Learn More: Capricho
29. Starry Night
Dance under a constellation-filled ceiling with twinkling lights mimicking a serene night sky. This theme immerses students in the tranquility of a starlit night; providing a romantic and celestial backdrop to a dreamy evening.
Learn More: Twitter
30. Music Festival
Rock on to the vibrant spirit of a Summer music festival. With bohemian decorations, live music or a DJ, and a laid-back atmosphere, this theme captures the free-spirited vibe of only the best music festivals!
Learn More: Table Art
31. Sunset Serenade
Prom-goers can now bask in the enchanting glow of a serene sunset- recreated with warm colors, and soft lighting. This theme perfectly depicts the romantic charm of dusk; setting the tone for a night of memories.
Learn More: Anderson's
32. Fiesta
Turn up the heat with a lively Mexican fiesta! Set the scene with brightly colored decorations, sombreros, and piñatas!
Learn More: Pinterest
33. James Bond 007
Step into the suave world of secret agents with this classy, spy-themed prom. Sophisticated décor, card games, and shaken (not stirred) martinis will pave the way for an evening of mystery and intrigue.
Learn More: Quotes Gram
34. Country Western
Looking to fuse rustic charm with lively energy to guarantee a rootin' tootin' good time? Embrace the spirit of the Wild West with hay bales, cowboy boots, and line dancing.
Learn More: Pinterest
35. Night in New York
Bring the hustle and bustle of the Big Apple to prom night by recreating iconic New York landmarks. Learners can indulge in New York-style food and revel in an urban ambiance.
Learn More: Pinterest
36. Venetian Carnival
Capture the mystique and elegance of a Venetian masquerade. Gondola decorations, Venetian masks, and delicious Italian cuisine will transport your students right to the romantic canals of Venice!
Learn More: Pinterest
37. Futuristic Fun
Blast into the future with a high-tech prom theme. Metallic colors and modern decorations create a sleek and futuristic atmosphere which is perfect for a night of fun and dancing.
Learn More: Party Slate
38. Prehistoric Prom
Journey back to the age of dinosaurs with this museum-inspired theme. From giant fossil decorations to stone-age-inspired outfits, this theme promises a night that's anything but extinct!
Learn More: Sydney Props
39. Pirate's Paradise
Get ready for a swashbuckling adventure on the high seas. Treasure chests, pirate flags, and hearty seafarer costumes make for a night full of treasure hunting.
Learn More: Pinterest
40. Mardi Gras Madness
Revel in the vibrant spirit of New Orleans' most famous festival- Mardi Gras. From colorful beads and masks to lively jazz music, this theme promises an evening bursting with joy and excitement.
Learn More: Anderson's
41. Jungle Jam
Venture into the wild with a jungle-themed prom. Adorn the venue with exotic plants, animal decorations, and tribal beats to create a lively atmosphere that's sure to bring out everyone's inner explorer!
Learn More: Oriental Trading
42. Garden Gala
Immerse your students in a refreshing open-air experience with a garden-inspired prom. Floral decorations, fairy lights, and outdoor furniture are all you need to lend a delightful ambiance to this enchanting evening.
Learn More: Seventeen
43. Rustic Romance
Create a romantic, country-chic atmosphere with this rustic-themed prom. Fairy lights, wooden elements, and mason jars give a warm, inviting glow that's perfect for dancing under the stars.
Learn More: Southeast Iowa Union
44. Harry Potter's Yule Ball
Cast a spell over prom night with a Hogwarts-themed celebration. House colors, floating candles, and magical props will teleport everyone to the enchanting world of Harry Potter.
Learn More: Houston Press
45. Rock 'n' Roll Revival
Travel back to the days of jukeboxes and sock hops with a '50s-themed prom. Vinyl records, vintage posters, and poodle skirts will help you achieve a night of old-school fun.
Learn More: Anderson's
46. Titanic
Evoke the grandeur and romance of the legendary ship with a Titanic-themed prom. Life-sized ship replicas, nautical décor, and formal attire will help you set a sophisticated tone for a night to remember.
Learn More: Pinterest
47. Emoji Party
Embrace the digital age by hosting an emoji-themed prom. Popular emoji symbols and tech-inspired décor will help you create a playful, yet modern, atmosphere that's sure to generate plenty of likes.
Learn More: YouTube
48. Fire and Ice
This theme offers visual spectacles around every corner! With red and blue features and fiery emotions, this theme is sure to set hearts ablaze!
Learn More: Pinterest
49. Dystopian Future
Dive into the intriguing world of young adult novels with a dystopian-themed fantasy. Futuristic decorations and creative costumes will be all you need to capture the popular genre and guarantee an evening of imaginative fun!
Learn More: National Event Pros