Proofreading and editing are important parts of the writing process. When I start writing something, my initial priority is the content. I save the finetuning of spelling, punctuation, and grammar for the final stages. Proofreading is key for this!
As your students begin learning how to write; from journal entries to essays, incorporating proofreading is a crucial component for clear and effective writing. Here are 19 activity ideas for students of all ages to practice their proofreading skills!
1. Daily Proofreading Practice (K – Grade 2)
The more your students practice, the better their proofreading abilities will be. Here are some pre-made writing slips which will encourage younger students to practice their capitalization, spelling, punctuation, and grammar rules.
Learn More: Teachers Pay Teachers
2. Sentence Experts (Grades 1 – 3)
Online games can be a great way for your students to have fun practicing their language skills at home. This activity involves sentence-level editing. Your students can drag and drop the characters to correct the errors.
Learn More: Mr. Nussbaum
3. Editing Passages: Whole Class Activity (Grades 1 – 6)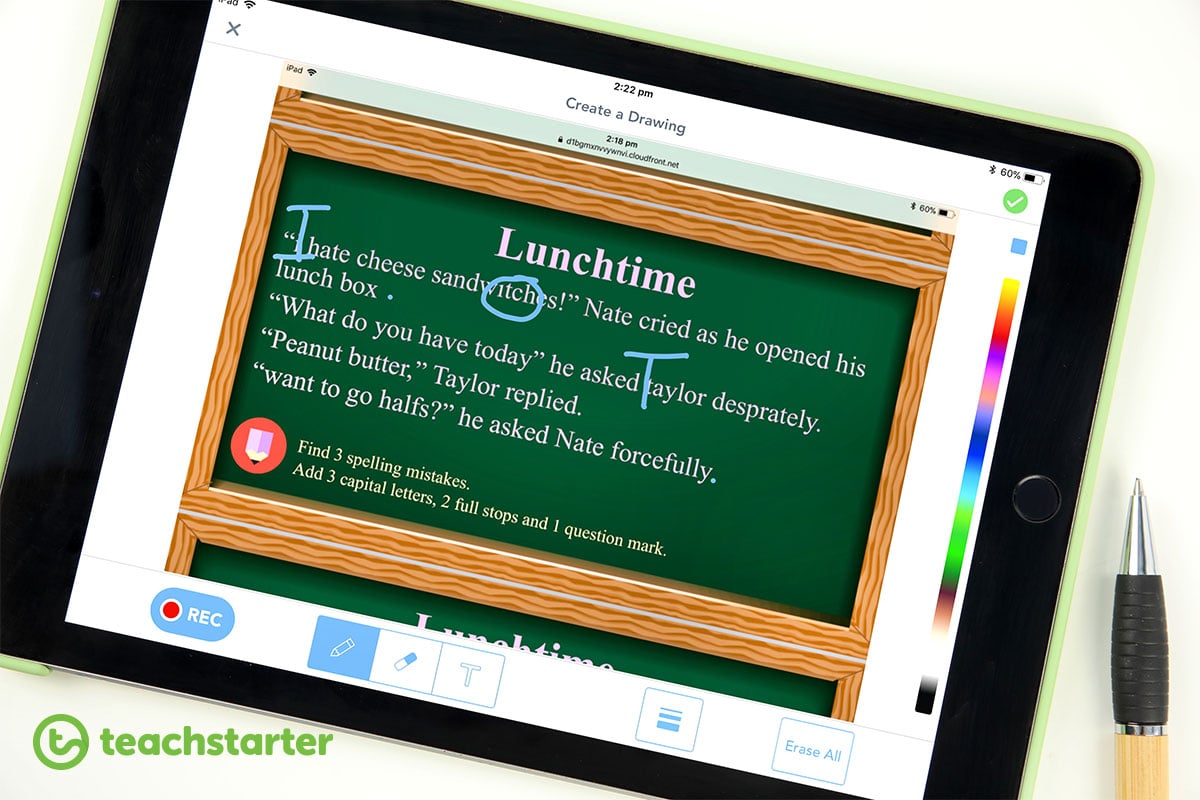 Here's a great editing practice for the whole class. The goal is to identify mistakes in a written passage on the board. You can throw a ball to a student who must identify an error within a given time limit. If they cannot, a new student tries.
Learn More: Teach Starter
4. Proofreading: Basketball (Grades 2 – 4)
Do any of your students like basketball? Choosing stories with topics that your students are interested in can make the editing process that much more enjoyable. Through proofreading this story, your students can also learn how to use the correct proofreading symbols.
Learn More: Super Teacher Worksheets
5. Proofreading: The Beach (Grades 2 – 4)
If your students aren't big into basketball, you could try this passage about the beach. These short paragraphs make excellent proofreading practice for younger elementary students.
Learn More: Super Teacher Worksheets
6. Proofreading Cards (Grades 3 – 5)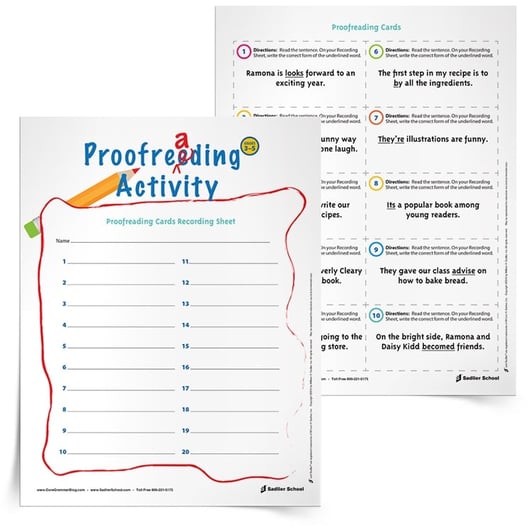 This proofreading activity includes 20 cards with different spelling or grammar errors. Your students can examine the sentences, record their corrections on the answer sheet, and then compare them with their peers!
Learn More: Sadlier School
7. Irregular Verbs: My Journey to Manchester (Grade 3 – 5)
This passage about a train journey contains a variety of errors regarding verb tense. Through this worksheet, learners can practice identifying these errors and correcting them. Should it be past or present tense?
Learn More: ISL Collective
8. Irregular Verbs: A Sightseeing Holiday in Paris (Grades 3 – 5)
Here's another flawed piece of writing that your students could use to develop their verb tense understanding. Their writing could improve by using these editing worksheets and remembering to use the correct verb forms.
Learn More: ISL Collective
9. Paragraph Proofreading (Grades 4 – 6)
Here are some engaging writing pieces for upper elementary students. Your students can try reading through these paragraphs while checking for various mistakes, including comma errors, capitalization errors, and others. Each passage includes an editing checklist!
Learn More: The Butterfly Teacher
10. Extreme Sentence Surgeons (Grades 4 – 6)
This is a surgery-style online game that gets your students to rescue and fix the severely "injured" paragraphs. The paragraphs are ridden with many common and glaring errors. Are your students' editing skills keen enough to help?
Learn More: Mr. Nussbaum
11. Musical Papers: Peer Editing Activity (Grades 5 – 9)
You've probably heard of musical chairs, but what about musical papers? Students walk around each others' tables while music is playing. Once the music stops, your students can stop and edit the work at the nearest desk. Each round can involve different aspects of proofreading.
Learn More: Markers and Minions
12. Spell Checker Worksheet (Grades 6 – 8)
Incorrect spelling is such a common error in my students' writing. Practicing spelling can improve your students' editing skills and make for a more efficient writing process. These worksheets contain a mix of correct and incorrect commonly misspelled words for your students to correct.
Learn More: K12 Reader
13. Proofread Celebrity Social Media (Grade 6 – 9)
It might be more fun to practice proofreading using a celebrity's casual social media posts versus more formal writing. In this activity, your students can correct and re-write the social media posts. Then, they can provide the reasoning behind their edits.
Learn More: Presto Plans
14. Proofread Music Lyrics (Grades 7 – 10)
Like social media posts, the music that these celebrities make can also contain various grammatical errors. Similar to the last activity, your students can revise the lyrics and then explain their revisions.
Learn More: Presto Plans
15. Grammar Bell Ringer (Grade 9 – 12)
Bell ringers can make a great class transition activity for older kids who are juggling multiple courses in a day. This 10-minute activity consists of sentences with a variety of errors that your students can try to fix.
Learn More: Julie Faulkner's Blog
16. Language Arts Bell Ringers (Grade 9 – 12)
You can download this free 4-week set of language arts bell ringers for your secondary students. The Monday bell ringers are most relevant to proofreading as your students would have to correct the errors in a piece of writing.
Learn More: The Secondary English Coffee Shop
17. Paragraph Correction
This resource has a list of free paragraph correction worksheets for beginner, intermediate, and advanced levels. The passages contain many kinds of errors, including grammar, spelling, and punctuation errors for your students to practice proofreading.
Learn More: English For Everyone
18. COPS Checklist
Editing checklist tools can be great for detecting a variety of errors before your students submit their final draft of writing. This checklist looks for correct capitalization, proper organization, punctuation errors, and spelling errors (COPS).
Learn More: Teachers Pay Teachers
19. More Checklists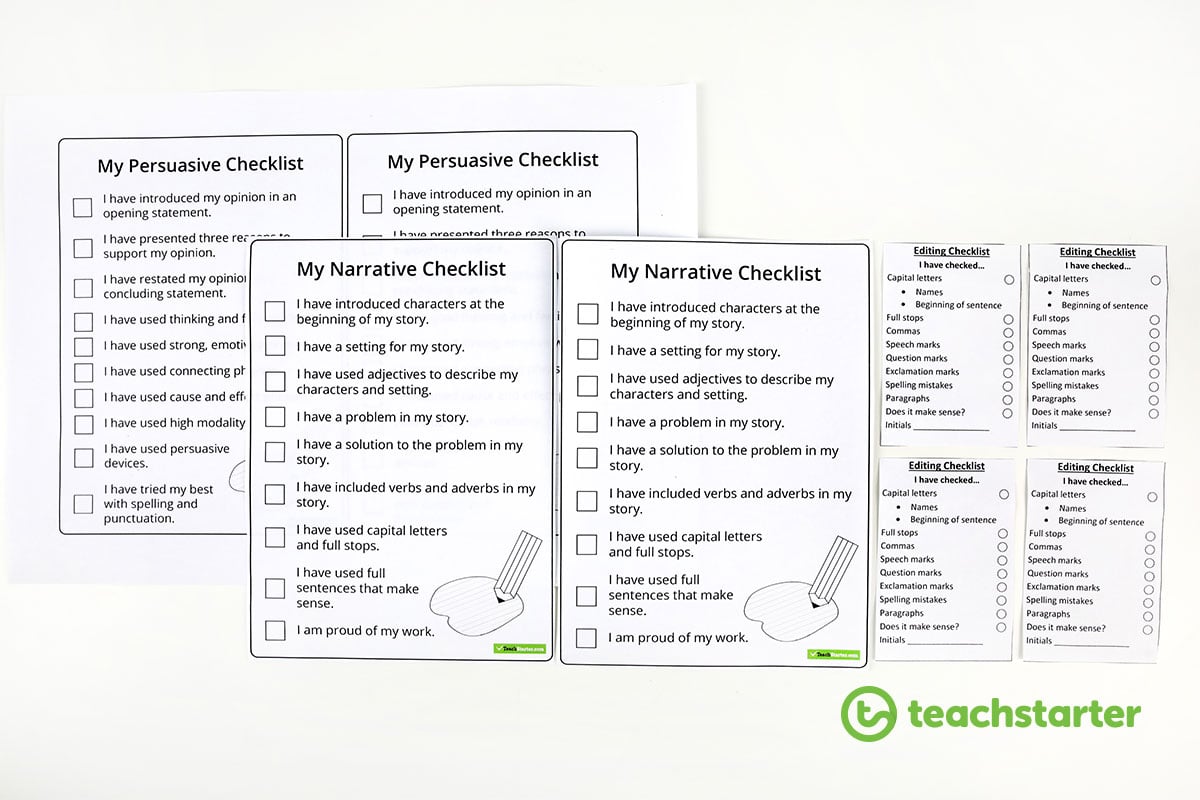 These additional editing checklists can be used to evaluate the content of more specific types of writing, such as narrative or persuasive writing. This bundled resource also includes basic spelling, grammar, and punctuation checklists.
Learn More: Teach Starter