It's never a bad time for your kids to work on their writing skills. But sometimes, it can feel repetitive or just plain boring. That's why, when Halloween comes around, you can incorporate a pumpkin theme into your writing activities. But where do you start?
We've come up with a list of 21 fun pumpkin writing prompts so you can lead your class in creative activities. Here they are!
1. Pumpkin Print-Out
There's no better idea than supporting the Teachers Pay Teachers and checking out all their prompts on pumpkins. There are a lot of different prompts and craft activities for the kids. You can mix it up by purchasing a few different ideas to spread out over October.
Learn More: Teachers Pay Teachers
2. Pumpkin Personality Prompt
This is a creative writing project that allows kids to develop the personality of a pumpkin and their character. This fun writing activity can also be easily developed into a more extensive project. This allows kids to narrate a script about their main pumpkin character and explore their creativity.
Learn More: Brilliantio
3. Pumpkin Bulletin Board
Letting your class display their work is important for building confidence. In this exercise, you can create a pumpkin patch on a bulletin board by having the kids attach their writing prompts to their crafted pumpkins. They can introduce their pumpkins and all give them a personality of their own.
Learn More: Teaching With Love and Laughter
4. Pumpkin Short Story
Have you seen a cute comic strip or short story on pumpkin cartoons? Let young kids make a short story writing assignment with pictures. Sometimes, the best writing is paired with artwork, and it can take some of the pressure off of using just their words.
Learn More: Oak Dome
5. How To Carve A Pumpkin Instruction Sheet
Having kids learn expository skills by creating clear instructions is a skill. They can do this writing prompt by asking the reader to follow along with their instructions on how to carve a pumpkin.
Learn More: The Creative Classroom
6. Best Pumpkin In The Patch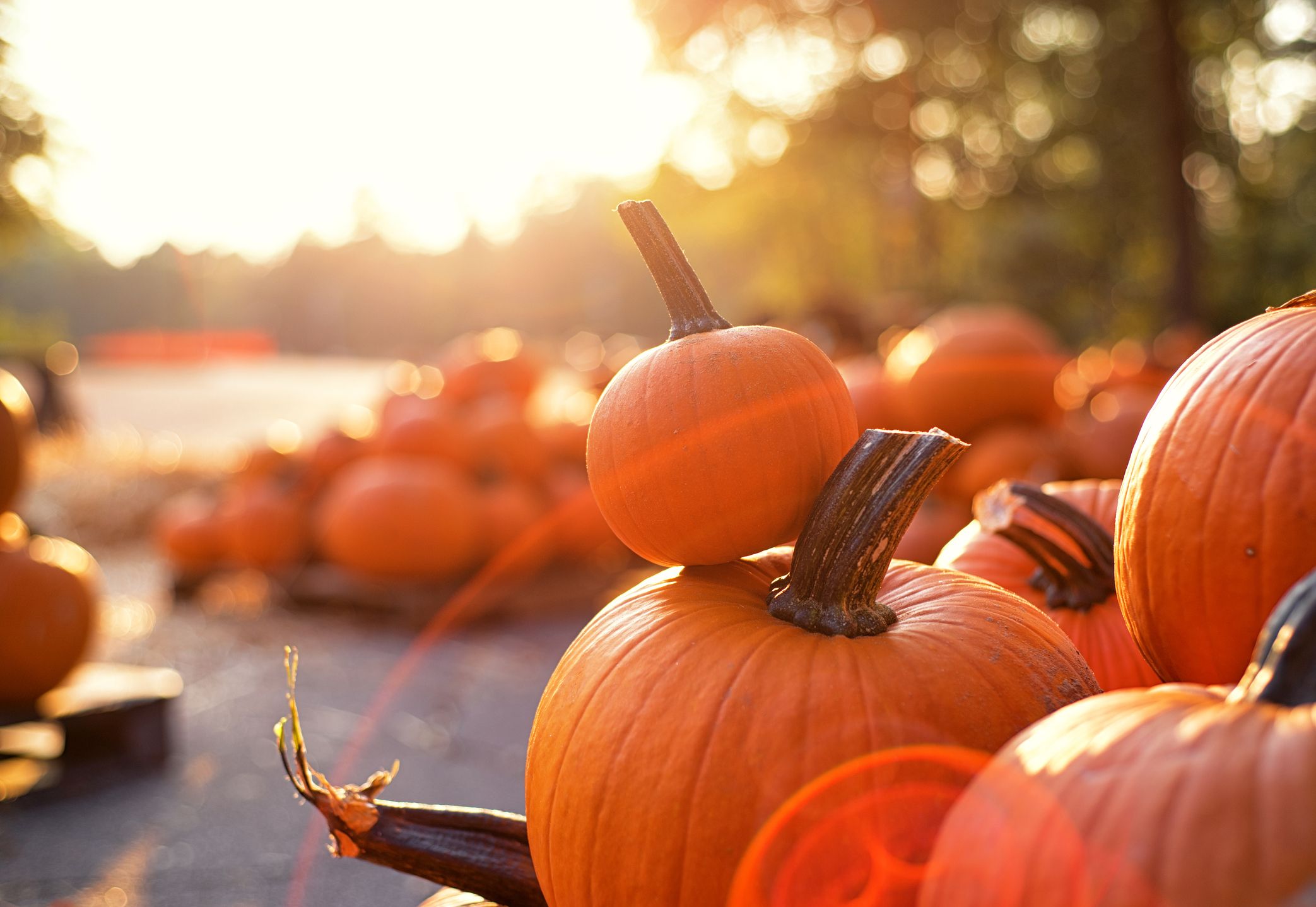 Describing the best pumpkin in the patch is great for young kids to learn how to work on their descriptive writing. Bring in a few different pumpkins to the class and let kids pick one to start writing about.
Learn More: Busy Teacher
7. How to Make Pumpkin Pie
If you want to cut a slice of pumpkin pie, first ask your kids to write instructions on how to do so. This is a fun exercise that teaches learners expository writing skills. Have the kids do an outline first to promote the organization.
Learn More: Firstie Land
8. The Crumpled Pumpkin
This is a fun exercise that allows different writers to collaborate on one project. The class will take turns swapping a story around so that someone writes the beginning, another student writes the middle, and another finishes it off.
Learn More: Presto Plans
9. Pumpkin Facts Writing
While creativity is fun, sometimes it's important to focus on the facts. That's why having your kids jot down facts about the pumpkin presented in front of them is important too. You can approach it differently by also having learners Google facts and rewrite them in their own words.
Learn More: Primary Playground
10. My Favorite Pumpkin
Kids love to decorate and carve pumpkins in a number of different ways. You can assign the class to write about their favorite pumpkin and explain their reasoning.
Learn More: Primary Playground
11. Halloween Pumpkin Questions
Part of being able to write is also being able to ask questions. You can have the kids come up with descriptive questions that require more than a yes or no question about the pumpkin.
Learn More: Teacher Blog
12. Making A Jack-O-Lantern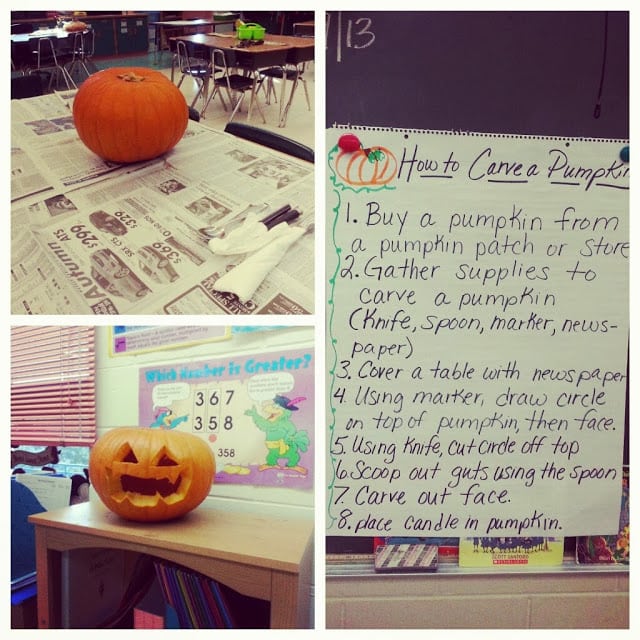 Jack-O-Lanterns don't just have to be carved. They can also be painted! Have your kids take tools from the writing center and create a guide on how to do this in a few different ways.
Learn More: The Applicious Teacher
13. How To Make Pumpkin Seeds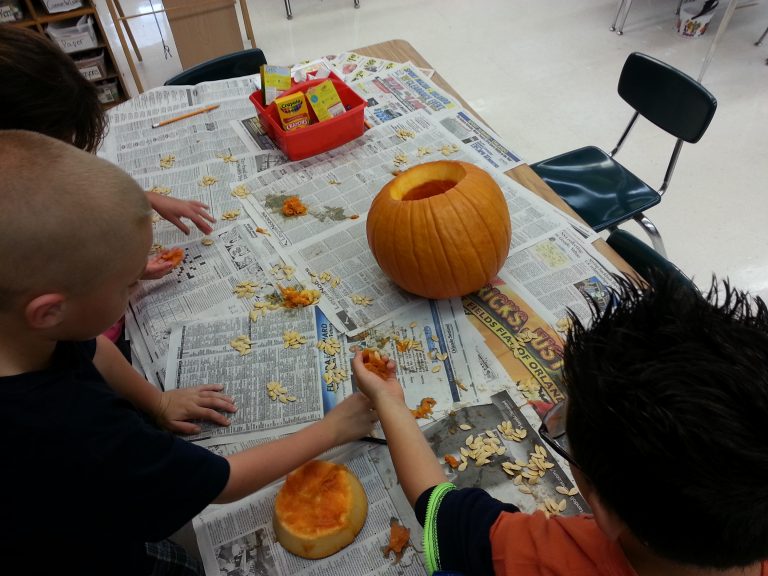 There are never enough expository prompts you can give your kids. And, it's great to have them bring the instructions home to apply their prompts. This one is all about how to make pumpkin seeds and makes a great homework assignment.
Learn More: Education.com
14. My Trick Or Treat Story
There always seem to be some good stories surrounding trick or treating. Have your class make up a trick-or-treat story that can be turned into a creative writing project. Send it home as homework or spend time in the class coming up with a funny story.
Learn More: Teach Hub
15. Spooky Story Prompts
Challenge your learners to write a spooky story. The best part is hearing the learners read their stories to the class after they are complete. The scariest story can get a prize.
Learn More: Teach Hub
16. Halloween Book Report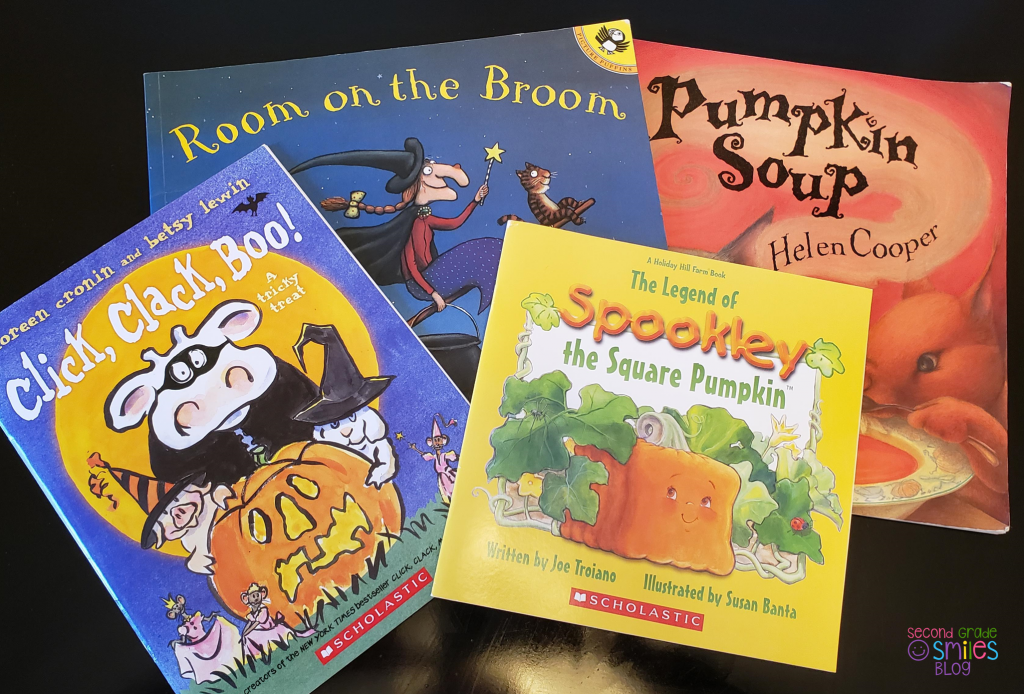 Get together a library of Halloween books that the kids can choose from and have them write a "batty" book report! They can detail the main idea and themes of the book as well as highlight the setting and their favorite characters!
Learn More: Second-Grade Smiles
17. My Halloween Plans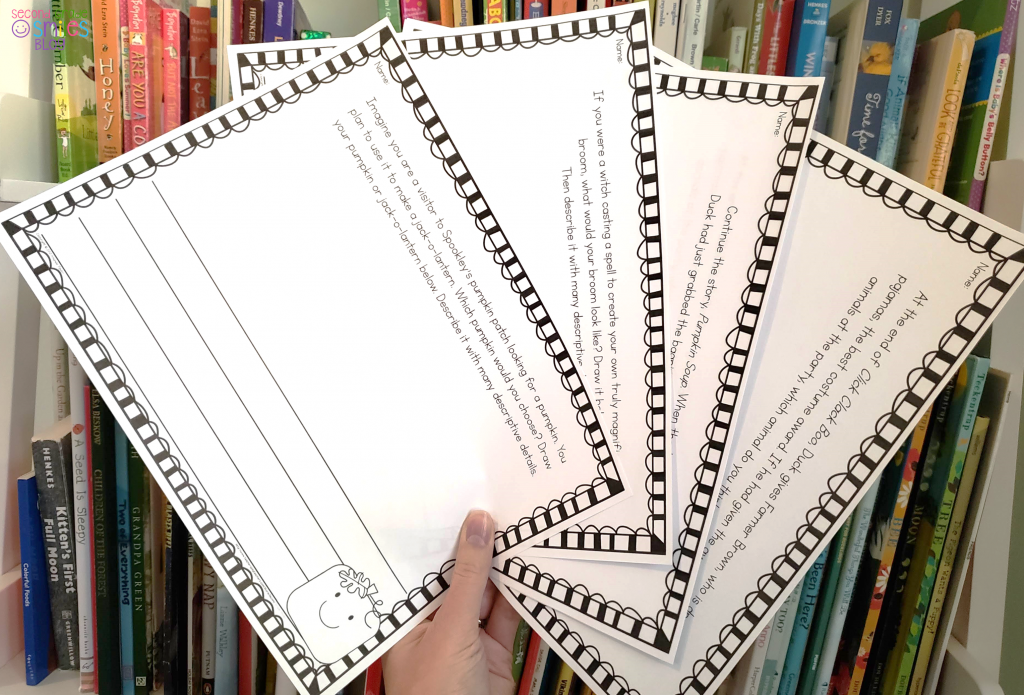 Having the kids write about their Halloween plans is a good way for them to talk about the future. Or, they can work it in the past tense by revisiting what they did on Halloween. This is a great writing prompt that's centered around Halloween.
Learn More: Second-Grade Smiles
18. My Favorite Candy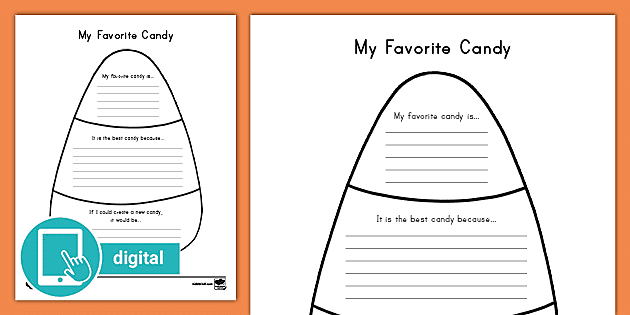 Not everything has to be about pumpkins which is why you can also do a piece on what kids' favorite candies are. Have them describe both the appearance and the taste.
Learn More: Twinkl
19. My Costume This Year
Another wonderful descriptive exercise is to talk about what kinds of costumes the kids are wearing. You can have them take a photo and describe it in a written prompt underneath.
Learn More: Write Shop
20. How To Make Pumpkin Treats
An exercise the whole family will love is when the kids describe how to make pumpkin treats. These can be cookies, brownies, or pumpkin pie! Either way, have the kids bring in their recipes to add to a class recipe book.
Learn More: All Access
21. My Favorite Halloween Moment
Halloween is not celebrated over just one day. When the season has come and gone, have the kids do a reflective exercise and write about what their favorite moment was. Was it trick or treating or was it the movies they watched? Set a word count as a guide for the length of the piece.
Learn More: The Write Practice