Rainforest lessons are always lots of fun with tons of craft and activity possibilities. Kids can learn about all the fun jungle animals and the complex nature of the forest ecosystems. The rainforest is colorful and adventurous and kids love learning all the ins and outs of this diverse landscape. Here is a look at 18 fantastic rainforest activities to add to your next lesson to help kids get their creative juices flowing.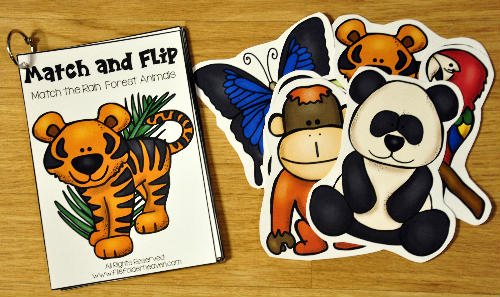 Download these fun rainforest flipbooks filled with adorable images of forest critters. Each flipbook comes with a set of animal cards that kids need to match to the book's pages. The colorful cards are big enough for little hands and there are tons of games you can play with them.
Learn more: File Folder Heaven
2. Rainforest Fine Motor Activity
Just with a simple piece of wood and a few clothes pegs you can create a great fine motor activity that replicates the Brazilian rainforest. Let little hands place decorated pegs on the tree where they think animals belong in the forest.
Learn more: Teach Play Repeat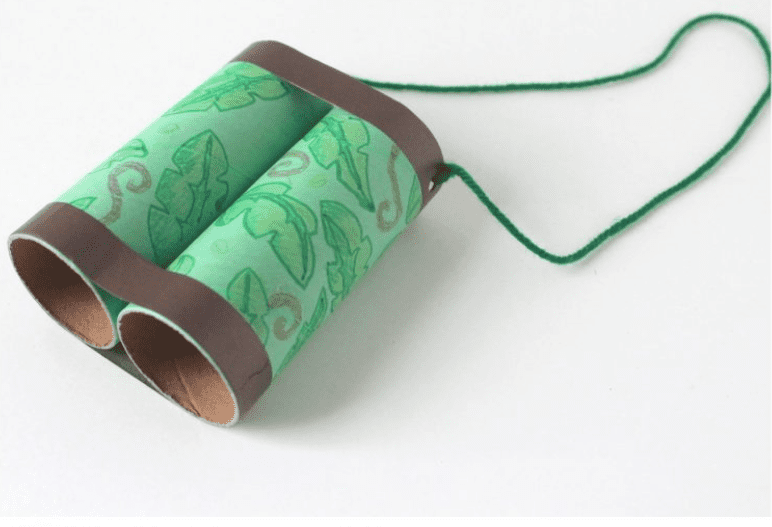 Let kids use their imaginations and become explorers with this fun rainforest activity. Use toilet paper rolls as binoculars and let kids go on a hunt for exotic rainforest animals that you have hidden around the classroom.
Learn more: The Crafting Chicks
4. Toucan Handprint Craft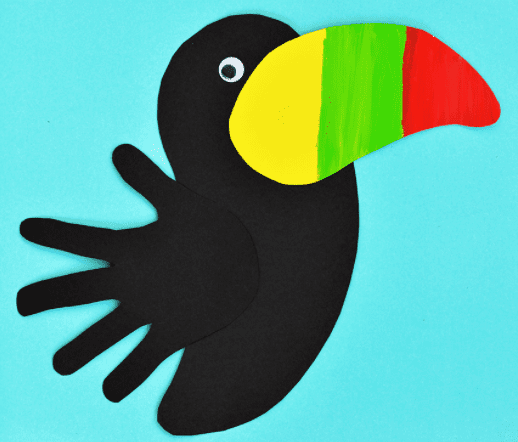 Kids love learning about the fantastic and colorful array of birds of the magnificent rainforest. Let them create their very own toucan bird shape using colored construction paper for their bills and a googly eye for a fun addition.
Learn more: I Heart Arts n Crafts
The fascinating frogs of the Amazonian community are often students' favorite animals. Use colored construction paper to fold these fun origami frogs. Kids can make up interesting names for them and even try to explain which characteristics their frogs have.
Learn more: Easy Peasy and Fun
6. Rainforest Writing Tray
Little fingers love drawing in writing trays so use this opportunity to make it rainforest-themed! Print out letters or words associated with the theme and let kids draw in green sand with a stick. Their very own rainforest writing pad!
Learn more: The Imagination Tree
7. Rainforest Layers With Plants
The layers of the rainforest are fascinating for kids to discover. Let them use leaves and twigs that they find outside to portray the jungle canopy and let them label the different layers as they go.
Learn more: weeSTEMS
8. Color Changing Chameleon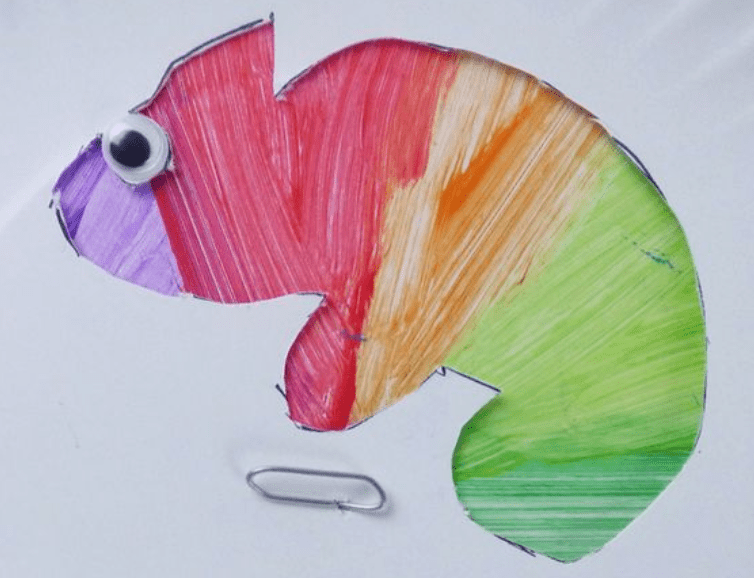 Chameleons are amongst the most fascinating and reclusive animals in the rainforest. Teach kids about how they blend in with their jungle habitat by changing colors as they go. Let them color the bottom paper plate in any number of colors they wish and fasten a second plate on top with a chameleon shape cut out. Twist the two plates in opposite directions to see the magic happen!
Learn more: Sandbox Acadamy
9.  Build the Biggest Kapok Tree
This fun rainforest activity will let the little ones compete to see who can build the highest Kapok tree. These giant trees can be replicated with building blocks, toilet paper rolls, and green craft sticks. See who's tree measures the tallest before they come tumbling down.
Learn more: Preschool STEAM
10. Rainforest Parrot Tree
This is one of the best Amazon Rainforest Activities and every Pre-K teacher loves the way it brightens up the classroom. Kids cut out their handprints from colored paper and decorate the colorful parrots to create their own tree full of birds.
Learn more: Nafeuse' Magazine
A fun jungle dance is a great way to get kids pumped up for the lesson to come. Get them on their feet and ready to sing and dance along to this fun rainforest animal movement boogie.
Learn more: Pinkfong Baby Shark
12. Read a Rainforest Story
There are tons of rainforest-themed books that are both educational and entertaining. End each rainforest lesson with a thrilling story of adventure in the rainforest or jungle and let their imaginations run wild while reading these nature-themed books.
Learn more: Home School Pre School 
Help kids to learn the names of some of the most interesting rainforest species with a classic game of memory match. The cards feature their favorite rainforest animals and kids can give you some fun facts of the animals they are able to match.
Learn more: Life Over C's
This rainforest animal craft project lets kids learn about the amazing Amazon anaconda. Decorate dry pasta and string them up to create fun slithering snakes. Dried pasta also makes great counters and kids can learn about patterns as their snakes grow.
Learn more: Mas and Pas
These sleepy sloths are an excellent complement to a rainforest lesson. All you need is some craft sticks and colored paper to create these adorable animals. Hang them around the class as decorations or use them as part of a classroom exhibit to depict the rainforest ecology.
Learn more: Tippy Toe Crafts
There are tons of easy snake crafts for some in-class rainforest fun. Some green paper is perfect for a paper chain snake that can hang around the classroom to make it feel like a real rainforest.
Learn more: The Craft Train
17. Rainforest Writing Task
The Great Kapok Tree is one of the best rainforest-related books and an excellent topic for a writing task. Let kids make this fun tree craft and add information to the leaves that they learned during storytime.
Learn more: Little Beans
This fun rainforest activity combines coloring and counting while letting students apply their learned knowledge to find the animals. Give them clues to which animal they should search for by listing different characteristics of the animals.
Learn more: Mrs. Plemon's Kindergarten