Did you know that after students learn to read, they read to learn? This means that reading comprehension is very important for children. Whether students focus on major events that happened in a story, or the central message, any practice is good practice! Wondering what you can do to increase your student's literacy skills when it comes to retelling? We've compiled 18 different retelling activities that you can engage them in!
1. Roll & Retell
For this simple activity, all your students will need is a die and this legend. Using their motor skills to roll the dice, students will then look at the number rolled and answer comprehension questions. This activity is an easy opportunity to practice retelling a story.
Learn More: Apple for the Teach
2. Comprehension Beach Ball
Have a beach ball and a permanent marker around? Use them to create this amazing comprehension resource. This activity helps students recall key events from a story. Students will pass the ball around and answer the question they catch the ball on.
Learn More: Mrs. Thrifty SLP
3. Fist to Five Retell
For this terrific retelling activity, all your students need is this legend and their hands. Starting with each finger, students will answer that part of the story. Continue until students have used all five fingers.
Learn More: Mrs. Beatties Classroom
4. Bookmarks
This resource is a helpful tool to help students with story retelling. Using a simple story or a set of familiar stories, this bookmark can be kept by students and referenced all year.
Learn More: The Teacher Talk 22
5. Retell Road
This retelling activity is so much fun! Students can work on this as a center activity or as a class activity. This hands-on activity allows students to create a "road" for the story and then identify the beginning, middle, and end of the story as they retell it.
Learn More: Fairy Dust Teaching
6. Retell Glove Activity
Retelling has never been easier! Using these picture cards, students can retell the major events of a story as well as the key details. Simply print the cards and have your students practice recounting the story. This is great comprehension practice.
Learn More: Kinder by Kim
7. SCOOP Comprehension Chart
This retelling chart is an amazing reference for students to have to help guide them in recounting the story they read. Ask your students to go through each step to name the characters and events in stories, and then suggest problems/solutions.
Learn More: This Reading Mama
8. Retell Bracelets
These bracelets are an adorable way to help students practice current retelling skills and sequencing skills; ultimately promoting comprehension strategies. Each color bead represents a different portion of the story that the students will retell. As they recount each part, they will move that color bead.
Learn More: The Teacher Bag
9. Retell Squares
This is a great activity for classroom teachers to implement in the lower grades. Each student will receive a page. Students will answer each box with a partner and color the boxes once they have finished discussing them.
Learn More: Susan Jones Teaching
10. Puzzle Sequencing
This is an easy mini-lesson to help students work on their retelling skills. Each student will draw and color in their puzzle pieces; depicting key events in their story, characters, and problem/solution. Then students will then cut out their pieces and put them together in the sequence of the story.
Learn More: Sparkling in Second Grade
11. Sequence Tray
Using a simple food tray, you can help your students' sequence events in a story and recount key details and story elements. Label each section of the tray and ask students to sort picture cards that correlate with the story.
Learn More: Life in First Grade
12. Sequence Cards
This simple activity involves these adorable sequence cards and paper clips. After reading a story, have students work in pairs to retell the story. Encourage them to slide down the paper clip for each portion of the story they are able to retell.
Learn More: Mrs. Kadeen Teaches
13. Comprehension Sticks
Using craft sticks and these comprehension tags, your students can participate in a lot of retelling fun! Have students take turns going through each comprehension stick after reading the story.
Learn More: Jessica Travis Teaching
14. Retell Interactive Notebook Page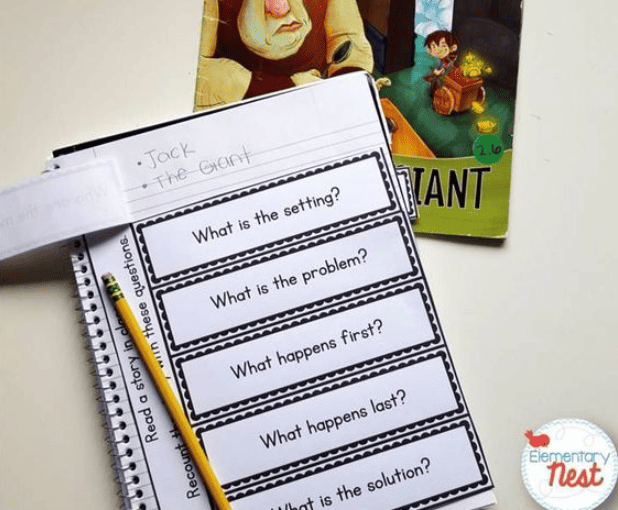 Looking for a low-prep lesson plan for older learners? Your students will love this easy and fun resource. Print a page for each student. Have them cut the flaps for each section and glue them into their notebooks. As the students read, they will fill out each informational flap.
Learn More: Elementary Nest
15. Retell Snowman
This is such a great image for kindergarten, 1st-grade, and 2nd-grade students. Using this image of a snowman, students can always remember three main parts of retelling a story; the beginning, the middle, and the end. Have students draw this snowman when they are working on retelling a story.
Learn More: First Grade Schoolhouse
16. News Report
This fun idea can be used in the upper or lower grades. Have your students create a news report including all of the key details and events from the story they have read.
Learn More: Teacher Idea Factory
17. First, Then, Last
This worksheet is a great tool to help students properly sequence events in retelling a story. Give students a page and encourage them to draw and write about each section.
Learn More: Mrs. Jones' Creation Station
18. Sequence Crown
A sequence crown helps students use pictures to retell events of a story and recall characters. They can also highlight problems and propose solutions.
Learn More: Books and Giggles