For one reason or another kids LOVE rocks! They often pick them up and keep them in their pockets or bring them into the house. Using the crafts and activities below, kids put the rocks that they've collected to good use. There are multiple ideas for kids of all ages including drawing on rocks, painting them, turning them into alphabet rocks, and creating cool rock crafts. Check out 30 rockin' ideas to find inspiration on where to begin!
1. Guess My Rock
In this fun activity, students must make guesses as to what their peer's rocks are. Students will use field guides to characterize the rocks and put them into categories. They must then try to guess the specific rock type based on the elements described.
Learn More: Education.com
2. Rocks, Rocks, Everywhere
With this resource, students will learn about sedimentary rock, metamorphic rock, and igneous rock. They must identify the characteristics of each rock type and sing the "Three Rock Types" song. Finally, students match different characteristics to the rock descriptions.
Learn More: Education.com
3. Rock Read-A-Loud
There are so many fun books about rocks that kids can read. Teachers can also use these books as read-aloud in an introduction to a rock unit.
Learn More: Amazon
4. Rock Gallery Walk
This is a fun idea that gets kids up and moving. In this lesson, the teacher puts information, pictures, and rock specimens around the room. Kids move around the room making observations about the different types of rocks and the information related to them.
Learn More: Classroom Nook
5. Fossil Folders
Fossil folders are a great way to introduce rocks and archaeology to kids. In these lessons, kids will learn all about how fossils are formed and how to tell if fossils are a present feature of rock formations. Each folder focuses on different aspects of fossils.
Learn More: Classroom Nook
6. What I Know About Rocks
In this classroom activity, students will learn about the role of a geologist. They will learn how geologists study and classify rock types as well as gain knowledge on how to identify different rocks in the field.
Learn More: Elementary School Science
7. Rocks and Minerals Experiment
This is a super fun rock activity where kids will make mock rocks and then break them open to discover what's inside. They will learn about how minerals are stored in rocks and can be harvested for use.
Learn More: Elementary School Science
8. Earth Rocks
This activity focuses on the rock cycle and explores the basic elements of the Earth's crust. Students discover how rocks, soil, and minerals make up the Earth's layers. This lesson also connects engineering to the study of rocks and focuses on how to land makeup impacts buildings.
Learn More: Teach Engineering
9. "Rock" Band
This unique activity has students find rocks and create different sounds using them and other household items. Kids collect rocks from their own yards or the schoolyard and then combine different amounts to make sounds in Tupperware, buckets, etc.
Learn More: Fantastic Fun and Learning
10. Rock Demo Science
Interactive play is one of the most beneficial ways to learn about the world. In this activity, kids learn about rocks by destroying them with tools. They'll learn how rocks are formed and what weathers them away over time.
Learn More: Fantastic Fun and Learning
11. Interactive Rock Cycle
This is an online activity that students can use to gain a better understanding of the rock cycle. Each step in the rock cycle includes a definition of the step itself and explains how that step impacts the others in the cycle.
Learn More: Learner
12. Rock Comparisons
In this lesson, students will compare the different rock types using a Venn diagram. They'll explore the characteristics of each rock and explore the difference between rocks and minerals before taking a look at real rocks.
Learn More: Learning Center
13. Rocking Through the Rock Cycle
In this fun activity, students will pretend that they are traveling through the rock cycle in stations. Each station includes a drawing on rocks that they show to the class at the end of the activity. Students will then discuss a bunch of rocks and the creation process.
Learn More: Carleton
14. Chocolate Rocks
This edible rock activity engages all learners! In this demonstration, students will see how the rock cycle works using a piece of chocolate. After the demonstration, students can compare the chocolate rock cycle to actual rocks.
Learn More: Carleton
15. Starburst Rock Cycle
In this candy science activity, kids get to explore the rock cycle using Starburst candy. They'll see how the rock cycle works by melting a Starburst and then watching how it re-solidifies in different states under different variables.
Learn More: Little Bins For Little Hands
16. Rock Cycle Dice Game
In this gamified activity, students "ride the rock cycle". Students roll die to determine where in the rock cycle they go. Then they will see how the rock cycle impacts each type of rock. This lesson helps students understand how natural stones form during the rock cycle process.
Learn More: Fairmont State
17. Igneous Ice Cream
This is another fun, edible activity through which kids can learn about igneous rocks. In this activity, every student gets a bowl of vanilla ice cream that represents Earth. Then, they will receive chocolate "magma" (Magic Shell). Students will see how the magma travels along the "Earth" and solidifies as it "cools".
Learn More: Tales From Outside the Classroom
18. Sedimentary Crock Pot
Sedimentary rocks are formed under heat and pressure over time. In order to help students understand how sedimentary rocks are formed, you can use a crock pot to make "sedimentary rocks". In this lesson, you can make Rice Krispy treats which demonstrate the different sediments that make up the rock.
Learn More: Tales From Outside the Classroom
19. Among Us Painted Rocks
This is a fun rock painting activity that uses acrylic paint to make Among Us rocks. Kids will outline an Among Us character on a rock using a permanent marker. Then, they can fill in the character with paint to make a cute pet rock!
Learn More: Rock Painting Guide
20. Sequin Rocks
This is a super cute craft project idea! Students will each make a heart rock by gluing reversible sequins onto a rock.
Learn More: Little Pine Learners
21. Stone Fairy Garden
A stone fairy garden is a perfect addition to your backyard! Kids can find rocks to stack and make a fairy house. This is a fun rock craft that takes a few days to complete, but once it's done, your kiddos will love showing off their little house!
Learn More: Fairy Garden DIY
22. Stone Pendants
These cute stone pendants are the perfect craft for kids. They don't require any special tools; littles can simply pick a smooth rock and then paint any design on it. To make a perfect pendant, they can add a wire loop and thread a piece of cord through it.
Learn More: Red Ted Art
23. Stone Picture Frame
A stone picture frame is a great craft for kids to make as a gift for their parents, siblings, or grandparents. Kids will find pretty rocks and then glue them in a frame formation to create a special keepsake.
Learn More: Vikal Pah
24. Stone Candle Holders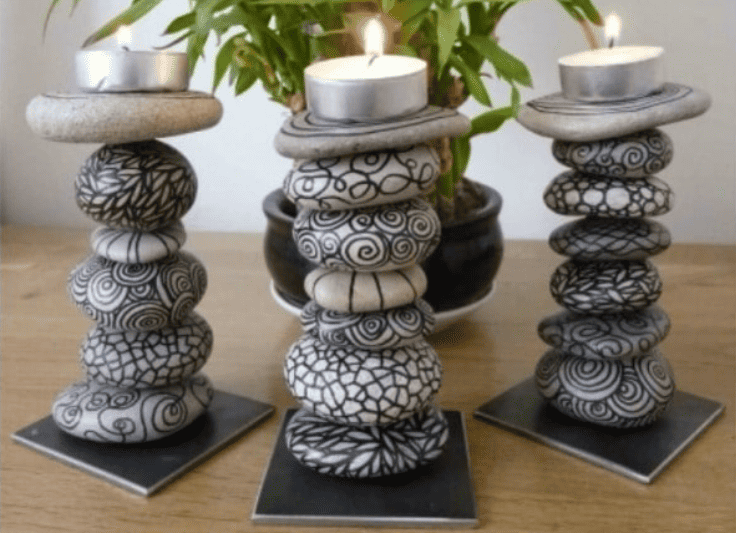 This cute craft is easy to make and creates a lovely ambiance once complete. Kids will find rocks of various shapes. Then, they create a design on the rocks using permanent markers. Finally, they stack the rocks on a coaster and use hot glue to make them stick.
Learn More: DIY N' Crafts
25. Stone Footprints
This awesome rock art idea prompts kiddos to make footprint art with rocks. Kids should find a large stone to use as the footpad and then smaller pebbles to use for the toes.
Learn More: DIY N' Crafts
26. Shimmering Rocks
This is another cool rock idea where kids use shimmery paint and glitter to decorate rocks. They can use glittery acrylic paint or alternatively mix glitter with paint to create the shimmer.
Learn More: Play Ideas
27. Word Building
This rock lesson helps kids learn spelling and consonant cluster sounds. First, kids paint sound clusters on rocks. Then, they can arrange the rocks to create words.
Learn More: Play Ideas
28. Rock Rings
These rock rings are the cutest rock craft for young kids. They should pick out a small flat-shaped rock. Then, they paint the rock with extra colors and dot designs. Paint pens are great for this type of task as they help students create smaller designs. Learners can then glue the rocks onto rings.
Learn More: Itsy Bitsy Fun
29. Name Spelling Rocks
In this activity, kids will practice spelling their names by painting each individual letter of their name on a rock. Then, they can rearrange the rocks into their correctly spelled name.
Learn More: Mama Papa Bubba
30. Rainbow Rocks
This is a fun activity where kids get to paint rocks and work on color identification. Kids will first paint rocks in different colors and then match the colors to the colored task cards.
Learn More: Smart School House