Blast off with these fun rocket activities! These ideas are perfect for use within the classroom when teaching basic rocket science or for learning about the solar system and outer space. Our awesome rocket activities are also great for completing at home and helping your child explore simple rockets. Check them out and be sure to include them in your planning; your future engineers and astronauts will love them!
1. Straw Rockets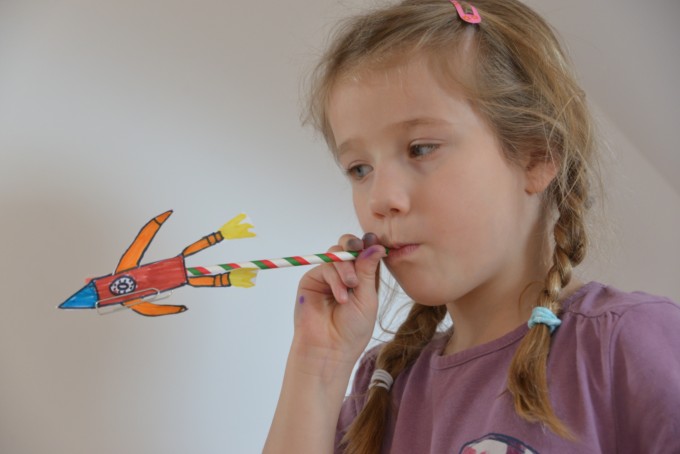 Straw rockets are fun and easy to make. Simply use the template to color and cut out your tiny rocket. Clip it into place with paper clips and watch as it sets sail with a breath of air through your straw. This will be a fun idea to enjoy at your next rocket party.
Learn More: Science Sparks
2. DIY Rocket Launcher
Using just a simple toilet paper tube holder, put your tiny, homemade rocket on top and push down on the spring to launch it into the air. You can make your rocket out of a tiny cup and use artistic skills to attach some ribbon. This is perfect for fine motor skills practice.
Learn More: Laly Mom
3. Baking Soda and Vinegar Rocket
Using simple steps to add baking soda and vinegar to your rocket, you can actually create a real rocket launch! Prepare a small launch pad to help hold the rocket up and use a 2-liter bottle as your rocket's base. This chemical reaction will send it soaring!
Learn More: 123 Homeschool 4 Me
4. STEAM Bottle Activity
This STEAM activity uses a small water bottle and creative minds! Build a small rocket or straw rocket and attach it to the top of the bottle. Be sure a hole is in the lid and allows for air to pass through to the rocket. As you squeeze the bottle, the air will send your rocket into space.
Learn More: Rainy Day Mum
5. Mini Bottle Rocket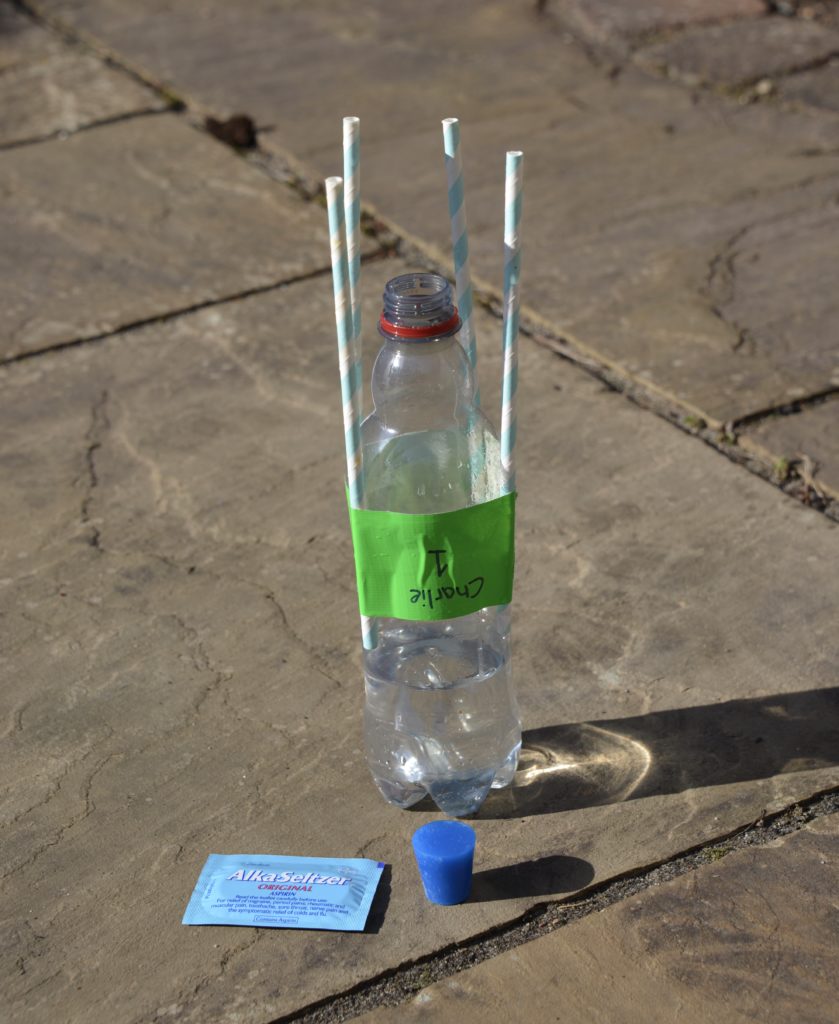 This mini bottle rocket looks like something from outer space, but it is easy to make and is a great alternative to screen time! Recycle a 20-ounce bottle and attach some straws to your rocket with tape. Add a cork and an Alka Seltzer tablet to fuel your rocket and you are all set for take-off!
Learn More: Science Sparks
6. Balloon Rockets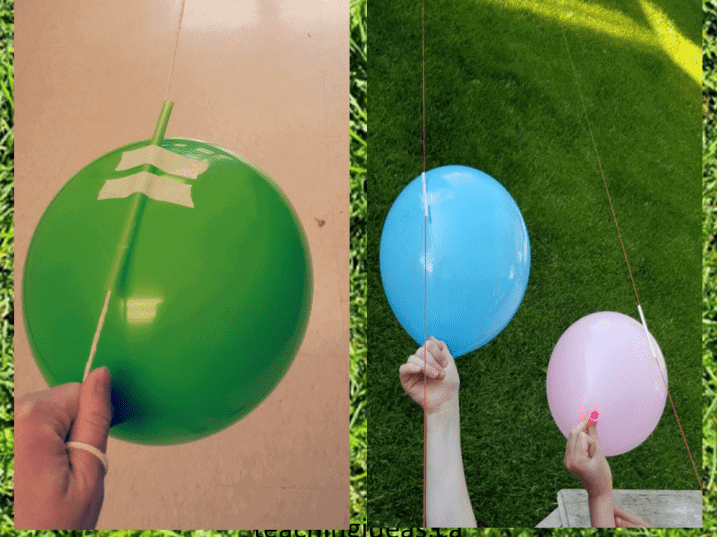 Perfect for a school experiment or rocket party, these balloon rockets are lots of fun to make. Attach string through a straw and attach your straw to your balloon. Let the air out of the balloon and look out! Aerospace engineering is in action as the balloons fly across the string at fast speeds!
Learn More: Teaching Ideas
7. Pop Rockets
Use a tube of chocolate candies to create this popping rocket! Decorate the rocket and add a single Alka seltzer tablet inside. When the rocket is in position, get ready to watch it soar through the sky! Add some stickers and other designs to make it unique.
Learn More: Playdough to Plato
8. Aluminum Foil Rocket Ship
This cute artwork is perfect for a space-themed learning unit, a kid's birthday party, or just to make with your budding astronaut. Let learners cut shapes out of aluminum foil and assemble their simple rockets.
Learn More: The House of Burke Blog
9. Process Art Rocket Splash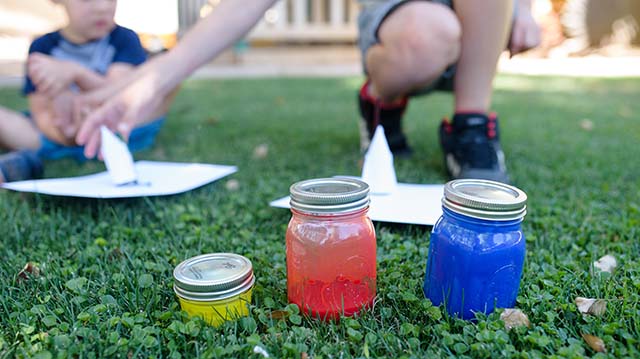 These process art rockets are sure to be a favorite for your artistic kiddos who love paint! Add paint to small film canisters with an Alka seltzer tablet. Shake them up and watch them explode onto a white foamboard or poster board. This will create some nice process art!
Learn More: Raising Kids with Purpose
10. Recycled Rockets
Recycled rockets are fun because they can be shaped rockets too. Have students use recycled items to craft their own rockets, but encourage learning more about different types of shapes. Let their artistic skills shine as they get creative with their design.
Learn More: No Time for Flashcards
11. Foam Rockets
When learning about the history of rockets, show students pictures of many kinds and allow them the chance to build some of their own, like this foam rocket. Be sure to add the tops and the fins at the bottom. Let students add their own decorations as well.
Learn More: My Textured World
12. Soda Bottle Rocket
A great paint activity; this two-liter bottle project is definitely one of the most fun rocket projects to try! Get creative and paint the bottle and add fins. Just remember to leave a clear hole for your astronauts to see through!
Learn More: In The Playroom
13. Rubbed Band Launcher
Another great idea for a rocket party- this rubber band launcher is fun to make and try out! Let artistic skills shine as students decorate the rocket template. Then, attach it to a cup. Add rubber bands to the bottom and use another cup as a base for keeping your rocket stable as you launch it!
Learn More: Preschool Alphabet
14. Magnetic Rocket Activity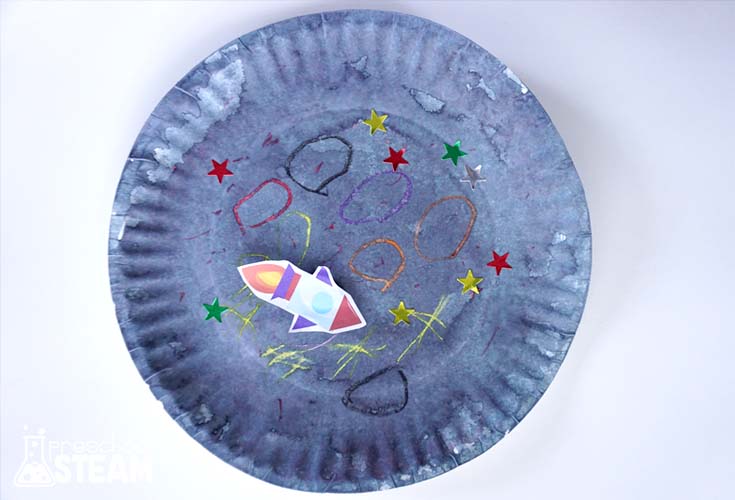 Create some magnetism with this rocket activity! Creative minds will enjoy mapping a course on the back of the paper plate and attaching a magnet to move the rocket. Print off a rocket template or let students create their own and be sure to place a magnet inside.
Learn More: Preschool STEAM
15. DIY Clothespin Rockets
Another fun, the aerospace-engineering task is designing this clothespin rocket. Students can add cardstock or poster board to the body and attach clothespins to the base. Let students get creative with design, size, and artwork. Maybe even let them finish these off in painting classes!
Learn More: The Kindergarten Connection