Room on the Broom, by Julia Donaldson, is a Halloween-time favorite for both teachers and students alike. This classic tells the story of a witch and her kitty who invite a few other animals along for the ride as they take on some casual, but witchy, broomstick adventures. If it's that time of year in your classroom, keep a tab on this page so that you can easily access an engaging selection of activities to pair with this adorable story.
1. Circle Time Song
Have kids do a circle time song to the tune of "The Muffin Man" that will have them memorizing and understanding the basic concepts of the story! One child becomes the "witch" and circles ("flies") around the others each time the song is repeated.
Learn More: Kids Soup
2. Snack and Number Sense Activity
This DIY snack mix requires kids to choose the correct number of each snack to add to their Room on the Broom potion. Use mini plastic cauldrons to really amp up the holiday spirit!
Learn More: Kids Soup
3. Handprint Art
Encourage your kids to literally get hands-on in creating this adorable art piece that requires handprints, fingerprints, and some creativity to recreate the witch and her friends.
Learn More: Fun Hand Print Art
4. Sequencing Activity
Retelling a story can be difficult, but adding in a couple of images and some coloring instantly makes it a little less tricky! As kids learn the art of retelling, they can color, cut, and glue the events of the story.
Learn More: Pencils to Pigtails
5. Sensory Bin
Every primary-aged story needs a good sensory bin because when it comes to interactive activities, bins are what kids love most! This particular bin is filled with beans, felt witch hats, doll brooms, and more!
Learn More: Still Playing School
6. Witch's Potion
Get the kids outside and practice science by having them collect "ingredients" for their potion. Create a baking soda bone and add it to a vinegar solution to fashion the final step of their potion
Learn More: Inspiration Laboratories
7. Preschool Ordinal Numbers
While kids are learning the ordinal numbers, have them slip the characters on a miniature broom in order of when they show up in the story. This is an easy, hands-on activity to get kids to practice their counting.
Learn More: Rainy Day Mum
8. Fine Motor Beading Craft
This simple, yet effective, Halloween activity gives littles the opportunity to make their own broom and practice their fine motor skills. They'll practice threading beads onto pipe cleaners which can then be used as bookmarks!
Learn More: Homebound But Hopeful
9. Witchy Multimedia Art
After a day of reading Room on the Broom, your students will be begging to complete this amazing drawing and mixed-media art project! Part drawing and part collage activity, these pieces always turn out so beautiful!
Learn More: The Primary Patch
10. Story Basket
This interactive activity could be useful within the classroom or even at a Fall birthday party. Bring to life the witch and her evening spent flying with this story basket idea that includes several puppets and props to use as you tell the class tale.
Learn More: The Imagination Tree
11. Writing and Craft Activity
Have students practice their writing and sequencing skills as they order the events of the story using this adorable, ready-to-print, activity. The witchcraft presents the pieces so students can make a cute witch to match the story and pin it onto a bulletin board!
Learn More: Teachers Pay Teachers
12. Make a Mini-Broom
Get kids outdoors with this fun activity! Learners can use elements of nature to create their own mini broom to go along with this enchanting story.
Learn More: Kiddy Charts
13. Witch Plate Craft
Get kids excited about the story by having them create their very own little witch who flies on a popsicle stick broom over the moon. Learners will simply need; a popsicle stick, craft paper, paint, a paper plate, glue, and yarn.
Learn More: I Heart Crafty Things
14. Cause and Effect
Teach kids about cause and effect using this simple, primary classroom printable. Students will go through each event and discuss the effects of that event; using colorable cutouts to illustrate on a t-chart.
Learn More: One Sharp Bunch
15. Character Traits
This activity utilizes Julia Donaldson's book to teach character traits. Students will match the trait to the character; reinforcing the idea that each character has a variety of personality traits that can change, for better or worse, over the course of the story.
Learn More: One Sharp Bunch
16. Boom Cards for Speech Therapy
This adorable deck of Boom Cards is perfect to help those kiddos struggling with speech. The deck includes 38 audible cards and provides immediate feedback so that students learn how to imitate the sounds correctly.
Learn More: Teachers Pay Teachers
17. Drawing Broom and Cauldron
Have kids get creative as they think about what kind of potions they will make! They can draw and write their way around Room on the Broom with these downloadable PDFs.
Learn More: Mama Smiles
18. Stained Glass Witch
Students will have an amazing time creating this crafty stained glass witch. Simple materials like tissue paper and card stock bring this craft to life; creating sun catchers when hung on a window!
Learn More: I Heart Crafty Things
19. Room on the Broom Treats
Why not treat your students to a fun snack after reading this adorable story? After all, it is the Halloween season! Turn a lollipop and a pencil into a witchy broom with some brown tissue paper and tape.
Learn More: Exploring Domesticity
20. Broom Painting
Another fun party idea to pair with the book is broom painting! Instead of painting with a paintbrush, kids can use a hand-made paper broom to create fun and creative artwork. The perfect activity for an afternoon of creativity!
Learn More: Toddler Approved
21. Snack Time
Add this cute broom snack to your toolbelt. Using pretzel wands and chocolate, decorated with sprinkles, your learners can create assorted broomstick snacks to enjoy whilst reading.
Learn More: Messy Little Monster
22. Sequencing Practice
Start early by teaching preschool students how to properly sequence events in a story. Use these simple cutouts and have them practice their gluing and cutting skills along the way.
Learn More: Tot Schooling
23. STEM Craft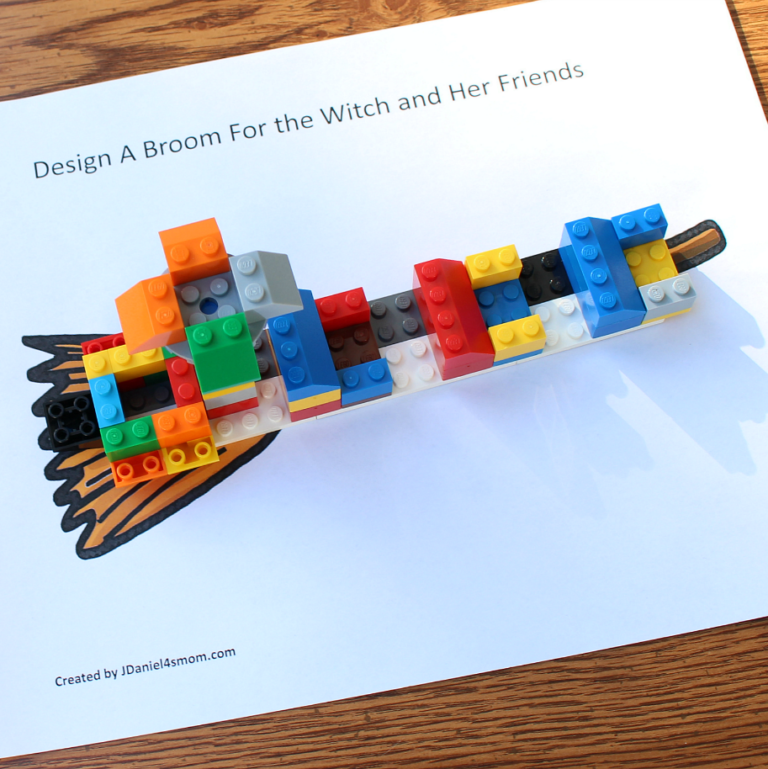 When you hear Room on the Broom, you don't instantly think of STEM, but this fun and challenging activity asks students to draw a sketch of their idea and then create it using lego, dough, or another means of creating.
Learn More: JDaniel 4's Mom
24. Scavenger Hunt
Make the crafts and then hide them around the classroom, playground, or house to tie this activity to the book. Kids will enjoy getting their energy out and there are many ways they can play- in teams, singles, or pairs. Prize or no prize, kids will enjoy this scavenger hunt.
Learn More: Pinterest
25. Balance STEM Challenge
This is a fun and exciting challenge for all students to try. They will use snap cubes, a popsicle stick, and any other object to create a base to attempt to balance out all the "animals" who join the witch on her broom.
Learn More: Our Family Code