Root words take up a lot of time in the early grades and shouldn't be ignored in the upper grades. Focusing on Greek and Latin roots helps students read faster; which is the key to understanding and comprehending challenging vocabulary. When students learn, recognize, and understand word roots, they gain the power to decode multiple meanings of words. Students and teachers will love these 20 engaging activities that are perfect for ESL, elementary, and middle school students. So, without further adieu, let's get going!
1. Root Word of the Day
One of the best ways for students to retain new vocabulary is through repetition. For this every day (or week) root word activity, teachers simply post the word around the classroom. Have students research words and find their terms for the root. Work together with students to describe the roots. 
Learn More: Instagram
2. Find and Define English Root Words
ESL and upper-grade students benefit from this root word organizer. Give students a root and have them define as many words that match it. If you have a class that loves healthy competition, try seeing who can get the most words.
Learn More: Instagram
3. Root Word Anchor Chart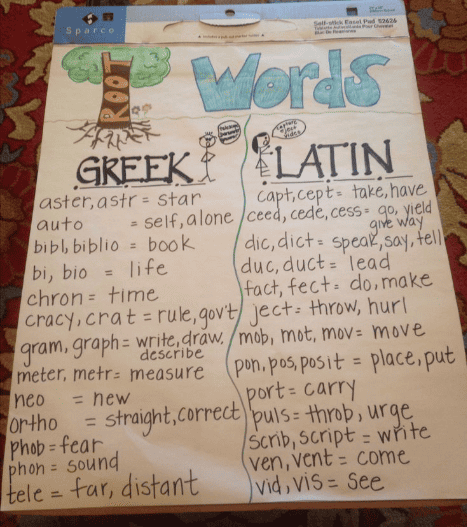 Who doesn't like anchor charts? Teachers will notice students' writing, reading, and comprehension improve after using anchor charts. This anchor chart can serve as a root word reference sheet that holds the definitions of various roots. Create the chart together as a class.
Learn More: Pinterest
4. White Board Cards with Root Words
This activity depends on your student's learning pace. Create these cards, post a Latin or Greek root word on the board daily or weekly, and discuss the definitions with your students. To demonstrate students' learning, use a word study unit.
Learn More: Hello Fifth
5. Root Word Graphic Organizer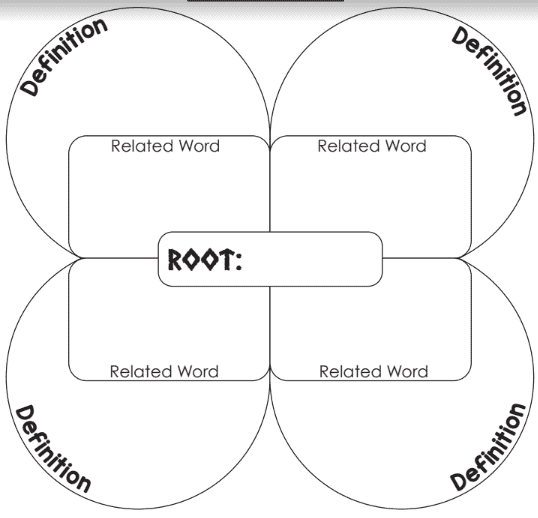 Latin root words can be difficult to understand. Students can understand root words better with manipulatives like graphic organizers. This graphic organizer can be used in a root word lesson and stored in students' binders. This is a great resource for your weekly root.
Learn More: Teacher Thrive
6. Growing Little Learners of Knowledge
Here is an informative root word activity that is very engaging. This is the perfect activity for teaching through art. Have your students choose from a given word list or research their own! Students will write the word list in the petals and the greek and Latin roots in the flower pot- representing the roots.
Learn More: Pinterest
7. Root Word Detective
This is a great way to push students to use the root to find a word's meaning. Hang the detective sheets around the room and have students work their way around; deciphering their meanings. Write the definitions on the Bingo sheets.
Learn More: Little Teacher Wife
8. Root Word Beach balls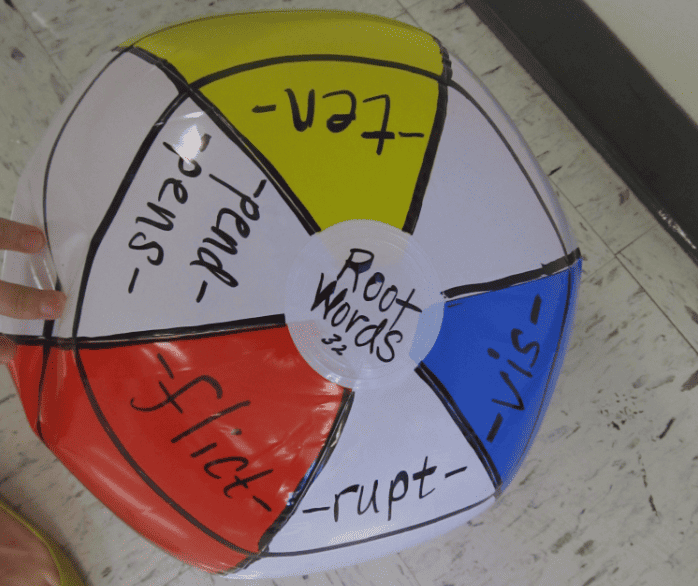 This activity can be used as an informal assessment to see what students have gained from the root words of the week. Simply write the roots on a beach ball, toss it around, and wherever your right thumb lands – have students say a word.
Learn More: Pinterest
9. Root Game Bingo
Bingo gets old for my kids, so I up the stakes with class currency giveaways and class shop trips. This game is great for any grade. Play as usual, but call the root instead of a number and have kids identify the word on their boards that use that root.
Learn More: Momgineer
10. Vocabulary Review Game
Review roots in this vocab review game. Allow students to write 4–5 roots on index cards or sticky notes. Have students circulate after. One student holds the cards to his/her head. At the same time, the other student responds to the root's definition.
Learn More: The Room Mom
11. Popsicle Sorting Center
Can your students tell the difference between prefixes, roots, and suffixes? Providing centers that tie them together is vital to ensuring that your root word activities don't go to waste! Simply make these cute paper popsicles and label them before having students sort them into the correct cups.
Learn More: A Love 4 Teaching
12. Identify the Root Word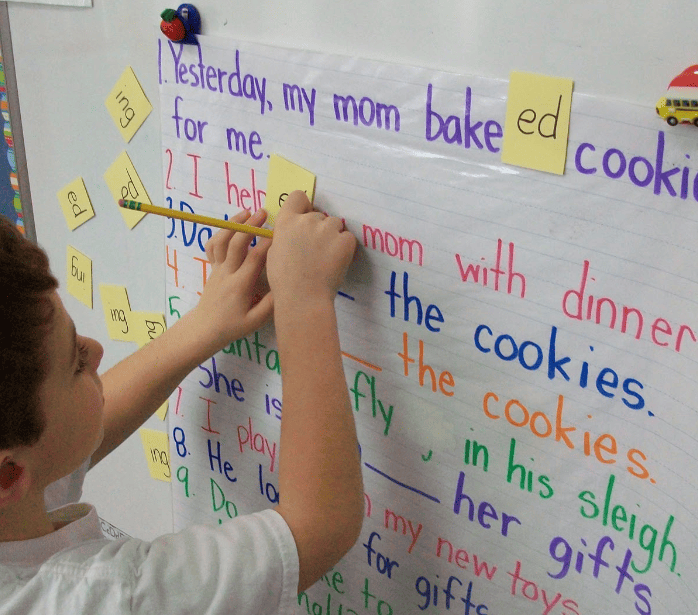 This game helps identify suffixes, prefixes, and root words. After a few weeks of "the root word of the week", construct a paragraph and have students mark the root terms. They can also compete in teams to define all the terms correctly!
Learn More: Snippets By Sarah
13. Root Word Flip Books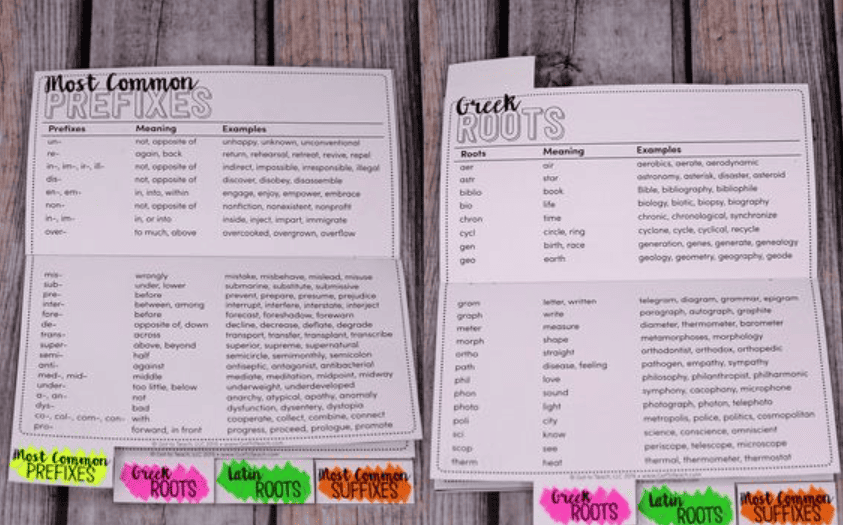 Flipbooks are versatile educational tools and great manipulatives for students. This book can be created by students and teachers over the year or printed, filled out, and used as a reference.
Learn More: Got to Teach
14. Root Word Foldables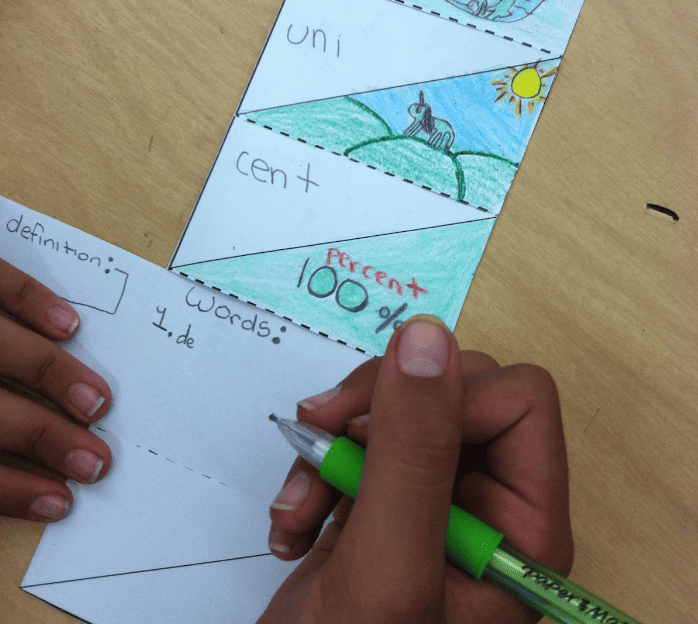 Root word foldable are unique and can be used for a variety of activities! Have students write the root word on one side and draw a picture and example on the other. Drawing pictures will help students connect with their new-found language and bind ideas to memory.
Learn More: Teaching in Room 6
15. Greek and Latin Roots Maze Game
Wordwall.net features a community of games for centers, downtime, and the whole class! However, this one is wonderful for root words. This Pac-Man-like maze game requires students to connect words with Latin or Greek roots.
Learn More: Word Wall
16. Root Words Quiz
This quiz is ideal for a whole-class lesson on language structure because it requires teamwork. Root word-focused sentences give students a real-world opportunity to recognize and utilize the terms in different sentence patterns. Simple play and pause the video at each question.
Learn More: Teacher Grace Alicamen
17. Root Word Memory
This memory game will engage students and provide partner practice. Print, cut, and laminate the cards for this game. One card will have the roots being used, while the other will have the meaning of the root word. Students need to match a root with its corresponding meaning.
Learn More: Laura Candler
18. Eggciting Root Words
Stephanie's eggciting root word game engages all ages. The game is easy but requires a bit of prep to get started. Write the root on one half of the egg and a matching term on the other. Students will then build words using mixed eggs.
Learn More: Teaching in Room 6
19. Setting Student Objectives
Objectives are valuable for helping students reach their potential. I Can statements can be kept on the classroom walls or the whiteboard. The Curriculum Corner gives some great examples. Create these together with students and check in with them to see how they feel about where they're at with the objectives.
Learn More: The Curriculum Corner
20. Root Word Dice Game
The root word dice game is perfect for getting students up and moving during a lesson. Students must roll the dice and do what each number says. I find it most helpful to have the "rule sheet" printed out for each group or written on the board.
Learn More: Minds-in-Bloom