While the internet has a multitude of scholarship opportunities, they often require a recommendation letter to help set applicants apart and highlight their personal traits. However, knowing where to start and how to approach this somewhat daunting process, can be a little tricky. We're here to help! This step-by-step guide helps to break down the process into several easy steps and provides recommendation sample letters for just about everything you can think of! Get reading for inspiration on what to include!
1. Community Recommendation Letter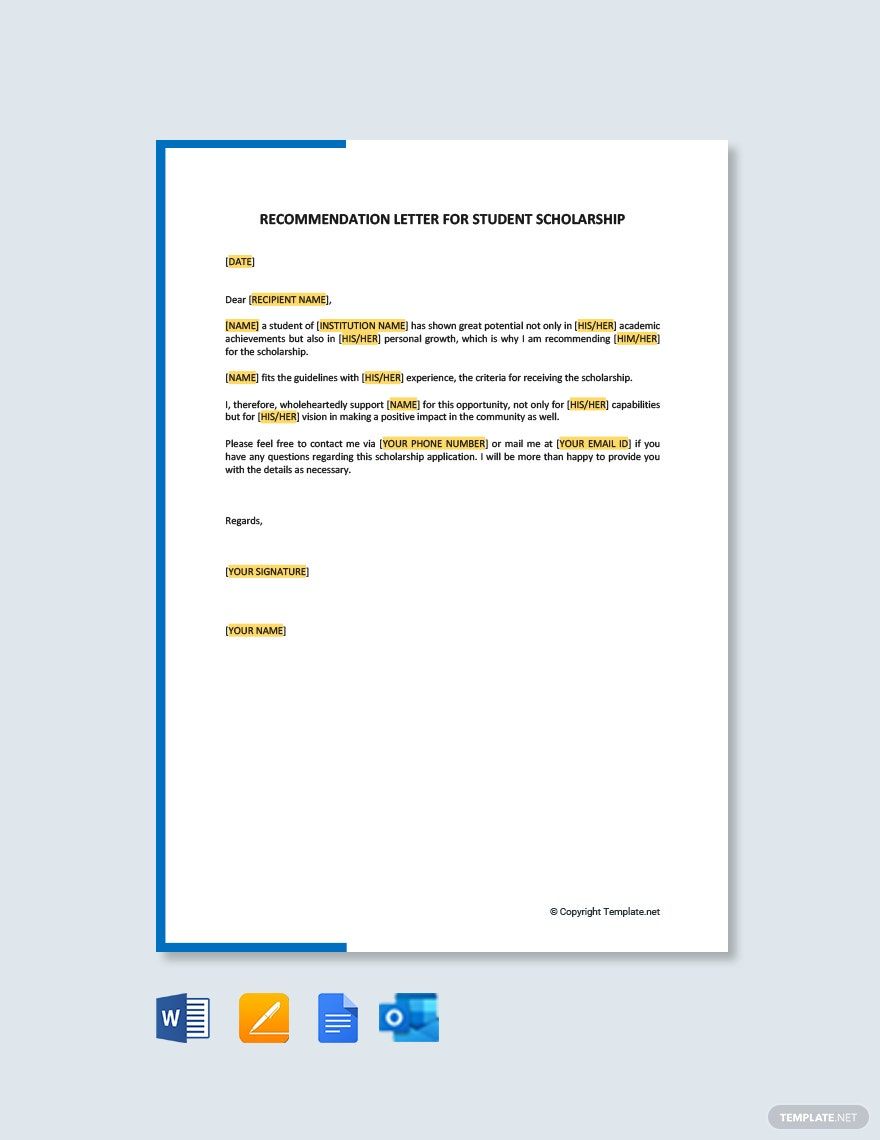 This recommendation letter is perfect for an applicant who is relying on a member of their community to write their recommendation. Suitable community members may be youth pastors, NGO managers, or even community helpers. Along with laying out the applicant's capabilities and achievements, the writer should also highlight any positive community contributions.
Learn More: Template.net
2. Recommendation Focused On Extra-curricular Activities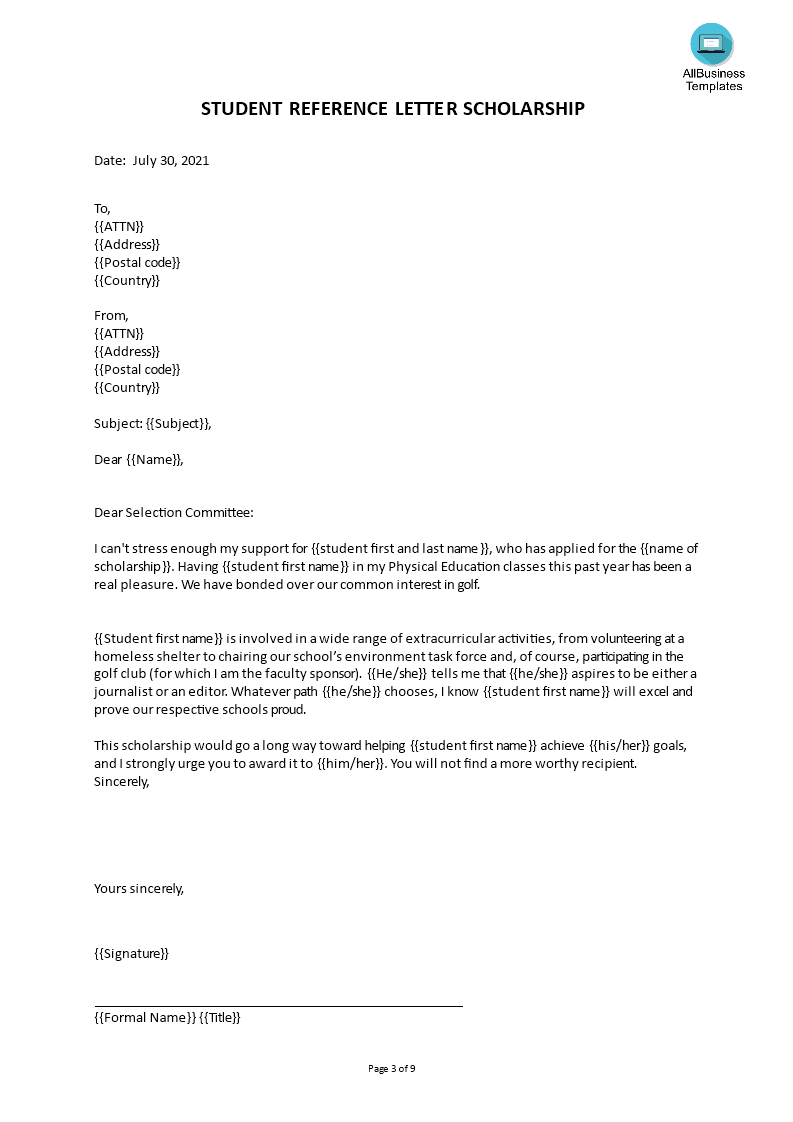 Depending on the type of scholarship you are applying for, certain information should be included. This letter, for instance, is perfect for a sportsperson wanting to continue their sporting career throughout their studies. PE teachers or private coaches are the perfect candidates for write-ups as they're able to highlight athletic performance and character traits!
Learn More: All Business Templates
3. Highlighting Artistic Talents and Pursuits
Maybe you're a talented artist or dancer looking to enroll in a prestigious course; if so, this example is for you! To highlight why you're a suitable candidate, teachers and instructors can piece together a recommendation based on your; achievements, characteristics, collaborative endeavors, community involvement, and more!
Learn More: Slide Share
4. Recommendation By A Close Friend or Family Member
As students prepare to submit their scholarship application, their sense of self-belief may take a tip. However, those closest to them, are often unwavering in support, and make the perfect recommendation letter writers! Friends and family have a keen sense of who the candidate is and will be able to highlight, in detail; admirable qualities, academic achievements, and the candidate's commitment to helping others.
Learn More: Going Merry
5. Recommendation Letter For Agricultural Interests
Found yourself wanting to get involved in the agricultural sector, but need some assistance to get started? If you've worked with farmers, their farm managers, or agricultural co-op owners, they can speak to your strengths. In their recommendation, they can highlight your work ethic, dedication, attitude, duties, and admirable personal qualities.
Learn More: Live Career
6. Physics Scholarship Letter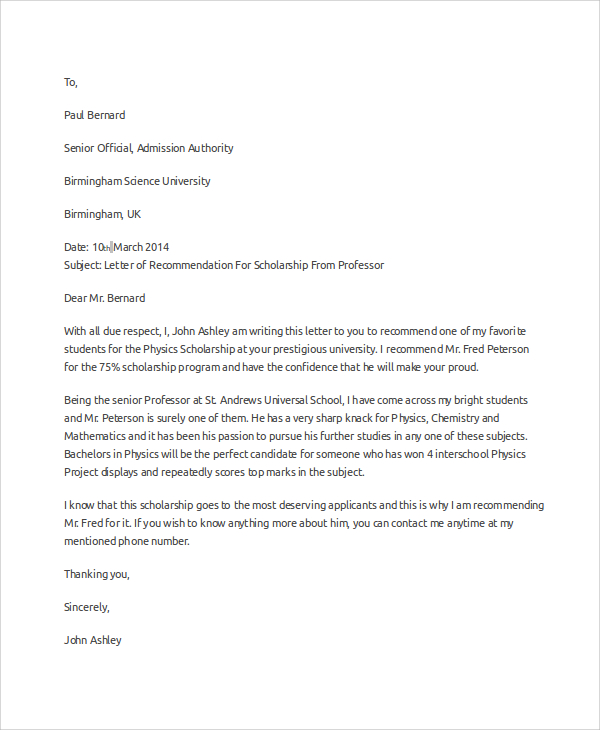 Letter from your professor.
This resource provides readers with an excellent example of a recommendation letter perfect for a physics or science scholarship. Professors or school teachers make the perfect recommendation letter writers as they can shed light on; the academic performance, positive traits, and educational goals of the deserving student.
Learn More: Sample Templates
7. Letter From Your Principal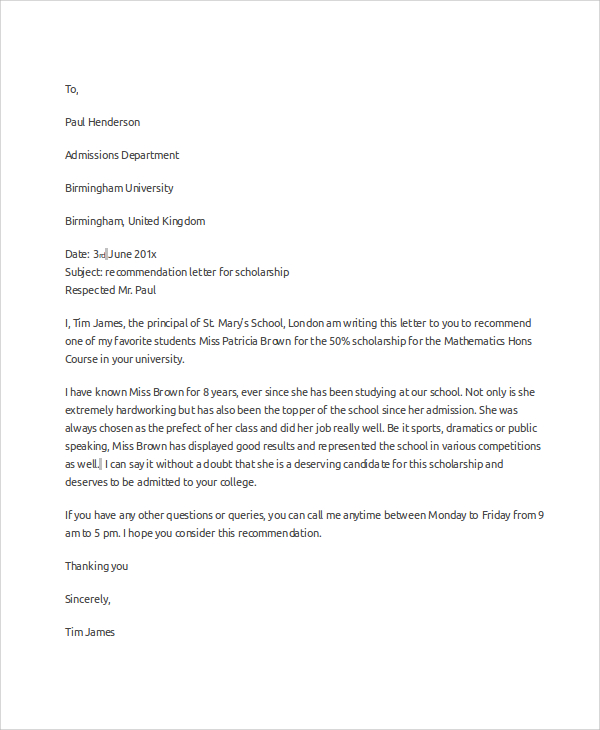 This recommendation letter has been drawn up by the principal of a school. Principals can spotlight all academic achievements, leadership qualities, positive attributes, and future goals; thus highlighting why the applicant is an ideal candidate.
Learn More: Sample Templates
8. Letter For Law School
Supervisors, teachers, or volunteer coordinators are excellent people to call on if you're in need of a recommendation letter for law school. Along with highlighting your ambitious personal leadership abilities, they'll be able to attest to your business leadership skills, work ethic, and other applicable traits.
Learn More: The Balance Money
9. Leadership-focused Recommendation Letter
Letters of recommendation usually highlight at least one successful leadership feat. However, this scholarship program places leadership skills and qualities at the very fore of its focus. Recommenders should be able to detail all leadership roles and achievements of the deserving candidate and highlight their accomplishments in other areas.
Learn More: Template Archive
10. The Truman Scholarship For
The Truman Scholarship is for US undergraduate students who demonstrate exceptional leadership qualities and academic achievements, as well as an unwavering commitment to public service. Writers should therefore highlight these qualities in their reference letters.
Learn More: E-education
11. Personal Recommendation Based On A Prompt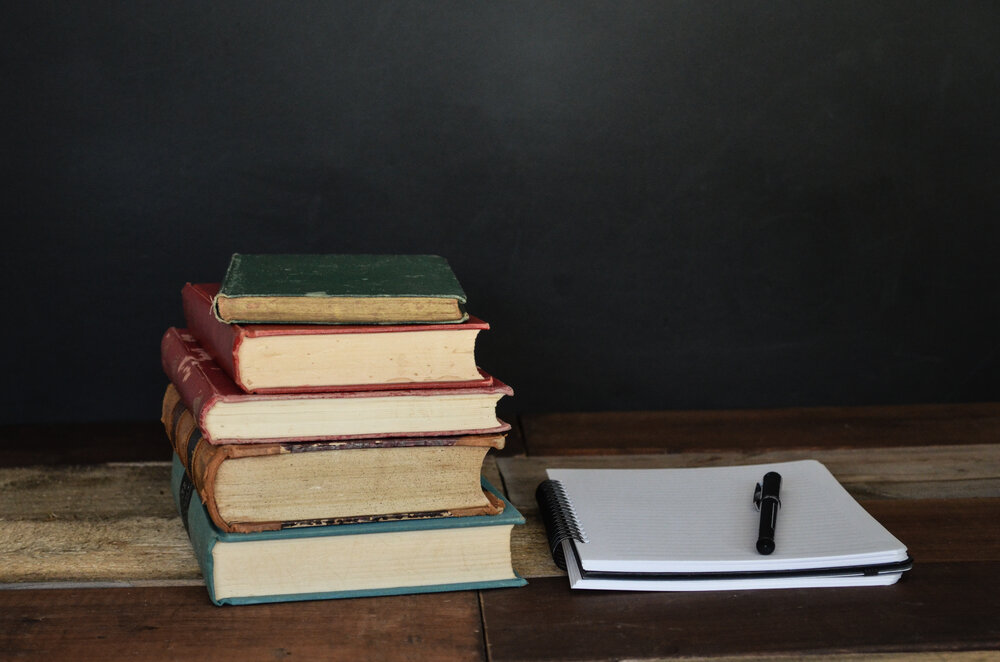 At times, scholarship committees may ask applicants to write their own recommendation letter based on a prompt. This particular prompt invites applicants to describe a book that made a lasting impression on them and their life. This letter is perfect for students applying for a course in journalism or literary studies.
Learn More: International Student
12. Recommendation By A Family Friend
This letter of recommendation can be written by a family friend that the applicant holds in high regard. Letters from a family friend can often come across as too informal, so writers should take care to maintain a professional tone as they testify to the applicant's strengths, personal and academic goals, as well as their deservingness of the scholarship.
Learn More: Template Archive
13. Self-drafted Letter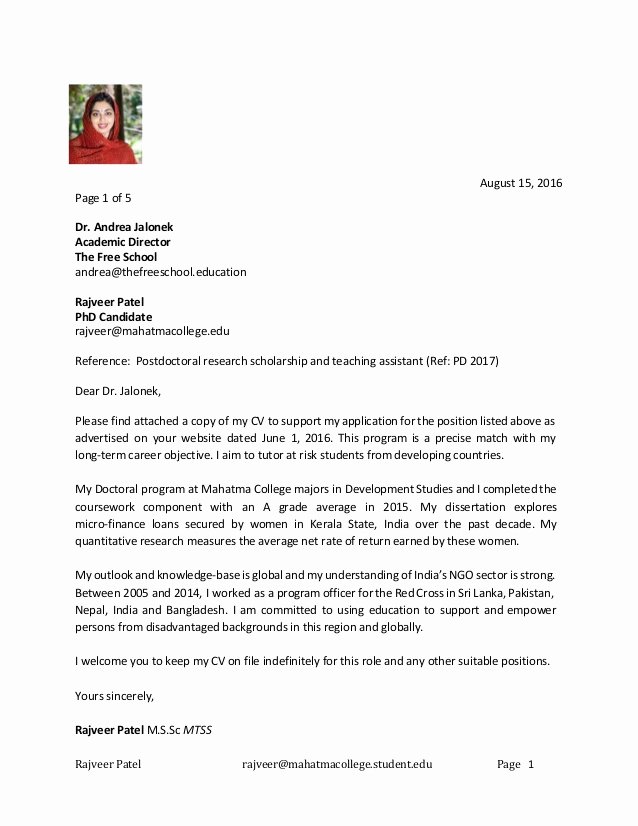 No one knows you better than yourself! So, if given the opportunity, why not draft your own recommendation letter? You can make fitting personal statements, highlight admirable qualities and achievements, as well as note your work ethic and commitment to the position or course.
Learn More: Tate Publishing News
14. Recommendation Letter From A Beloved Teacher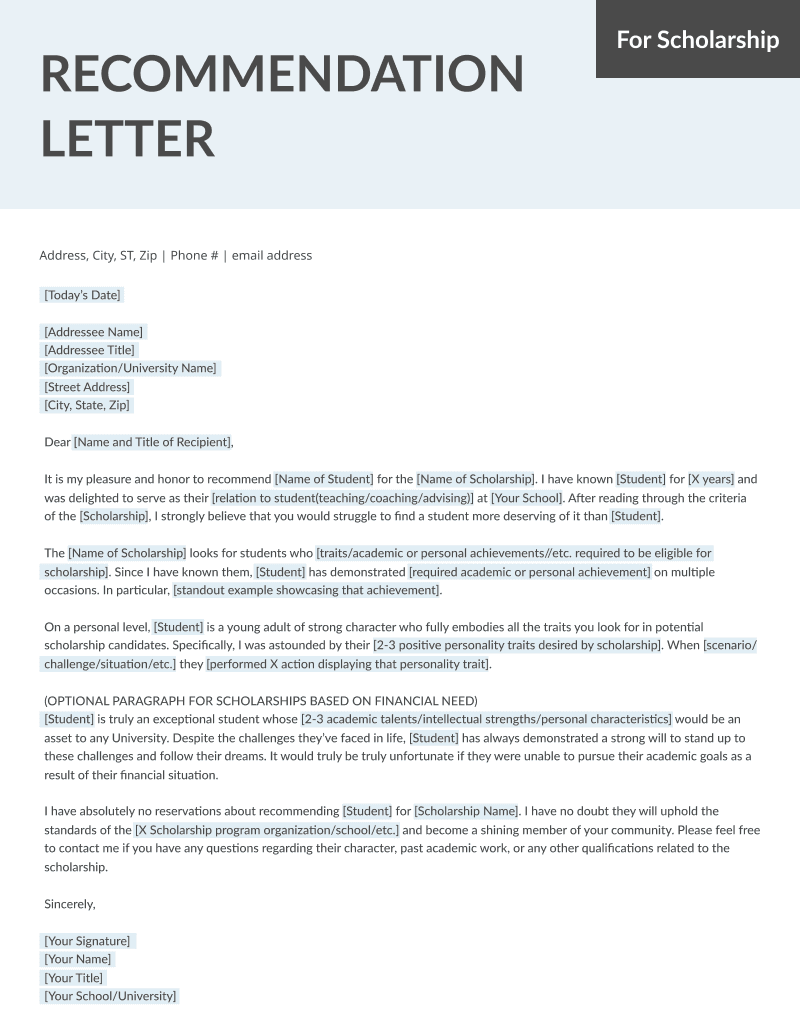 Make sure your letter stands out by asking a beloved teacher to shine a spotlight on all your attributes and achievements. They can speak to your qualities on a personal level and then note your involvement in extracurricular activities and the school community.
Learn More: Resume Genius
15. Employer Recommendation Letter
Employers are often able to craft strong recommendation letters! They can provide a pretty accurate analysis of your work ethic, career goals, level of commitment, and leadership qualities.
Learn More: Template.net