Kids love to laugh! They get a chuckle from telling a good joke or from hearing one. These jokes are safe for school and will help students tickle their funny bones as they kid around about school and all the things they find there!
1. Where did the music teacher leave his keys?
2. Why did the teacher go to the beach?
3. Why did the bat miss the school bus?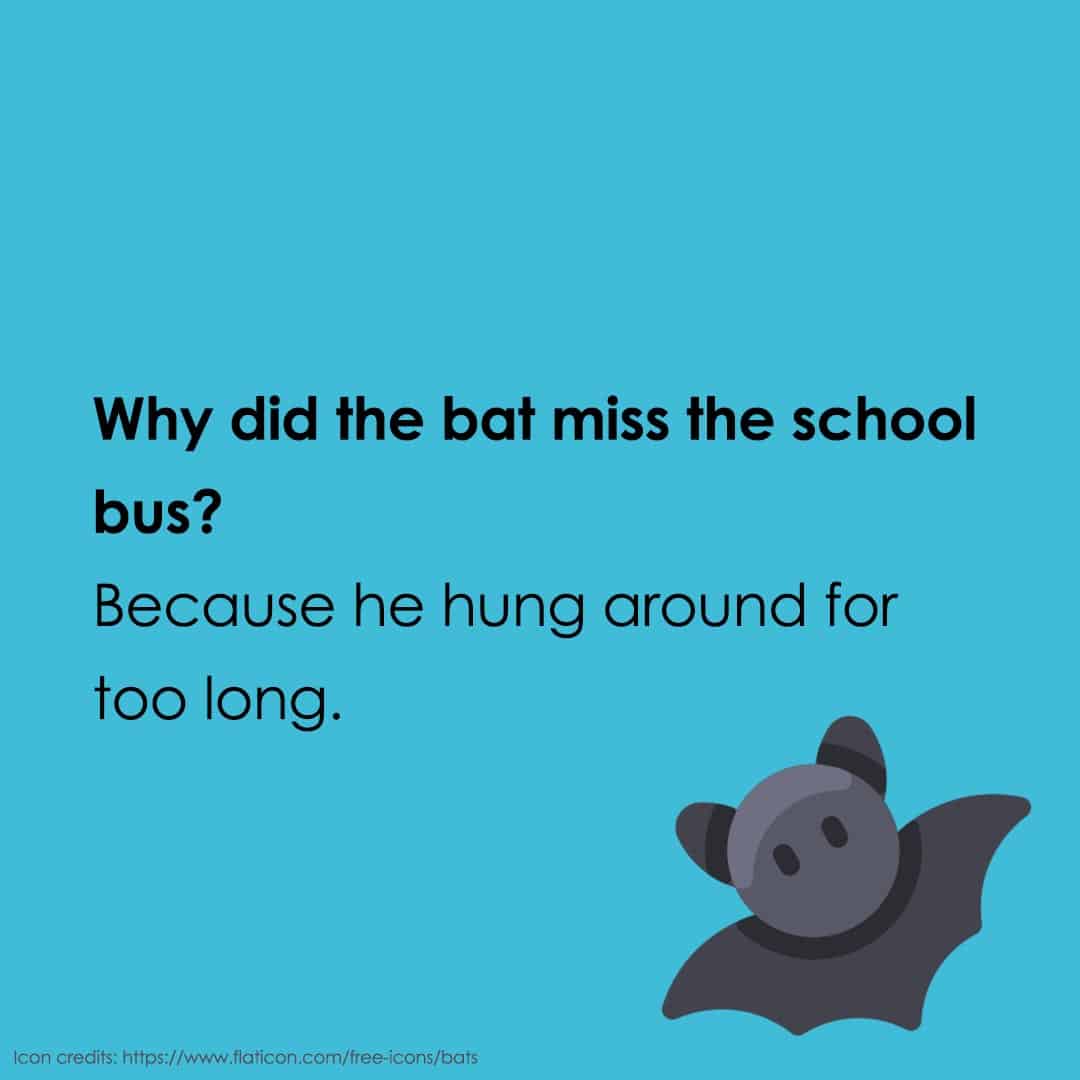 Because he hung around for too long.
4. What did the teacher say about the pizza student?
There's mushroom for improvement!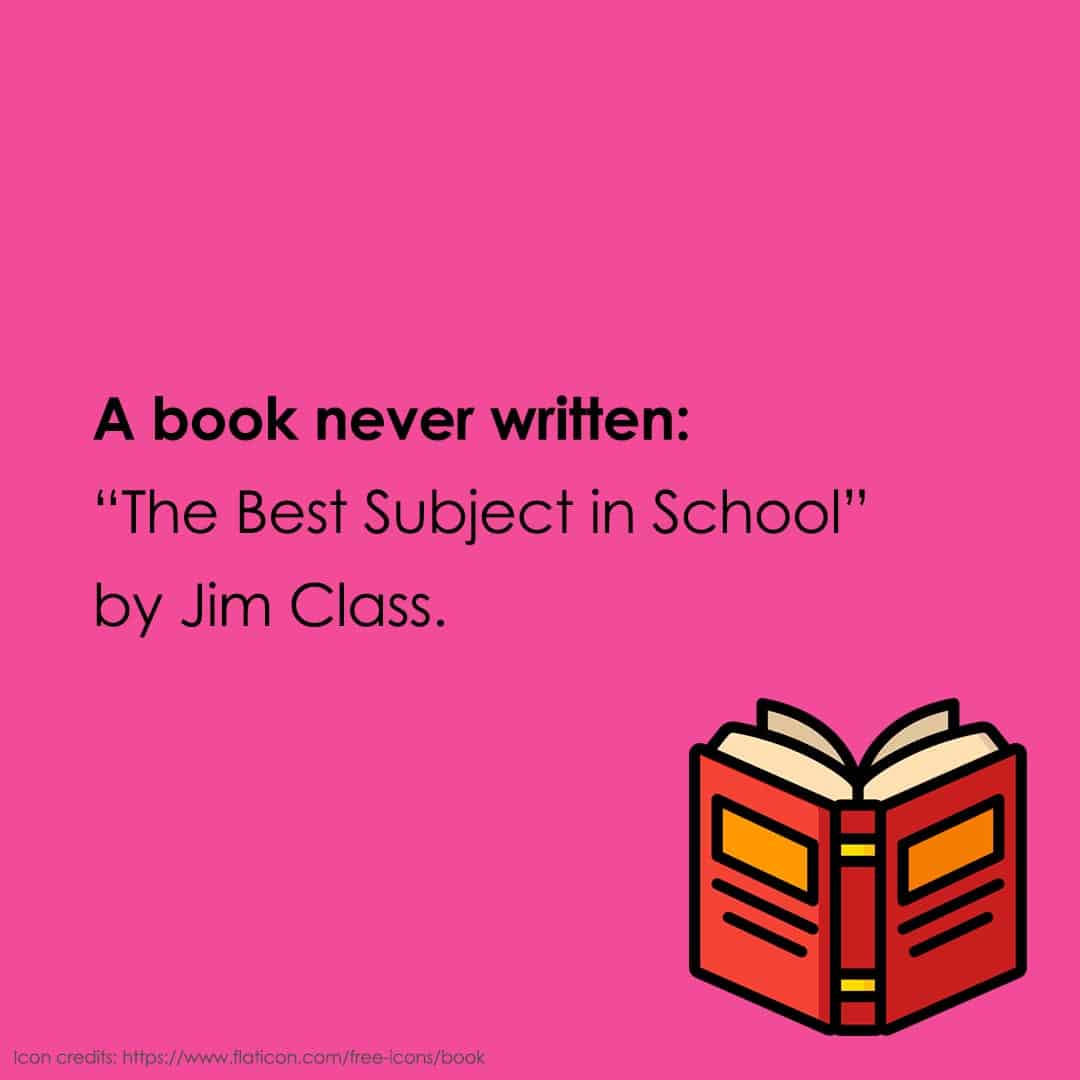 "The Best Subject in School" by Jim Class.
6. What's the worst thing you're likely to find in the school cafeteria?
7. How do you get straight A's?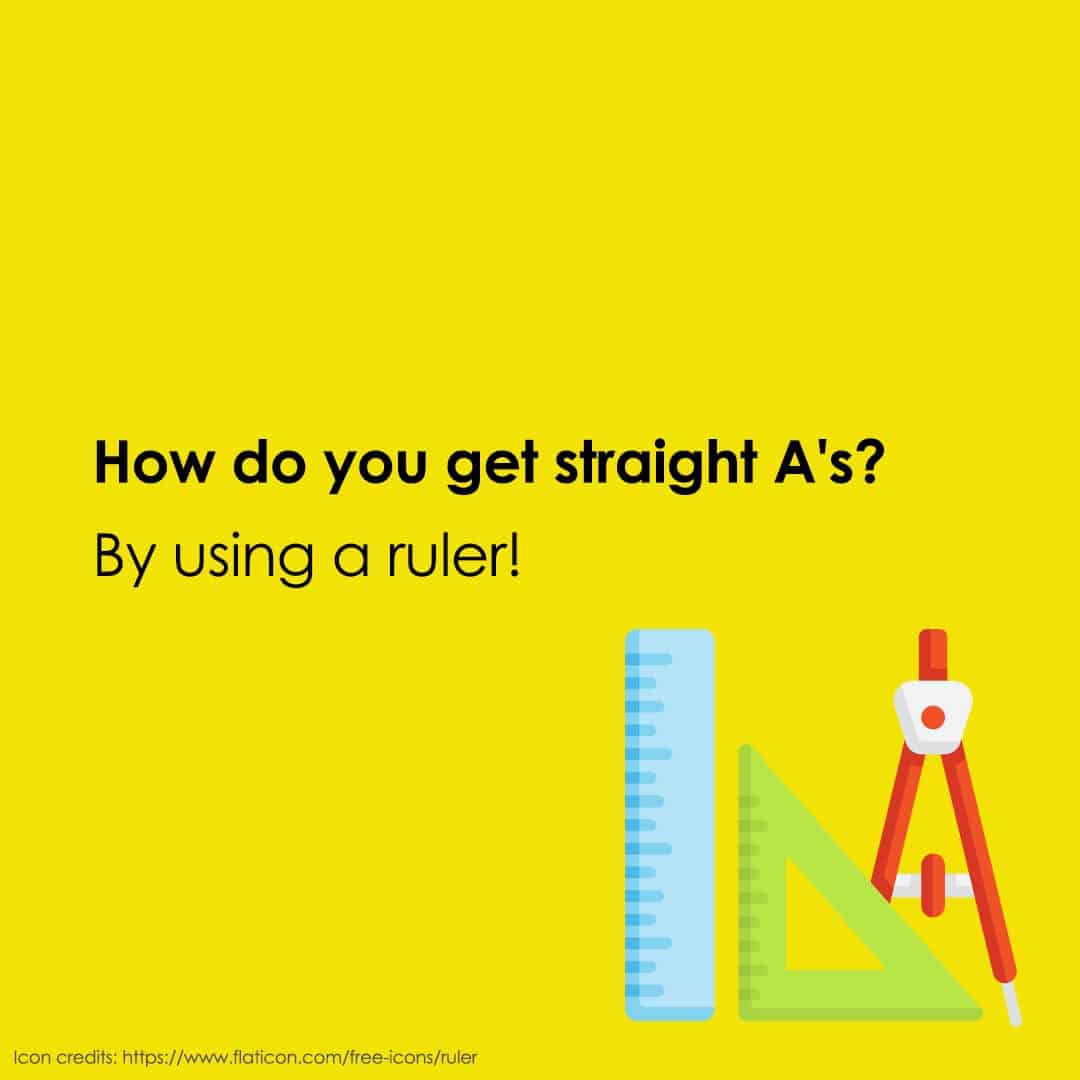 8. Why did the kid study on the airplane?
Because he wanted a higher education!
9.  David: Why did the broom get a poor grade in school?
Dan: I don't know. Why?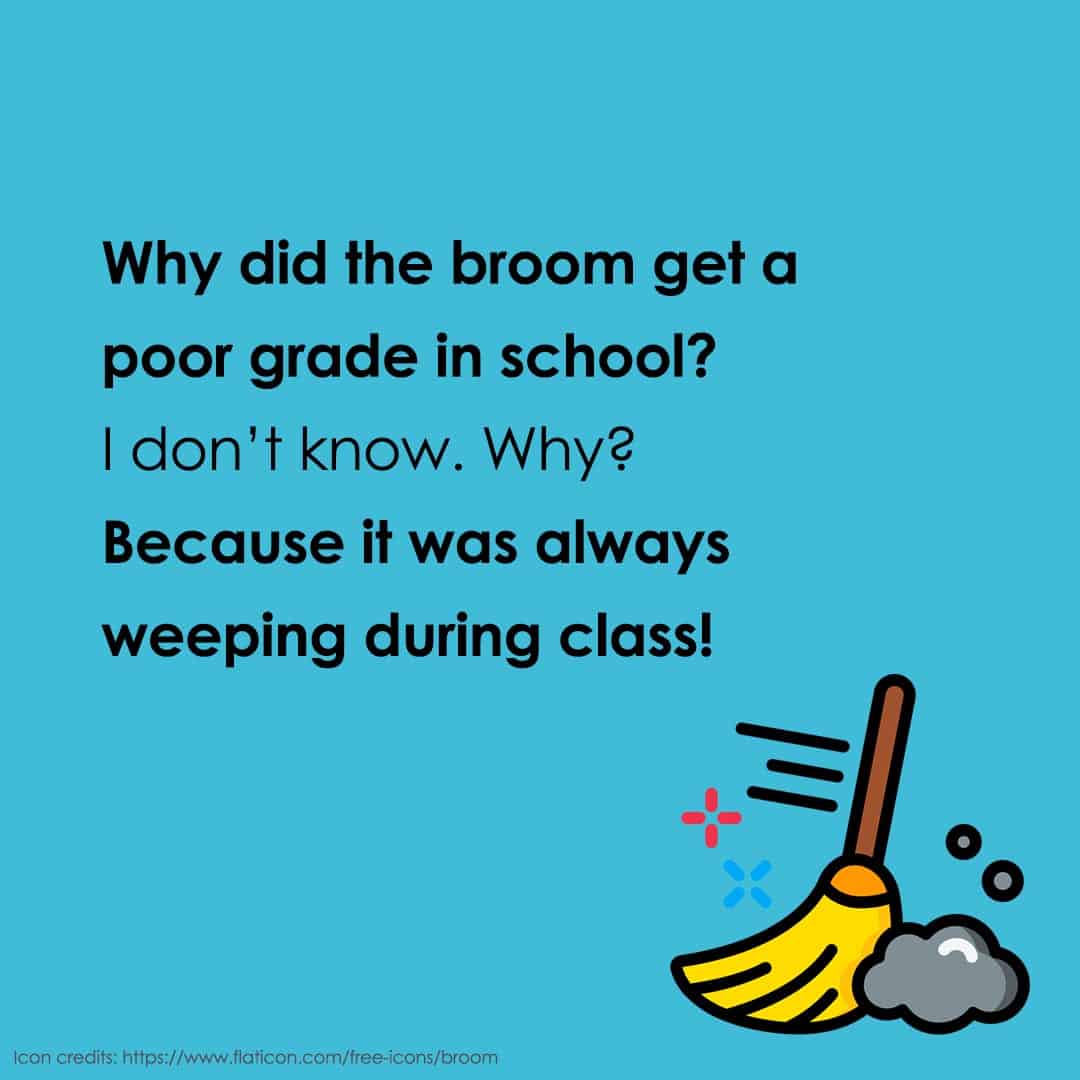 David: Because it was always sweeping during class!
10. What vegetables to librarians like? 
11. What did the pencil sharpener say to the pencil?
Stop going in circles and get to the point!
12. A book never written:
"High School Math" by Cal Q. Luss.
13. Which school does an ice cream man go to?
14.Stevie: Hey, Mom, I got a hundred in school today!
Mom: That's great. What in?
Stevie: A 40 in Reading and a 60 in Spelling.
15. Name the flying mammal in the kindergarten class.
16. Why did the student throw her watch out of the school window?
She wanted to see time fly.
17. Why do magicians score well in exams? 
Because they can handle tricky questions.
18. Why does the math class make students sad?
Because it is full of problems.
19. Hunter: What has given Mr. Bubbles nightmares since elementary school?
Josh: Beats me.
20. Why is history a sweet subject? 
Because it has many dates.
21. Teacher: If you had 13 apples, 12 grapes, 3 pineapples and 3 strawberries, what would you have?
Billy: 
22. Teacher: Why can't you work in an orange juice factory?
Student: I don't know. Why?
Teacher: Because you can't concentrate!
23. Johnny: Teacher, would you punish me for something I didn't do?
Teacher: Of course not.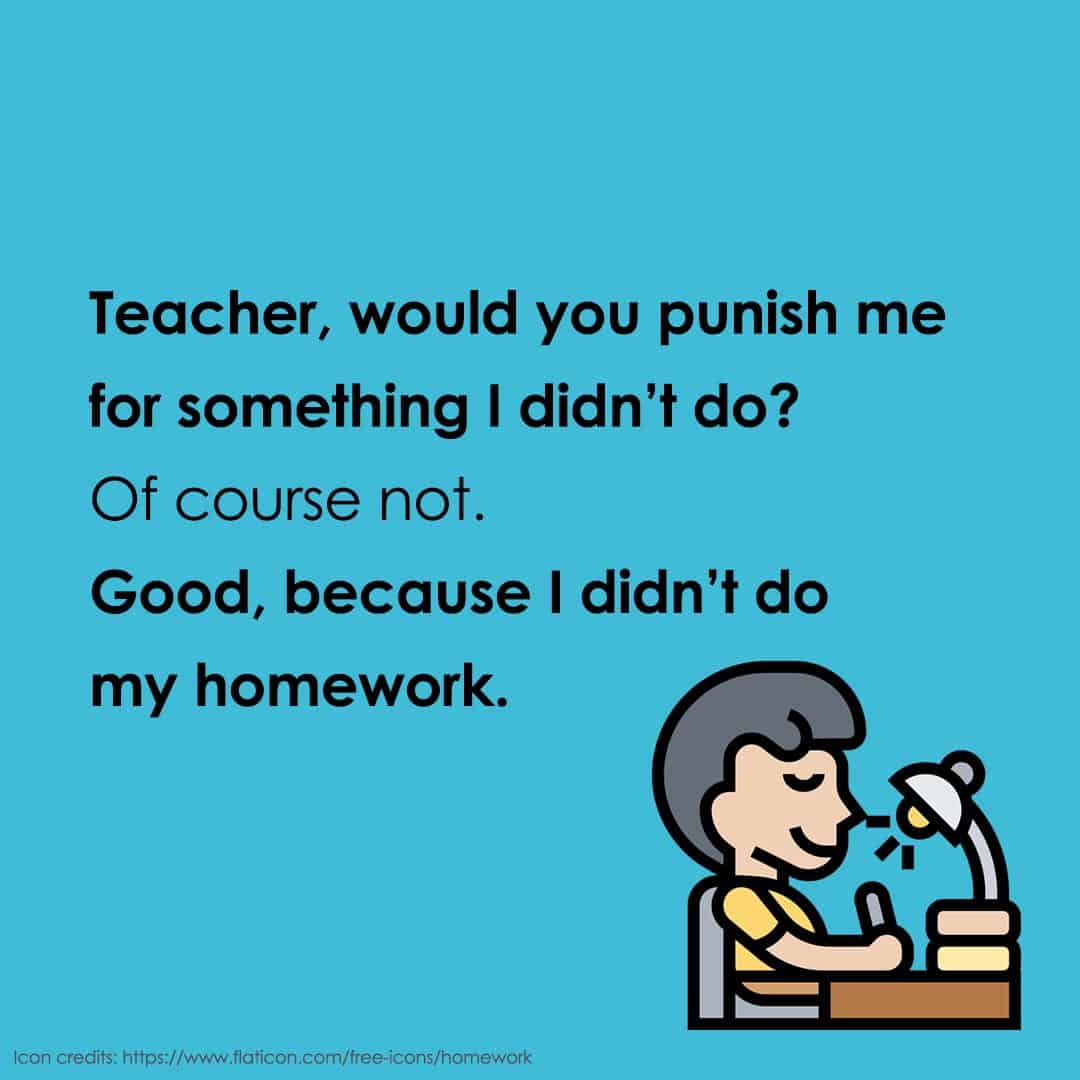 Johnny: Good, because I didn't do my homework.
24. Why do fireflies get bad grades at school? 
Because they are not bright enough.
25. A butterfly's favorite subject? 
26. Teacher: Why did you eat your homework, Joe?
Joe: Because I don't have a dog.
27. Who is everyone's best friend at school?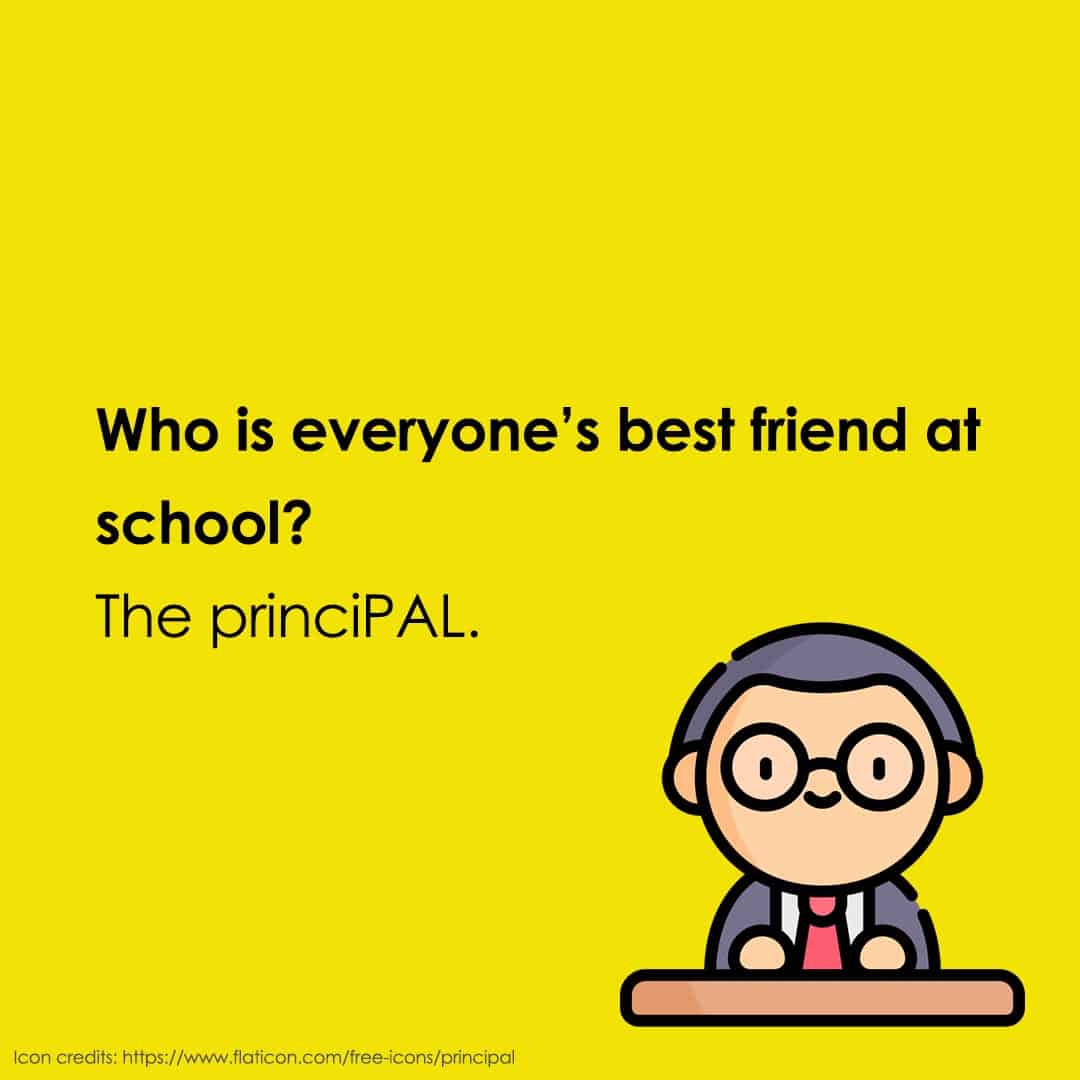 28. Why don't giraffes go to elementary school? 
Because they go to high school.
29. What do math students eat on Halloween?
30. Why were the students doing multiplication on the floor?
The teacher asked them not to use tables.
31. Why is the obtuse angle always upset?
Because it can never be right.
32. Favorite season of a math teacher?
33. Which animal cheats in the exams?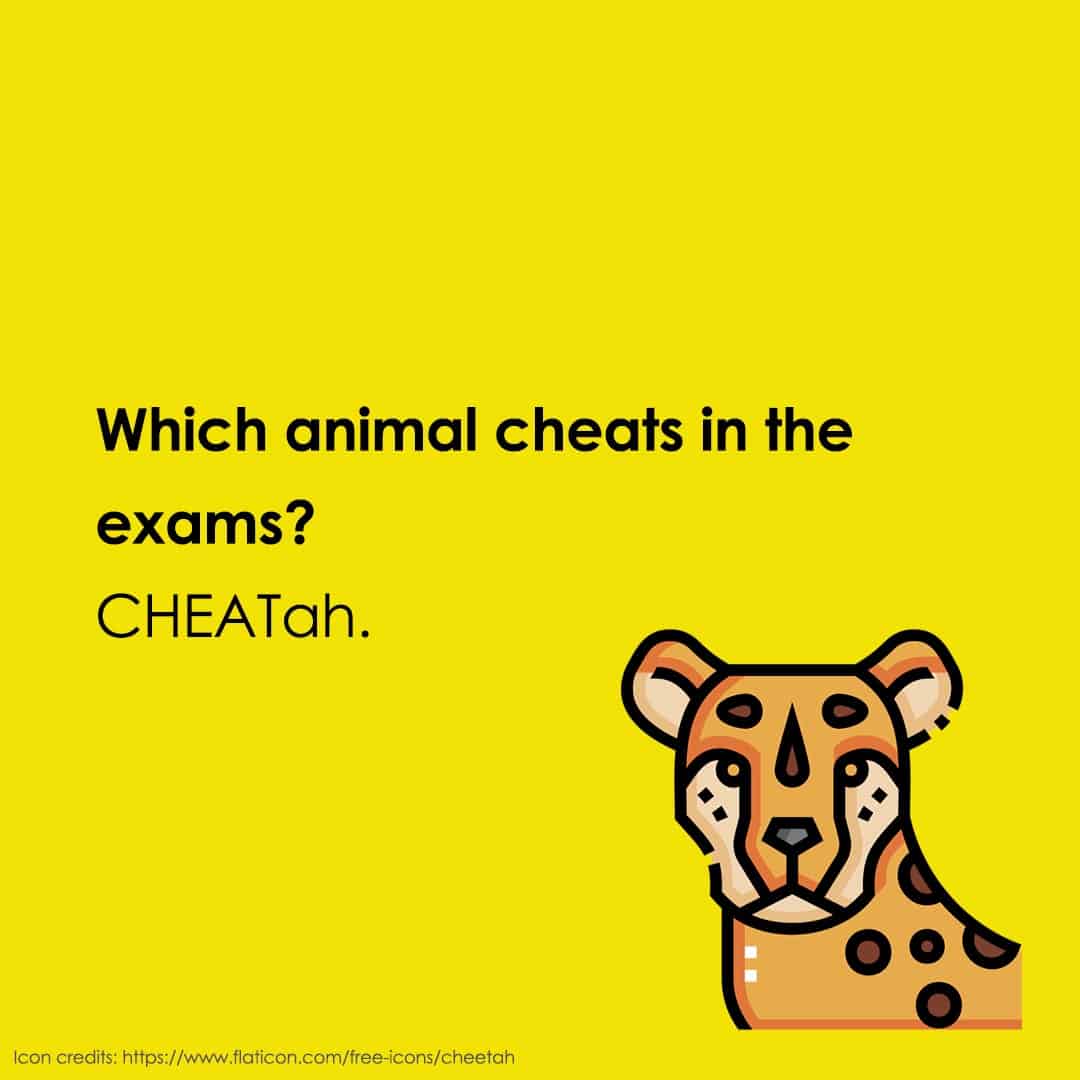 34.  An English teacher's favorite breakfast?
35.  On the first day of school, what did the teacher say her three favorite words were? 
36. What U.S. state has the most math teachers?
37. Why did Jimmy's grades drop after the holidays? 
Because everything was marked down!
38. What do you get when you cross a math teacher with a tree? 
39. Why did the kid run to school?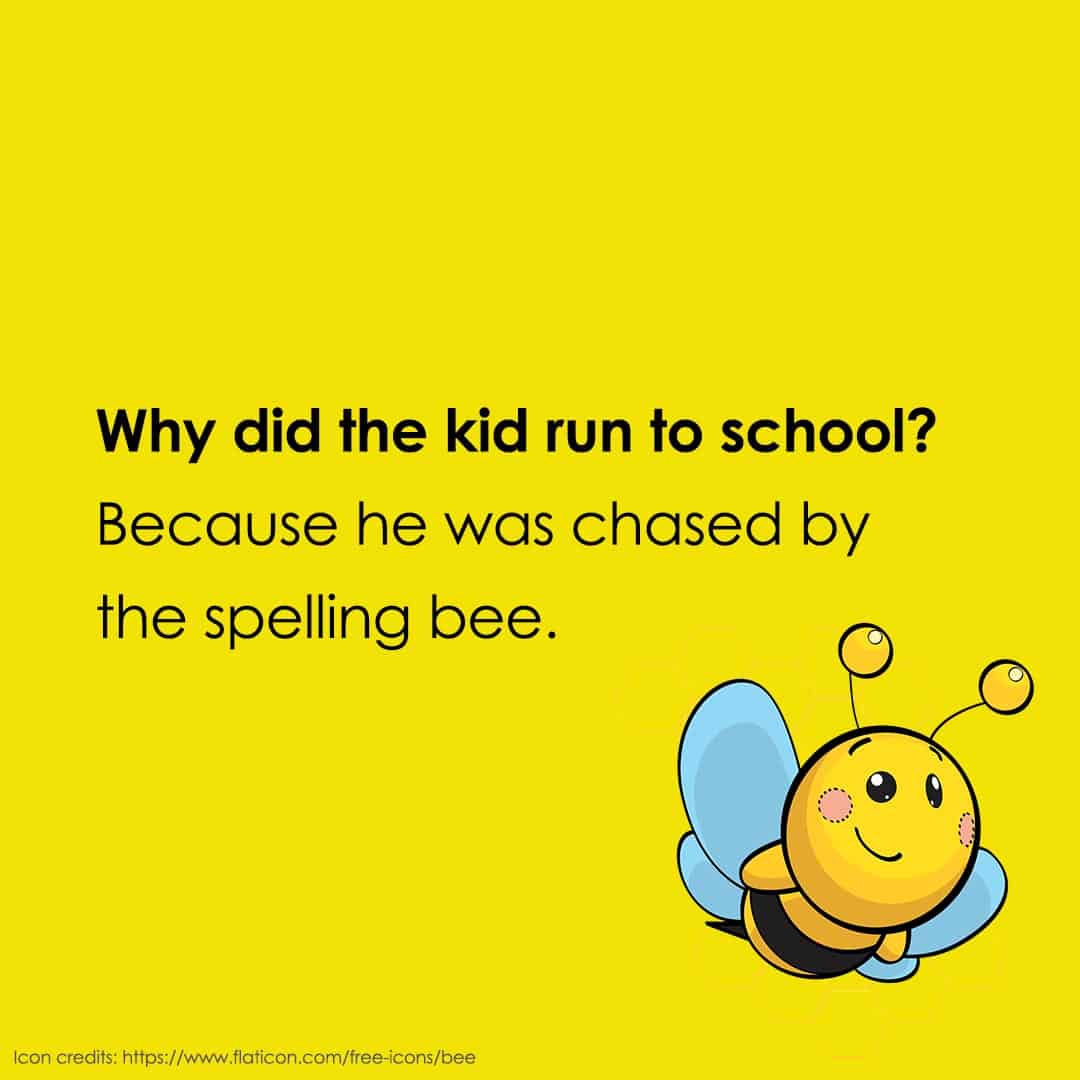 Because he was chased by the spelling bee.
40. What do you call a square that's been in an accident?
41. A book never written: 
"When Does School Start?" by Wendy Belrings.
42. What is yellow on the outside and gray on the inside?
A school bus full of elephants!
43. What kind of teacher passes gas?
44. What do you get when you cross a teacher and a vampire?
45. I usually wear a yellow coat. I usually have a black tip and wherever I go I make marks. What am I?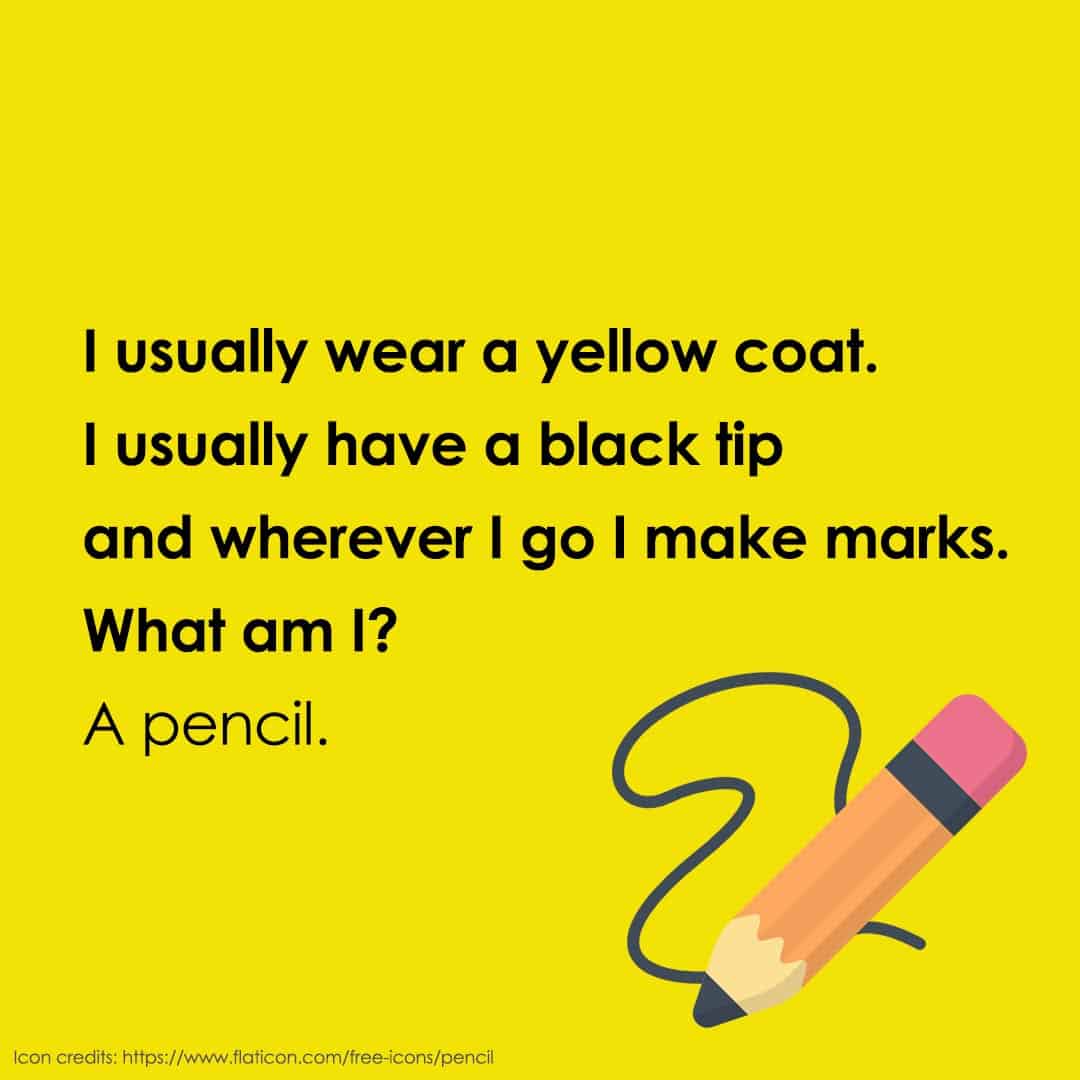 46. What kind of math do Snowy Owls like?
47. What is white when its dirty and black when its clean?
48. Why did the teacher go to the beach?
49. What did the calculator say to the girl on the first day of school?
Pick me and I'll solve all your problems!
50. Why is glue bad at Math?
It always gets stuck on the problems.
51. Where did the sheep say they went for summer vacation?
52. Why did the Cyclops close his school? 
Because he only had one pupil.
53. Who was in charge of the school during summer vacation?
54. What food do math teachers eat? 
55. What did the lobster do when the first day of school ended?
56. What do you get when you throw a lot of books in the ocean?
57. What do they do on the first day of sheep school?
58.  What did you learn in school today?
Not enough, I have to go back tomorrow!
59. Why was the school cafeteria clock behind on the first day of school?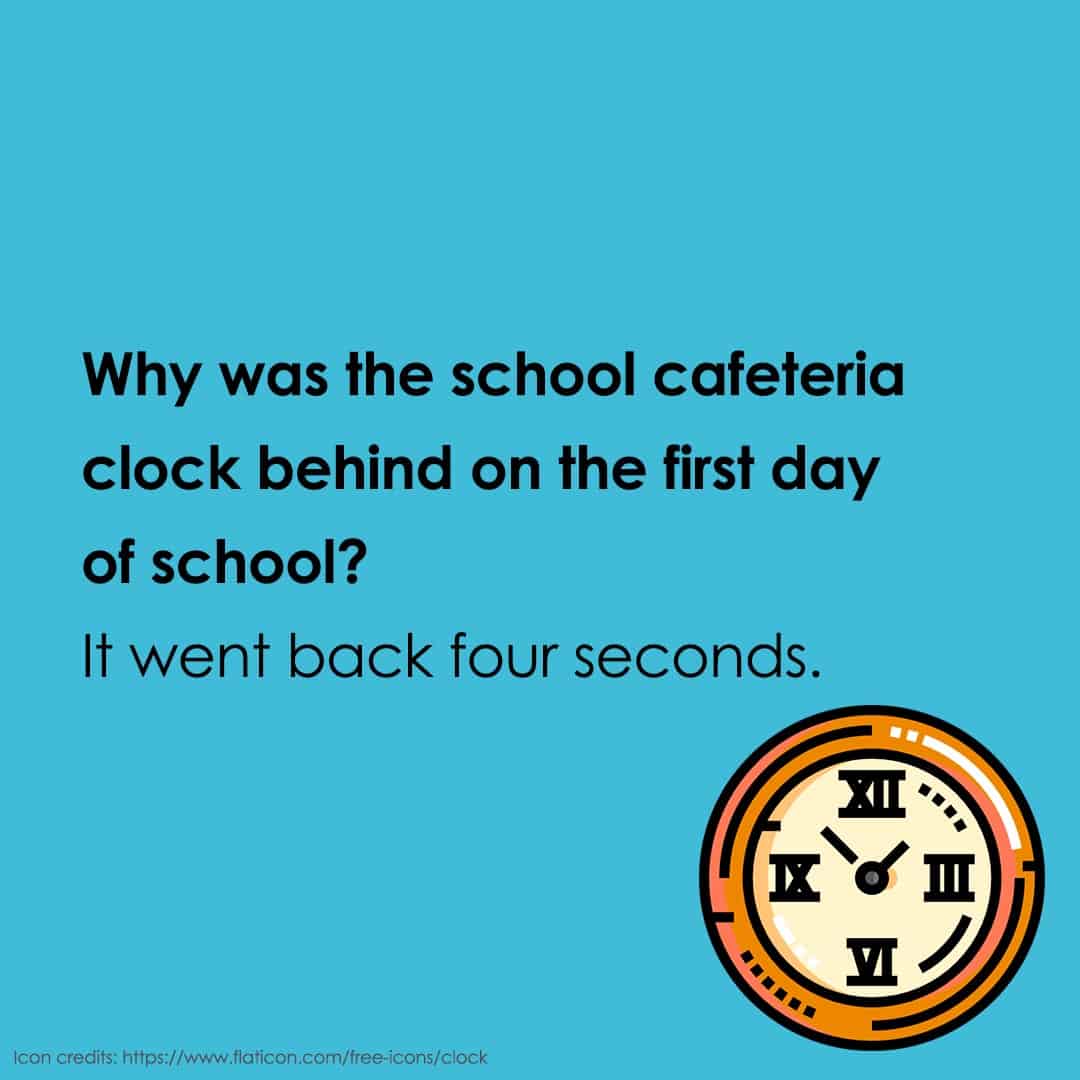 It went back four seconds.
60. Why did the warlock way he had so much trouble with math?
He never knew WITCH equation to use.