Scooping games are an excellent way to develop gross and fine motor skills as well as hand-eye coordination and can easily be combined with letter, number, and color identification activities.
This creative list of scooping games includes a classic Japanese goldfish-catching game, sensory bin ideas, fun carnival-style party games, and plenty of cooking and nature-themed practice.
This easy toddler game is a fantastic way to develop fine motor skills, color recognition, and core numeracy skills such as comparing objects by size and identifying numbers from one to ten.
Learn more: Buddy and Buddy
2. Goldfish-Scooping Game
This traditional Japanese game called Kingyo Sukui is played during summer festivals. This popular carnival-style booth game consists of scooping goldfish from a pond with paper scoops and makes for a wonderful way to connect with the natural world as well as Japanese culture.
Learn more: Yabai
This fun cornmeal scooping game is a great way to develop cognitive skills such as measuring, problem-solving, and language skills all while engaging in cooperative play.
Learn more: Toddler Approved
4. Toddler Fine Motor Ball Scoop
This ball scooping activity is a wonderful way to develop gross motor skills such as standing, reaching, and pulling as well as fine motor skills such as scooping and holding a spoon and sieve. Why not substitute with bouncy balls or water balloons for an added dexterity challenge?
Learn more: The Train Driver's Wife
5. Ice Cream Scoop and Balance Game
This multi-step game combines scooping practice with balancing and transferring skills by using an ice cream cone and scoop to create a fun dessert theme.
Learn more: Play & Learn Every Day
6. Pompom Scoop and Fill Race
This scooping game uses scissor scoopers which make a great way to develop fine motor skills and strengthen hand muscles while incorporating a fun race element to keep kids focused.
Learn more: The Imagination Tree
7. Cranberry Scoop Game Scoop Fun With Holiday Theme
This winter holiday-themed scooping game helps kids explore the concepts of gravity as well as cause and effect, and encourages them to create a hypothesis and conduct scientific water tests to demonstrate their understanding.
Learn more: Days with Grey
8. Apple Scoop and Sort Carnival Game with Water Columns
This hands-on sensory activity is an excellent choice for developing hand-eye coordination and sorting skills and can be organized into many game variants by color, object, and number for an added challenge.
Learn more: Days with Grey
9. Bury the Acorns Festival Game
Kids are sure to love pretending to be squirrels by burying acorns under piles of dry beans. This fall-themed scooping activity is also a great way to develop problem-solving skills, refine visual perception, and encourage imaginative thinking through sensory play.
Learn more: Happy Toddler Playtime
10. Mini Kiddie Pool Scooping Activity for Indelible Summer Memories
This water-based activity is simple to set up and can also be adapted for hours of kiddie pool fun. All it takes are some colorful items of interest and any scooping tools of your choice. Why not add some stacking cups, small shovels, large plastic spoons, or even a few water balloons for some extra splashing fun?
Learn more: Teaching Littles
11. Sensory Bin Creative Play Activity
This scooping sensory bin activity is a great way to develop an understanding of cause and effect since toddlers can make a mess if they tip their spoons or spill liquids if they pour too quickly. They can also understand the impact of gravity and weight by observing how objects respond when they are poured or dropped.
Learn more: Toddler at Play
12. Scooping and Pouring Patterns Activity
This pattern-based scooping and pouring activity helps build math skills such as measurement, comparison, counting, and pattern identification. It's an excellent way to develop the core skills that form the basis of practical life skills such as turning a doorknob, putting on clothing, or preparing food.
Learn more: Stay at Home Educator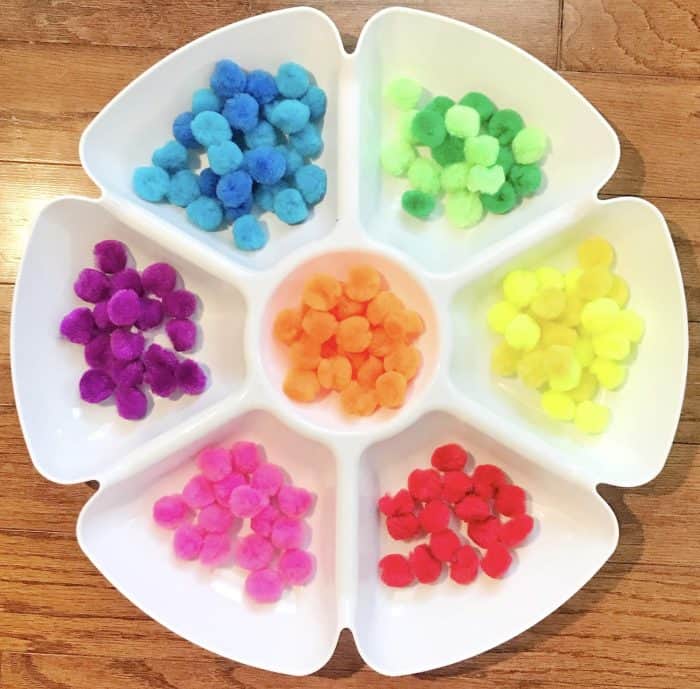 This budget-friendly scooping activity challenges toddlers to sort pompoms by color. While simple and easy to set up, it has great appeal for toddlers who enjoy transferring objects between containers. Apart from color recognition and hand-eye coordination, it's a great way to teach organization and sorting skills that are transferable to many independent activities they will need to master down the road.
Learn more: Happy Toddler Club
14. Scoop it Up Party Game
This fun minute-to-win-it challenge requires nothing but a spoon to transfer a series of ping pong balls from one bowl to another. It's great fun for all ages and makes a wonderful choice for a family game night!
Learn more: Happiness is Homemade
15. Scrabble Alphabet Scoop
This child-friendly variation of Scrabble is a fantastic way to build vocabulary and letter recognition skills while improving grip strength, spatial awareness, and manual dexterity.
Learn more: Ultra Board Games
16. Name Recognition Game
Around the age of three, most children can start identifying letters and learning to spell their own names. This name-recognition soup game creatively combines letter identification with scooping skills to create a fun activity with multiple learning opportunities.
Learn more: Play, Teach, Repeat
17. Watermelon Scooping Activity
Most kids love helping out in the kitchen and feeling useful around the house. Why not put them to work with this watermelon scooping task that empowers them to feel helpful and important?
Learn more: Oh Hey Let's Play
Who doesn't love a low prep activity that makes for hours of imaginative play? This sensory bin combines kid-favorite Lego bricks with water and kitchen utensils such as a big bowl, ladle, whisk, and large spoon for a terrific fine motor activity that also develops self-awareness as toddlers fine-tune their muscles based on the weight of each piece.
Learn more: And Next Comes L
19. Feed the Squirrel Scoop and Pour Activity
This is a great fine motor activity for discussing the changes of fall as well as the habitat needs of squirrels and other animals that appear in your neighborhood during the cooler fall months. What's more, playing with a determined purpose empowers kids to complete their tasks and instills them with a strong sense of accomplishment.
Learn more: Happy Toddler Playtime
20. Scoop and Transfer Activity
This simple activity requires a basket, different-sized balls, and some cups to use as scoops. Not only does it develop fine motor skills through scooping and transferring, but also builds gross motor skills as toddlers are challenged to walk, run or hop to transfer their items into an empty basket.
Learn more: Hand On As We Grow