Teaching sentence structure has many benefits: it allows children to express ideas clearly, gives them a comprehensive knowledge of grammar structures, allows them to add more detail to their language, and is an essential element in scaffolding to put together paragraphs! Unfortunately, students often meet grammar instruction with an eye roll or a dramatic sigh. However, sentence-building can be exciting if the correct activities are chosen. To help you up the ante, we've gathered 20 awesome sentence-building activities for your learners to try out!
1. Build Skills With Progressive Activities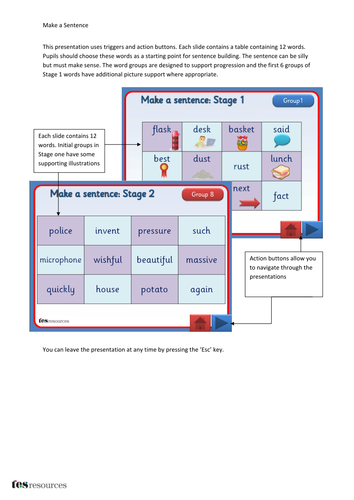 Help scaffold sentence-building skills with these worksheets and interactive ideas from Tes. Divided into four stages, these resources use tables and visual aids to support early learners and progress to more challenging sentences for higher-level students.
Learn more: Tes
2. Sentence Bulls Eye
Help build student accuracy and creativity in sentence building. This activity can either be completed individually by learners as they draw a line to connect different parts of a sentence in the right order or play as a whole class where students throw a ball to hit the correct part of a sentence.
Learn more: Lesson Planet
3. Card Games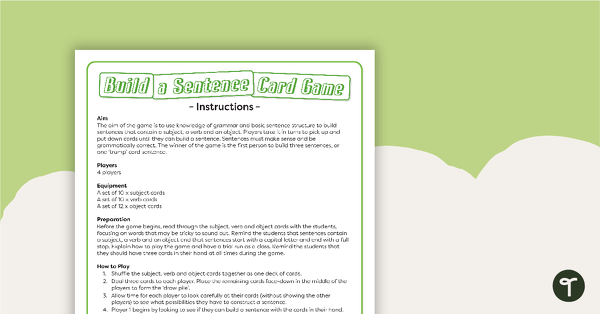 Make time for some fun small-group learning with this sentence-building card game. Easily differentiated by adding in teacher support, this game helps children recognize words and phrases that go together in a sentence. Add in some good ol' cards competition and your students will be begging to play this game again!
Learn more: Teach Starter
4. Practice Sight Words
Nothing helps students build more fluency than knowing their sight words. Well, except for practicing their sight words and sentence building at the same time. This worksheet will help students do both, and have so much fun they won't even realize how much they're learning along the way!
Learn more: Have Fun Teaching
5. Make Sentence Building 3D
Some learners thrive when they have something physical they can hold in their hands. These sentence-building dominoes are a tactile way for students to experiment with different sentences. The countless combinations will have your students becoming lexical pros in no time.
Learn more: Pinterest
6. Expand Your Students' Sentence Horizon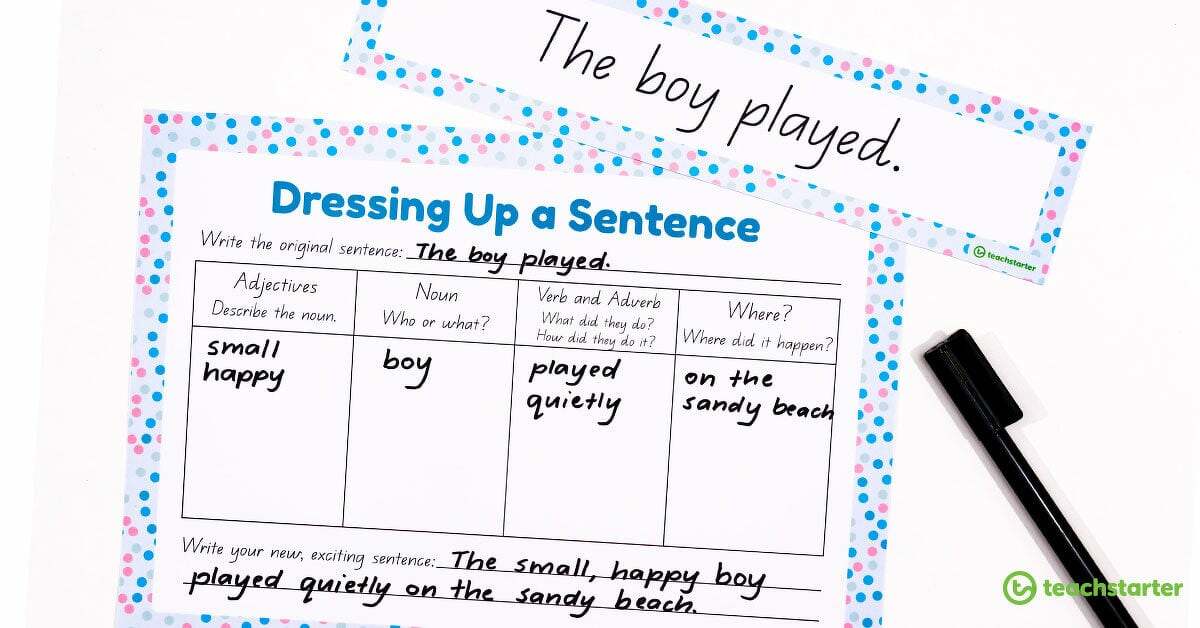 With the whole English language in front of your students, how can you encourage them to expand their vocabulary? Easily; by using this expanding sentences writing activity. Students will use a table that guides them to brainstorm words and phrases they can add to make sentences more descriptive.
Learn more: TeachStarter
7. Think Outside The Box
There are endless ways to make building sentences fun and original for your students. With this Big Box of Sentence Building, your students can piece together parts of sentences like a puzzle. It'll have them thinking outside the box in no time.
Learn more: TTS
8. Sentence Building Resources
Powered by The Langauge Gym, The Sentence Builders site contains hundreds of different activities, games, and worksheets you can use with your students. From user-generated content, premium resources made by experts, and online games to give your students their tech fix, Sentence Builders is the perfect place to look for ideas.
Learn more: Sentence Builders
9. Pepper Learning With Play
On the Turtle Diary site, you can find a wealth of games aimed at helping students build, correct, and unscramble sentences! Check the site out; chances are you'll find a game that matches your lesson perfectly!
Learn more: Turtle Diary
10. Make It Easy For Young Learners
This activity is perfect for kindergarten students. Using cards that have half of a sentence on each, learners can pair two together, paste them on their sheet, practice writing the sentence on their own, and even draw a picture to visualize what they have created.
Learn more: Natalie Lynn Kindergarten
11. Spur Creativity With Questions
Are your students struggling to come up with descriptive words to add to their sentences? This activity provides learners with both visual and text prompts. Questions within the sentence refer back to the picture and give children the opportunity to put their answers in the correct place using descriptive-word cards.
Learn more: Angie S
12. Sentence Building Stripes
This fun activity is great for the animal lovers in your class. Once your students have used the provided words in their own sentences, they can even get creative and color in the zebra however they want.
Learn more: Education.com
13. Make Learning Sweet
For learners with a sweet tooth: these scrambled crazy cakes sentences will have their mouths watering for more practice by the end. You can't make a cake without breaking a few eggs? Well, you can't make a sentence without unscrambling a few words!
Learn more: Education.com
14. Get Artsy With It
Build sentences, get creative, and develop fine motor skills with this awesome activity! This cut-and-paste activity will help your students arrange words in the right order while itching that artsy tickle in their brains.
Learn more: 123 Home School 4 Me
15. Make Things Challenging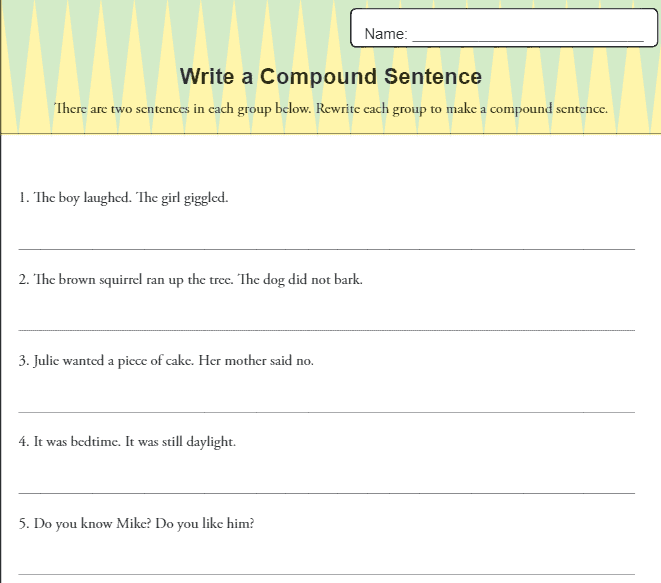 "This is too easy!" "Psh, I finished already!" If you have students who make remarks like these, we'll help you come in well-prepared for next time. Learners who have mastered building simple sentences are ready to tackle compound sentences. This worksheet is the perfect tool to help them up the ante!
Learn more: K12 Reader
16. Puzzle Your Way Out
Ms. Giraffe's Class has this animal-themed activity that will make the puzzle fans in your class go wild. The activity is scaffolded from the very beginning; introducing the letters, sounds, and words and then building up to using them in sentences.
Learn more: Ms. Giraffe's Class
17. Throw a Curveball to Higher Learners
Have your more able students already mastered building simple sentences? Well, give them this worksheet and watch their learning soar to new heights! With the support of these word cards and sentence structures, they'll be learning how to build compound and complex sentences in no time.
Learn more: Mrs. Winter's Bliss
18. Get Silly With It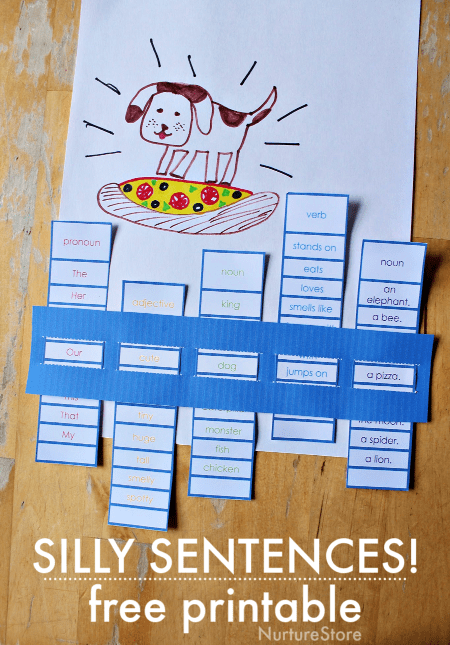 What's the point of working with children if you can't get silly sometimes? This printable activity will help your students build silly sentences and will have them laughing in no time. Who knows? Maybe you'll get a chuckle or two out of it.
Learn more: Nurture Store
19. Cup Sentence Building
This cup, the sentence-building game is a great way to make learning interactive. Easy to set up and engaging for any student; this game involves reading words on cups and arranging them into different sentences. The reading practice opportunities are endless!
Learn more: Planning Playtime
20. Go Beyond Sight Words
These flashcards are a handy way to revisit sight words and develop students' familiarity with sight phrases and sentences. After all, you can't build a sentence unless you recognize what a good one looks like!
Learn more: Mrs. Terhune