St. Patrick's Day is fast approaching and if you don't have any fun art activities planned, don't stress! For this year's holiday, I decided to focus on shamrock-themed craft ideas. Shamrocks are an important symbol for St. Patrick's Day and there are plenty of cute crafts that are suitable for kids of all ages. Below, you will find a list of my 20 favorite shamrock-themed art activities to enjoy with your students!
1. Wine Cork Shamrock
I love crafts that use objects other than paintbrushes to paint. This craft uses three wine corks taped together to create the shamrock shape. Your kids can dip it in paint, stamp it on paper, and add a thin stem to complete the design!
Learn More: Crafty Morning
2. Toilet Paper Shamrock Stamp
Toilet paper rolls can also be used to make shamrock shapes. Your kids can squish the roll in the center and secure the heart-like shape with tape. They then dip the edges in paint and stamp them onto paper. They can finish it off by adding color to the inner leaves and stem.
Learn More: Crafty Morning
3. Bell Pepper Shamrock Stamp
Have spare bell peppers for shamrock stamping? Dip the bottom in green paint and stamp them on a piece of paper to see the shamrock or four-leaf clover resemblance! Bell peppers with three bottom bumps will be a better option for a shamrock design.
Learn More: How Wee Learn
4. Marshmallow Shamrock Stamp
Looking for a tastier alternative to bell peppers? You could try making this marshmallow shamrock painting. Your kids can stamp the marshmallows side-by-side and one on top to make the leaves. They can then paint the stem.
Learn More: The Pinterested Parent
5. Glitter Shamrocks
This glittery craft is surprisingly mess-free! Your kids can add glitter glue to the edges of a shamrock template on a piece of white paper. They can then use cotton buds to stroke the glitter inwards. Then voila- a glittery shamrock craft!
Learn More: Twitchetts
6. Thumbprint Shamrock
Nothing beats a fun finger-painting session! Your kids can tape a shamrock onto a piece of cardstock to block paint from entering the shamrock area. They can then dip their fingertips into the paint to decorate the background!
Learn More: A Dab of Glue Will Do
7. Shamrock Pasta
Your kids can combine pasta and paint in this creative art project! First, they can cut out a small shamrock shape using a template for guidance. Then, they can cover it in liquid glue and pasta pieces. Paint green to complete!
Learn More: Crafts for All Seasons
8. Textured Shamrock
This texture collage can be an exciting sensory exploration for your kids. After they cut a shamrock shape out of a piece of cardboard, they can add paint and glue before sticking on pieces of felt, tissue paper, and pom poms!
Learn More: No Time for Flash Cards
9. Mosaic Shamrock
Here's a simple shamrock craft that makes use of leftover paper scraps! After drawing and cutting out a shamrock shape on light green paper, your kids can glue small pieces of scrapped paper to the shamrock to create a mosaic design.
Learn More: Craft Corner DIY
10. Emoji Shamrock
I remember when emojis didn't exist and we just used ":)" for a smiley face. But now, we have fancy emojis! Your kids can cut out a green paper shamrock and glue it on the different facial features of their chosen emoji.
Learn More: DLTK's Sites for Kids
11. Egg Carton Shamrock
I love art project ideas that use recycled materials, like this one! For this craft, your kids can cut out three parts of an egg carton and paint them green to resemble shamrock leaves. Then, cut a construction paper stem and hot glue everything together.
Learn More: The Pinterested Parent
12. Button Shamrock Art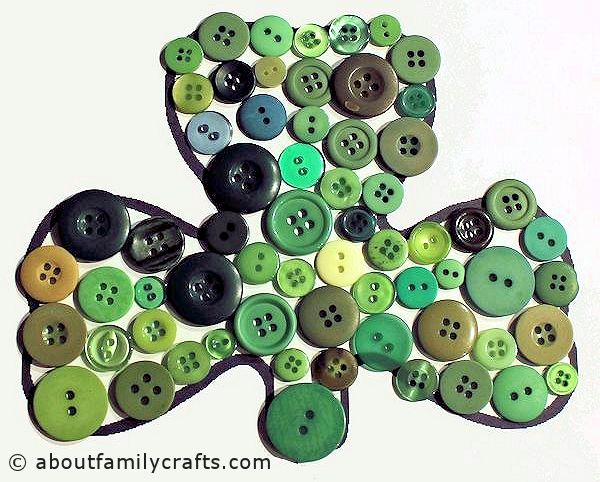 I love using buttons in crafts because of all the different sizes, colors, and designs to choose from. You can print some shamrock shapes and have your kids cover them with glue. They can then fill the shapes with buttons.
Learn More: About Family Crafts
13. Rainbow Paper Shamrock
Your kids can make these rainbow-colored shamrocks using construction paper, staples, and hot glue. This requires strategic bending and cutting of paper strips to make teardrop shapes that are then stapled and glued into the clover shapes. Step-by-step instructions can be found at the link below!
Learn More: Twitchetts
14. Rainbow Shamrock Stick
Here's another rainbow shamrock craft for your kiddos to enjoy! They can make a foam shamrock cutout and then glue it on rainbow-colored streamers. They can use a marker to add eyes and a mouth, followed by tapping a stick to the body.
Learn More: Easy Kids Craft
15. 3D Paper Shamrock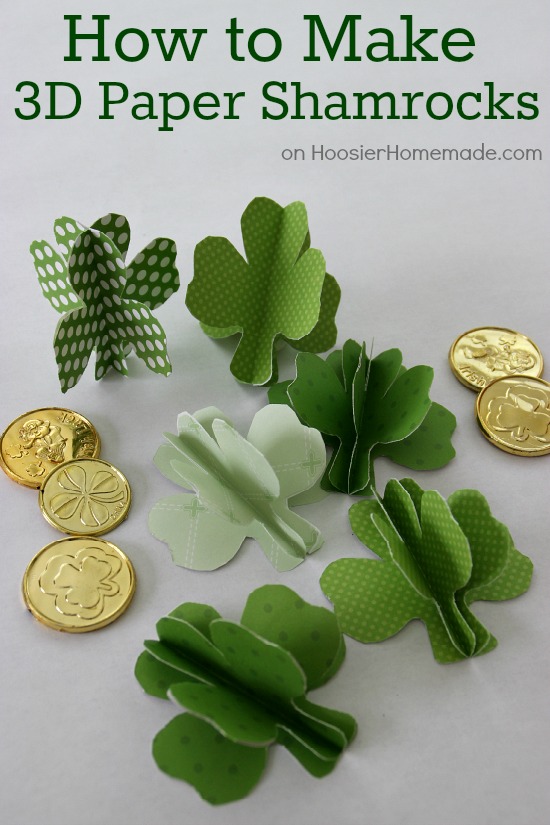 These 3D crafts make a nice addition to classroom decorations for St. Patrick's Day. You can print out the shamrock template and follow the guided instructions from the link below. It will involve cutting, folding, and sliding pieces together.
Learn More: DLTK's Sites for Kids
16. Beaded Shamrock
Making craft projects with pipe cleaners is great for fine motor skill practice. Your kids can thread beads onto the pipe cleaner and then follow the bending instructions in the link below to create the fancy shamrock shape.
Learn More: Fun-A-Day
17. Shamrock Lacing Card
Here's another excellent fine motor practice activity! After cutting out the shamrock shape, hole punches can be made along the edges of the clover. Then, students can cut a long piece of string and thread it through the holes.
Learn More: Carrots are Orange
18. Shamrock Man
You can add this crafty shamrock man to your fun shamrock art ideas. Your kids can cut four small and one large paper shamrock shapes to form the body, hands, and feet. Then, fold white paper strips to create the limbs and add a smiley face!
Learn More: The Resourceful Mama
19. 5 Little Shamrock Puppets
There's a lovely rhyming song that goes hand-in-hand with these numbered shamrock puppets. You can make these puppets by gluing a foam shamrock cutout onto craft sticks. Add numbers, smiles, and googly eyes to complete, and then sing the accompanying song!
Learn More: Rainy Day Mum
20. Paper Plate Tambourine
Your kids can paint paper plates and cut a shamrock shape on one side (two plates = one tambourine). Then, they can cover the shamrock hole with plastic and add gold coins. Glue the two plates together and you've got a DIY tambourine!
Learn More: Red Ted Art