You know what they say: "Sharing is caring!" Because we care about all our fellow educators, we're happy to share 18 delightful ideas to help you foster a spirit of sharing and cooperation in your preschool classrooms. We've got you covered with 18 exciting sharing activities that are designed to engage and inspire your little ones. These activities are not only fun but also help develop important social skills and values. Let's dive in and discover the joy of sharing together!
1. Share the Snack Surprise
Ensure that those little tummies and hearts are happy with this tasty activity. Each child can bring a small snack to share with the group. As they exchange their snacks, they can practice sharing and experience the joy of giving and receiving.
Learn More: Raising Children
2. Storytime Sharing Circle
Gather your preschoolers in a cozy circle and read a story that emphasizes sharing and kindness. Afterward, encourage them to share their thoughts and feelings about the story; fostering empathy and understanding among the group.
Learn More: My Bright Wheel
3. Puppet Sharing Skits
Unleash your preschoolers' creativity with this interactive activity. Provide them with puppets or encourage them to make their own. Then, have them create short skits where the puppets must demonstrate acts of sharing.
Learn More: Early Impact Learning
4. Collaborative Artwork
This activity promotes teamwork and cooperative learning. Let your little artists shine with this collaborative art project. Provide a large canvas or a big sheet of paper and art supplies. Encourage your students to work together; taking turns and sharing materials to create a masterpiece.
Learn More: We Are Teachers
5. Sharing Song and Dance
Get those bodies moving and grooving while learning about sharing! Create a fun song and dance routine that incorporates actions and lyrics about sharing. The rhythmic movements and catchy tune will have your little ones happily sharing the dance floor!
Learn More: YouTube
6. Sharing Sensory Bin
Engage your preschoolers' senses with this hands-on activity. Fill a sensory bin with various objects such as small toys, fabric scraps, or natural items. Encourage your learners to then explore the bin together; taking turns and sharing the treasures they find.
Learn More: Artful Parent
7. Friendship Bracelet Exchange
Let the spirit of friendship and sharing shine through with this crafty activity. Provide materials for making friendship bracelets and guide your pupils on how to create unique bracelets. Then, organize a bracelet exchange where they can share their creations with one another as a token of friendship.
Learn More: Rediscovered Family
8. Garden of Sharing
Teach your little ones the joy of sharing through gardening. Create a small garden area where they can plant seeds or seedlings together. As they care for the plants and witness them grow, they'll learn the importance of sharing resources like water, sunlight, and nutrients for the plant's well-being. Once the plants are harvested, they can relish the joy of sharing their harvest with friends and family.
Learn More: Begin Learning
9. Sharing Story Starters
Boost language and communication skills while exploring the theme of sharing. Provide sentence starters like "I like to share…" or "Sharing makes me feel…" and encourage each child to complete the sentence. This activity promotes self-expression and encourages children to think about the positive impact sharing has on themselves and others.
Learn More: Journal Buddies
10. Toy Swap
Organize a toy swap day where children can bring a toy from home to trade with a classmate. This activity encourages sharing, negotiation, and the joy of giving and receiving. It also helps children develop a sense of detachment from material possessions.
Learn More: Earth Easy
11. Sharing Olympics
Turn sharing into a fun and friendly competition! Create a series of sharing challenges such as sharing a toy, sharing a secret, or sharing a snack equally. Learners can earn points for each successful sharing task; promoting cooperation and good sportsmanship.
Learn More: Early Impact Learning
12. Share and Tell
This activity promotes public speaking skills, builds confidence, and allows children to connect through sharing personal experiences. Encourage your preschoolers to bring an item from home to share and talk about with the class.
Learn More: Happy Single Mommy
13. Cooperative Games
Introduce cooperative games in your classroom routine so as to have your learners work together to achieve a common goal. Whether it's building a tower with blocks or solving a puzzle as a team, these activities emphasize the importance of sharing ideas, taking turns, and supporting one another.
Learn More: Kid Activities
14. Acts of Kindness Jar
Create an "Acts of Kindness" jar where children can write or draw kind deeds they have done for others. As they share their acts of kindness with the group, they are sure to inspire and encourage each other to continue spreading love and generosity.
Learn More: My Joy-Filled Life
15. Snuggle Buddy Sharing
Invite children to bring their favorite stuffed animals or soft toys to class. During naptime or quiet time, encourage them to share their snuggle buddies with a classmate; promoting a sense of comfort and friendship.
Learn More: Teachers Mag
16. Community Sharing Project
Engage your preschoolers in a community-sharing project so as to get them to participate in something meaningful and bigger than themselves. Together, brainstorm ways to give back to the community, such as collecting food for a local shelter or making cards for nursing home residents.
Learn More: Community Sharing Project
17. Sharing Treasure Hunt
Beyond the lesson of sharing, this activity encourages teamwork, problem-solving, and cooperation. Create a fun and interactive treasure hunt where your learners must work together to find hidden objects. As they discover each item, they must decide how to share it among themselves.
Learn More: Good Housekeeping
18. Sharing Feelings Board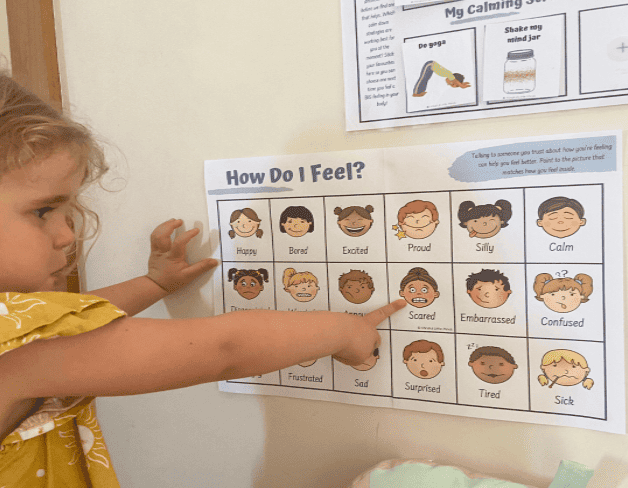 Set up a feelings board where children can express their emotions and experiences related to sharing. Provide a range of facial expressions and encourage them to place a marker on the board to indicate how they felt during sharing activities. This promotes emotional awareness and empathy and gives learners a safe space to share their feelings.
Learn More: Proud To Be Primary