Teaching kids to tie their shoes can be a challenging task, but with the correct methods, this fundamental skill can be made both fun and engaging. Our comprehensive guide explores 20 inventive activities that can be used to help your kiddos master shoe tying! From crafting felt shoes and shoelace jewelry to participating in shoe-tying races and learning catchy lace-up songs, these ideas cater to various learning styles- ensuring every child can become shoelace savvy! So, dive right in to learn how to turn an everyday task into an extraordinary learning journey.
1. The Bunny Ears Method
Invite your littles to hop into the exciting world of shoe tying with this fun activity! To begin, help them create two "bunny ears" with the laces and then tie them into a knot. This playful visualization will make the process both fun and understandable; turning an everyday task into an imaginative adventure.
Learn More: YouTube
2. Colored Laces
Brighten up your shoe-tying lessons by incorporating colored laces. This activity effectively teaches sequencing and fine motor skills while adding a splash pop of color to the learning process. Using two different colored laces, ropes, or ribbons, you can help your learners clearly distinguish between the steps involved; making the process more visually engaging and that much easier to understand.
Learn More: YouTube
3. The Cheerios Method
Combine snack time with learning by having your learners thread Cheerios onto a lace. These tasty little guides will give your kids a tactile reference for where their hands need to move to while tying. Better than this? They offer a crunchy reward for successful attempts!
Learn More: YouTube
4. The Loop, Swoop, and Pull Method
Here's a swift technique that transforms the complexity of shoe tying into a trio of catchy commands. This efficient method is fantastic for older kids; guiding them through making a loop, swooping the other lace around, and pulling it through to create a bow.
Learn More: YouTube
5. Shoe-Tying Songs
Let the power of music aid your shoe-tying lessons. Get your learners to learn catchy rhymes or tunes that narrate each step of the lace-tying process. From learning the sequence to synchronizing their hand movements, this will prove to be both educational and fun.
Learn More: YouTube
6. Shoe-Tying Race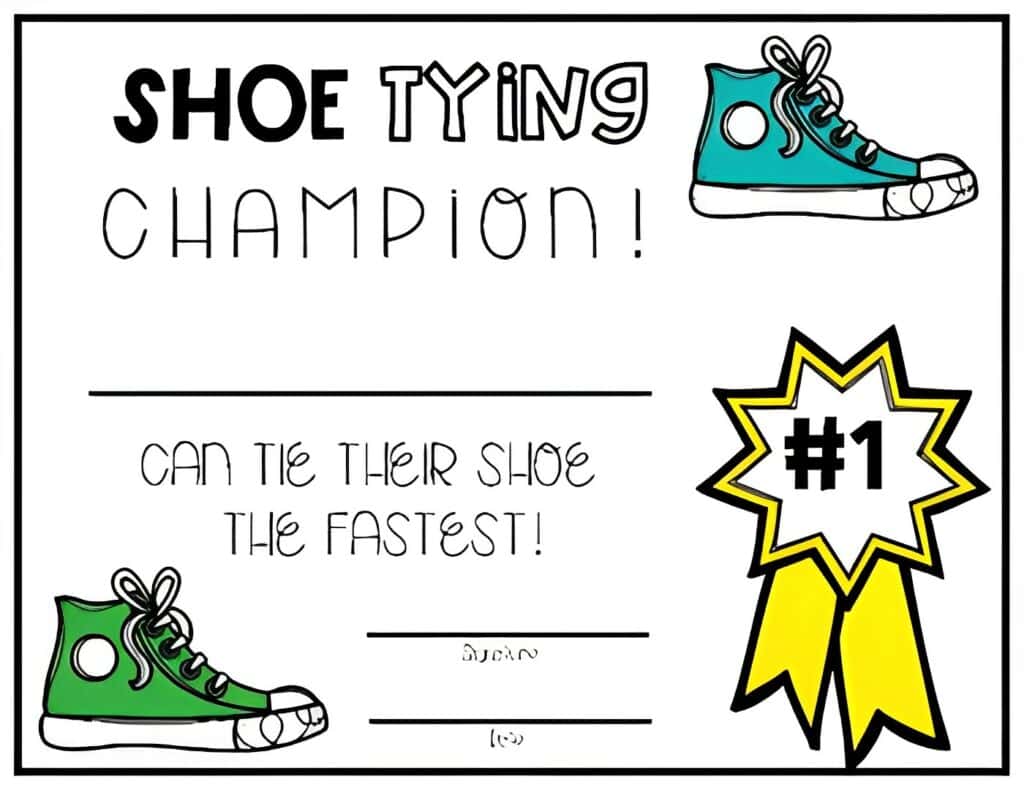 Ready, set, tie! Encourage healthy competition and excitement with a shoe-tying race or relay! Simply have your kiddos attempt to tie their shoes faster than all of their classmates. This fast-paced activity is sure to motivate them to master their lacing skills and will help them do so in record time!
Learn more: Teachers Pay Teachers
7. One-Loop Tie
This straightforward method teaches children to make a single loop and then wrap the other lace around it to create a bow. It's a simple and effective way to introduce them to shoe tying.
Learn More: YouTube
8. Using a Shoelace Board
Bring DIY into the classroom with this crafty idea. Create a lacing board or box mimicking a shoe, complete with laces and holes, to provide a hands-on tool that can be used repeatedly for practice.
Learn More: Happy Hooligans
9. Shoelace Macrame
Add an artistic touch to shoe-tying lessons by introducing basic macrame knots. Not only does this provide extra knot-tying practice, but it also develops fine motor skills and opens the door to an array of creative possibilities.
Learn More: YouTube
10. Toy Lace Practice


Make lace practice fun with this playful activity. Find toys or dolls equipped with laces and use them to improve shoe-tying skills. This activity transforms learning into a fun game where your children's favorite toys need their shoes tied too!
Learn More: Shumee
11. Storytelling Lace Tying
Once upon a time…we learned how to tie our shoes! Weave a tale about adventurous laces or magical shoes to enrich the learning experience for your kiddies. Introduce this exciting idea to add a bit of dimension to an otherwise routine task.
Learn More: YouTube
12. Two-Stage Knot


Simplify shoe-tying with this two-stage approach. Challenge your littles to first learn how to tie a starter knot before getting them to follow this up by creating a bow. This step-by-step method will help you reduce confusion whilst bringing about confident little lacers.
Learn More: Fieggen
13. Video and Photo Tutorials
Capitalize on the popularity of multimedia with child-friendly video and photo tutorials. Watching others tie their shoes in real-time is sure to help your littles better visualize the steps and techniques needed to complete this task.
Learn More: YouTube
14. Role Reversal

Let the kids be the teacher in this fun-filled exercise! Get them to reinforce their knowledge and gain confidence in their skills by reversing roles and teaching a parent or stuffed animal to tie their shoes.
Learn More: Ackermans Magazine
15. Practice on a Partner
Encourage teamwork with this pairing activity. Your students can simply practice tying each other's shoes to make the learning process a cooperative and enjoyable one.
Learn More: Fitting Children's Shoes
16. Egg Carton Lacing
Wakey, wakey, eggs, and lacing! An egg carton paired with a ribbon can easily be transformed into an effective shoe-lacing practice tool.
Learn More: Baby Play Hacks
17. Felt Shoes
Crafting felt shoes with laces provides a soft and easy-to-handle option for little hands. This comfy alternative will allow your kids to master the basics without having to deal with the hassle of a stiff shoe.
Learn More: Handmade Charlotte
18. Pipe Cleaner Practice
Give tiny hands a break from the hard stuff by getting them to use pipe cleaners! They can simply bend and shape them for a more pliable, laceless practice tool.
Learn More: Apollo After School
19. Plastic Needle Lacing
Here's another alternative idea to help you cement the basics of shoe lacing! Simply attach a plastic safety needle to the end of one of your kid's laces to make threading a breeze for them.
Learn More: Amazon
20. Pom-Pom Laces
Jazz up plain laces by attaching pom-poms to their ends. This will not only add a playful touch to your kiddie's shoes, but it'll also provide an easier grip for those who are just learning to tie their shoes.
Learn More: Emma Jewel Crafts