Teaching phonics shouldn't be a chore, and learning them shouldn't feel like one, either! With the right blend of fun and creativity, vowel instruction can turn into an adventure. Below, we present a collection of 20 innovative short vowel games- each of which has been designed to offer a hands-on learning experience to your kiddos. From hopscotch to charades, these activities bring vowels to life- helping you captivate young minds while reinforcing essential phonics skills. Ready to transform your classroom into a hub of active learning? Read on to learn how to do just that!
1. Vowel Hopscotch
Leap, land, and learn is what your kids will be doing here! Using a chalk-drawn grid, swap numbers for vowels and create a hopscotch course that's essentially a phonics playground. Your littles can then hop along and call out the vowel sounds they land on.
Learn More: Pinterest
2. Vowel Sound Fishing
Cast out phonetic fun with this fishing game! Attach word cards to toy fish and watch as students' reel in' their catches before proudly announcing the short vowel sound from each word. Have them then add each sound that they successfully utter to their bucket and talk up at the end to see who got the most.
Learn More: The Mailbox
3. Bingo Vowel Sounds
Bing-Oh, how fun! Turn traditional Bingo on its head by replacing numbers with words incorporating short vowels. Once called, your players can cross off the word if it's on their card.
Learn More: 123 Homeschool 4 Me
4. Short Vowel Memory Match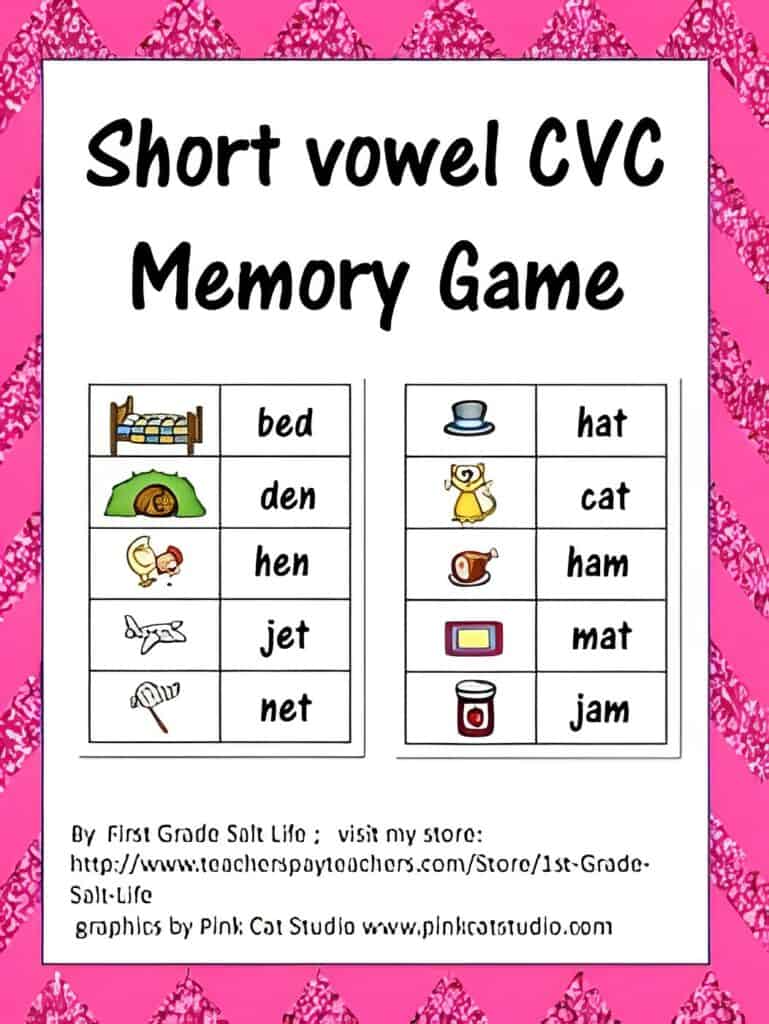 In this cognitive booster, lay cards face down and let your students test their memory. Finding pairs isn't enough though—they must match short vowel words with like suits.
Learn More: Pinterest
5. Vowel Bean Bag Toss
The task here is to have your kiddos throw a bean bag at a set of cups labeled with short vowels. Whichever of the cups they hit, they'll need to utter a word containing the vowel displayed on the cup, to score a point!
Learn More: Sight Words
6. Short Vowel Board Game
Create a custom board game where the spaces are filled with short vowel words. The correct pronunciation is all your kiddos need to push ahead of their opponents.
Learn More: Fantastic Fun & Learning
7. Vowel Sound Relay Race
Here's a high-energy game of speed and speech. Divide your class into small teams. Then, have members from each team fetch a word from a bucket, pronounce it, identify its short vowel, and then sprint back to pass a baton to the next awaiting team member.
Learn More: Teach Your Monster to Read
8. Short Vowel Puzzles
Stimulate problem-solving skills with puzzle pieces that form a word with a short vowel sound. Only the learners who correctly fit the pieces can complete their picture and identify the sound!
Learn More: From ABCs to ACTs
9. Short Vowel Board Game
Bring out those old board games and give them a cool, vowel-focused twist! Engage small groups of learners by having them take turns rolling a dice and moving forward on the board. Before they settle on a square, they'll need to correctly pronounce each word along the way.
Learn More: Pinterest
10. I Spy Vowels
'I Spy with my little eye, something that sounds like 'a'. This twist on the classic game encourages children to connect objects with their corresponding short vowel sounds. Play in small or large groups for a quick review activity at the end of a vowel-focused lesson!
Learn More: Teaching Mama
11. Musical Vowels
Musical chairs meet phonics in this fun activity! When the music stops, challenge your students to rush to a chair with a word card and correctly pronounce a word featuring the short vowel.
Learn More: YouTube
12. Vowel Sound Twister
Make a phonics-twister mat where each color spot represents a different vowel sound. Your students can then stretch, twist, and pronounce their way to success!
Learn More: Pinterest
13. Vowel Sound Hangman
Here's a game of guessing with a linguistic spin. Play hangman as you normally would, but challenge your learners to only guess words showcasing a specific short vowel sound.
Learn More: Word Wall
14. Vowel Sound Maze
Turn your classroom floor into a fun maze to get your learners geared up for some phonics fun! They can tread on paths labeled with words containing short vowel sounds; pronouncing each one they land on along the way!
Learn More: Mrs. Thompson's Treasure
15. Vowel Swap
Here's a brain teaser like no other! In Vowel Swap, assign a word to each of your learners and ask them to simply tweak the vowel in it to spawn a new word.
Learn More: Vimeo
16. Short Vowel Charades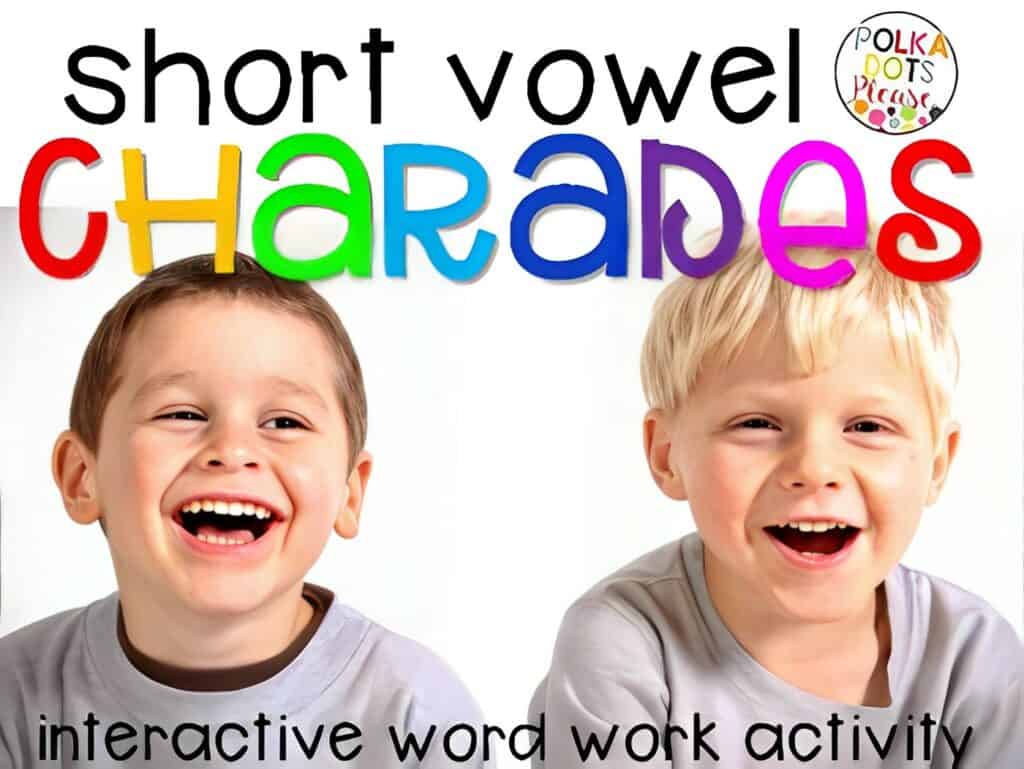 Bring drama to learning with this version of charades! Get your students to draw and act out words that feature short vowel sounds.
Learn More: Teachers Pay Teachers
17. Short Vowel Word Building
Engage your kiddos in architectural phonics with this fun game. Using letter blocks or tiles, have them build words around short vowel sounds.
Learn More: This Reading Mama
18. Rhyme Time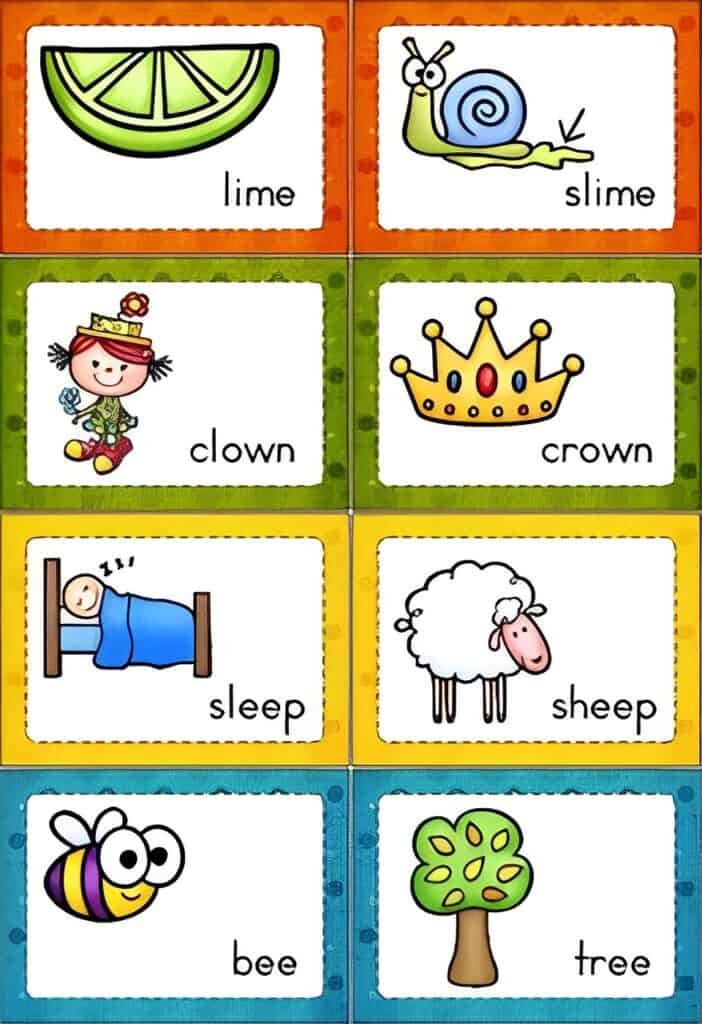 Here, your kiddos will need to think, link, and rhyme! Given a short vowel word, have them race against the clock to compile as many rhyming words as possible.
Learn More: Pinterest
19. Vowel Tic-Tac-Toe
Ready for a phonics face-off? Let's go! In this version of Tic-Tac-Toe, your learners will need to fill a grid with words; pronouncing each one correctly to claim the spot as theirs and mark it with an X or O.
Learn More: Teach Starter
20. Short Vowel Crossword Puzzle
Keen on a new technique to assess vowel understanding? Get your students to complete a crossword puzzle where all clues lead to short vowel words. To complete their crossword, they'll need to decipher each clue and unearth words that fit into their grid of letters.
Learn More: Scholastic Teachables